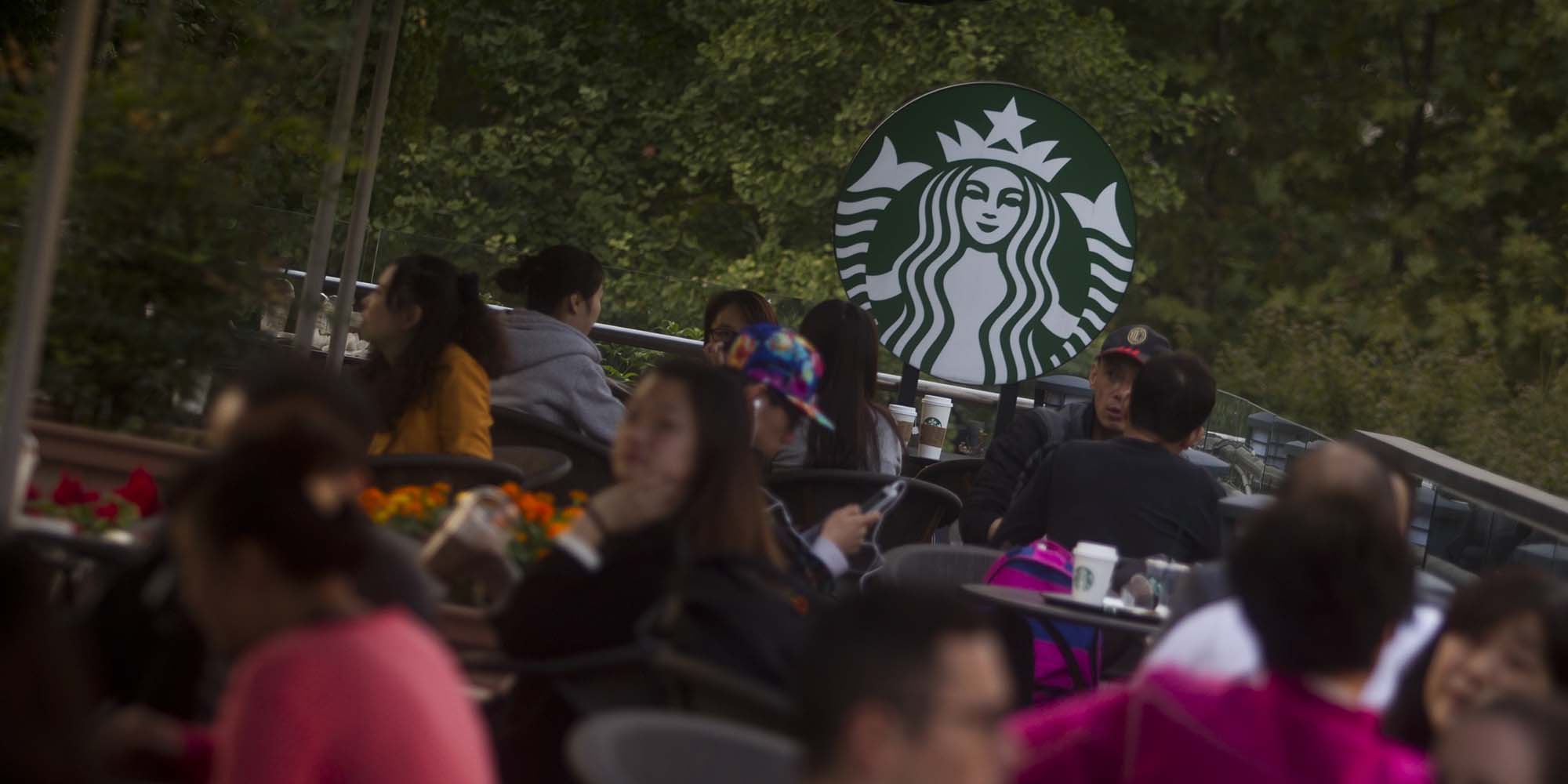 NEWS
Chinese Coffee Chain Sues Starbucks for Unfair Competition
Beijing-based Luckin Coffee issues open letter accusing Starbucks of monopolistic behavior.
An upstart Chinese coffee chain has opened fire on Starbucks, accusing the American coffee giant of engaging in monopolistic behavior and creating an unfair domestic trade market.
In an open letter published Tuesday, Beijing-based Luckin Coffee said Starbucks had signed exclusive contracts with commercial property owners preventing them from leasing space to other coffee shops when a Starbucks location was already present within a development. Luckin Coffee also accused its larger competitor of forcing suppliers to choose between the two chains.
"Starbucks' practices have not only affected Luckin's operations, but also impaired competitiveness in a fair market environment and impeded the development of China's coffee industry," reads the letter. Luckin also added that it would report the situation to market regulators and file a lawsuit against Starbucks — which it did on Wednesday, according to financial news outlet Securities Times.
The Chinese coffee startup, whose insignia is a white stag against a blue background, is a relative newcomer to China's coffee market. It officially launched its business last week after a five-month soft opening, during which it sold 5 million cups of coffee to customers at over 400 stores in 13 cities. All orders are made through the company's app, and customers can either pick up their coffees at a brick-and-mortar Luckin shop or have them delivered in under 30 minutes.
Luckin's rise has been hastened in part by the company's aggressive marketing strategy and generous discounts. Primarily targeting white-collar workers, advertisements and posters featuring well-regarded actors Tang Wei and Chang Chen endorsing Luckin can now be found on office buildings across the country. The company also offers deals to expand its business. For example, each new customer is offered a buy-five-get-five-free coupon, and is encouraged to gift free drinks to their friends by posting coupon codes on WeChat, China's ubiquitous messaging app. These financial incentives are possible because of a 1 billion yuan ($157 million) startup fund from former executives of Chinese car-rental company UCAR.
The seemingly imminent war between Luckin and Starbucks has been dubbed "Blue vs. Green" by some marketeers because of the two brands' signature colors. According to media reports, Luckin has poached executives and baristas from Starbucks by offering salaries up to three times greater. Luckin is even believed to have headhunted roughly one-seventh of all Starbucks staff in Beijing.
In response to Luckin's open letter, Starbucks brushed off the smaller company's grievances. "We are not interested in getting involved in publicity stunts with other brands," the company said in a brief statement to Sixth Tone.
To determine whether Starbucks has violated the country's antitrust law can be tricky, because within China's coffee industry, there are many smaller markets, Wang Junlin, a lawyer at Yingke Law Firm in Beijing, told Sixth Tone. "In the coffee industry, there's sales, sourcing, packing, and equipment," Wang explained. "The court will need to define in which area Starbucks might be breaking the law."
Another point to consider is the number of property owners who have signed exclusive agreements with Starbucks, Wang added. "For example, if Starbucks makes every office building in the central business district of Beijing sign one of these contracts and pushes out other competitors, then that would be considered monopolistic," he said. Wang's law firm does not represent either company.
While Luckin has expanded quickly in recent months, Starbucks currently has around 3,300 stores in 141 cities in China — and plans to have nearly twice as many by the end of 2022.
Apart from competition with its equally ambitious rival, Luckin's expansion in China faces uncertainty for other reasons. "Coffee hasn't become a necessity in the life of the Chinese consumer as it has in the U.S. and Europe," said Loris Li, a food and beverage analyst at market research firm Mintel. Li told Sixth Tone that before charging into the market, brands must recognize that while coffee is becoming more popular in China's major metropolises, demand is still low in second- and third-tier cities.
Editor: David Paulk.
(Header image: Customers sit outside a Starbucks coffee shop in Shanghai, Oct. 22, 2013. Yang Shenlai for Sixth Tone)