Every spring, when a freshly harvested tea crop hits the market, leaves from China's well-known tea-producing areas fetch astronomical prices. In March, a producer of Wuyi rock tea, a variant grown in eastern China's Fujian province, was reportedly charging 400,000 yuan ($63,000) per kilogram of tea. Unfortunately for customers, the tea was later declared counterfeit.
Chinese consumers tend to pay far more attention to where tea is grown than the brand it is sold under. Take Longjing tea leaves, for example. Cultivated in eastern China's Zhejiang province, the price of Longjing fluctuates wildly depending on where it was grown, even among companies that use the same production techniques. Longjing from West Lake, a body of water in the city of Hangzhou, is more than 10 times more valuable than most varieties grown elsewhere in the province. And even within the West Lake area, Longjing grown on the peak of Mount Shifeng is worth several times more than tea grown on the slopes below.
But for the average tea drinker, it is difficult to distinguish teas by where they were grown. Tea is like wine — it takes several years to gain the expertise needed to differentiate among hundreds, if not thousands, of varieties.
Last year, Chinese consumers spent more than 220 billion yuan on 1.8 million tons of raw tea leaves. Investors sought to better integrate tea into the lives of the country's young people, who for years had eschewed China's most popular drink. A few reaped vast revenues from fashionable tea-based beverages — tea topped with a light cheesecake-style mixture, for example.
However, many Chinese still buy raw tea leaves for home use or as gifts. And when they do, they tend to run into three main problems. First, they struggle to determine a tea's quality prior to purchase. Second, traditional tea-brewing processes are overcomplicated and require too many specialist tools. Third, the actual value of tea leaves can be elusive, especially when they come gift-wrapped in fancy packaging.
Of course, consumer difficulties make for good business opportunities. In the last few years, tech companies like Xiao Guan Tea, Xiaomi's Pingze label, NetEase's Yanxuan, and Penguin Guide have all begun marketing their own teas, regardless of their lack of experience in the food and beverage industry. Their brand stories are remarkably similar: Their founders all hail from renowned tea-growing areas or say they developed a love of tea culture in childhood; their search for a good brew took them all over China and deep into its mountains; there, they finally found fine tea leaves that both met modern food safety standards and suited consumer tastes.
They also emphasize simplicity. The abovementioned brands claim to have combined the unique qualities of well-known teas, Chinese tea culture, and the industry's commercial frameworks and revamped them for modern tea drinkers. For example, Xiao Guan has abandoned the traditional emphasis on tea-growing regions, instead selecting eight "masters" of tea production and adopting their methods as its brand identity. It also claims to make the tea-buying experience simpler and more relaxing for consumers. In doing so, the brand aims to bring the concept of high-end tea to China's urban middle class, a group that is particularly receptive to cutting-edge branding, concerned about food quality and traceability, and accustomed to buying products online.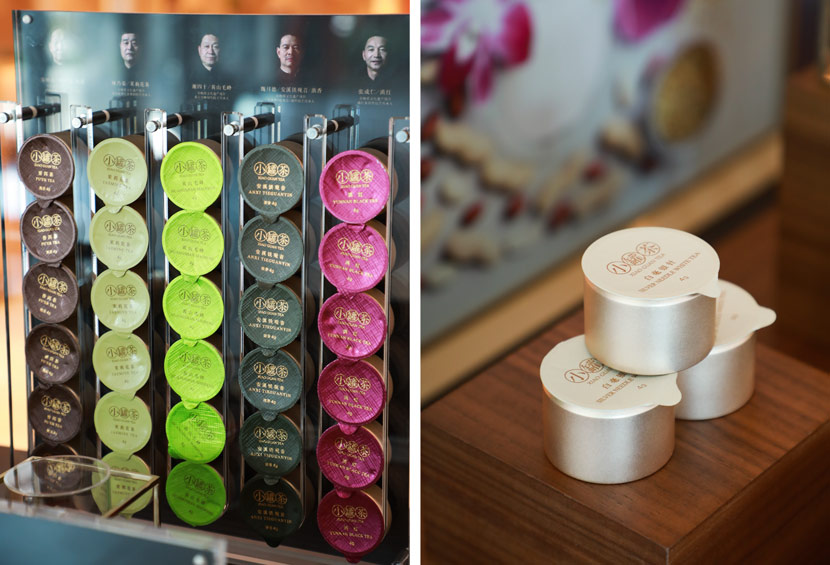 Promotional photos of a Xiao Guan Tea store in Anji, Zhejiang province, March 2018. From Xiao Guan Tea's Weibo account
These burgeoning brands had a successful 2017. Xiao Guan Tea posted almost 700 million yuan in sales revenue after taking 400 million yuan in sales in the last five months of 2016. But this and other emerging companies soon came under fire from established tea experts. Some connoisseurs even posted comparison photos of the products, calling into question the quality of the leaves sold by these companies. But such doubts are overly concerned with maintaining the status quo: Take two handfuls of the same tea from the same part of China, and it is likely that they will look and taste quite different. The fact that these brands' tea leaves don't necessarily resemble those produced in traditional tea-growing regions does not prove that they are of lower quality.
Our continued obsession with growing regions is the main reason why the traditional tea industry struggles to establish standards and produce recognizable brands. When viewed in this light, the experimental approaches spearheaded by Xiao Guan and others seem beneficial to consumers and the wider industry: Not only have they successfully challenged the traditional consensus on placing tea-growing areas ahead of branding — they have been commercially successful doing so.
At present, traditional tea sellers, new tea-based beverage companies like Heytea, and online brands like Xiao Guan form the three pillars of the tea industry. By offering the same products as traditional sellers, new brands have, in a short amount of time, begun to pose a threat to the traditional industry. These new companies offer a new model to brands still centered on tea-growing areas, forcing them to experiment with their brand images, challenging them to adapt to the internet, and opening up new possibilities for the industry's future development.
Translator: Kilian O'Donnell; editors: Wu Haiyun and Matthew Walsh.

(Header image: Workers pick Longjing tea leaves in Hangzhou, Zhejiang province, March 20, 2015. Liang Zhen/VCG)