GUANGDONG, South China — Huang Xinxiang, 48, just bought his sixth house. He's not a banker speculating on the real estate market or the CEO of a successful corporation. Rather, he paints wall advertisements in rural China, and for decades, business has been booming.
Looking back, it was an unlikely career for Huang. Growing up in a village on the outskirts of Qingyuan City, the only wall paintings he would see were quotations from Chairman Mao or Party slogans reminding people to only have one child.
After Huang flunked out of school, all he could find was backbreaking construction work. "Back then, I was working on construction sites for apartment buildings that were six to seven stories high," Huang tells Sixth Tone. "Because there was no elevator, we had to lug sacks of cement up several flights of stairs."
Huang Xinxiang has gotten rich off his 29-year career painting wall advertisements, a popular way for businesses to reach customers in rural China. Liu Jingwen/Sixth Tone
As luck would have it, Huang became acquainted with the head of an advertising company that specialized in wall painting. He wasn't sure it was the right line of work for him — he didn't have a steady hand, and his handwriting was atrocious, he says. But the company offered its employees room and board, as well as on-the-job training. Thus began Huang's career in painting mural advertisements.
Privately owned companies sprung up all over Guangzhou, the provincial capital of Guangdong, in the '90s. So long as an advertising business landed a contract with one of the big brands of the time — such as Pearl River Tires or Blackberry Toothpaste — it was guaranteed at least some degree of success.
After just two years of work for the company head, Huang had the funds to strike out on his own. He hired an acquaintance from his hometown as his assistant, and — carrying their luggage and paints on their backs — they would ride their bicycles from one village to another, painting murals as they went. Back then, they could earn a third of an average monthly wage for every ad. They were getting rich quick.
"I have a friend who runs a mural advertising company in [Foshan City's] Sanshui District," Huang says. "By the '90s, he was already driving a Lexus worth over 100,000 yuan [$15,700]."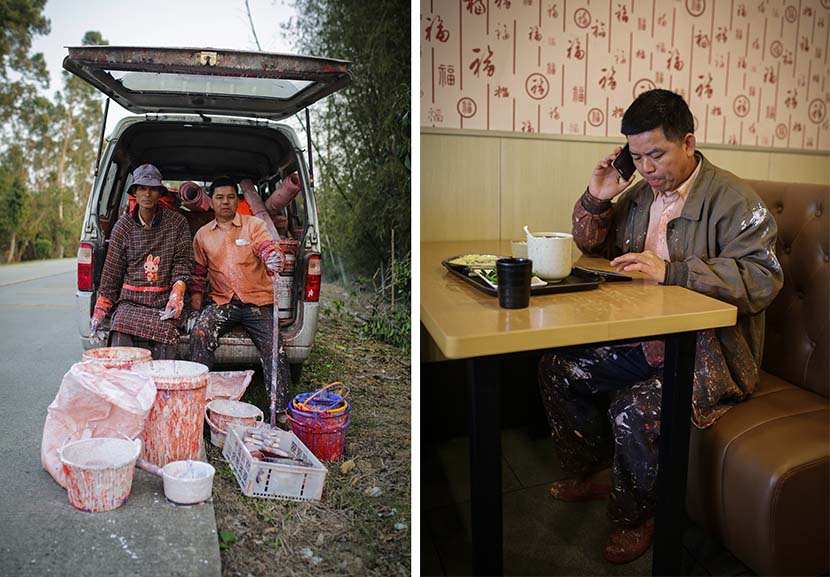 Left: Huang Xinxiang (right) poses for a photo with his business partner in Jiangmen, Guangdong province, Feb. 4, 2018; right: Huang Xinxiang talks on the phone during lunch in Jiangmen, Guangdong province, Feb. 5, 2018. Luo Binhao/VCG
In the 25 years or so since then, Huang has painted countless advertisements, whose content has continued to evolve over time. From necessities such as bicycles, rice, and salt, their focus first shifted to electronics like color TVs, refrigerators, and DVD players. Nowadays, Huang paints many ads for online retail platforms, video sites, and lending apps.
Though the style of the ads has barely changed, one aspect of the job that has grown more difficult is finding wall space. The location of advertisements has shifted from walls next to the provincial highway to inside villages themselves, as online companies want to target rural customers and not the city folk driving by. When nobody is watching, Huang just enters a village and starts painting. But sometimes he has to give a farmer a few packs of cigarettes in exchange for access to a wall. In villages close to the city, he must be on the lookout for officials who could issue fines or order him to return a wall to its original state. Rarely does he officially apply to use a wall for advertising.
Despite the radical shifts in ad content, Huang hasn't paid much attention to the country's greater social transformations. He has never used the e-commerce sites he advertises in his murals, as he doesn't trust these apps on his phone, and he doesn't think much about why his client base is constantly changing. Instead, he simply wants to work hard and earn a better life. After he bought his first house in 1989, he set himself the goal of buying a house every five years. So far, so good.
Translator: Lewis Wright; editor: Kevin Schoenmakers.
(Header image: Huang Xinxiang (middle) watches his business partner paint a wall in a village in Jiangmen, Guangdong province, Feb. 5, 2018. Luo Binhao/VCG)