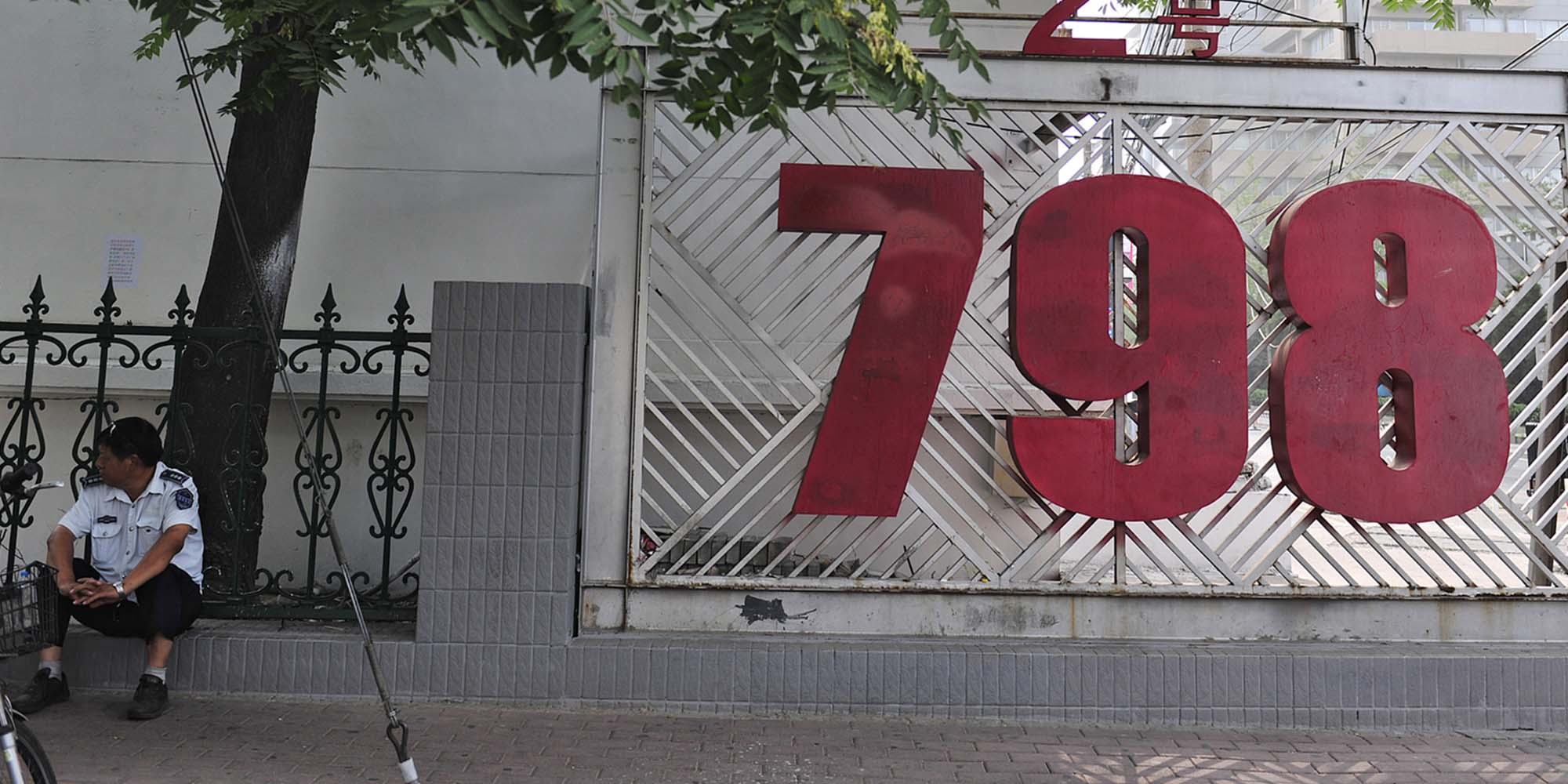 NEWS
Chinese LGBTI Community Slams Violence at Awareness Event
Security personnel assaulted two women at an action against homophobia in Beijing's art district.
China's LGBTI community has condemned the violence against two women attending an event held in honor of the upcoming International Day Against Homophobia, Transphobia, and Biphobia on May 17.
"No individual should be subject to violence," Ripley Wang, a longtime LGBTI rights advocate, told Sixth Tone. "We should demand that law enforcement officials investigate this matter and hold those who've broken the law accountable."
Three people who attended Sunday's event at Beijing's 798 Art District told Sixth Tone that security personnel physically assaulted the pair, who were both wearing rainbow badges, when they tried to enter the venue. A 10-second video of the scuffle — that is no longer available on Chinese social media — shows a group of men, five in uniform and two in plainclothes, surrounding the two women. One woman is knocked to the ground, while the men continue to beat the other woman.
The event on Sunday, organized by an activist known by his Weibo alias, Piaoquanjun, invited LGBTI individuals and their supporters to gather at 798 Art District and distribute 5,000 rainbow badges in exchange for hugs to promote LGBTI awareness. Sixth Tone was unable to reach Piaoquanjun on Monday.
Dai Meng, a freelance art critic who attended Sunday's gathering, told Sixth Tone that the event had moved from its original venue in one of the art district's squares to the north gate after security personnel had blocked entry. He added, however, that it was unclear if the altercation resulted from homophobia or a miscommunication between organizers and security.
Sixth Tone was unable to reach 798 Art District management on Monday, but an employee of the art zone's property management department told state-run media outlet Global Times on Sunday that he believed "wearing a rainbow badge is illegal." He also described gay people as having a "distorted sexual orientation."
While homosexuality is not illegal in China, LGBTI rights are not well-protected. Just last week, a Chinese online television station excised gay content and blurred rainbow flags in its broadcast of a Eurovision semifinal — though such cuts are not necessarily legally mandated. The depiction of homosexuality is banned in China's online multimedia sector and on television, but plenty of shows that include same-sex relationships — such as the American sitcom "Modern Family" — are widely available on major Chinese streaming sites.
James Yang, a program officer at the United Nations Development Programme's "Being LGBTI in Asia" project, sees increased activism and visibility as progress. He told Sixth Tone that China's LGBTI community has developed a stronger voice in recent years despite setbacks. For example, in April, mounting public backlash pushed microblog platform Weibo to backpedal on its plan to ban gay content.
However, LGBTI people are still subject to violence and discrimination in schools, workplaces, and when accessing health services — and according to a 2016 survey, only 5 percent of the country's LGBTI population are fully open about their sexual orientation and gender identity.
Last May, another LGBTI demonstration also met with resistance from security personnel. Parents of gays and lesbians had gone to the "marriage market" in Shanghai to look for matches for their children and raise public awareness of the LGBTI community, but they were forced out of the venue after a heated confrontation with security guards and other parents, who denounced homosexuality as "against Chinese values."
On the 798 incident, Yang described it as a "classic example of homophobia" against people the security guard perceived to be lesbians. Nonetheless, he urged optimism: "We shouldn't lose hope when times are tough."
Additional reporting: Nicole Lim; editor: Qian Jinghua.
(Header image: A security guard sits at the entrance to 798 Art District in Beijing, July 29, 2014. VCG)