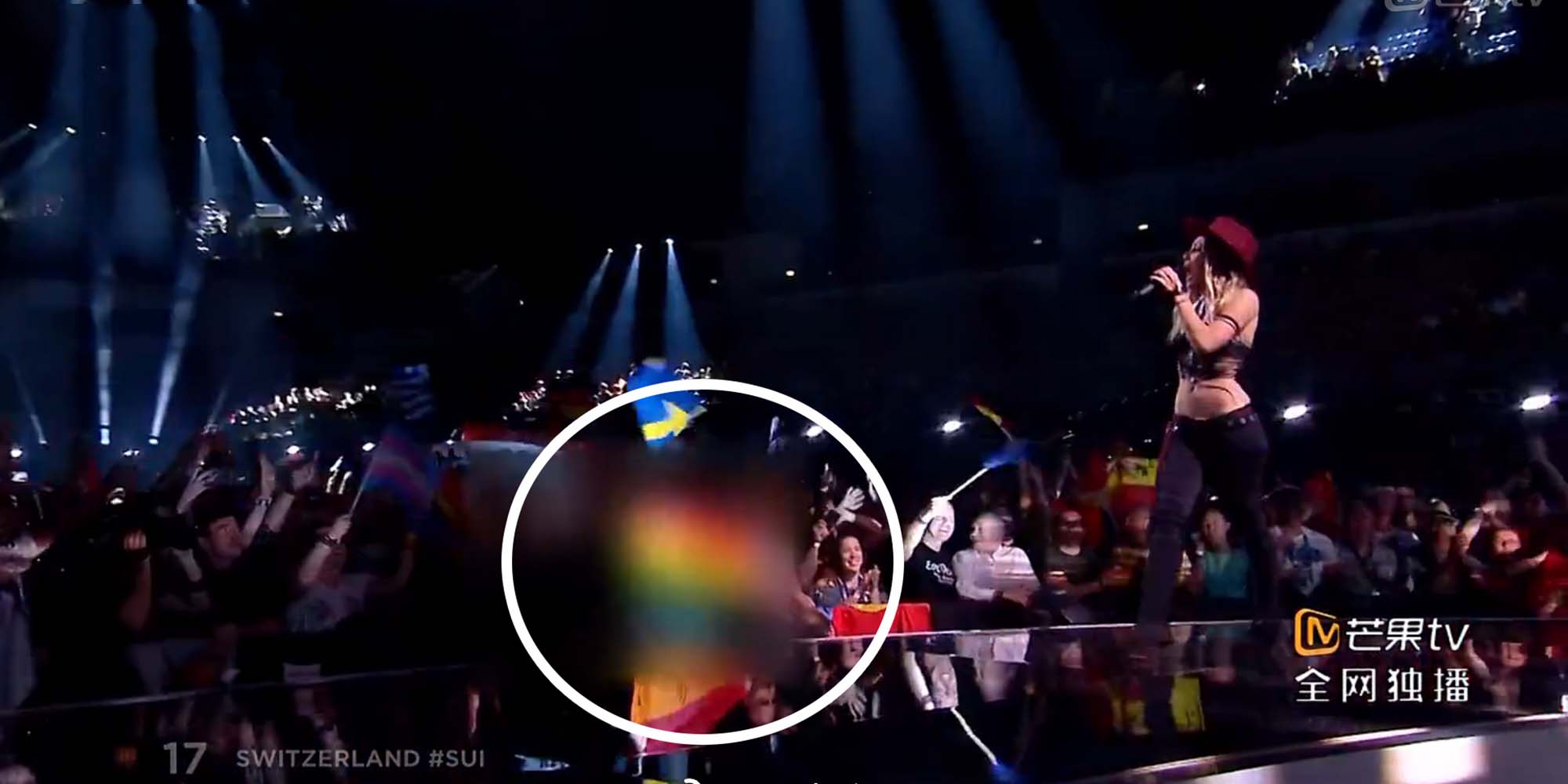 NEWS
Chinese TV Can't Air Eurovision After Cutting Gay-Themed Act
LGBTI-related content in China's media has decreased in recent years, experts say.
The European Broadcasting Union has terminated its partnership with a Chinese television channel after the station cut gay-themed content from its broadcast of the first Eurovision semifinal, the union said in a statement Friday.
"This is not in line with the EBU's values of universality and inclusivity and our proud tradition of celebrating diversity through music," the EBU said in its statement.
Mango TV — an online subsidiary of Hunan Broadcasting System, the provincial government network that is China's second-largest broadcaster — was licensed to broadcast Eurovision in China. But the station has now been barred from airing the grand final on Saturday after its online broadcast of the first semifinal cut out a performance from Irish singer Ryan O'Shaughnessy that depicted a romance between two men.
In addition to cutting the same-sex storyline, Mango TV screened the performance from Albanian contestant Eugent Bushpepa, but with his tattoos blurred out. Tattoos, hip-hop, and even the cartoon character Peppa Pig have all faced media purges in China recently.
Will Dai, an LGBTI community organizer with the Shanghai Queer Film Festival, believes the move adds to the growing confusion about where the country draws the line for LGBTI representation. He said that media outlets are sometimes themselves unsure of official guidelines, and that the cuts may have come not from a government directive, but from media companies self-silencing.
Dai said that while Eurovision could harbor nationalistic and political overtones, it had also become one of his favorite summer traditions.
"Eurovision sustains its popularity globally because more and more people see it, at the end of the day, as just a fun, camp, and liberal celebration of music, the stage, culture, and inclusivity," Dai told Sixth Tone.
According to Chinese netizens on microblog platform Weibo, the semifinal broadcast also blocked other LGBTI representations. One user posted multiple screenshots showing an audience member waving a rainbow flag — blurred out — during performances by the Swiss and Austrian contestants. But though the broadcast is still available on Mango TV's streaming site, when Sixth Tone checked the footage on Friday, the shots of rainbow flags no longer appeared at all during those acts. Mango TV and Hunan Broadcasting System did not answer Sixth Tone's phone calls. 
China's LGBT population is more vocal and visible than ever. In April, when Weibo announced its plans to purge gay-themed content, an immense public backlash pushed the social media platform to backtrack almost immediately. And while the Oscar-nominated film "Call Me By Your Name" was pulled from this year's Beijing International Film Festival — LGBTI films often face obstacles in China — "Looking for Rohmer," a Chinese movie with some subtle gay themes, finally made it to domestic screens last month after several years' delay.
However, despite small victories for progressive voices, regulators have tightened their control over media, both online and offline. In 2017, China's online multimedia sector passed a guideline banning depictions of homosexuality, after a similar rule for television producers the previous year. And the first quarter of 2018 saw Chinese web authorities shut more than half a million accounts across different platforms for violations ranging from vulgarity to fraud.
"I think the more worrying thing is the extent of self-silencing in domestic media. LGBT is just one aspect," commented one Weibo user.
Sun Ziwen, project manager for the China Rainbow Media Awards, which publishes a media monitoring report each year on LGBTI content in domestic media, told Sixth Tone that there has been a noticeable decline in coverage over the past three years. He said the number of LGBTI articles in Chinese press had fallen from 867 pieces in 2015 to 710 in 2016 and just 447 last year.
"Though media organizations often say they have no policies on expunging LGBT-related content, they are increasingly doing so," Sun said. "They want to control the culture and how people think."
The Eurovision song contest started in 1956 and last year attracted more than 180 million viewers worldwide. Notable winners include the popular Swedish quartet ABBA, who won the contest in 1974, and 2014 winner Conchita Wurst from Austria, who rose to stardom both for her singing voice and her LGBTI advocacy.
O'Shaughnessy applauded the EBU's decision to pull screening rights from the Chinese broadcaster after his performance was cut.
"From the very start, we've just said that love is love — doesn't matter if it's between two guys, two girls, or a guy and a girl," he told the BBC in an interview. "This is a really important decision by the EBU and they haven't taken this lightly."
Contributions: Nicole Lim; editor: Qian Jinghua.
(Header image: A screenshot from Mango TV shows the blurred rainbow flags. From Weibo user @同志之声)