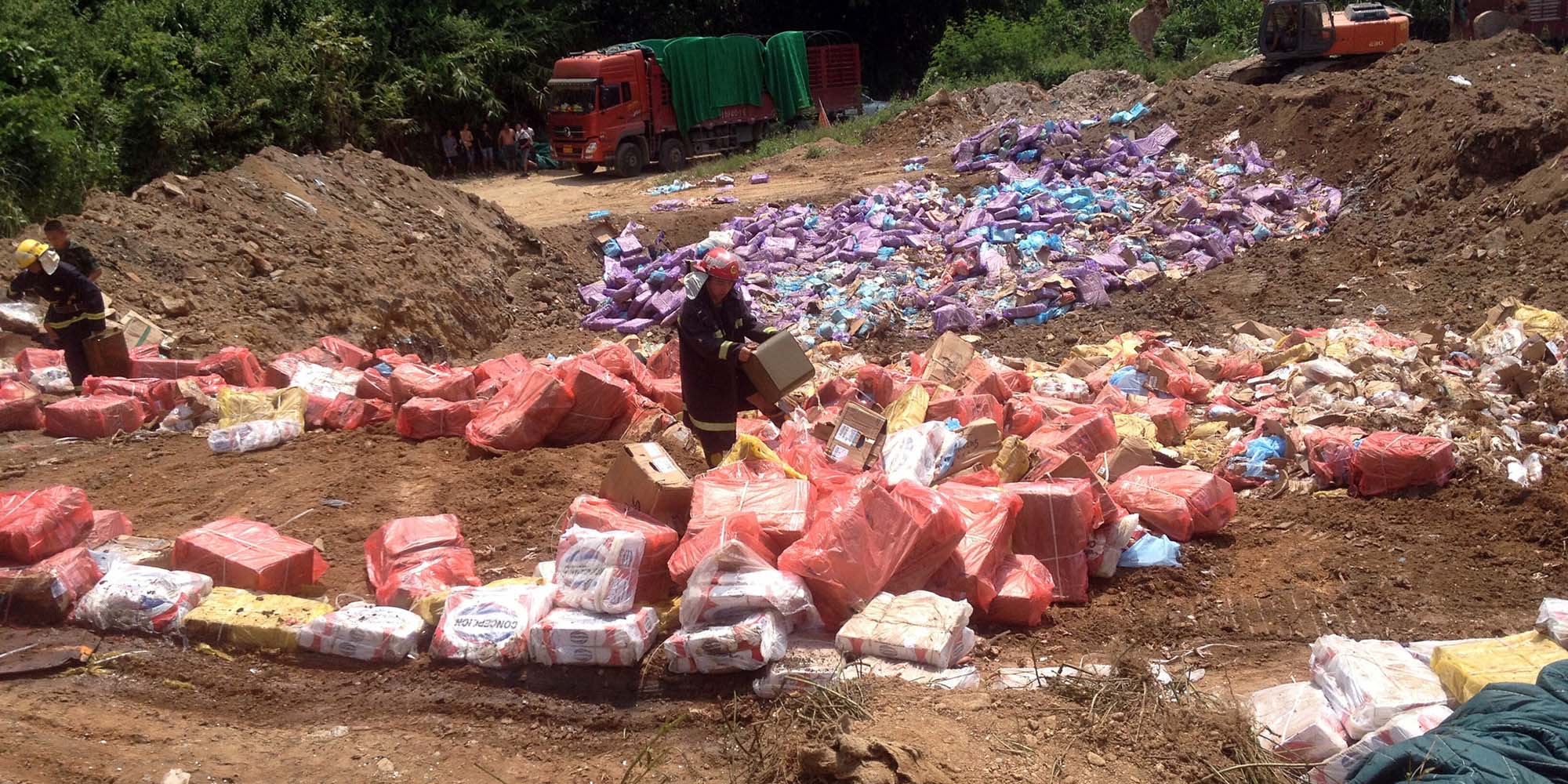 NEWS
Yunnan Villagers Busted for Stealing, Reselling Landfill Meat
In impoverished Jinping County, one man's trash is another man's dinner.
For two years, opportunistic villagers in Yunnan province have been raiding a landfill where authorities dispose of frozen meat smuggled from Vietnam and reselling the contraband at market, according to an exposé aired Thursday on local television. Authorities in Jinping County are now vowing to solve the problem of frozen food thievery.
Yunnan Television, the southern province's official broadcaster, reported that a viewer had tipped them off in March about seized food disposed of in the local landfill being carted off and resold by villagers for the past two years. Indeed, video footage provided by the whistleblower shows hundreds of villagers gathered at the dump in an assembly line-like formation, passing the frozen meat down a long line of hands to waiting motorbikes. Stray chicken feet can be seen scattered on the nearby highway.
According to their labels, most of the foodstuffs are frozen chicken or beef. During the broadcast, the whistleblower tells Yunnan TV's reporter that the villagers have turned the discarded meat into a thriving illicit business. The source added that anywhere from 100 to 500 villagers join in the raids after the local customs department makes a big dump.
On April 18, Yunnan TV visited the landfill to investigate the tipster's claims. The crew found several pits, each 4 or 5 meters deep, containing rotting chicken feet, wings, and other overlooked or unwanted meat products. The network's reporter also noticed a homemade sign in a flat area along the highway informing motorists that it would cost 50 yuan ($8) to park there — a steep fee, given the grassy lot's unassuming location.
"It's very weird to have a sign asking for such a high parking fee at some smelly place out in the middle of nowhere," Yunnan TV's report said. "It makes one wonder what kind of profitable industry this landfill has given birth to."
After another tip that the local customs office would be dumping around 10 carloads of confiscated frozen products in late April, Yunnan TV returned to the landfill to find over a hundred villagers digging the meat out of the pits. When the crew returned on April 30, they found several police cars parked in the area, as well as a banner hung between two trees reading: "Combat meat smuggling, crack down on illegal plundering."
Police tape had been put up around the landfill, and a handful of officers were posted at the location. As the crew drove along the adjacent highway, they saw villagers with their motorbikes and rickshaws parked on the side of the road in twos and threes, as if waiting for the police to disperse. When the officers finally did so on May 2, over 100 villagers swarmed into the landfill and went straight to the pits. Some 30 hours later, they were gone — along with all the frozen meat.
Customs officials in Jinping County have been disposing of smuggled foodstuffs in the landfill since at least October of 2016, when they dumped 470 tons of seized frozen meat valued at 180 million yuan, Yunnan TV reported.
Jinping is officially listed as one of Yunnan's impoverished counties. According to local media, the county has tasked over 330 "poverty relief officers" with improving residents' tenuous economic situations.
The border that separates Yunnan and Vietnam has long been a hotbed for smuggling and human trafficking. In November 2016, state broadcaster CCTV revealed that as many as 15,000 pigs were being smuggled into China from Vietnam every day. And earlier this month, a man from Jiangxi was detained by police after crossing into China illegally with three Vietnamese women intended as brides for himself and his friends.
Contributions: David Paulk and Fan Liya; editor: David Paulk.
(Header image: Seized foodstuffs smuggled from Vietnam are disposed of in a landfill in Hekou County, Yunnan province, June 8, 2015. IC)