With a birthday that often falls during Chinese New Year, and my WeChat Wallet therefore bulging with a double dose of red envelopes full of virtual cash, this spring I've been on the lookout for eateries in New York that accept WeChat Pay — China's near-ubiquitous mobile payment service.
For the most part, it's been a wild goose chase. Almost always, those that take payments via WeChat are the little guys — the hole-in-the-wall restaurants that proliferate across the city. Many takeout joints, food trucks, and fruit stands are still cash-only businesses, having eschewed credit cards for decades to avoid transaction fees. Later, when merchant service providers upgraded the payment systems of restaurants with whom they had contracts and enabled customers to conduct transactions via smartphone wallets, small mom-and-pop stores were largely left out in the cold.
Now, a small but growing number of enterprising eateries see the convenience of mobile payment as a big draw for diners. The majority are Chinese restaurants with large overseas customer bases.
Compared with the Chinese, a greater proportion of people in the United States are accustomed to swiping debit and credit cards. But partly due to strong support from the central government, the vast majority of small-scale vendors in China have rapidly embraced mobile payment systems, most commonly WeChat Pay and Alipay.
Now, however, easily printable QR codes are changing this dynamic. More and more outlets popular among New York's contingent of Chinese students are rolling out scannable codes, allowing customers to use Chinese mobile payment systems. At the same time, similar homegrown systems are appearing, among them Venmo, a PayPal-owned app that processes mobile payments in the U.S.
In China 1 Kitchen — the only Chinese restaurant on Roosevelt Island, a speck of land sandwiched between Manhattan Island and Queens where many Chinese international students live — a sign informs customers that they can now pay for their meals via WeChat Pay, Alipay, and Venmo.
The latter is typically used in person-to-person transactions — for example, to split meal costs among groups of people — and is popular with American millennials. The company rolled out QR codes last year, ostensibly to facilitate payments between users who haven't added each other on the app. Venmo's terms of use forbid the sale of goods or services in person, but that hasn't stopped restaurants like China 1 Kitchen from printing out QR codes and allowing customers to scan them when buying their meals.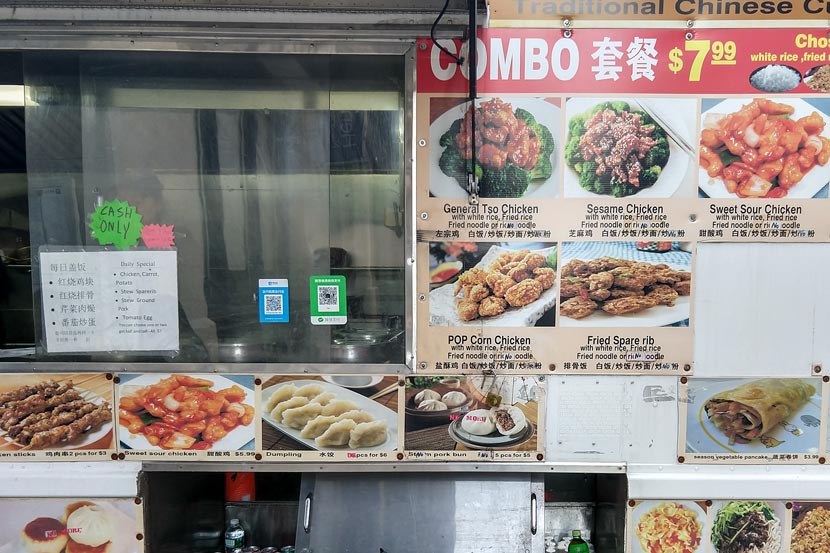 Alipay (blue) and Wechat Pay (green) QR codes are displayed on the window of a food truck near New York University, New York, April 2, 2018. Courtesy of the author
When I visited China 1 Kitchen a few weeks ago, I sent the money for my appetizer via a WeChat Pay personal account to a server named Emily Chen. Later, I paid for my main course through Venmo, sending a few dollars to another employee, Cui Li. The Alipay code, too, seemed to link to a personal payment account, not a commercial one. In this sense, China 1 Kitchen was set up much like China's informal street vendors in China, who rarely bother to register official business accounts.
Chen says that most of China 1 Kitchen's mobile-savvy American clientele use Venmo, even though, at present, Chinese names dominate the transaction lists of all three payment systems. "No one [in China] uses cash anymore," Chen told me. "If Chinese students still have WeChat or Alipay linked to bank cards back home, or get money from their parents through these apps, they'll still use Chinese services. But students who want to pay from their U.S. accounts have asked for Venmo."
Although a growing number of American businesses accept China UnionPay cards, very few have set up official WeChat payment platforms. Companies like China 1 Kitchen, who accept money via personal WeChat and Alipay accounts, generally conduct the entire transaction outside U.S. borders: The customer sends money from one China-registered bank account to another. The restaurant must then find a way to convert this money to dollars and bring it back into the U.S. For tax purposes, as long as such companies report income in foreign currency to the Internal Revenue Service and the State of New York, these transactions are legal.
Neither Chen nor Cui was forthcoming about how their employer navigates these various streams of income. But when I implied that Venmo must be more convenient than Chinese services, Chen contradicted me immediately. "Using Venmo codes is best for [U.S. dollar] transactions, since there's no fee, but it can take up to three days to get your money," she said. "But with the Chinese services, it's instant."
Over the following days, I walked through the city to see if New York's other historically cash-only food and beverage vendors were embracing mobile payments. I asked at nearly 30 fruit stands, food carts, and even the convenience stores in the city's dingy subway stations; none of them accepted any form of mobile payment. Fixed-location eateries fared slightly better, though not by much. A handful of trendy self-serve restaurants in Midtown Manhattan accept at least one form of mobile payment, but many establishments offer just a single type, such as Apple Pay, Google Pay, or Samsung Pay. None of the 25 or so restaurants I asked accepted any form of Venmo payment, although LevelUp, an American mobile payment app that uses QR codes, had achieved limited market penetration. However, LevelUp requires merchants to install a specialized in-store scanner, whereas most Chinese mobile payments take place entirely between cellphones.
Those who buck the trend are overwhelmingly small-scale Chinese food merchants. Mr. Bro, a Chinese food truck I came across near Roosevelt Island subway station, prominently displays a WeChat QR code on the counter. The truck's co-owner, Raymond Sun, already accepts Venmo transactions on his phone and says he plans to roll out Venmo printouts soon. "You have to be on top of the latest trends or you get left behind," he explains.
The mobile payment systems fine-tuned in China — and now propelled to success in the U.S. by certain Chinese restaurants — have the potential to help America's small businesses revolutionize monetary transactions with their clients. Although privacy concerns and existing contracts with card merchants are commonly cited reasons for Western resistance to mobile payment, the enthusiasm among American millennials for Venmo shows that much of this opposition is generational.
Admittedly, many WeChat Pay, Alipay, and Venmo transactions in the U.S. operate in a gray area. Because most Chinese payment accounts are linked to banks outside the U.S., transactions are hard to police. In addition, while Venmo's instinct might be to punish traders who violate its terms and conditions by printing out QR codes for person-to-business transactions, perhaps it should hold its fire. After all, such transactions can grow Venmo's corporate footprint while helping small American businesses to thrive in a new era of commerce.
Editors: Wu Haiyun and Matthew Walsh.

(Header image: An internal view of the China 1 Kitchen in Roosevelt Island, New York, May 4, 2018. Courtesy of the author)