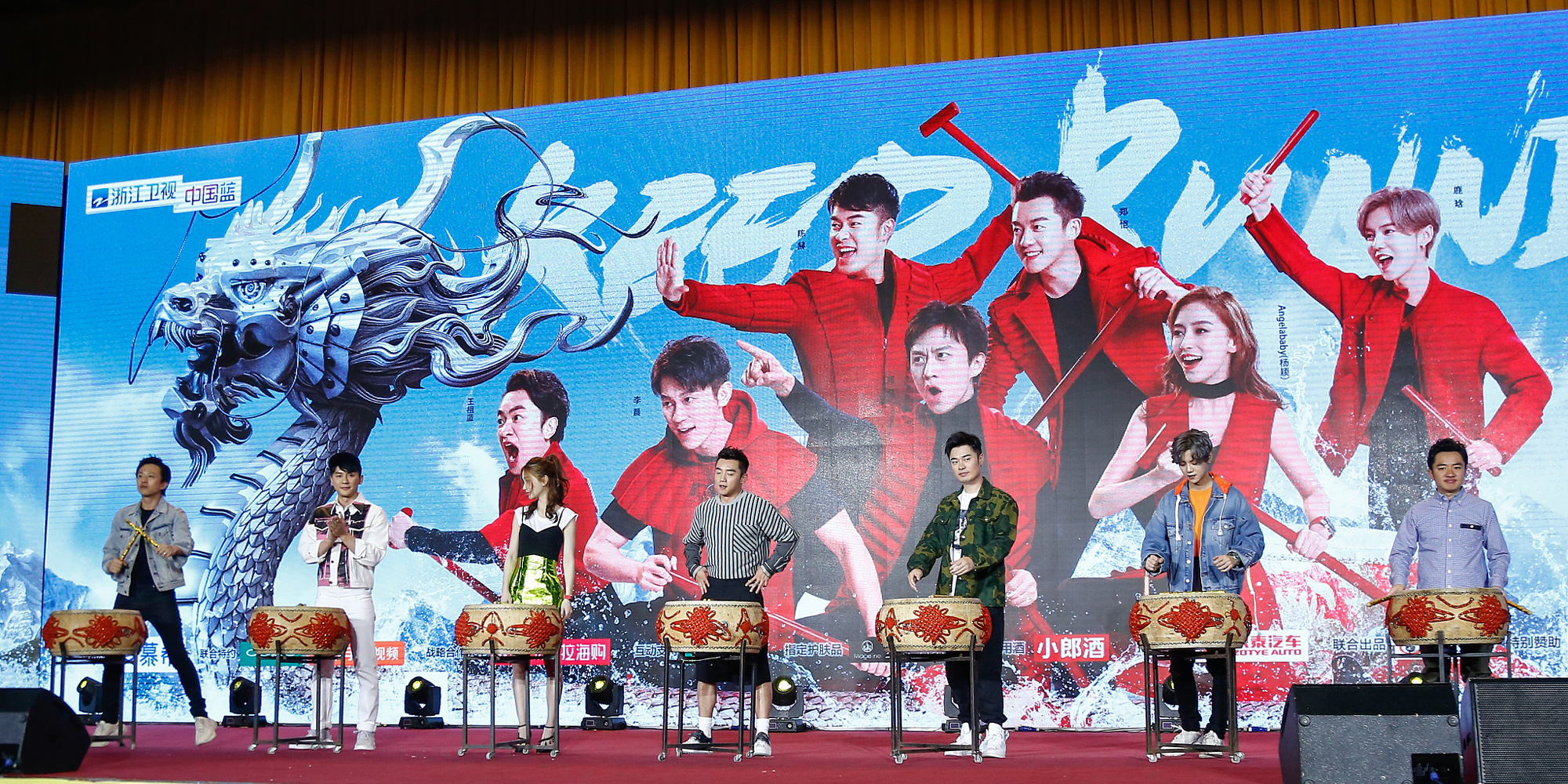 VOICES & OPINION
The Popular TV Shows Taking Chinese Soft Power Abroad
Overseas episodes of much-loved programs are increasingly aligning with the national government's development goals.
The much-anticipated sixth season of the Chinese variety show "Keep Running" launched on Zhejiang Television in mid-April. A spinoff of its long-running South Korean namesake, "Keep Running" pits teams of celebrities against one another in a range of physical and intellectual tasks. The first five seasons have been wildly popular in China, and the country's A-listers — among them film stars Deng Chao and Angelababy — regularly appear on the program.
This time around, however, audiences are finding that "Keep Running" is no longer purely about laughter and good-natured competition. The new season seems to be participating in a much grander enterprise: China's national soft power campaign.
Over the last decade or so, as the country has emerged as a global power, the Chinese government has made a concerted effort to increase its soft power abroad. Some of the most well-known projects include the 2008 Beijing Summer Olympics, the 2010 Shanghai World Expo, and the establishment of Confucius Institutes worldwide to promote Chinese language and culture.
Joseph Nye, the American political scientist who coined the term "soft power" in the 1980s, defined it as a multilayered campaign that reaches far beyond state-initiated efforts. For example, American companies, foundations, universities, and churches all help to spread American values abroad, with or without the official backing of the federal government.
Similarly, Chinese civil society is launching its own soft power projects, many of which dovetail with state-led, top-down initiatives. Film critics have noticed that China's rapidly growing film industry is increasingly becoming a vehicle for national pride: From 2016's "Operation Mekong" to last year's "Wolf Warrior 2" to the more recent release of "Operation Red Sea," Thesenationalistic blockbusters document China's rise as an assertive player on the world stage.
"Keep Running" is now seemingly bringing Chinese soft power onto our TV screens through its overseas episodes. Over the past four seasons, each "runner" — as the show's celebrity competitors are known — has developed a distinct characteristic, such as wit, speed, strategy, humor, beauty, or power. The "family" of runners also possesses a strong team chemistry, and the show goes to great lengths to transmit social qualities like perseverance, enterprise, teamwork, and positivity. The program's seven hosts can connect to an estimated 500 million followers across various social media platforms. It is, in short, an ideal choice for delivering Chinese soft power.
In its first season, the "Running Man" family — as the show was then called — traveled to South Korea to compete against some of the original show's participants, promoting Korean culture and tourism along the way. In later seasons, the team went to Australia and the Pacific island of Saipan. Chinese viewers were treated to breathtaking views of exotic places, while celebrity guests lauded their affordability and convenience for the country's growing cohort of middle-class tourists. (Saipan offers visa-free travel for Chinese tourists, while Australia has comparatively loose visa restrictions on Chinese travelers.)
But the team's visit to the Czech Republic at the end of Season 5 was more overtly political in nature. Thanks to its central European location, Beijing sees Czech cooperation with China as a potential gateway to the European Union. And so, when the "Keep Running" team left for Prague, the trailer clearly stated that the contestants were visiting friends of the "One Belt, One Road" (OBOR) initiative, the Chinese government's vast trade and infrastructure project that lies at the heart of its international soft power push. The show took special care to promote the OBOR development plan and Czech involvement in the initiative, highlighting some of the country's most popular tourist attractions and inviting an all-star team of Czech celebrities to take part. The Czech president, Milos Zeman, even made an appearance.
The show's new season has picked up where the Czech adventure left off. In the first episode, teams of Chinese celebrities ran up to the United Nations Office in Vienna, where they challenged themselves to prepare an English-language speech on the U.N. Development Programme's sustainable development goals in just two hours. Prior to the big finale, the program showcased Chinese aerospace achievements as well as the country's contributions to U.N. peacekeeping forces.
Later that evening, the team gave their speech before a crowd of 500 at a forum attended by high-profile U.N. and Viennese mayoral officials at the ornate Vienna City Hall. They spoke at length on health, education, clean water provision, affordable and clean energy, innovation, and the global response to climate change. They also promoted recent Chinese technological deployments, such as the country's high-speed rail network and mobile payment platforms. The show was later profiled on two U.N. websites.
The speech struck a notably globalist chord at a time when the Trump administration has withdrawn the U.S. from both the Paris climate agreement and UNESCO, the U.N.'s cultural arm. Against this backdrop, the sight of a young, energetic group of Chinese celebrities proclaiming their country's commitment to resolving some of the international community's most pressing issues bolstered China's image as a responsible global superpower-in-waiting. Later, the team traveled to Innsbruck, the only place to have hosted three Winter Olympic Games, where they once again promoted European tourist infrastructure and previewed the upcoming Beijing games in 2022. They also discussed the official logos of the 2022 games, which are stylized forms of the Chinese characters for "Winter Dream" — a play on the "Chinese Dream" slogan that is frequently invoked to represent the country's national ethos.
"Keep Running" is not the only Chinese TV show being systematically adapted to meet the country's development goals. In 2017, "Singer," shown on Hunan Television, cast Dimash Kudaibergen, a popular young musician from Kazakhstan. Kudaibergen so moved Chinese audiences with his performance that netizens jokingly claimed he was "the biggest treasure that OBOR has yet discovered." Last May, he was even lauded as an OBOR music ambassador by the national broadcaster, CCTV.
Local and provincial Chinese TV stations are clearly seeking new ways to collaborate with state-sponsored publicity departments and project Chinese soft power abroad. Yet for the most part, these shows are predominantly geared toward domestic audiences. This should not surprise us: Scholars like Kingsley Edney and Michael Barr have argued that, in China, soft power is not limited to international image-building, but also helps the Chinese Communist Party enhance regime legitimacy and national cohesion at home. "Keep Running" is the perfect example of this: Most of the show's viewers are Chinese, although individual episodes, subtitled in English, remain popular on YouTube and other foreign video-hosting websites. Games that challenge Chinese celebrities to engage foreign officials in English betray an intent to communicate the message of Chinese soft power to both domestic and overseas audiences.
It is difficult to judge the true popularity of the soft power on display in "Keep Running." But based on vast numbers of comments left on the microblogging site Weibo, the ratings website Douban, and video-hosting sites like Bilibili and YouTube, audiences seem to view the show in a positive light. One criticism of state-sponsored propaganda in China is that it is too heavy-handed and didactic. With shows like "Keep Running," perhaps officials have finally hit on a formula to make China cool.
Editors: Zhang Bo and Matthew Walsh.
(Header image: Celebrities from "Keep Running" attend a promotional event in Taiyuan, Shanxi province, April. 17, 2018. VCG)