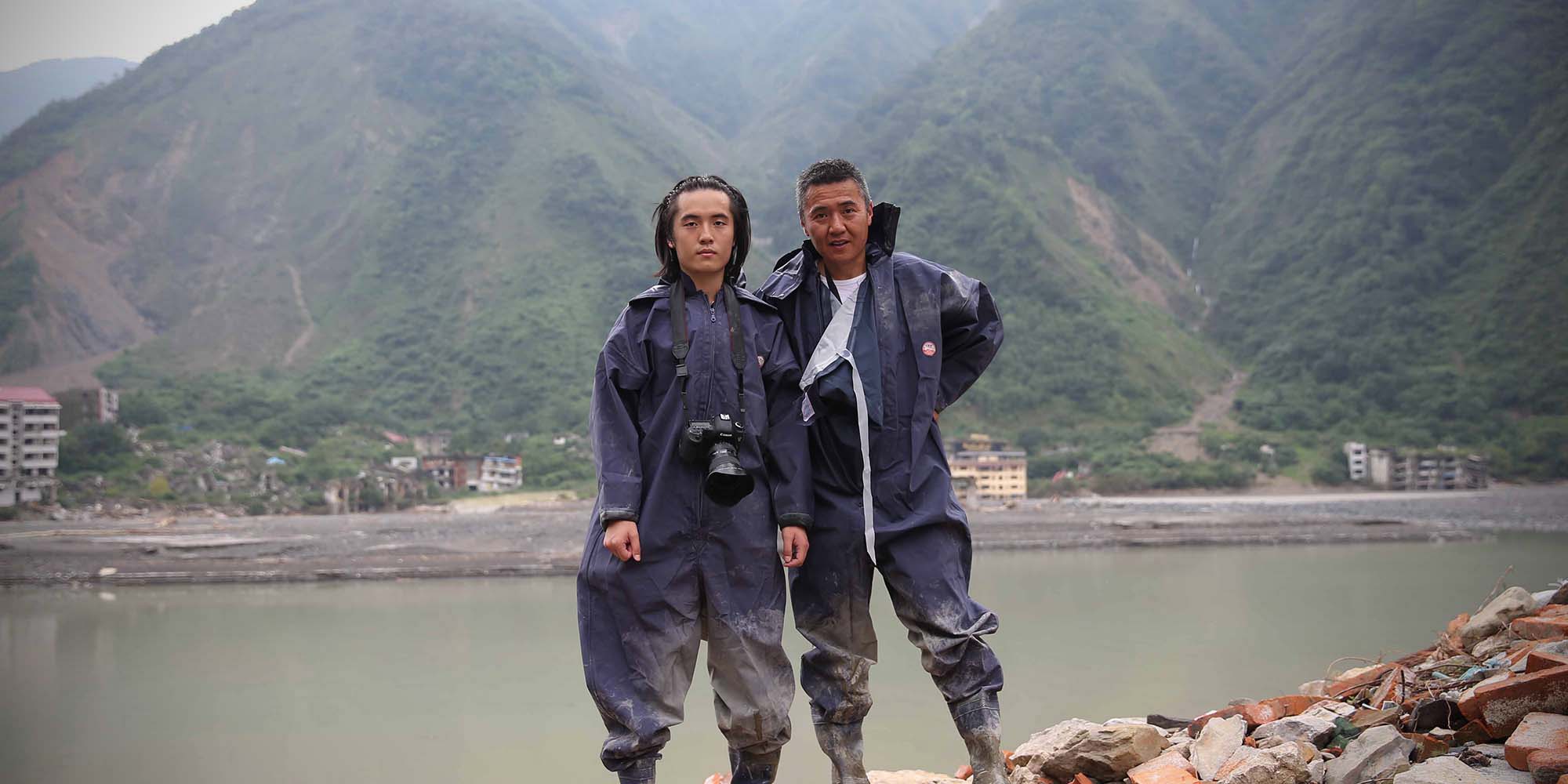 FEATURES
A Son's Journey Back to Beichuan
A man returns to the site of a devastating earthquake to visit the interviewees of his late father, a photojournalist.
This article is part of a series about the Wenchuan earthquake, which left more than 80,000 people dead or missing in May 2008.

When photographer Yang Weihua rushed to the site of the Wenchuan earthquake in southwestern China on the night of the disaster, he found utter devastation. As rescue workers looked for survivors in the mountainous epicenter in Sichuan province, Yang recorded what he saw and helped out where he could.
In Beichuan, one of the hardest-hit counties, Yang alerted rescue workers to a young boy trapped under a collapsed building. After soldiers pulled him out and began carrying him away on a stretcher, the boy made a military salute. Yang's photo of that moment, "Saluting Child," landed on the front pages of newspapers across the country.
The fame that followed always sat uneasily with Yang, as if he were profiting off others' pain. He decided to continue documenting the county as it rebuilt — a means of healing himself, too, a colleague later said. The deadly earthquake not only rewrote the fates of many families; it also scarred those who saw the destruction up close. Medical research shows that many witnesses suffered from varying degrees of post-traumatic stress disorder.
Yang died of liver cancer in early 2015, cutting short his project to document Beichuan's rebirth. With the earthquake's 10th anniversary approaching, his son, Yang Bo, realized how little he understood his father and the emotional toll his work had taken on him. Earlier this year, Yang Bo, now 28, traveled to Beichuan — a journey that taught him as much about his father's interviewees as it did about the man himself.
This is Yang Bo's story, as told to Sixth Tone and edited for brevity and clarity.
People have always told me that my father, Yang Weihua, was passionate and responsible. To be honest, I always felt he was distant, a familiar stranger. When I was a child, my parents divorced. Perhaps because he found a new partner afterward, we cautiously avoided talking about our emotions. Even when he was on his deathbed, we never had deep conversations.
My father was a photojournalist at Mianyang Evening News, a local newspaper in Sichuan. The pictures he took of the 2008 earthquake, most notably "Saluting Child," and the sense of guilt they brought on drove him back to Beichuan again and again to record the county's resurrection and the rebirth of the people's spirits. All the while, he could not help but go beyond his photojournalist duties and devote himself to helping his subjects.
When media contacted me to ask about the pictures my father took over the years in Beichuan and his feelings about the place, I couldn't really answer them. I had no idea how he had felt, and I was ashamed. If being forgotten is the ultimate death, had my father ever been truly alive in my heart?
That was the first time I sat down and carefully sorted through the photos he had left behind. The devastation of the day the earthquake struck terrified me when I looked through the pictures one by one. I knew that some of the survivors he photographed trapped beneath the rubble would die moments later; that, along with emergency workers, my father helped rescue one person but couldn't save the next, whose breath was slowly fading.
A long time after the earthquake, my father told me that he would often hear people calling for help from beneath the ground. I don't know if he ever spoke to a psychologist, but my father's colleague said his frequent trips back to Beichuan to take photos and help people was his own healing process. After the earthquake, my father simplified his life to the extreme. Whenever he had nothing to do, he'd go to Beichuan. It often felt like atonement. "When others suffered, I was rewarded," he once said.
In February, I went back to Beichuan. I wanted to know how the earthquake had affected my father, and what the disaster meant to him. And my father would certainly have wanted to know how his interviewees were doing or hear the latest news about the Tangjiashan barrier lake, a body of water formed as a result of the earthquake that has threatened to flood the area ever since.
Before Chinese New Year, I went to visit Lang Zheng, the boy from "Saluting Child." As soon as I entered their family home, Zheng embraced me warmly. I was surprised. We had met before, but even though he had been close to my father, he was always shy with me.
My father didn't just take Zheng's famous photo — he was the one who found Zheng amid the ruins, where he had been buried for around 12 hours. "I really love that little boy. That he lived was no easy feat," my father told the press. After the earthquake, he rarely missed an opportunity to document each stage of Zheng's life.
Zheng started middle school this year. At 1.7 meters, he is tall for his age. His father often takes him to play basketball, and they love to talk about the NBA over dinner. When Zheng's father, a policeman, said he had to work on Chinese New Year's Eve, Zheng was disappointed. "Why are you so unlucky! So many people, but they picked you!" he complained. "Hey, that's lucky," his father said. "Out of so many people, they picked me."
Seeing their intimate interactions, I was a little envious. My father and I had never had such a normal, natural conversation. Zheng said that he missed my father very much, and that he would sometimes take a detour while riding his bicycle just to go past the place where my father was staying.
"My only wish now is to raise Lang Zheng well," the boy's father said, "so he'll grow up to be a good person and won't let down your father's spirit in heaven."
There were many couples who, in middle age, lost their only children in the earthquake. Because it was very hard for them to conceive another child naturally, the government made assisted reproductive technology available to them for free.
One such couple were Wang Shuyun and Liu Hongying, who were both over 40 years old when they lost their 19-year-old son in the earthquake. Moreover, Wang had undergone a vasectomy. But with the help of in vitro fertilization, Liu gave birth to a girl, Wang Furong, the first test-tube baby to be born after the earthquake.
Now 8 years old, Furong is a lively second-grader who is doted on by her parents. My father remained close to the family for years before he died, helping them find a school and a house, and often sending them gifts, including money.
When I was in college, I would join my father on his trips to Beichuan during summer and winter vacations. In July 2013, torrential rains triggered severe flooding in the area. The old town, a collection of ruins that have been preserved as a reminder of the tragedy, was almost entirely submerged. Wearing full-body waterproof suits, we ventured into the flooded earthquake site. With our feet sinking into the mud and the water reaching our necks, every step was a struggle. A moment of carelessness would have been enough for the floodwater to submerge us. I remember wondering whether my father was scared, too.
Since the earthquake, water has continuously threatened the area. A month after the quake, my father stayed near the Tangjiashan barrier lake, which had formed after the earthquake triggered landslides that blocked off a river. At night, my father couldn't see anything; he could only hear soldiers reporting the water level, which was ever on the rise. There was a plan to shrink the lake by blowing part of the barrier away with explosives, but the risks were enormous. If too many of the rocks suddenly gave way, a flash flood would follow. My father said he was prepared for the worst.
Today, a single container is all that's left of the Barrier Lake Emergency Command Center. Square-shaped red signs spell out a slogan referencing a since-discarded plan to turn the area into a tourist attraction: "Miles of Flowers Look Upon the Houses, People Visit the Barrier Lake From Miles Away." On the narrow road to Tangjiashan, past steep cliffs, workers are still busy clearing stones that block the way.
Just recently, part of the dam collapsed. The rushing water destroyed a bridge that connected to a rebuilt village. I took the only road to the village, which had been repaired only two months prior. In my father's photos, the barrier lake takes many forms. When the water level was high, there was the risk of the dam bursting. After the water level dropped, the ghostly remains of flooded villages emerged from the deep.
The rebuilt Beichuan is a thriving, modern county, but the Tangjiashan barrier lake is a constant reminder that, when faced with the forces of nature, human life is fragile.
During my return to Beichuan, one thing kept popping into my head. On one of our summer trips to Beichuan, my father and I chanced upon an apple tree. Hanging from high branches, apples glittered in the sunlight. I was hungry but couldn't reach the fruit. My father told me to stand on his shoulders, and I managed to pick two apples. I handed him one, asking if he wanted to eat it. He shook his head.
I couldn't find the apple tree again, but I did feel my father by my side once more.
Translator: Zong Chen; editor: Kevin Schoenmakers.
(Header image: Yang Bo (left) poses for a photo with his father, Yang Weihua, after photographing a flood in Beichuan Qiang Autonomous County, Sichuan province, July 19, 2013. Courtesy of Yang Bo)