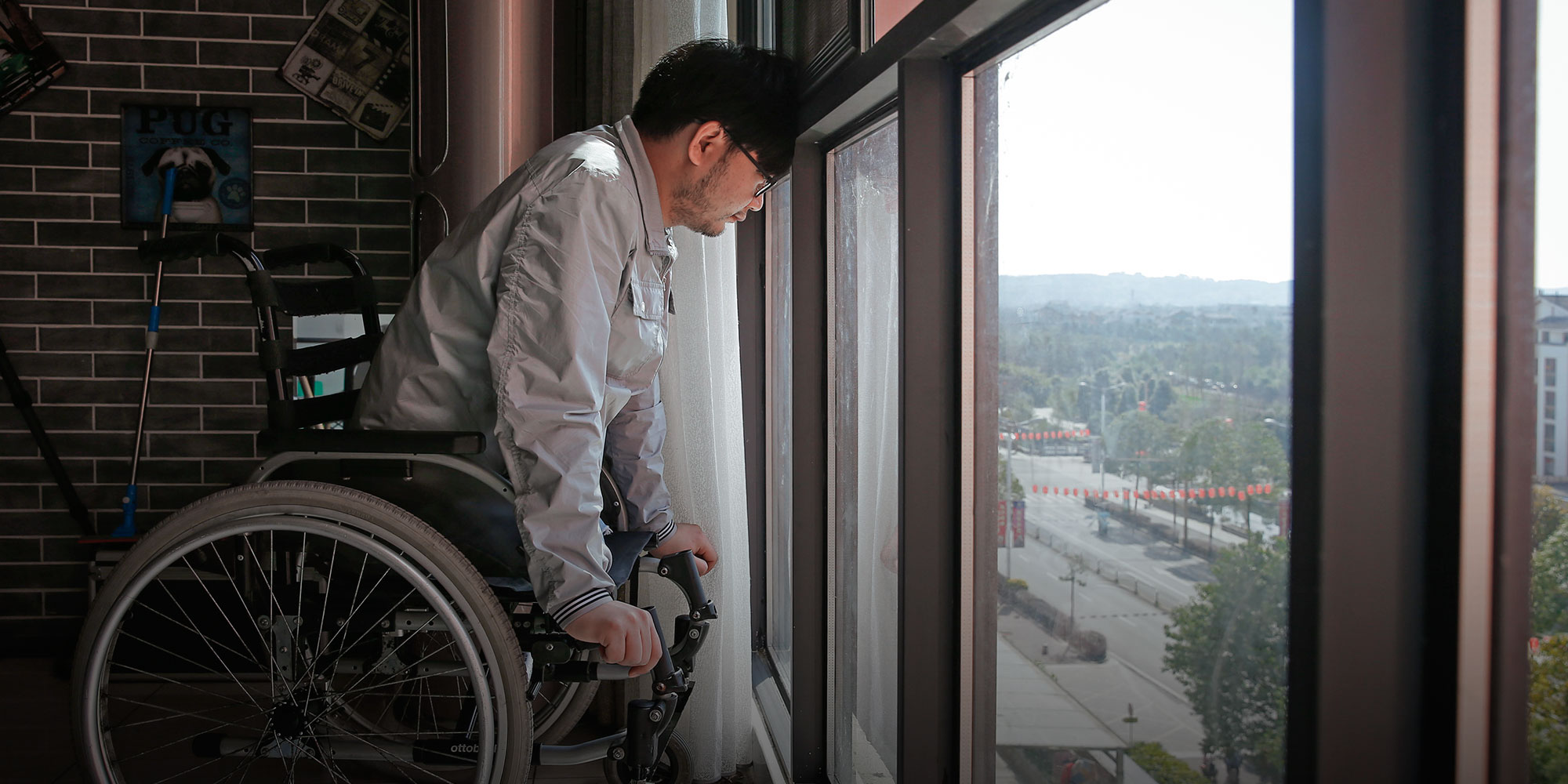 FEATURES
The Young Amputees of the Wenchuan Earthquake
After losing his legs in the 2008 disaster, one man hopes to improve access to prosthetics and other assistive technology in China.
This article is part of a series about the Wenchuan earthquake, which left more than 80,000 people dead or missing in May 2008.
SICHUAN, Southwest China — Zheng Haiyang still has phantom limb pains; he can sometimes feel his toes ache. Because he has so little of his legs left, walking on prostheses for more than a few minutes is so painful he'll start sweating all over his body. Yet the 26-year-old says he's lucky, relatively speaking.
Zheng was in class at Beichuan Middle School, a secondary school, when the magnitude-7.9 Wenchuan earthquake devastated the area on May 12, 2008. There were only 16 survivors among the 69 students in his 10th-grade class. Zheng had to have all but 10 centimeters of both legs amputated after lying buried under his collapsed school building for nearly a full day. Now, a decade later, he has created an app providing much-needed support to the millions of people in China who require artificial limbs and other assistive technology.
On top of the immense death toll from the quake — 68,000 killed in Sichuan alone — more than 7,000 people were left with physical or mental disabilities, the province estimated in 2009. Beichuan Qiang Autonomous County was among the areas hardest hit. The county's publicity department tells Sixth Tone that, out of a total population of about 240,000 people, 804 Beichuan residents are now living with disabilities as a result of the disaster.
When Zheng was pulled out of the rubble by a rescue team after 22 hours, he was immediately rushed to a hospital to have his legs amputated. The then-16-year-old naively believed the doctor would give him another pair of legs to walk on, and he would soon be as good as new.
When Zheng's father, Zheng Xiong, finally found him in the recovery ward a day later, he barely recognized his son. He'd been working away from home for several months and still remembered the teen as tall and athletic. The pale, thin boy in the hospital bed looked nothing like he remembered. "I didn't dare believe that was my son until he called me 'Dad,'" Zheng Xiong, now 50, tells Sixth Tone with tears in his eyes.
What followed was an uphill road to recovery. Zheng Haiyang lost all hope: He refused to take part in rehabilitation activities, or even to eat. He felt that he had no future, writing in one diary entry that he'd be better off making a living cleaning shoes than returning to his studies.
Those left with disabilities found it especially hard to adjust to life after the quake. Zheng Haiyang was portrayed in countless media reports as a strong-willed survivor — but in reality, he had hit rock bottom. The turning point in his recovery came in 2011, when he enrolled at Tianjin Maritime College in northern China, more than 1,500 kilometers from home. He soon settled into the routine of student life, with its more mundane annoyances: For one, his wheelchair made it easy for professors to tell if he was missing from the room whenever he tried to skip class.
Eventually, Zheng Haiyang began to see how fortunate he was. Many disabled Wenchuan earthquake survivors were provided free assistive devices and regular medical counseling sessions in the aftermath of the disaster — privileges that plenty of other people with disabilities could only dream of.
"Many ordinary people might not know it, but China has a huge demand for prosthetic limbs and assistive devices," Zheng Haiyang tells Sixth Tone on a misty night in the new Beichuan, built next to the ruins of the old county seat. According to the China Disabled Persons' Federation (CDPF), more than a third of China's 85 million people with disabilities require such devices. Yet the need is "far from universally met," according to the CDPF's latest five-year plan. A 2015 CDPF survey indicates that the shortage affects at least 7.58 million people.
In the second half of 2017, Zheng Haiyang decided to quit the stable office job he had taken after graduation to establish an app providing comprehensive services for people who need assistive technology, including prosthetics and devices like wheelchairs. Mr. Jia — the latter word meaning "artificial" in Mandarin — helps users find affordable and suitable devices, connects them with doctors, provides rehabilitation plans, and organizes offline support events.
"The recovery process is longer than people imagine, from the physical to the psychological," Zheng Haiyang says. "I want to plan everything for them."
Currently available for Android phones, the app has cooperation agreements with 20 hospitals. It offers information on repairing and adjusting assistive devices, and includes a price-comparison function for various brands in the hope of increasing the accessibility of such technology. "My prosthetic legs cost 690,000 yuan [$100,000], a sky-high price for any person," Zheng Haiyang says. "In China, disabled people are not valued in the labor force — so how can they afford these devices?" In the future, Zheng Haiyang dreams of developing a map that shows all accessible facilities across China.
Zheng Haiyang hopes to use his unlikely privilege as an earthquake survivor — in addition to free medical support, media coverage of his story has boosted his business — to spread awareness of the challenges people with disabilities face. Yet his app has encountered negative feedback and ignorance from the public. One of the most-liked comments on a report about his current life and business venture reads, "A man who broke his legs is trying to win some sympathy," accompanied by a frown emoji.
Most nondisabled people will never understand just how tough rehabilitation is, says 27-year-old Li Hongmei, who lost her left forearm in the Wenchuan earthquake after being buried under a collapsed wall for more than 20 hours. Before her amputation, Li had never met a disabled person before. On top of the unbearable pain, facing judgment from others chipped away at her dignity. "I didn't dare wear short sleeves at first," Li says.
When the teenage Li resumed classes after the disaster, she was the only disabled student in her class, and she struggled academically. After scoring poorly on the national college entrance exam, she went on to a vocational college and studied math education in a special program aimed at earthquake survivors. Now a primary school teacher, she finds interacting with children a relief compared to many of her encounters with adults. She doesn't mind fielding questions from her young charges about her missing hand: "You know they're just curious," she says.
Li married a former classmate who was buried near her and lost his leg in the quake. He now uses a prosthetic and a walking stick, and works as a civil servant. Yet Li's parents fear for the couple's future. "They're worried that because we are both disabled, it will be hard for us to live this way," she says.
Zheng Haiyang's parents, too, struggled to cope with their son's disability at first. "I saw so many of his surviving classmates still with their legs and arms, while [my son] lost both legs," Zheng Xiong says. "I can feel his pain." The father opted for tough love, forcing his son to practice walking on his prosthetic legs every day, even up the stairs. "He's disabled after all," Zheng Xiong says. "He needed to learn how to be self-sufficient."
But his mother didn't agree with her husband's approach, and they quarreled frequently. The quiet, introverted woman cried though many a night but never lost her temper at her son. On the contrary, she wished the teen would yell at her rather than keeping his feelings pent up inside. "I don't need him to be successful or make a lot of money; all I want is for him to be happy and safe," she says.
For the survivors, the decade since the earthquake has been painful. In the immediate aftermath, crowds of journalists pushed them to relive the disaster. Many volunteers who had flocked to the area from all over the world left after a short while. According to locals, some survivors couldn't cope and turned to drug abuse or even suicide. Parents who lost their children appealed to the government for compensation, demanding an explanation as to why local school buildings had proved so fragile.
On his lowest days, Zheng Haiyang recalls telling his mother that he wished to remain close to his deceased classmates: "If I die, remember to scatter my ashes at Beichuan Middle School. I want to stay with them."
The entrepreneur now works in provincial capital Chengdu but makes occasional trips back to Beichuan. In some ways, it feels like he never left, as his mind often replays those initial two minutes of tragedy — how the earth trembled, how the mountains swayed, how the people cried and died. When the quake hit, he was dozing off in politics class on the fifth floor of the school. He had almost fallen asleep when the whole classroom suddenly wobbled a little. The teen thought it might be his deskmate playing a trick, until someone shouted, "Earthquake!"
Chaos ensued. Students and teachers rushed to the back door, which became impossible to pull open against the force of the crowd. A few seconds later, Zheng Haiyang recalls, he felt the building collapse entirely. He and everyone around him fell down with it.
When Zheng Haiyang regained consciousness, he found himself pinned from the neck down by pieces of the ceiling. A classmate in a red-and-white T-shirt was motionless beside him; Zheng Haiyang soon realized he was dead. Half an hour later, another classmate passed away. Death was closing in on the young lives around him. "If hell really exists, it's probably exactly like what I experienced," Zheng Haiyang says.
His best friend since childhood, Liu Xuliang, was helping to rescue others but told the survivors pinned under the rubble they would have to wait for a crane. Liu was uninjured, as he had slipped away from his class and was playing basketball on the playground when disaster struck. He returned often to check on Zheng Haiyang, who had managed to free his upper body — but for the trapped survivors, it wasn't easy to stay optimistic. At one point, Zheng Haiyang suggested they all leave messages for their parents in case they didn't make it.
Not a single eye was dry as they recorded their last words on a classmate's cellphone. "Mom, Dad, your son might be dead soon," Zheng Haiyang recalls saying in a shaky voice. "I love you so much. I hope you will live a better life. Please don't be sad if I leave you … I will miss you even in death."
Ten years later, Zheng Haiyang still has dreams about his classmates — in them, he still has both legs, and his deceased friends are alive, frozen in time at age 16. In reality, the dead are long gone, and the survivors have all grown up. During Qingming Festival in early April, an annual holiday for honoring the deceased, Zheng Haiyang revisited the ruins of the earthquake in a wheelchair, along with his remaining classmates. At least 20 cameras were trained on the survivors, but they were unfazed — they'd had years of practice answering reporters' questions and telling their stories over and over.
Liu wishes he had never gone to Beichuan Middle School in the first place. Both he and Zheng Haiyang were accepted at another top school in a nearby city, but since his friend didn't want to leave their hometown, Liu decided to stay with him. "If I could have persuaded him to leave Beichuan, maybe everything would be different," he says, tapping his cigarette against an ashtray.
Instead, the disaster changed them for good. Back in Beichuan last July, Zheng Haiyang had just finished watching "Final Destination," a movie about a group of teenagers being hunted by death, when a magnitude-7.0 earthquake hit. His apartment building shook, but he didn't hurry to get in his wheelchair and escape.
"It wasn't a big deal," he says with the indifference of someone who has seen it all before. "You don't have to run from a small earthquake, and you can never escape from a large one."
Editors: Jessica Levine and Kevin Schoenmakers.
(Header image: Zheng Haiyang looks through a window, Mianyang, Sichuan province, Feb. 24, 2018. Yang Bo for Sixth Tone)