E-commerce giant Alibaba has come under fire for promoting both patriarchy and pseudoscience after it advertised sex-selection health supplements to prospective parents.
Earlier this week, eagle-eyed netizens pointed out that on the homepage of Taobao — a major online marketplace owned by Alibaba — an advertisement touted products that could adjust a woman's pH level to increase her chance of conceiving a boy.
"What to do if your first child is a girl? Use Jianyunbao for your second birth," proclaimed the ad for Jianyunbao, which roughly translates to "alkaline elixir for pregnancy," exploiting the persistent preference for boys in Chinese families as well as widespread ignorance of reproductive science.
The brazenly sexist ad had soon raised eyebrows across online discussion forums, with even state-backed publications piping up. Mochou, a magazine funded by a provincial branch of the All-China Women's Federation, a government-backed women's rights organization, published an article on its WeChat public account titled "Taobao, You Owe Every Woman an Apology."
"What do you mean by 'What to do if your first child is a girl?' Does giving birth to a girl mean that a woman is inferior to others and should feel sad? If you have a daughter, must you try to produce a son to make up for it?" reads the article.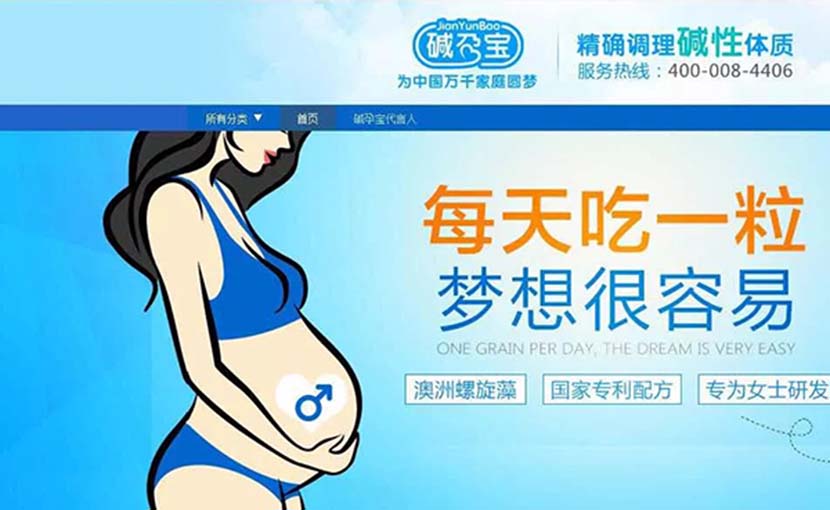 A screenshot from e-commerce platform Taobao shows the ad for a product that claims to adjust a woman's pH level to increase her chance of having a boy.
Several factors, in particular the notion that only sons can continue the family line, have led to a strong preference for boys in Chinese society. During the one-child policy era, some couples would undergo illegal sex screenings at underground clinics so they could terminate the pregnancy if they knew they were having a girl. Even in recent years, there have been documented cases of infanticide.
The relaxation of family planning restrictions offers hope to parents who already have a girl but still want a boy. Yet though popular health education websites like Dingxiang Yisheng have debunked the myth that higher alkalinity in a woman's body will increase her chance of conceiving a boy, some desperate couples still resort to products like Jianyunbao or methods like douching with a baking soda solution to create the desired pH level.
Mochou acknowledges that it is an uphill battle to challenge society's views on gender equality but also argues that Taobao should ban such ads. "A platform under the world's largest e-commerce company, Alibaba, still dares to promote and sell products that claim you can select the sex of a fetus. What kind of corporate culture is that?" the article asks.
The timing of the incident is inconvenient for Alibaba, which was recently criticized for its sexist recruitment practices.
On Friday night, the digital marketing arm of Alibaba apologized on its Weibo microblog for displaying the ad on Taobao. "Due to mistakes in the review process, we allowed an ad with sexist elements to be shown on the website," the statement said. Taobao has since removed the ad, punished the vendor, and vowed to strengthen its review system to prevent such cases in the future, according to the statement.
By Saturday afternoon, Sixth Tone could find no Jianyunbao products on Taobao, though other products claiming similar effects were still available.
A spokesperson for Foshan Yuankang Food Trade Company, Jianyunbao's Guangdong-based manufacturer, said the company was not aware of the ad and could not comment on the issue.
Editor: Qian Jinghua.
(Header image: People ride a two-seater bicycle past the Alibaba logo at the company's headquarters on the outskirts of Hangzhou, Zhejiang province, Nov. 10, 2014. Aly Song/Reuters)