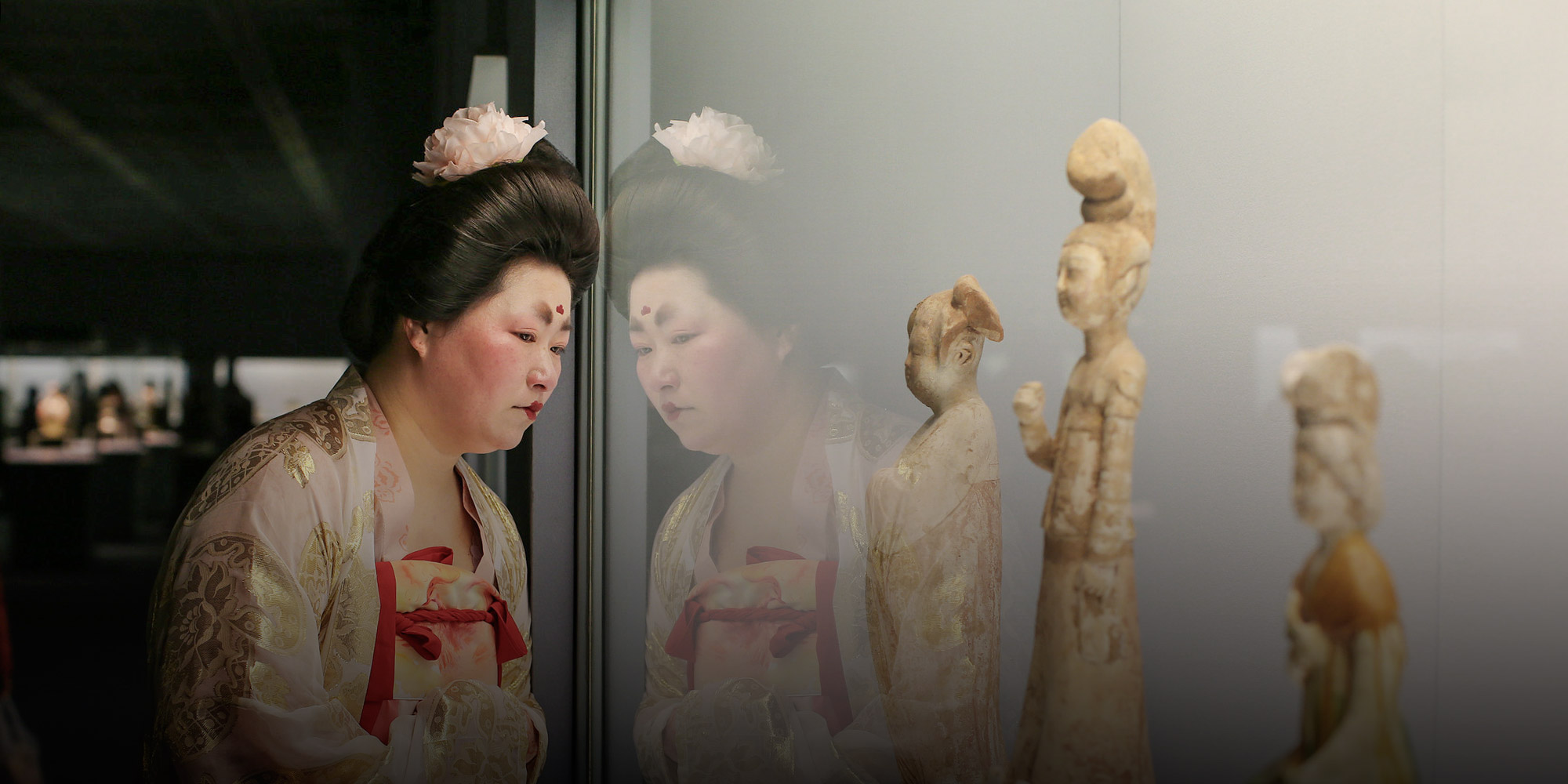 FEATURES
The Web Celeb Making 'Hanfu' at Every Size
Plus-size designer and model uses traditional Chinese fashion to reshape modern beauty ideals.
CHONGQING, Southwest China — It hasn't always been smooth sailing for fashion entrepreneur Zheng Qi. The 38-year-old designer specializes in hanfu, the ancient Chinese clothing style that's experiencing a popular revival as young consumers increasingly favor items that are unique, artisanal, and linked to a rich historical legacy. When Zheng opened a hanfu boutique in her hometown of Chongqing in 2015, customers flooded the 130-square-meter store. But most did not buy a single piece — instead, they spent all day trying on the garments and taking selfies.
Zheng found herself more than 1 million yuan ($160,000) in debt after spending a fortune setting up the store and even buying the costume design rights to the 2015 animated movie "Monkey King: Hero Is Back." She had to close her shop after just a year of operation.
But these days, Zheng is back on her feet with enviable sales through her online store on e-commerce platform Taobao, and a growing profile as one of the country's most recognizable hanfu models.
Zheng's pictures have catapulted her into the public eye in part because she is a rare example of a plus-size model in the traditional clothing community. On Feb. 14 — which in 2018 was both Chinese New Year and Valentine's Day — a photo set of Zheng in hanfu making exaggerated expressions while receiving red envelope money became a viral meme on microblogging platform Weibo. Many used her photos as online chat stickers, and another photo set she released for the Lantern Festival was also well-received.
Hanfu refers to Chinese couture dating back to the Han Dynasty in the third century B.C. Though styles changed over time, fans and followers say that hanfu standards of dress and the corresponding etiquette system lasted for more than 2,000 years, until the Qing Dynasty took over and introduced Manchu clothing across the country in the 17th century. After the 19th-century Opium Wars brought European influences, including fashion, into China, hanfu became more or less obsolete — until the turn of the millennium.
The Asia-Pacific Economic Cooperation (APEC) forum in Shanghai in 2001 sparked debate over what style of dress should represent China as the host. The APEC organizing committee chose to give silk suit jackets with mandarin collars and knotwork clasps to the world leaders attending the summit, but though the garments were described as "Tang suits," the design was not from the Tang Dynasty but rather a modern interpretation of a Manchu-style jacket. The affair increased awareness of China's diverse sartorial traditions; some argued that the committee should have chosen Han-style designs instead, and it spawned a hanfu revival movement.
Since then, interest in classic Chinese culture has seen an enormous resurgence, motivated in part by a sort of postcolonial pride in the country's native customs, and in part by nostalgia for slower and simpler times. The trend — which has significant government support — has created opportunities for designers and manufacturers.
Zheng began to sell her own hanfu designs through her Taobao shop in 2013, and her business grew rapidly: In 2015, she says, she sold nearly 2.8 million garments. Yet there have also been setbacks — like her failed attempt to launch a brick-and-mortar store — and her core clientele still hasn't grown beyond the small community of cosplayers and classics connoisseurs. "For most people, spending 500 yuan on hanfu isn't worth it — they are more willing to buy conventional fashion," Zheng says.
Outside of its cult following and those who purchase one outfit for a special occasion, hanfu has not amassed broad, everyday appeal. Government leaders endorse hanfu while wearing Western suits themselves.
Zheng also battles another kind of anxiety: Plus-size women are pushed out of sight in contemporary China, where patriarchy and capitalism combine to market the myth that women must be thin. But, she declares bluntly, "We fatties need beautiful clothes, too."
Beyond her general love of traditional couture, Zheng believes the aesthetics of previous eras can be empowering when it comes to reappraising contemporary beauty norms. While gyms and weight loss companies today associate fatness with guilt and sloth, Zheng says many Tang Dynasty artworks praise the "elegance of fat," which is why she is particularly drawn to the clothing of the period.
Online, images of Zheng in hanfu are sometimes the butt of jokes. But she says she doesn't mind much, as she also receives plenty of messages from people saying that she has helped them find confidence in themselves.
"In Western countries, we've seen so many beautiful fat models in the fashion industry, but the attitude toward women in China still says the only criterion is that you must be thin," Zheng says. She aims to challenge this mindset, whether as a designer, a model, or simply a woman walking down the street in Tang Dynasty regalia. "I touch a sore point in the heart of modern China, where people can hardly believe that a fat woman would dare flaunt her beauty," she says.
Zheng is determined to shift China's views on what it is beautiful and fashionable. "There's a long way to go before people change their habit of dressing in Western clothing, or their attitude toward fat and thin," she says with a smile, "but I am well on my way now."
Editor: Qian Jinghua.

(Header image: Zheng Qi poses for a photo in 'hanfu' at a museum in Shanghai, March 11, 2018. Niu Jing/IC)