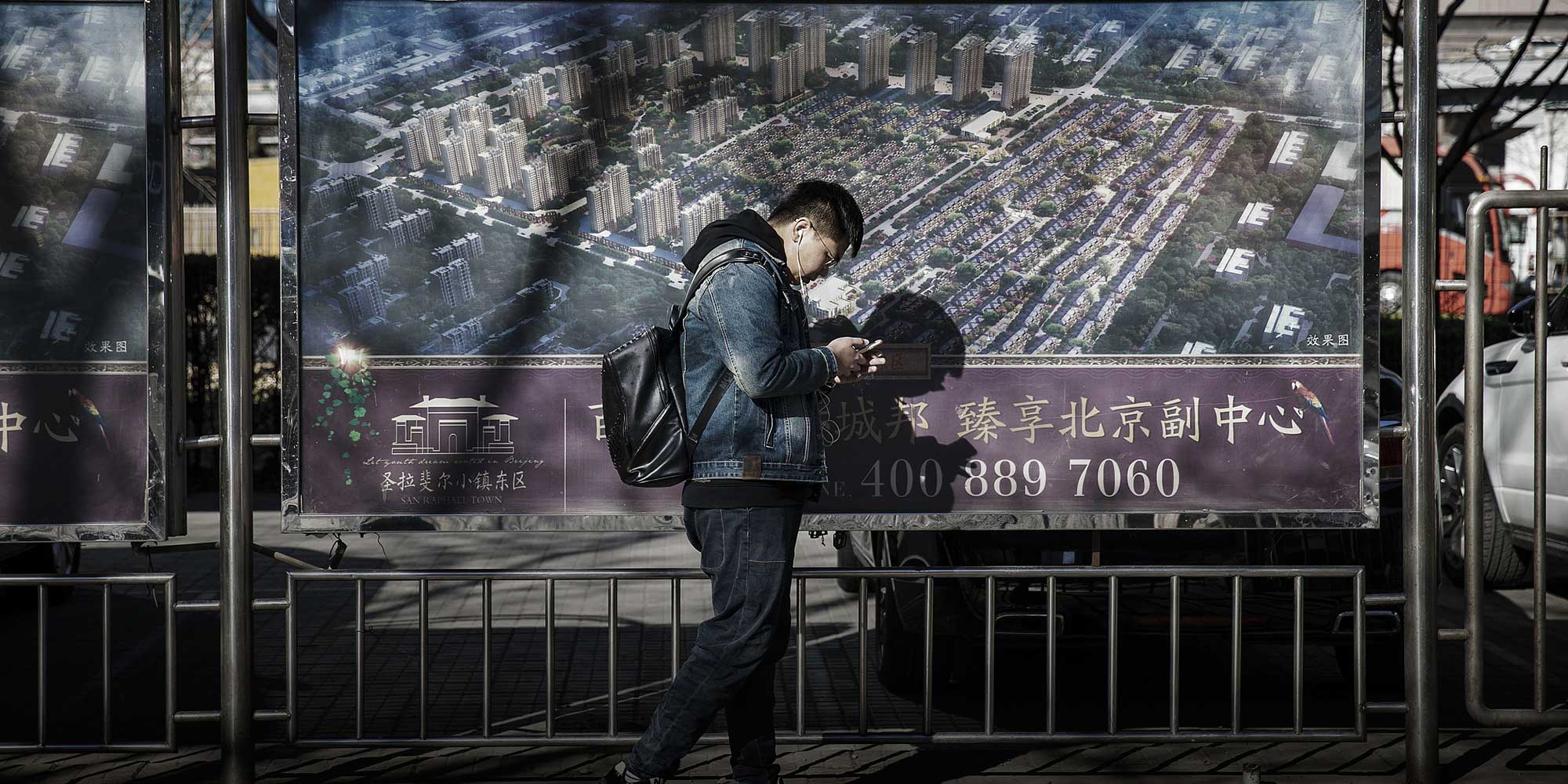 VOICES & OPINION
China's Realtors Are Making Money From Our Social Ills
Home advertisements play on the very real anxieties of an ossifying middle class.
Earlier this month, a major Chinese property developer, Zhongliang Real Estate Group, published an advertisement for a new project in Changzhou, a city in eastern China's Jiangsu province. The ad featured two girls, dressed all in white, lying next to each other on a verdant lawn. On the left-hand side of the image, a slogan declared: "Your daughter's best friend is a city director's kid."
From April 14, the ad was widely publicized on social media. Online outlets and web users alike roundly condemned the commercial, claiming that Zhongliang was making money off the suggestion that the neighborhood was popular among certain municipal government officials. In a Chinese context, such suggestions often hint at deep-seated social ills: On the surface, they imply that the development is beautiful, secure, and popular among the country's well-heeled social elite. But underneath, the commercial subtly plants the idea that homeowners might cultivate powerful connections and receive preferential treatment from city governors.
Although the importance of interpersonal relations, known as guanxi, is often overstressed in China, it is true that many people see strong person-to-person bonds as a means to curry favor with their superiors, strike favorable business deals, or enjoy other forms of beneficial treatment. Sometimes, guanxi-based relationships contravene legal guidelines or official protocol, and incur the wrath of people left out of the loop.
Of course, Zhongliang can't guarantee that influential public servants will buy property on the new development. Nonetheless, the public lambasted the company for implying — with a knowing wink and a nudge — that its products would strengthen relationships between local officials and the wealthy middle-class types who would most likely move in.
Zhongliang recalled the commercial a day after it appeared, but it is not the first real estate firm to spark animosity with tone-deaf publicity campaigns. In March, Chinese real estate giant Vanke promoted a development near the main university in Zhengzhou, the capital of central China's Henan province. "The only thing better than the intoxicating spring breeze are the female students sitting beneath the trees," the ad read.
Amid the ensuing brouhaha, netizens branded Vanke's choice of words vulgar and insulting to students at Zhengzhou University. The company immediately pulled the ad and issued a public apology, saying that it had docked the pay of some of the people responsible for the commercial, and demoted or fired others.
Advertising reflects social values. But Chinese advertisers have occasionally struggled over the past 40 years to effectively channel changing social values, especially in industries like housing, which are so intricately tied to our everyday existence. Prior to 1978, the government allocated accommodation to its citizens through an extensive welfare system. But as China's economic reforms gathered speed during the 1980s, the government gradually allowed the emergence of a private housing market. Since the turn of the century, home prices have risen dramatically, especially in first- and second-tier cities, despite the introduction of stronger state controls since 2008.
In every country, the quality of individual housing is an important economic marker of social contentment. In today's China, however, a cohort of wealthy speculators occupy a disproportionate amount of the urban housing stock, while young people and nonlocals face often-impenetrable barriers to home ownership. The disparity between the housing market's haves and have-nots is fertile ground for social conflict, and advertisers are trying to play up to it.
As the private property market took root in the 1980s and '90s, Chinese homebuyers tended to emphasize practicality. Advertising during this period was quite straightforward, talking up cut-price homes, location, and the local living environment. Few people discussed the relationship between the properties they owned and, say, the quality of local schools or the ability to apply for a local residency permit.
A housing ad that was distributed in the southern Chinese city of Shenzhen in 1997 is a good example of the era's zeitgeist. By today's standards, it is hardly eye-catching; it is poorly drawn, too busy-looking, and contains far too much information. But it spotlights the key information: a reasonable price and an excellent local neighborhood.
But in the decade leading up to the 2008 financial crisis, real estate companies revved up their marketing campaigns, bolstered by emerging trends in conceptual packaging and mass advertising. Companies no longer sold places to live; they sold important markers of identity, status, and wealth in a society where private property was practically unheard of 20 years prior.
Property flyers from this period were glossy and extravagant. Realtors name-checked cosmopolitan-sounding Western cities and styles, and ads were rife with references to Paris, Venice, and Victorian London. In 2003, my parents brought two properties in Quanzhou, a small city in eastern China's Fujian province. One apartment was in a gated community called "Sunshine Manhattan," the other in "Sunshine Paris." Advertisers were at pains to sell the idea that the properties would lead inexorably to stylish, Westernized, modern lifestyles, and often featured models doing things with little relation to everyday life in China — grinding coffee, for example, or tossing a Caesar salad.
But since 2008, social classes in China have ossified. The property market has been a key arena in which this phenomenon has taken place: Homeowners continue to see the value of their property rise, while first-time buyers are consistently priced out of the market. Policies that aim to cool China's overheated property industry — like excluding nonlocals from urban property markets — often entrench existing divisions.
These days, advertisers play on these anxieties. Many have embraced a more lowbrow approach, titillating people's often-frustrated desires for power, wealth, and status. Property sellers nakedly depict new developments as possessing a "royal atmosphere." Others are "the domain of the gentry class," and still more are prime examples of "high-end luxury."
Other quirks of the advertising lexicon link a lack of home ownership to other socially maligned practices. "Getting married without buying a home is just playing at love," screams one ad in Zhanjiang, in southern China's Guangdong province. "Buy a house, get a free wife!" quips another. "It's OK not to buy a house — as long as you can handle your mother-in-law," says still another. As more and more middle-class parents worry themselves silly over their children's education, commercials ham up the best school neighborhoods with claims like, "All houses come at a price, but getting into a top school is priceless."
If homebuyers feel that today's real estate ads are increasingly vulgar and shameless, they're really saying that they'd rather realtors didn't trivialize the tremendous social pressures of modern life. In China, where you live can carry wide-ranging repercussions for your work, social status, and romantic life. Advertisers know all this and fan the flames of our slavish servitude toward home ownership. It's enough to make you yearn for a return to a simpler time, when a house was just a house.
Translator: Katherine Tse; editors: Zhang Bo and Matthew Walsh.
(Header image: A man looks at his mobile phone as he walks past a real estate advertisement in downtown Beijing, March 14, 2017. Qilai Shen/Bloomberg/VCG)