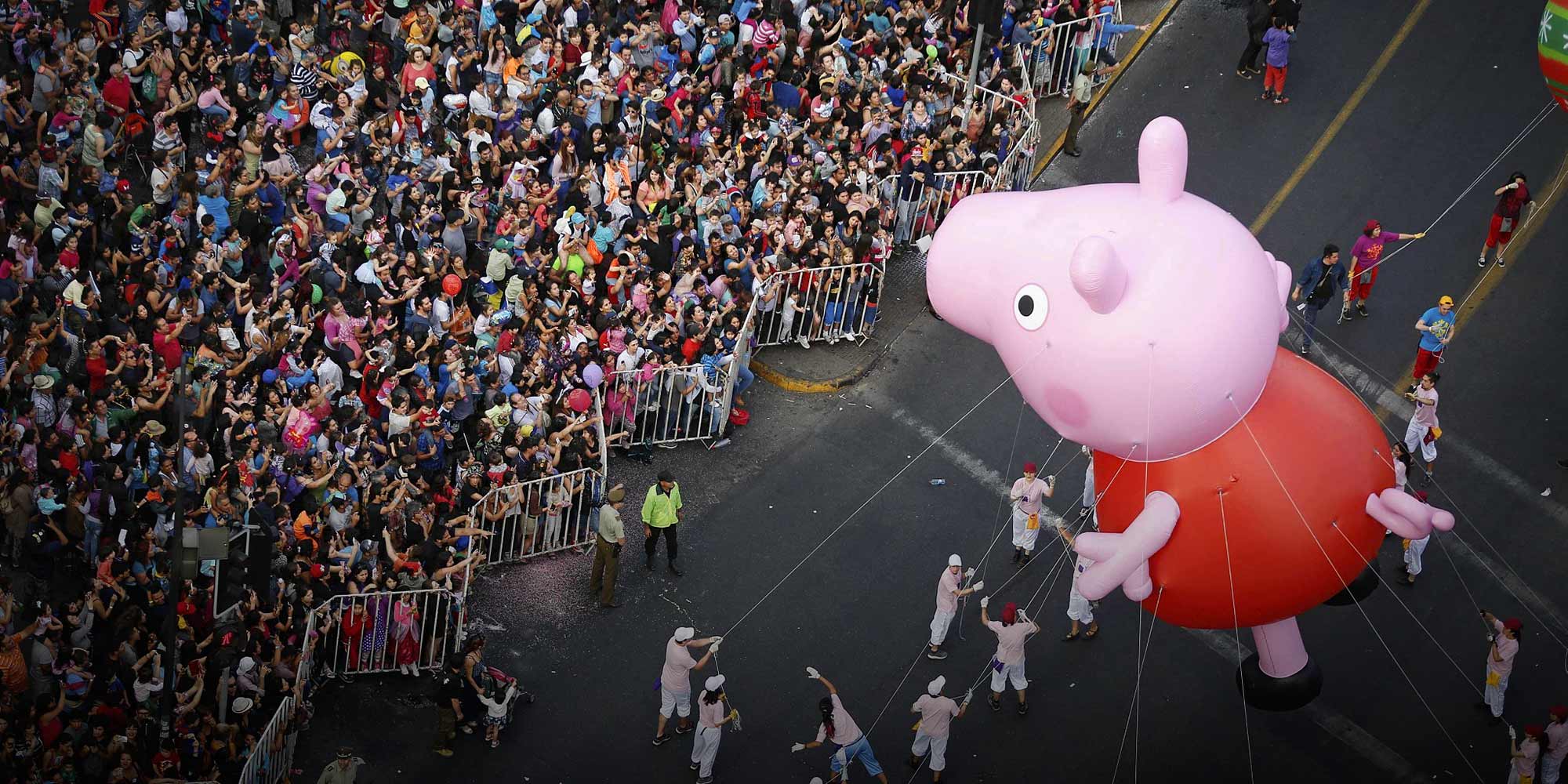 NEWS
In China, Peppa Pig Is a Street Couture Icon
Cartoon pig is a lady in the sty and a thug in the streets.
Chinese audiences have loved Peppa Pig, a British cartoon character with a face shaped like a hair dryer, since the animated series first screened in the country in late 2015. But it's not just children who are swooning over the swine.
Since last summer, the young pig has become the topic of countless memes, jokes, and short videos — especially since she was jokingly cast as a shehuiren, a slang term for a gangster. In the last month, Peppa mania has reached new viral heights, with many millennial celebrities showing off their Peppa Pig merchandise and even tattoos.
The hype around the porcine heroine is huge right now: On viral short video platform Douyin, more than 30,000 videos appear under the Peppa Pig hashtag. The series is rated an astronomical 9.2 on review platform Douban, and its fifth season, released last October, has been viewed over 14 billion times on video platform Youku. Peppa Pig theme parks are even slated to open in Beijing and Shanghai next year — just in time for the Year of the Pig in 2019.
Some say the craze may soon die down, as celebrities increasingly exploit Peppa Pig as clickbait, and even state media outlets append her image to pork-related stories for viral flair. But in the meantime, here's a quick look at some of the most popular Peppa Pig memes and merch.
1. Peppa Pig Tattoos
Peppa Pig tattoos are all the rage on Chinese social media right now — and even in the Sixth Tone office. Some trace the phenomenon to Italian football player Alberto Gilardino, whose Peppa Pig tattoo caught the eyes of Chinese netizens in December. But the latest craze is sparked by a popular two-line rhyme that roughly translates as "get your Peppa Pig tatt, shout out to your frat."
Most tatts are merely temporary: One store on e-commerce platform Taobao has sold over 30,000 of them in the last month. Celebrities are in on the fun, too, with actor Li Chen posting a picture of himself on social media platform Weibo with a little Peppa Pig tattoo on his forehead, fetching over 200,000 likes.
But some fans are getting inked with the real thing. News outlets reported earlier this month that tattoo studios are getting more requests for real Peppa Pig tatts, with one customer even forking out 10,000 yuan ($1,600) for a whole-back piece.
2. Hainan, China's Peppa Pig Province
Last week, a Weibo weather account added a Peppa Pig body to a bird's-eye view of Hainan, the island province in southern China that is shaped somewhat like the character's head. The humorous post, hashtagged #PeppaPigProvince#, drew over 65,000 likes, and the most upvoted comment on it simply says "gangster."
3. Peppa Pig Candy-Dispenser Watches
Watches and bracelets with various Peppa Pig designs have sold over 100,000 units on Taobao in the last month, as more celebrities have started flaunting the childish accessory. Most notably, Qi Wei, the lead actress in a new widely discussed TV series, "Beijing Women's Manual," showed off her new Gucci bag in a product demonstration video on Monday while wearing one of the pink, candy-dispensing watches.
4. Fan Videos in Chinese Dialects
In November, a fan-made Peppa Pig video dubbed in Chongqing dialect became an instant hit on video-sharing platform Bilibili, leading it to becoming dubbed in more than 15 other Chinese tongues, including Shanghainese, Sichuanese, and the northeastern accent.
5. Peppa Pig Porcelain
Images of an antique-style porcelain cup made by a Chinese artist and featuring Peppa riding a bike went viral this month, even making it into news reports, and copycat cups with similar designs can already be found on Taobao.
6. My Dad, Peppa Pig
Netizens were moved to see a man in eastern China's Shandong province selling pancakes while dressed as Peppa Pig to raise money for his diabetic daughter's medical expenses.
7. Peppa Pig Haircut
In early April, a university student in central China's Henan province made headlines when he had Peppa Pig shaved into the back of his head — but his classmates say he regrets getting it.
8. Drawing Peppa 
Social media is full of users sharing their fan art of Peppa Pig, be it sketched on whiteboards or etched in snow. Last week, Xu Weizhou's whiteboard pictures caused a stir on Weibo, and fans joked that the simple image probably marked the peak of the heartthrob actor's art career.
9. Stickers and Emojis
Unofficial, fan-made Peppa Pig chat stickers and emojis have proliferated in the last year, and a Weibo social media account that shares such stickers now has over 200,000 fans — nearly four times the followers of the famous pig's official account.
10. Peppa Pig Apparel
The Peppa Pig phenomenon has come with endless clothing spin-offs. A series of images posted in March show Peppa Pig's face photoshopped onto the logos of premium brands: In one case, her snout can be seen poking through the interlocking C's of the Chanel insignia. The remixed logos are often used on apparel and as social media avatars.
Yesterday, local clothing brand NewCapCity promoted its new line of t-shirt designs portraying a gangster Peppa Pig with "thug life" shades.
Though much of the current craze is built off unlicensed products, Peppa's official representatives have had little to say, perhaps for fear of alienating their core market of preschoolers by encouraging "gangster" associations. When the Hainan province map went viral, the official Peppa Pig Weibo account simply shared the post along with a series of question marks.
Editor: Qian Jinghua.
(Header image: Pablo Sanhueza/Reuters/VCG)