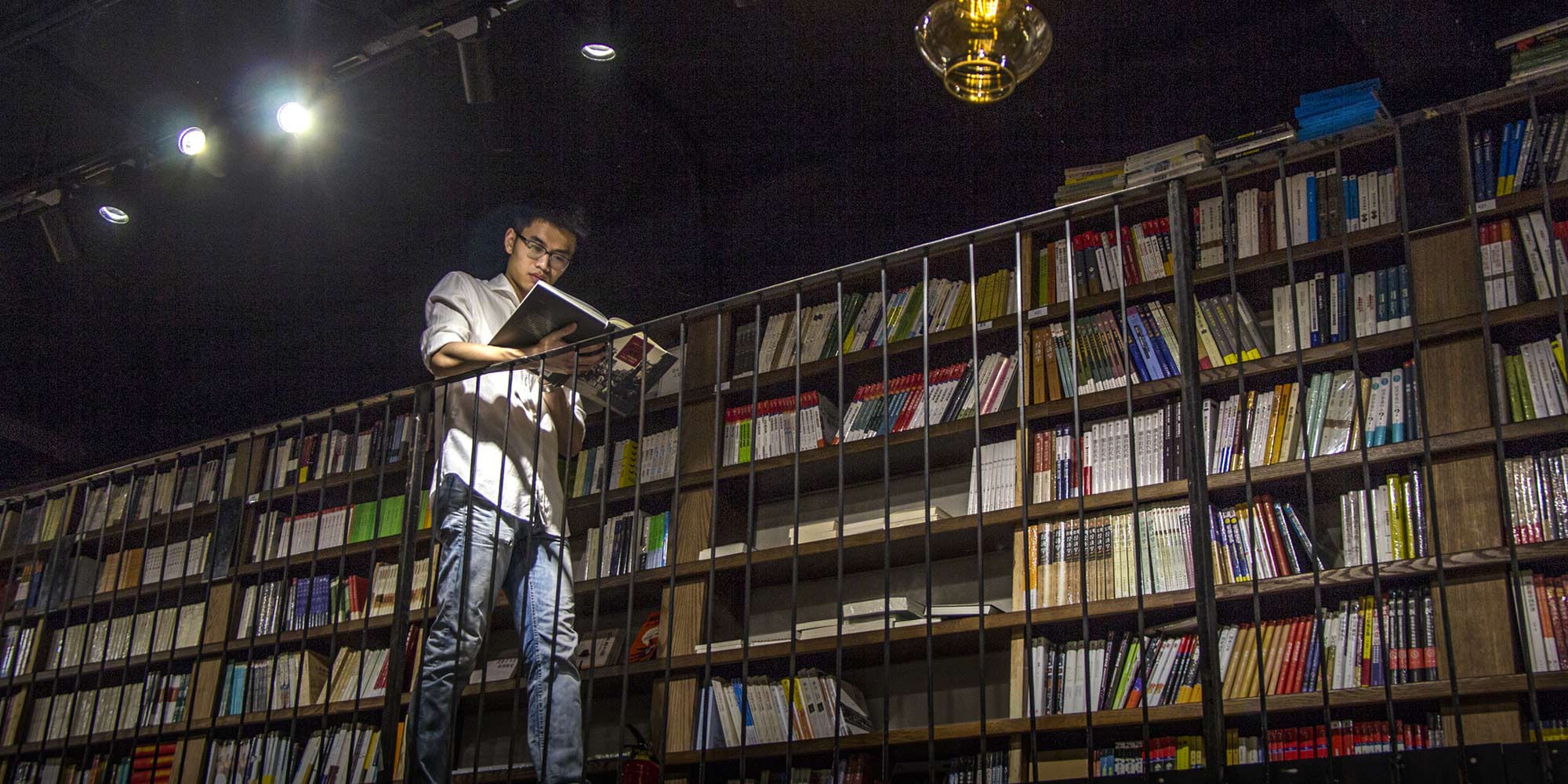 VOICES & OPINION
Can Literary Imports Change Chinese Perceptions of Africa?
The continent's best-loved texts are increasingly being translated into Chinese, but publishers are skeptical of their wider influence.
Western media frequently depicts China as a neocolonial power that seeks to import Africa's natural resources at fire-sale prices, with precious little interest in the continent's people or culture. At the same time, certain Chinese media outlets have recently come under the spotlight for their representations of Africans, while many black people in China complain that interactions are rife with racist stereotypes.
While economic considerations drive much cross-cultural exchange between China and Africa, the latter's cultural exports have the potential to profoundly shape the ways Chinese people view the continent. The translation of African literature, for example, may give Chinese readers valuable insights into the sheer diversity of human culture and experience across the region.
Few avid Chinese readers of fiction can name an African author or novel, and those who do often cite "Things Fall Apart," the highly acclaimed novel by the Nigerian writer Chinua Achebe that portrays the tragic encounter between the Igbo tribe and British colonialism. It was first published in Chinese in the 1960s and has been reprinted countless times since. While literary circles in Africa no longer worship at Achebe's altar, China's literary establishment continues to trumpet him as the reigning "father of African literature," almost to the exclusion of emerging authors.
Since the founding of the modern Chinese state in 1949, there have been three waves of African literary imports. The first, which emerged in the 1980s, was ideologically driven. Empowered by Beijing's policy of promoting solidarity with the Third World and newly independent nations, state-run imprints like the Foreign Literature Publishing House translated and published a substantial number of African works such as those by the Nigerian writer Wole Soyinka, the Kenyan novelist Ngugi wa Thiong'o, the Senegalese poet (and former president) Léopold Sédar Senghor, and the Algerian writer Mouloud Mammeri. Anthologies of translated African folktales for children even appeared.
During the '90s and 2000s, imported African literature was top-heavy with winners of globally recognized awards such as the Nobel Prize in Literature. Imports slowed and tended to focus less on the works of socialist-inspired thinkers in favor of high-profile Nobel laureates such as J. M. Coetzee and Nadine Gordimer, both with South African roots, and Egypt's Naguib Mahfouz.
Today, the popularity of a generation of young African writers is changing that picture again, although barriers to import remain. In particular, a Chinese translation of Chimamanda Ngozi Adichie's "Americanah" launched early this year, the fifth of her books to appear in Mandarin including last year's "Purple Hibiscus" and the controversial "We Should All Be Feminists." According to the online bilingual database African Writing in Chinese Translation, only two other black African writers have five or more of their works available in Chinese: the abovementioned Soyinka and Achebe.
Arguably, 2017 saw a sizable batch of translations launched in China — the database records eight new titles, four from the prestigious People's Literature Publishing House. Prominent among them is "Tomorrow I'll Be Twenty," a novel by renowned Francophone Congolese author Alain Mabanckou, who is now based in the U.S. and thus a so-called African diaspora writer. Two others are translations from Algerian writers who also write in French: Boualem Sansal's dystopian novel "2084: The End of the World" and Kamel Daoud's retelling of Albert Camus' "The Stranger," which is titled "The Meursault Investigation" and for which Daoud received death threats in the form of a fatwa.
Sellers of African literature say that Chinese publishers have expressed interest in a number of other fictional works, but are quick to mention that certain rather perplexing attitudes and practices by Chinese publishers hamper understanding and impact sales to the "China black box."
"There seem to be far more hurdles in accessing the Chinese market than the already immense difficulties of an African publisher accessing the European, North American, and Arab markets," says Richard Ali, chief operating officer of the Lagos-based publishing house Parrésia. He points out that currently, there are almost no platforms where African and Chinese publishing professionals can easily interact. Take the industry's largest global event, for instance. "At the Frankfurt Book Fair, I didn't encounter a single Chinese publisher, literary agent, or translation agent. So, how does the conversation start?"
Meanwhile, China-based publishers often seem to be on a single-minded quest for a blockbuster. Says Pierre Astier, founder of the Paris-based literary agency Astier-Pécher whose stable includes several African Francophone authors: "I've been to China three times in four years to understand the market and meet people. We haven't done much business with China up to now, though it is constantly developing. But I have not yet perceived a serious interest in African literature, except for very big names and best-sellers."
This preference is affirmed by the Nanjing-based publisher Yilin Press, which has built its reputation on translated literature. Between 2011 and 2013, Yilin published three novels by Man Booker Prize winner Ben Okri, but has not ventured further into the market for African fiction. "We will continue to keep our eye on African authors," says Danielle Yang of Yilin's international cooperation department, "and if there are any winners of major awards, books that possess best-seller potential, we will consider buying the rights."
Among African publishers, Nigeria's Cassava Republic Press is perhaps the most proactive in marketing its writers internationally. It opened a subsidiary in London in 2016 and, according to founder Bibi Bakare-Yusuf, is represented by the Intercontinental Literary Agency (ILA) in China. "ILA attended the Beijing Book Fair in August [2017] and had meetings with over 40 publishers," Bakare-Yusuf notes, adding that Cassava Republic also met with Chinese publishers at the Sharjah International Book Fair in the UAE in 2015 and 2016.
"We do believe there is a market for our authors in China," Bakare-Yusuf concludes. "We know that there are growing business links between China and the African continent, and we are keen to make works by African authors available in Chinese. We hope that when the Chinese audience is able to read and see the diverse representation of African humanity, it might allow them to recognize its complexity."
Editor: Matthew Walsh.
Correction: Richard Ali is chief operating officer of Parrésia, not its CEO.
(Header image: A man reads a book at a bookstore in Beijing, May 6, 2018. Bo Xiang/IC)