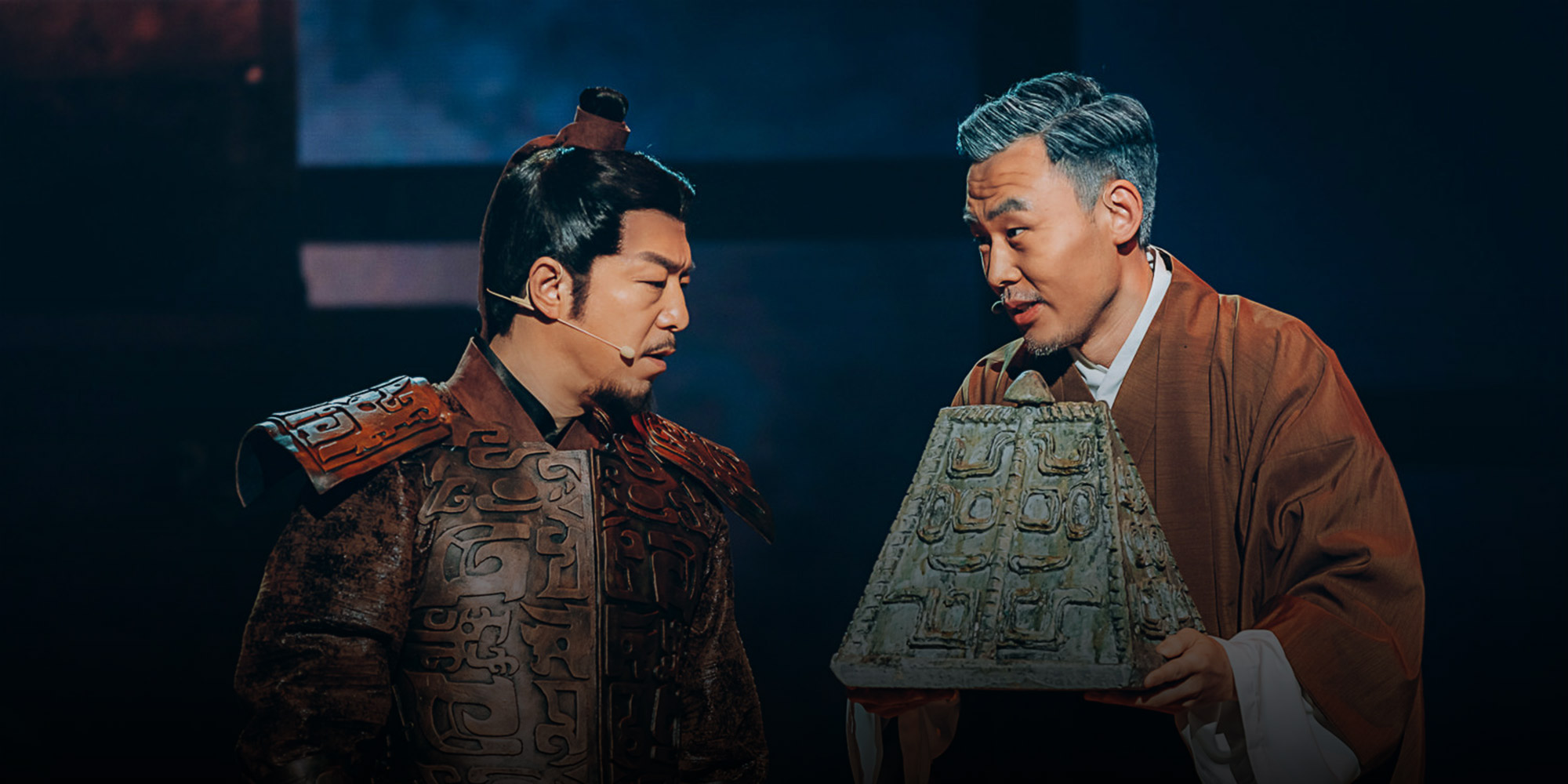 VOICES & OPINION
China's Museums Are Twisting the Truth to Chase TV Ratings
The surging popularity of the country's history shows is making accuracy a thing of the past.
Since last December, CCTV, China's state-run television network, has aired a number of television series involving the country's museums. "National Treasure," for example, intersperses features on Chinese historical artifacts with celebrity re-enactments of the period when they were excavated. "If National Treasures Could Talk" is an out-and-out documentary about the country's most fabled artifacts. And "Win at the Museum" is a history quiz show aimed at children.
None of these shows carry particularly high ratings — "National Treasure," for instance, corners a mere 3 percent of the market when it airs — but they are hitting the airwaves with greater frequency. They've also inspired discussion on online platforms such as microblogging site Weibo and Quora-like site Zhihu, not to mention in so-called bullet screens — a form of in-video comment found on China's various streaming platforms.
The surge in Chinese antiques series demonstrates the growing extent to which the country's museums are providing fodder for media outlets. Yet the role of museums is merely to collect artifacts they deem valuable, study them, and offer up the information they glean from their collections to members of the public. TV shows that take place in museums may give the impression that the institutions themselves have a say in the program's production. In reality, they are merely sources of information and have no control over the content of the shows in which they're involved. In addition, some history shows contravene the ethics that museums should uphold: professionalism and historical accuracy.
For example, "National Treasure" courted controversy in December last year for its explanation of the events surrounding the discovery of the Jiahu Bone Flute, a musical instrument unearthed at a Neolithic site in what is now central China's Henan province. On the program, a music scholar named Xiao Xinghua seemed to claim that he was the first to appreciate the flute's history when he saw it in an unnamed museum exhibition. Yet his account contradicted the claims of four archaeologists, who said they excavated the flute and later brought it to Beijing for Xiao to examine. Netizens later dug up the archaeologists' account from an old magazine as proof of Xiao's somewhat flexible attitude toward the truth. But incidents like this also damage the public image of museums and the historians who ostensibly represent them.
More and more museums are likely to sign up for joint productions with the mass media in the hope of attracting more visitors. When that happens, they must be transparent about their roles, functions, and the resources they provide to each program. This is common practice in other television programming: Period dramas, for instance, usually hire consultants to ensure that the costumes, settings, and mise-en-scène are historically accurate. So why don't our antiques shows get similar treatment?
Part of the problem is that the social roles of our museums are changing. Most Western museums began as collectors' houses or centers for academic research. But in the last few decades, their role has swung from being purely educational institutions to existing for public entertainment as well. At present, they remain unable to decide how best to reconcile these two functions.
This shift is taking place in China, too. Our museums are uncomfortably straddling two roles in part due to the growing power of public opinion. Here, social media platforms like Weibo and WeChat have grown into decentralized engines of public discussion and debate, as well as spaces where new ideas incubate rapidly. Up until around five years ago, public debate in the Chinese media mostly took place through written exchanges between individuals. Audience feedback also took the form of discrete, isolated messages with limited reach.
But today, mass participation is the norm. Public influencers need no more than an internet connection to make their voices heard, and the intense competition to shout above the crowd leads to ever more confrontational online practices like trolling the opposition or overwhelming fan forums with a single message. The cultural scientist Yiheng Zhao referred to this process as the "mass selection of classics," through which the public choose which works they most enjoy by voting on, clicking, purchasing, or reading them. In doing so, they also establish a set of widely agreed-upon values that attract more and more adherents. Chief among these values is that anything is inherently worthwhile if it is democratically selected and upvoted.
This sort of transmission is based less on whether content is perceived to be correct and more on word-of-mouth praise or the acts of large groups of devoted fans. Nowadays, virtually all cultural products are publicized on new media and displayed either on TV or online. In most cases, the influence of capital lurks in the background, emphasizing the importance of traffic — clicks, views, retweets — when evaluating whether a cultural product and the medium carrying it are valuable.
Even programs that try to foreground accuracy, professionalism, and thoughtfulness are unable to shake the "traffic is king" mindset. Watch any of China's recent antiques shows and you will see that museums are unable of maintaining their institutional integrity during the production process, so beholden are they to the courtship of viewers.
There are three effects to this phenomenon. First, when history shows privilege traffic and engagement above all else, they begin to court Chinese fan culture. Over time, this leads to the idolization of certain featured artifacts, museums, and actors at the expense of others. This mentality, in turn, leads fans to reject any criticism of these programs, regardless of the accuracy of their content. This runs counter to the purpose of museums, which is to respect, research, and venerate our remaining cultural relics without trying to force them into a historical grand narrative.
Second, history shows give highly partial coverage to historical events or project modern mindsets onto them. Admittedly, it is difficult to capture, say, the history of the last Ming emperor in 60 minutes. But until a few years ago, most production companies did at least try to offer some nuance; today, they home in on the trivial, the grotesque, the weird, and the titillating.
Third, public reaction to poorly formed history programs largely takes place on social media and is highly superficial. On Bilibili, a video-streaming site that hosts many TV shows after their initial screenings, the bullet screens on "If National Treasures Could Talk" debate whether cultural relics are meng — small, silly, and cute-looking. Few viewers bother to engage with the direction of the program. On Douban, an online forum and ratings website, comments on the page for "Win at the Museum" have focused on the show's various celebrity cameos rather than the program's content. "National Treasure," which features antiques as well as their celebrity "guardians," has become popular among people who idolize the actors involved. This overreliance on fame and fictional narratives degrades the artifacts featured and the important lessons we can draw from their history.
Chinese history series promise our museums greater public exposure, but their worship of traffic makes this exposure a largely moot point. These programs are ill-suited to effectively educate viewers about the content of museum collections, and the institutions that take part should respond in no uncertain terms: They must demand greater influence over the productions to ensure that our programming conforms to the ethical standards of the field and does not mislead the public.
Translator: Kilian O'Donnell; editors: Wu Haiyun and Matthew Walsh.

(Header image: A still frame from the TV program 'National Treasure.' IC)