A male caregiver in northeastern China's Liaoning province has been reported to the police after hitting an elderly client 57 times in just over three hours, local media reported Friday.
"I was actually paying to have my father beaten," the 77-year-old victim's son, Zhang Jialao, told Peninsula Morning News. "The caregiver could have come to us with any problems, or even resigned. There was no need for abuse."
In a chilling surveillance video released by the family to Peninsula Morning Post, the care worker, Yue Zhonghua, is seen walking toward the older man sitting in his wheelchair, and repeatedly slapping him as he remains motionless. Yue's employer told Sixth Tone on Monday that Yue has been unreachable since the complaint, although the company has given his information to police.
China has 241 million people over the age of 60, but the country lacks facilities and trained staff to provide care to this growing demographic. The one-child policy has also heightened the aging crisis, as a generation of only children struggles to shoulder the responsibilities of caring for their elderly parents while juggling their personal and professional lives. But shocking incidents of abuse have left many reluctant to turn to private elderly care facilities.
The Zhang family had hired Yue through an agency eight months ago to provide in-home care to their father, who had suffered a stroke. On Friday, Zhang's sister found out about the assault, which occurred on April 10, when she checked footage from a camera installed to monitor their ailing father.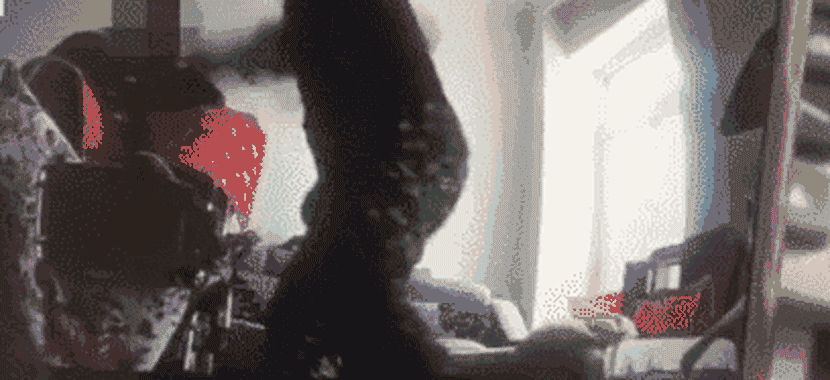 A clip from the video shows the caregiver slapping his elderly client. From Weibo
Zhou Jianqiang, a manager at Good Aunt Career Agency, Yue's employer, told Sixth Tone that the company is reassessing its hiring policies in the wake of the incident. Currently, the agency — which Zhou says has provided babysitting, elderly care, and domestic help services for 17 years — deploys workers to clients' homes just a couple of days after they are employed, with minimal training. "We will strengthen moral education among our employees," Zhou said.
Stories of elder abuse outrage the public in a country where filial piety is considered a key virtue. Last year, footage of a frail 92-year-old woman locked in a tiny, prison-like cell in southern China's Guangxi Zhuang Autonomous Region spurred countless netizens to condemn the woman's son and daughter-in-law.
Yet though elder abuse is a criminal offense in China, the United Nations warns that it is one of the "least investigated types of violence" around the world — and only expected to increase as the elderly population grows globally.
Additional reporting: Fan Liya; editor: Qian Jinghua.
(Header image: VCG)