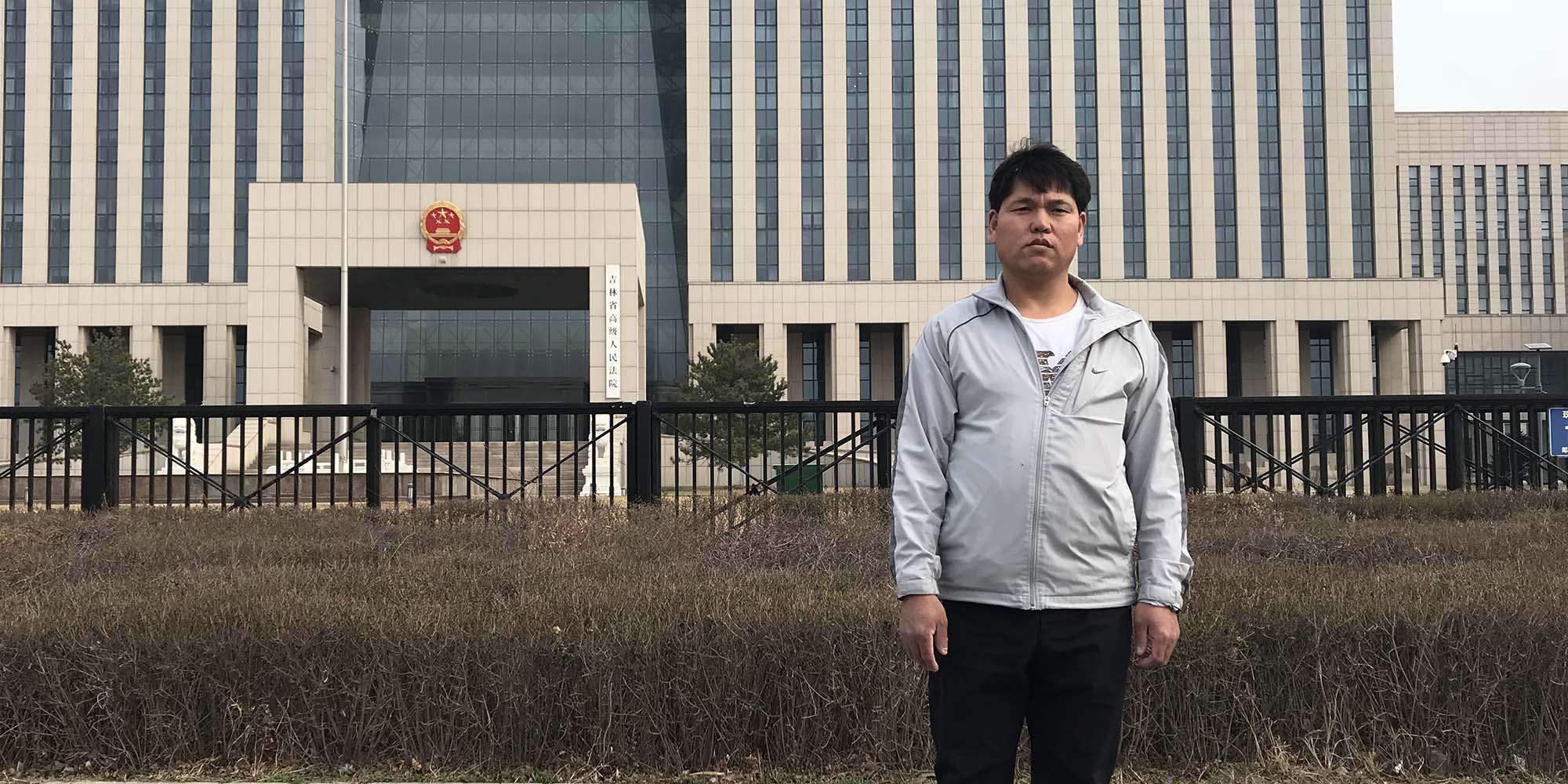 NEWS
Man Exonerated After Longest-Ever Wrongfully Served Term
Liu Zhonglin says he will prosecute the officers who allegedly tortured him into confessing to murder.
Twenty-eight years after he was first charged with a murder he didn't commit, 50-year-old Liu Zhonglin was finally acquitted Friday after the longest known period of wrongful imprisonment in Chinese history.
Liu's lawyer condemned the ruling as too little, too late. "It has taken too long to right these injustices," Zhang Yupeng told Sixth Tone in a phone interview, adding that his client would seek further redress for his mistreatment.
Liu was apprehended in October 1990 when police detained him on suspicion of murdering Zheng Dianrong, a woman from Huimin Village in northeastern China's Jilin province who had been missing for a year when her body was discovered in a local farmer's field. In 1994, a municipal court sentenced Liu to death with a two-year suspension, which was later commuted to 25 years' imprisonment. He remained behind bars for a record-breaking 9,215 days until his release in January 2016.
Although the Jilin High People's Court granted Liu a retrial in 2012, his case remained unresolved for six more years until long after he had completed his sentence. According to China's Criminal Procedure Law, retrial cases should be completed within six months.
Throughout his 1994 trial, Liu did not have a lawyer present. Case records show that he pleaded guilty but later denied that his confessions were genuine. Liu maintains that local police tortured him into confessing, at one point damaging one of his toes so badly that it had to be amputated.
For years after his conviction, Liu and his family appealed for a retrial but were met with silence by the courts. Finally, in 2012, the Jilin High People's Court agreed to hear Liu's case again, but Liu was unable to clear his name before his sentence expired in 2016. Later that year, his case was finally heard again.
The lawyer Zhang, who has fought Liu's case since March 2015, believes the original verdict never should have stood. "This case was not complicated," he said. "Most of the facts are unclear, and the evidence [leading to Liu's conviction] is insufficient." Zhang also said he had to hurdle "several obstacles" after accepting the case, claiming that the court only granted him access to Liu's case files at the end of 2015.
In the run-up to Friday's acquittal, Chinese media reports cast doubt on several key points in Liu's case. In addition to the inconsistency of his confessions, Liu often seemed to misremember the details of the crime, admitting to killing Zheng with various weapons and for different motives. Eyewitnesses also gave conflicting accounts about the number of people who kidnapped Zheng before she was killed. Liu maintains that all his confessions were extracted under duress.
In an interview with Beijing Youth Daily in 2017, Liu said that he was outraged when his cellmates congratulated him before his release. "Why should I feel happy? I'm only getting out because I've served my full sentence. I've still not been proved innocent," Liu said. "[I told them] I'm not guilty. I will redress that injustice once I'm out."
Liu's period in jail breaks China's previous record for wrongful imprisonment set by Chen Man, who was convicted of murdering a woman in 1992 in southern China's Hainan province and served 8,437 days — nearly 23 years — for the crime before being released in 2016.
Before today's announcement, Liu's family claimed they received threatening phone calls from unknown individuals demanding that Liu drop his appeal. Liu said that since his release, he has been called a "murderer" by people who recognize him in the street.
"He has been hoping for this outcome for 28 years, and deserves it," Zhang concluded, adding that Liu now intends to prosecute the police officers he says tortured him — a claim not mentioned in Friday's verdict. Liu will also demand compensation from the state for wrongful imprisonment, Zhang said. After Chen was released in 2016, the Chinese government paid him compensation of 2.75 million yuan ($437,000).
Chinese courts have a conviction rate approaching 100 percent, but recent judicial reform has resulted in a growing number of cases being overturned. In 2014, the Supreme People's Court released guidelines to improve the management of potentially wrongful convictions.
Earlier this month, five prisoners in eastern China were acquitted of murdering an 18-year-old woman in 1996. And in December 2016, Nie Shubin was proclaimed innocent of the 1994 rape and murder of a woman — more than two decades after being executed for the crime.
Editor: Matthew Walsh.
(Header image: Liu Zhonglin stands in front of the Jilin High People's Court in Changchun, Jilin province, April 20, 2018. Song Jiangxuan for Sixth Tone)