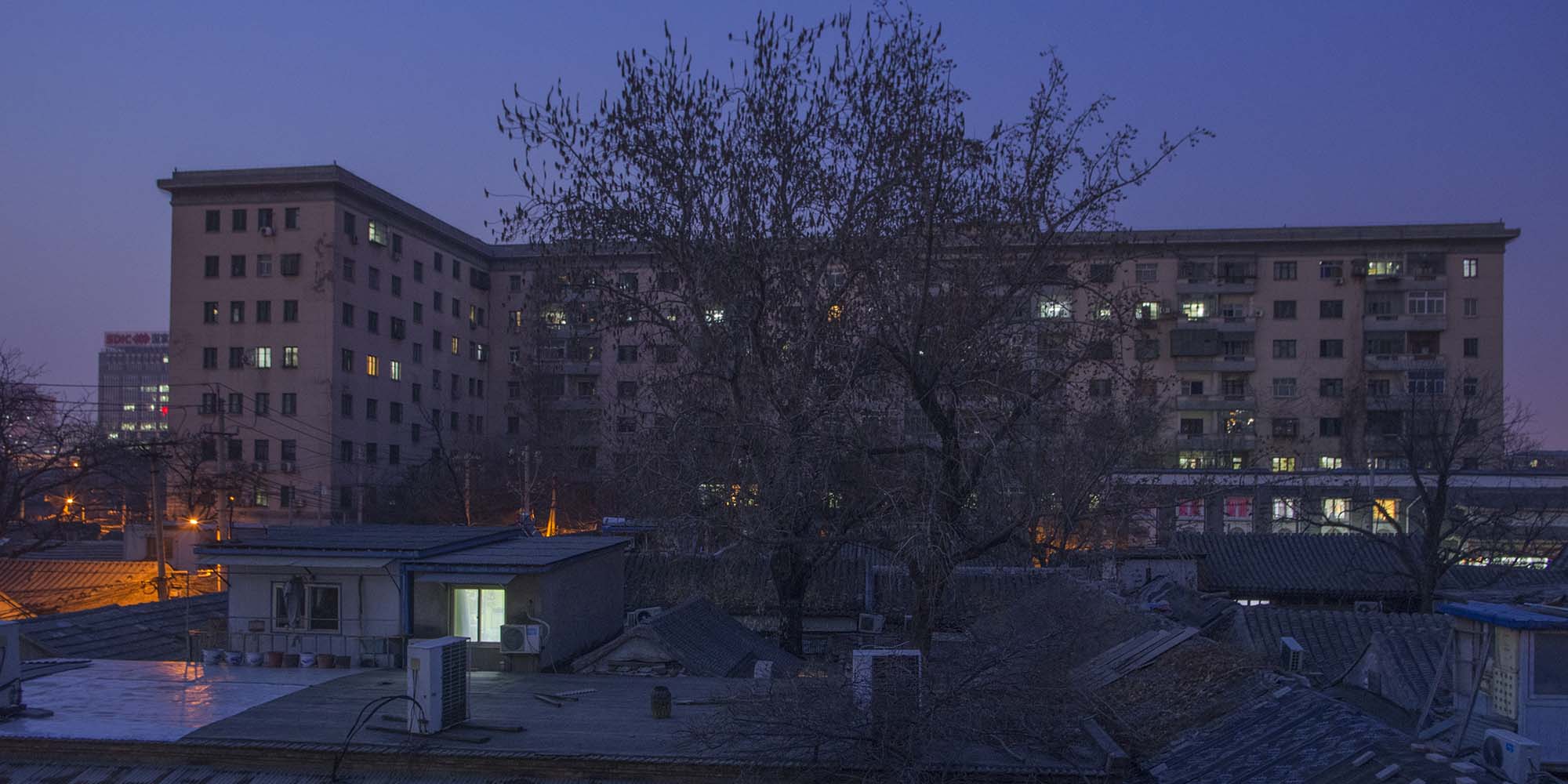 FEATURES
The Peculiar Past and Present of a Socialist Skyscraper
Once full of revolutionary promise, Beijing's urban communes have fallen from grace.
BEIJING — The Anhua Building was once a marvel. When it was completed in May 1960, the apartment block's nine floors towered over the neighborhood's single-story houses. Locals whispered about its elevators, private bathrooms, and other unheard-of luxuries. Beyond its enviable amenities, the building was a flagship of the new Communist era, designed for collective living. "When people walked past on their way to and from work, they would go like this," 92-year-old resident Xu Qinmin says, gazing upward in childlike wonder.
Today, as just one in a succession of apartment blocks and office towers that line a long boulevard in the center of the capital, the Anhua Building hardly attracts attention from passersby. Inside, there are few reminders of its unique history. The hallways are dark, the kitchens black with grease, and most objects lining the corridors — including cabinets and other furniture that residents couldn't fit inside their modest apartments — caked in a layer of dust. The stairwells on some floors are full of cigarette butts and the sickly odor of urine.
But Xu remembers what a privilege it was to live here. Not just anyone could become a resident, he recalls as he enjoys the sunshine in the courtyard. Xu, who moved into a third-floor apartment with his family soon after the building was finished, is a former Red Army officer who managed a mechanics factory after the Communist victory. Among his neighbors in Anhua's nearly 300 two-room apartments were doctors, school headmasters, and other members of the city's professional elite and Party faithful.
Construction had started in the late 1950s — a time of poverty but also optimism, Xu says. In the countryside, as part of the Great Leap Forward campaign, farming families had recently been unified into communes, and a Party document in late 1958 called for experimentation with communes in the cities. The collective living revolution was coming to Beijing.
Jin Cheng, one of the Anhua Building's architects, told Beijing-based newspaper China Youth Daily in 2011 that discussions about design would carry on late into the night, circling around a central theme: "What kind of building does communism require?" Day care services would ensure women could join the labor force. Just as in rural communes, a shared cafeteria providing free food would liberate families from having to cook their own meals. But the architects weren't sure their ideas would work. "In the beginning, we suggested constructing a three- or four-story building first as a test, and copying it if it was a success," Jin said. However, a bullish official in the Beijing government wanted to "do it big," and three full-size urban communes were ordered, Anhua among them.
Even before the buildings were completed, news of the project took on a life of its own. Shi Tiesheng, a Beijing-born writer, was in primary school in 1959 when one of the three, the Fusuijing Building, was under construction in the western part of the city. Decades later, in an essay titled "The Building With Nine Floors," he recounts how his teacher painted a picture of what life there would be like: Residents wouldn't want for anything. There would be heating, a library, and a cinema. "People who live there won't even have to make their own food — after work, they can just go to the canteen and eat whatever they want," Shi wrote, quoting his teacher.
In Marxist theory, society's final stage is communism, and the inhabitants of these buildings were going to be the first to reach it. "Those people won't make any distinction between what is their own and what belongs to other people," Shi's teacher said. "They'll be one big family."
But such lofty dreams only partly came true. "When construction finished, immediately there was a problem," says Anhua resident Xu. "There were no kitchens." Whereas a free cafeteria had seemed a great idea in 1958, natural calamities and economic mismanagement during the Great Leap Forward were already causing mass famine elsewhere in the country. The state could no longer afford to give away meals. People resorted to placing small coal-fired stoves outside their doors. Every evening before dinner, the hallways were thick with smoke. "People had to walk like this," Xu says, stooping over. Budget cuts also saw the number of elevators reduced from four to two, and not every apartment came equipped with a bathtub.
But even with some features missing, Anhua was still more than just a place to live. Every floor included a common space, some of which had specific functions: a TV room, a reading room, a small infirmary. For the first few years, the entire ninth floor was used for activities like board games and dances for the building's singles. The elevators were manned; to promote fitness, they didn't stop on the second floor. In 1964, three apartments on every floor were converted into shared kitchens with one sink and gas stove — also a novelty at the time — for each residence.
There was a strong sense of community. Sunday, the only day of rest each week, was cleaning day. A group leader would shout down the halls at 8 a.m., Xu remembers, "and everyone would come over with some supplies to clean the kitchens." The early years were Anhua's best — but they didn't last long.
When the Cultural Revolution started in '66, people around the country grew distrustful of one another as everyone was encouraged to criticize their neighbors. "Every day there were denouncements and people paraded through the streets," says Xu, who was a factory manager at the time. "I was attacked because I was a leader."
Wang Shouheng, 83, lives on the eighth floor of the Anhua Building. Once an expert plumber, he was allowed to live in Anhua because he was part of its management team. "People with my skills were scarce then," Wang says with pride. During the Cultural Revolution, he wasn't targeted, but — he says without elaborating — "there were people who had to be investigated." According to Shanghai's Xinmin Evening News, Red Guards from outside Beijing stayed in the shared kitchens and knocked down the five chandeliers that hung on every floor.
Then, as the tumult ended, China threw itself headlong into a new kind of society, one that slowly bid farewell to collectivism. The Sunday cleaning ritual died out, and the building's interior gradually became dirtier and dirtier. Chen Xi, 37, grew up nearby and remembers the era's tremendous change. "After the reform and opening-up, we found that everyone's lives are different," he says, referring to China's economic liberalization. "We're not ants, after all."
As China shifted toward a private housing market in the 1990s, people who could afford to move out of Anhua did. Their apartments were reassigned to retirees. Slowly, the average age of the building's residents rose — there are hardly any children living there now — and their status declined. Whether due to the former or the latter, Chen says, "People who lived here used to hold their heads up high, but they have stooped over more and more."
Gradually, taller buildings sprung up in the area. While residents used to gather on the top floor of Anhua to watch the National Day fireworks over Tiananmen Square, new structures now obscure the view. Chen, who remembers playing in the Anhua Building's elevators as a child, now works for a travel company that rents office space on the ninth floor, where the event area used to be. It's cheap, but shabby. Only departments that don't deal directly with clients are located there.
Yan Fang, 62, moved in with her parents in 1970. As the afternoon sunlight filters through the windows, she proudly shows off her recently renovated fourth-floor apartment. But not all of Anhua's apartments are as nice, she says. Lowering her voice, Yan says that some people hardly ever clean their bathrooms, especially in units where the two rooms are rented to separate families. Yan complains about the urine smell that wafts through the hallways and at times even permeates her apartment. She says the building isn't fit for people to live in, and that it should be remodeled into a nursing home or government office.

Over the years, some Anhua residents have held out hope that the state-owned building would be torn down, and that they would receive monetary compensation, as public housing tenants with long-term usage rights in China often do. But people take the occasional government-provided upkeep to mean that it probably won't happen anytime soon, if at all. An official at the Dongcheng District housing office, which is responsible for the neighborhood's government-owned buildings, said he couldn't comment because he wasn't familiar with the Anhua Building.
Like an old sci-fi film with outdated special effects, the Anhua Building's once-revolutionary features fail to impress in the present, and its faults are glaring. Nevertheless, Yan says she'll never leave: "If I die, I'll die in the Anhua Building."
But while many of Anhua's attributes have lost their luster, its location couldn't be better. Real estate prices in China's capital have risen sharply over the last decade, but Anhua's residents pay only about 100 yuan ($16) in rent each month for an apartment within Beijing's second of seven ring roads. Across the street, in Riches and Honor Garden, a giant, multi-tower mixed residential and shopping complex, apartments of similar size cost about 60 times as much to rent — though they do come with a kitchen.
"Nobody who lives here right now is willing to move out," says Anhua resident Chen Dexin, 76, who thinks the building is just fine. Sharing a kitchen doesn't bother her. She keeps her assigned stove tidy and says doing your frying outside your apartment helps keep the living quarters clean. She praises the building's structure, which is still sturdy after nearly 60 years and keeps rooms cool enough in the summer that you don't need air conditioning.
Many current residents Sixth Tone spoke with boast that Anhua was made from top-quality building materials left over from the Ten Great Buildings, a series of structures completed in 1959 to celebrate the 10-year anniversary of the People's Republic that includes the Great Hall of the People, Beijing Railway Station, and Workers' Stadium. But while the impressive state buildings were out of reach for most ordinary people, neighborhood kids could play in Anhua and its sibling structures, which were Beijing's first residential buildings with elevators.
Anhua's sister buildings have seen similarly disappointing fates. The Fusuijing Building still looms over the knotted laneways in Beijing's west. In the early 2000s, according to news reports, the local government decided to tear it down due to safety concerns. At the time, most people accepted the 8,656 yuan per square meter in compensation they were offered and moved out. But after experts and organizations protested that the building had historic value, the government in 2007 included it on an "Outstanding Modern Buildings" list for preservation, says He Shuzhong, founder of the Beijing Cultural Heritage Protection Center, an NGO.
The Anhua and Fusuijing buildings are of great value to the city, He tells Sixth Tone. "They have witnessed an important period in China's and Beijing's modern history," he says, adding that they are just as valuable as Beijing's ancient landmarks. "Without these two buildings, that part of the city's history would basically disappear."
Fusuijing has few residents today, however, due to its aborted demolition. A resident who quickly disappears into her apartment says there are only a handful of original families left, and that most people living here now are subletters from outside Beijing. Many doors and windows are bricked-up, and the pitch-black hallways are eerily quiet, save for the screeching of a gate on the ground floor that echoes throughout the building.
A woman surnamed Chen who has lived next to the Fusuijing Building since she married in the 1970s says that nobody knows what to do with it. Located in the middle of a labyrinthine network of hutong alleys, it would be too difficult to access if converted into a government office. "The hutong are too narrow — one car stops and it's all backed up," she says. The housing office of Xicheng District, where Fusuijing is located, declined to comment when contacted by Sixth Tone.
The third triplet, the Beiguanting Building, once stood in the northwestern corner of Beijing's city center but was demolished about 15 years ago. In its stead stands a collection of 13-floor apartment blocks.
Wang Zhigang, 60, has lived in the neighborhood his whole life and used to play in the Beiguanting Building as a child. "At the time, it was the best building in Beijing — it had elevators," he remembers. But a neighbor squatting next to him and smoking a cigarette is adamant that the building only had stairs. Elevators were way too advanced for Beijing back then, the man insists.
None of the three urban communes realized what they were built to achieve. But back in Anhua's courtyard, 92-year-old Xu seems certain that China will one day reach true communism, a society without ownership. "We're closer now than ever," he says.
Additional reporting: Wu Yue; editor: Qian Jinghua.
(Header image: Fusuijing is seen at dusk in Beijing, March 22, 2018. After some residents were evicted over a decade ago, the windows of their apartments remain bricked-up. Kevin Schoenmakers/Sixth Tone)