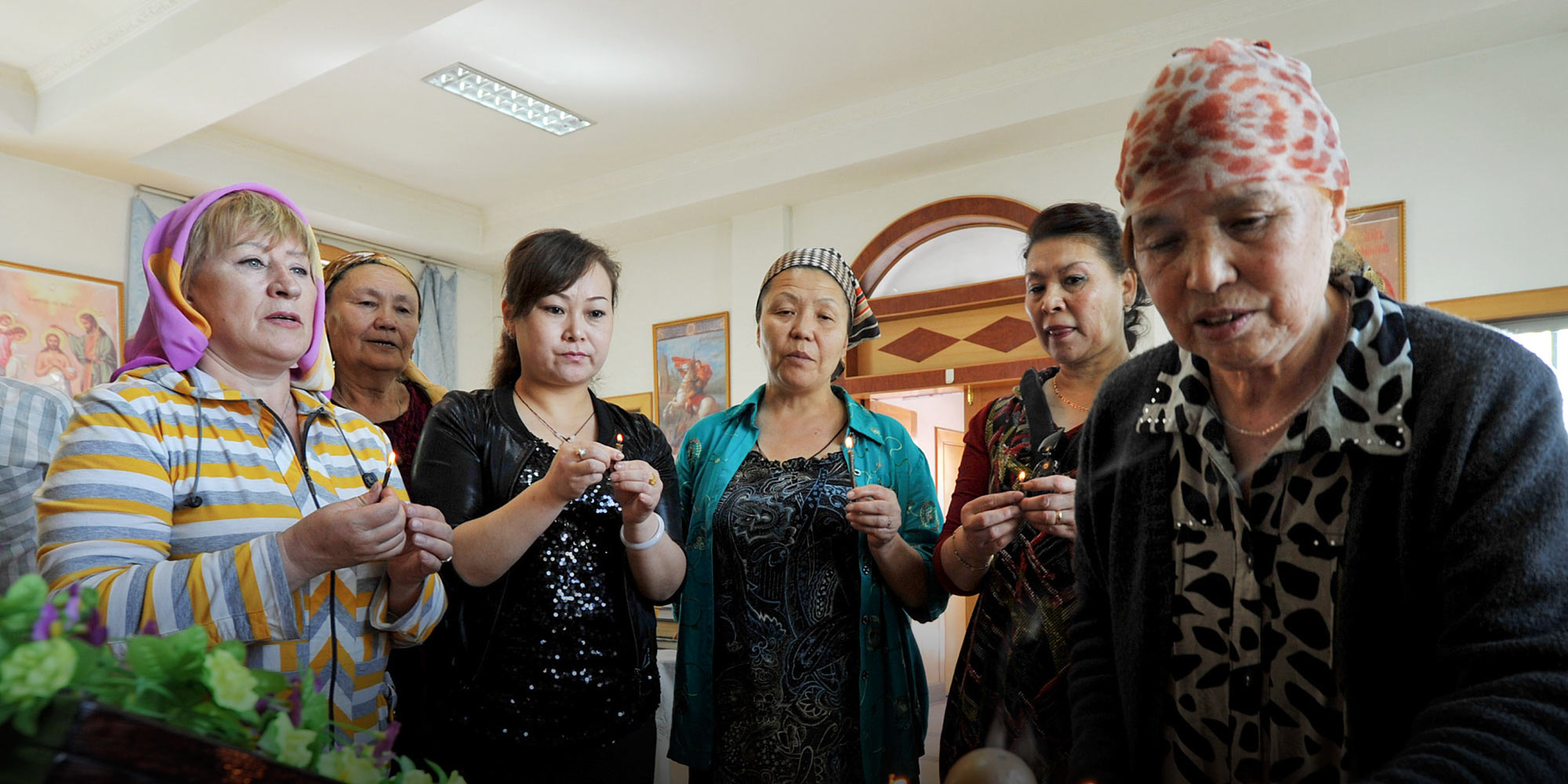 VOICES & OPINION
The Waning History of Russians in Xinjiang
Pockets of Russians in China's far northwest are testament to the region's turbulent military history.
Cultural and ethnic fusion takes place along the borders between nations. In northwestern China's Xinjiang Uyghur Autonomous Region, these boundaries are blurrier than in most other parts of the world: Where China meets Russia and the Central Asian nations, a wide variety of peoples have intermingled for centuries.
Last September, I traveled through Xinjiang to document people of Russian descent who live within Chinese borders. Today, Russians are one of China's 55 officially recognized ethnic minorities. Two large Russian communities, comprising around 15,000 people in total, are located thousands of miles apart: About 40 percent live in the far northeastern province of Heilongjiang, while the majority reside in Xinjiang.
The Russian communities of Heilongjiang comprise descendants of Russian merchants, engineers, laborers, and soldiers who migrated to China at the beginning of the 20th century, many of whom built the grand stretches of railway that linked Moscow to the Far East.
Russians in Xinjiang, however, are the descendants of four waves of migrants. The first were merchants who hawked their wares in Xinjiang's market towns at the end of the 19th century and beginning of the 20th century. Following the October Revolution of 1917, some of these traders rejected Moscow's emerging Soviet regime and put down roots in central Asia.
After the October Revolution, further waves of Russian refugees made the arduous journey into China. Many passed through Xinjiang on their way to Shanghai and eventually other countries. But some never went further than northwestern China.
The third and largest group of migrants were mostly men of Chinese descent who lived in Russia and married local women, but who were expelled from the USSR by Stalin in the 1930s at a time when the Russo-Japanese conflict caused suspicion around East Asians residing in the Soviet Union. Most of these people had resided in the USSR for many years. When they were told to leave, they brought their partners and children with them over the border to Xinjiang.
The final group were Soviet soldiers who occupied Xinjiang in the buildup to the Three Districts Revolution. The USSR occupied Xinjiang from 1934 and fought to protect its interests in the region. Clashes between the Soviets, Chinese factions, and Muslim rebels persisted until Xinjiang was eventually incorporated into the People's Republic of China in 1949. While many soldiers returned to the Soviet Union, some chose to stay in Xinjiang after the area was transferred to Chinese control.
Unlike their countrymen in Heilongjiang, most of the ancestors of Xinjiang's Russian population established their homes in urban centers instead of forming large-scale communities on the outskirts. The cities of Yining and Tacheng proved to be popular destinations.
Yining has an Eastern Orthodox church that still holds religious services to this day. When I visited the church during Sunday mass, I was welcomed by the church administrator, Pyotr Aleksandrovich Krasnousov, a tall, gray-eyed, white-haired man in spectacles who looks slightly older than his 50 years and proudly describes himself as a "third-generation communist revolutionary." Though he speaks halting Mandarin with a thick northwestern accent, his Russian is far more fluent, and members of the congregation help interpret his words as we converse.
Pyotr Aleksandrovich's grandfather, Pavil Viktorvich Krasnousov, was a Don Cossack, one of a group of feared soldiers and horsemen from what is now Ukraine and southern Russia, who distinguished himself as a Red Army soldier during the Three Districts Revolution. The younger Krasnousov was born and raised on the grasslands near Yining, where he and his family grazed cattle. In 2014, as the previous church administrator — a man born in the Soviet Union who came to Yining in 1939 — became too frail to manage the church, Pyotr Aleksandrovich stepped in to replace him.
Pyotr Aleksandrovich says there aren't many followers of the Eastern Orthodox Church in Yining: "During festivals, we might get a couple hundred people. But the majority of them are elderly. Due to a long-term shortage of clergy, many followers haven't been formally baptized — they are still waiting for the church to be assigned a priest."
Although Pyotr Aleksandrovich has not been ordained, he still delivers masses. The church has stayed fairly active in recent years, too, organizing events on religious holidays like Christmas, the Epiphany, and Easter, as well as on other traditional Russian holidays.
Buried in the cemetery behind the church are members of Yining's Russian community who have died over the last 100 years or so. Today, the small plot of land is a jumble of mostly untraceable mass graves, with a few individuals commemorated with crosses planted in the ground. Pyotr Aleksandrovich shows me the recently restored graves of war heroes honored for their sacrifices during the liberation of Xinjiang.
I accompanied Pyotr Aleksandrovich to his grandfather's grave and watched him pay his respects. The elder Krasnousov was just one of many Soviet soldiers from the Three Districts Revolution who are buried throughout the cemetery. His tombstone is adorned with both the five-pointed red star of the Communist revolution as well as Eastern Orthodox crucifixes.
By about 12 p.m., worshippers began to arrive at the church. All of them were in their 70s or 80s, with the exception of two slightly younger men visiting from Russia. Everyone sat on the benches and steps outside, chatting amiably in Russian and quietly singing hymns. After 15 or so people had gathered, Pyotr Aleksandrovich led the congregation into the nave of the church before reading passages from the Bible aloud and leading hymns.
Most of Xinjiang's Russians have married local Han people. "It's because both Russians and Han both eat pork, while the region's other ethnicities, most of whom follow Islam, have stricter food taboos," Pyotr Aleksandrovich explained. "Also, many people here are of mixed Russian and Han ethnicity and feel a sense of closeness to other Han people."
Xinjiang's Russians have largely integrated into the region's other ethnic minority communities in which they have settled. In many ways, believers in Orthodox Christianity are a minority within a minority. "These days, young Russians prefer to go to big cities," one elderly worshipper tells me. "They place little value on their ethnic culture and Orthodox beliefs."
Translator: Lewis Wright; editors: Wu Haiyun and Matthew Walsh.

(Header image: Women from the Russian ethnic group celebrate Easter in Yining, Xinjiang Uyghur Autonomous Region, April 24, 2011. Jin Wei/VCG)