In 2010, back when I was helping to plan the Hangzhou Cuisine Museum, food museums were a relatively new concept in China. In the span of just a few short years, however, they've spread like wildfire across the country. A picturesque county near Chengdu, in southwestern China's Sichuan province, boasts the Sichuan Cuisine Museum, while the famed Quanjude restaurant in Beijing runs its own Peking duck museum. The eastern city of Shaoxing exhibits its much-loved yellow rice wine, and the nearby province of Jiangsu features the somewhat less delicious-sounding Zhenjiang Vinegar Culture Museum.
Food museums showcase both the physical and spiritual sides of food. The country is home to at least 143 such institutions and may have several more. They tend to focus on specific aspects of culinary culture, such as individual ingredients, well-known dishes, beverages, spices, and eating habits.
Most food museums are built by "time-honored" food brands — known as laozihao in Chinese — and other well-known food manufacturers. They all have an eye toward branding, especially the highly competitive tea and alcohol industries. In order to control the public discourse around their products and expand their brand's influence, beverage companies have plowed money into building corporate-led exhibition spaces. These include Beijing's Red Star Erguotou Museum, which houses a distillery of throat-scorching baijiu liquor; the Tsingtao Brewery Museum in the eastern province of Shandong, which exhibits the local beer; and the Qiaoxiangyuan noodle museum in Yunnan, where you can learn about a local dish called "crossing the bridge noodles."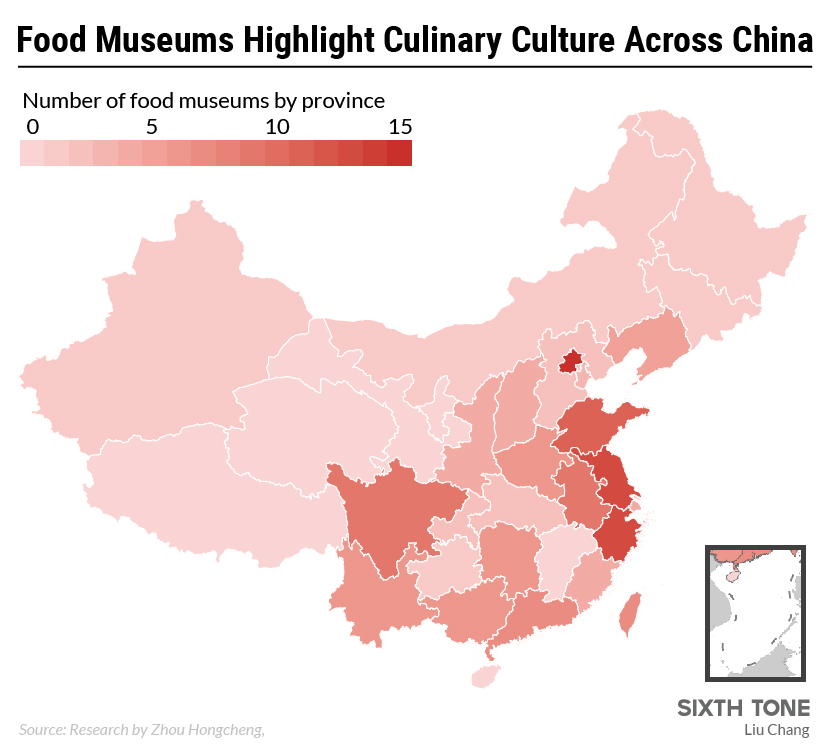 The food museum boom reflects the work being done by the food industry to preserve and systematize the country's culinary traditions, and conduct research into local food cultures. They are also a way for local governments to make money from urban cultural resources and ensure that local produce meets quality standards.
But the most important factor in the explosive growth of food museums is the central role cuisine plays in developing regional tourism. The State Council — China's cabinet — plans to merge the country's Ministry of Culture with the China National Tourism Administration to create the Ministry of Culture and Tourism, which will report directly to the State Council itself.
From a social perspective, food museums aim to educate people about what they eat while building an atmosphere of leisure and comfort. This will hopefully allow local culinary culture to feed into the development of the tourism industry. Given China's rich variety of produce and diverse cultural and ethnic groups, there is no more direct way to experience the spirit of a place than to try the food.
But the current food museum model is problematic. First, some specialty museums have either been poorly planned or badly received, which has led to a number of redundant projects in, for instance, the tea and alcohol industries. I expect many of these failed museums will be demolished in the coming years.
Second, despite their claims to the contrary, many company-built food museums do not actually qualify as museums. The International Council of Museums defines a museum as a "nonprofit, permanent institution in the service of society and its development, open to the public, which acquires, conserves, researches, communicates and exhibits the tangible and intangible heritage of humanity and its environment for the purposes of education, study and enjoyment."
Unfortunately, many of China's food museums do not meet these criteria. At best, they are corporate exhibition halls, experience centers, or product expos. Their exhibits eschew logical storytelling in favor of relentless brand marketing, they are often haphazardly organized, and the content of their exhibitions are superficial and repetitive. In the end, many corporate-led food museums care only about publicizing the history and origins of their sponsors' products.
There have even been cases where corporate museums have organized exhibits based on made-up facts, relying on apocryphal stories to show the development of their region's culinary culture. In one case, a food museum in the northern city of Baoding laid claim to something called "Zhiliguanfu cuisine," using the tale of a well-known imperial official to fabricate an entire local food culture. The museum itself was established by a number of local food companies in search of profit.
Third, some culinary museums maintain hazy ties with the consumer dining market, essentially making them glorified restaurants. By doing so, the real function of a food museum — to allow visitors to learn about and experience the local cuisine — is overridden by the profit motive. Visitors are herded toward restaurants and food courts at every opportunity, while the content of the exhibitions is neglected.
Chinese food museums tend to focus on a specific local dish, but internationally renowned culinary museums — such as the Museum of Food and Drink in New York or the European Bread Museum in Germany — offer expansive exhibitions showcasing local ingredients and dining customs, as well as culinary arts practicums and higher education outreach projects.
In my view, Chinese food museums should push for healthier eating concepts, preserve the memory of our national culinary cultures, and grant access to high-quality information about traditional foods. Food and drink are one of the markers that divide different ethnic groups, but culinary culture is a living heritage shared by all humankind, demonstrating humanity's pursuit of sustenance and art and the debt we all owe to nature for its bounty.
Translator: Killian O'Donnell; editors: Wu Haiyun and Matthew Walsh.

(Header image: A girl looks at an exhibit at the Hangzhou Cuisine Museum in Hangzhou, Zhejiang province, March 20, 2012. Li Zhong/VCG)