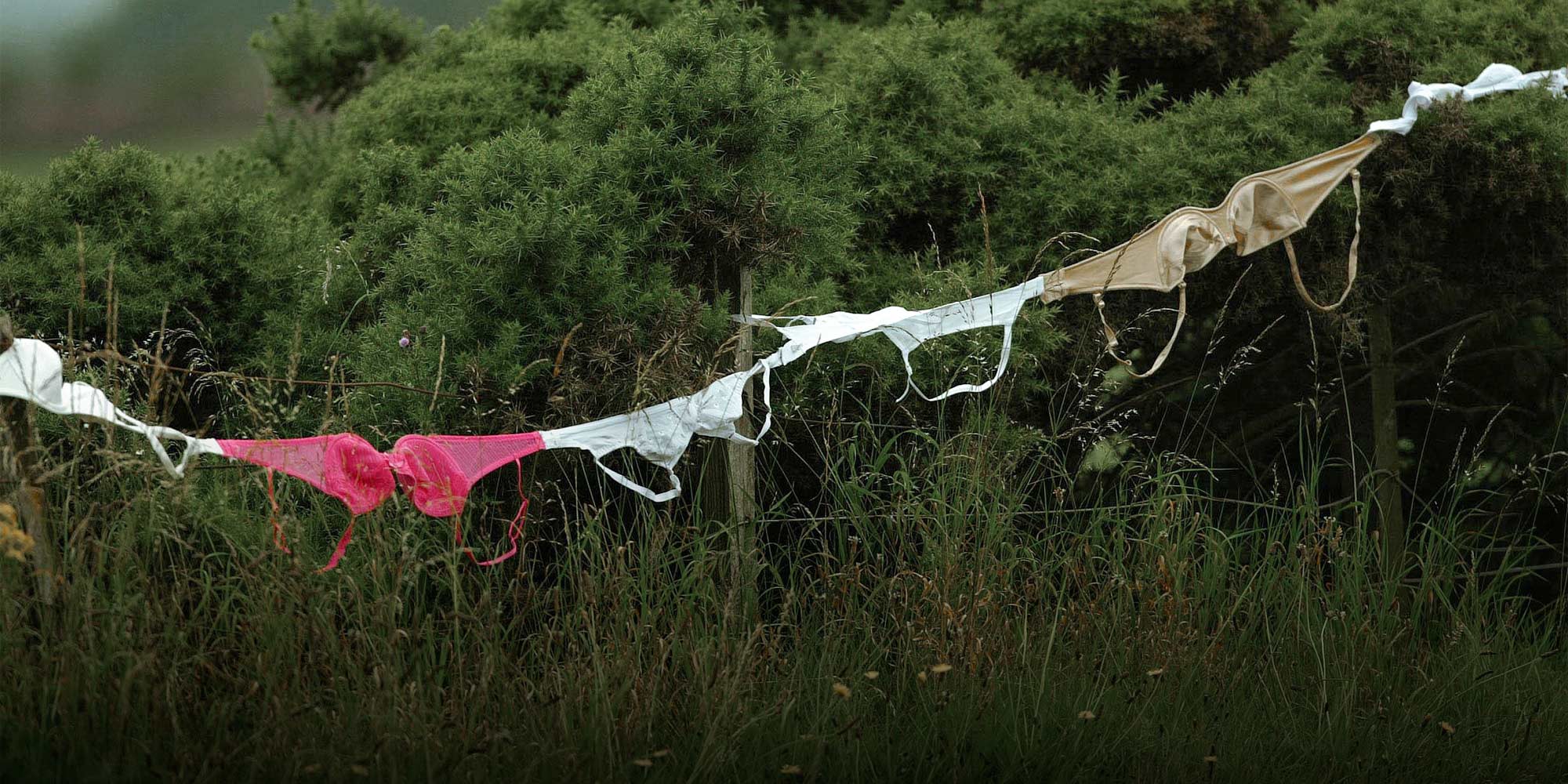 FEATURES
Off the Racks: In China, Push-Up Bras Are So Last Year
Sales of lightweight, wireless bras outpace popular beauty standards.
SHANGHAI — Alongside shots of breasts enhanced with plenty of padding, a popular ad campaign from the early 2000s urges, "Be a woman; up the beauty." Back then, busty was beautiful, and women without big bosoms bought bras with sturdy wiring and heavy padding to look the part.
But in recent years, more and more young Chinese women are opting for comfort over cleavage. Though women with bigger busts still prefer underwire bras for maximum support, those with smaller breasts are turning to lightly padded, wireless options. Online sales of wire-free bras first surpassed those of underwire bras in 2016, and last year reached almost three times that of underwire models, according to Shanghai-based consultancy CBNData.
"I don't want a fake size," says Mao Xu, a 27-year-old public relations officer at an online language training company in Beijing. She used to wear underwire bras because she felt they gave her a better shape. But that was in university, when, she says, "I still had the illusion that my breasts would grow more." A few years ago, she tried wireless bras from a Japanese brand and became an instant fan of their comfort — the push-up models she wore previously put pressure on her chest, were annoyingly warm in the summer, and never quite fit right.
The popularity of lightweight bras in China today echoes the "natural breasts movement" of nearly a century ago. Back then, beauty standards favored flat over busty: Many Chinese women bound their chests with white cloth or wore tight vests. Small so-called lilac breasts — as well as tiny feet — had long been the stuff of Chinese men's sexual fantasies. On Women's Day in 1927, a group of sex workers demonstrated naked in Wuhan, now situated in central China's Hubei province, to protest breast binding. The year after the Wuhan demonstration, the government banned breast binding nationwide for health reasons, as it had done for foot binding more than a decade earlier.
Chinese underwear styles saw a transformation in the 1920s when Chinese movie stars began wearing bras — then considered a Western undergarment. Actress Ruan Lingyu was among the first women to introduce bras in China, appearing on the silver screen wearing tight qipao dresses that emphasized her curvy figure. The trend toward shape-enhancing bras vanished during the Mao era, when clothing options were few, and women mostly wore simple white undergarments under loose military-style unisex clothing. Lingerie wasn't something people talked about publicly until the 1990s, when modern advertising once more redefined society's feminine aesthetics — this time favoring large bosoms.
But the tide is turning again — spurred in part by rising feminist awareness — and many young Chinese women are no longer ashamed of their small breasts. For the past six years, Shanghai-based undergarment startup Neiwai has seen success selling lightweight, wireless bras that "respect how women's bodies feel," according to the brand's slogan. Neiwai now ranks among the top 10 best-selling lingerie brands on Tmall, one of China's biggest e-commerce platforms.
At Neiwai's headquarters — located inside an old medicine factory in Shanghai's former French Concession, it's a typical startup office with a minimalist open floor plan, beanbag chairs, and two company kittens — founder Liu Xiaolu tells Sixth Tone there are more factors than just comfort spurring the wireless trend in China. She points to improvements in materials that allow bras without metal wiring to offer more support, as well as the global trend toward bralettes — which have no padding and lots of lace — and sports bras. But the biggest shift, says Liu, is in attitude: "In the past few years, Chinese women have begun to care less about how men see them. Some fashion-forward young Chinese women even dare to go braless."
Liu, 35, founded Neiwai in 2012, when wireless bras were still a niche market, accounting for only 5 percent of bra sales nationwide. Luckily, Liu had support from her family — both her mother and grandmother were senior managers in China's earliest underwear factory. A Shanghai native, Liu previously worked at a consulting company; she used to wear heavily padded A-cup bras to the office, but says she felt physically uncomfortable after long days.
Chinese lingerie shops are usually brimming with satin, lace, and rich colors — dark reds and deep blacks. But not so in Neiwai's store, located next door to its office. Bras and panties made from soft cotton or synthetic materials in muted hues hang on sales racks. The nude, pale pink, and beige items carry mid-range price tags of around 200 yuan ($30). The brand's marketing consciously avoids highlighting sex appeal: In a Neiwai commercial coinciding with this year's International Women's Day on March 8, Du Juan, one of China's top models and movie actors, appears in white kimono-style pajamas. The short video hardly draws attention to — or even shows — her underwear, instead emphasizing comfort and nonchalance.
"We are probably the first Chinese [underwear] brand that uses models with small breasts — in the past, every brand would look for models who had a 'career line,'" Liu says, referring to cleavage enhanced by push-up bras that supposedly lead to smoother career paths in male-dominated offices.
Despite the growing acceptance of padding- and wire-free bras, having visible nipples is still taboo. Online lingerie store owner Yuqian, 28, tells Sixth Tone that she imports lined bralettes from European brands, but that their lack of padding is off-putting to many Chinese clients. "Some customers ask for a refund after they receive the non-padded bras. They complain they can't wear them, as they will feel embarrassed by their visible nipples," says Yuqian, who declined to use her family name to keep her business anonymous.
In Paris, where Yuqian lives, thinner bras are socially acceptable, and she doesn't feel ashamed wearing them in public. But she's thinking about shipping her padding-free bras with plastic stickers that cover the nipples to accommodate Chinese buyers' tastes. Neiwai's bras have a thin layer of removable padding for the same reason. The company is considering offering its first non-padded bra this year, but it will also include nipple pasties with each purchase.
Mao, the public relations officer, solves the problem by opting for thicker clothes whenever she wears a bralette. But she thinks visible nipples will gain acceptance at some point. "I've seen Rachel's nipples on 'Friends' popping out many times," she says.
Even Gracewell, the Beijing-based underwear company behind the "up the beauty" slogan, has joined the wire-free bra movement. Though the company still sells plenty of underwire models, it now calls on shoppers to "live healthy" and go wireless. "What is a revolution?" the company's online store asks. "It's to break the rules and be yourself."
Editor: Kevin Schoenmakers.
(Header image: David Cheskin/PA/VCG)