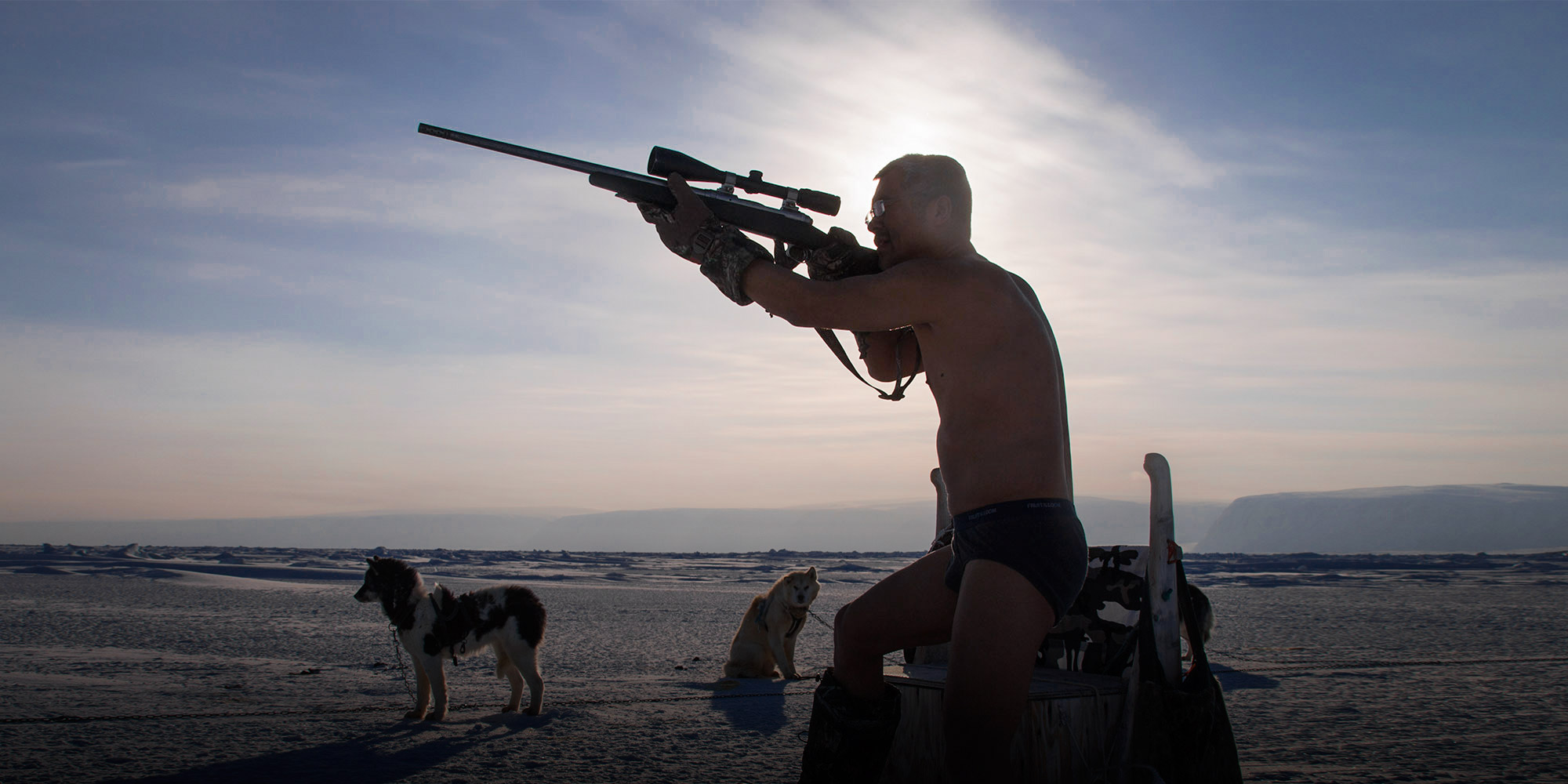 FEATURES
The Gun-Loving Chinese Tourists Hunting for New Thrills
Strict laws see firearm enthusiasts heading overseas for their fix.
Looking through green-tinted night vision goggles, Mao Wenming fixed his gaze on distant feral boars and readied himself to shoot.
It was a warm night in rural Texas, and Mao was on the fifth day of a hunting and gun experience with premium tour company Joy One World. The 11-day holiday package — including gun practice and both night and helicopter hunting — sets guests back a cool $20,000.
Hunting wild boar is hardly everyone's idea of a holiday, but for Chinese gun enthusiasts like Mao, it's a chance to do something a little different. In China, there are few opportunities to hunt locally, and civilian gun ownership is strictly controlled, limited to a small number of authorized hunters and sports, hunting, and wildlife organizations. Mao and other firearm fans are willing to spend big for the chance to experience guns firsthand, contributing to China's booming overseas travel sector — last year, outbound trips by Chinese tourists reached a record 130.5 million. In 2014, media reported that Jack Ma, the founder of internet titan Alibaba, had hunted stags on a trip to Scotland with friends.
Last year's Texas trip was spurred by an interest in weapons Mao has had since he was a toddler, when his parents gave him a picture-filled gun encyclopedia. When the internet became more popular, he would look up military hardware news and videos online. Mao, now 31, considers trophy hunting "senseless" but feels that hunting boars — which are wildly overpopulated in Texas — can be justified.
Ge Lu, the 31-year-old chief executive of Joy One World, was also drawn to hunting through guns. Growing up, she loved gun-packed movies and video games, and she traveled to a number of overseas shooting ranges in her 20s. Ge thought she'd done it all, but on her inaugural trip to Texas, she was amazed at the range of weapons available to try — from machine guns to antique rifles — and got her first taste of hunting. She now describes the activity as a "battle of wits and courage" that can help improve fitness and build mental endurance.
In 2016, Ge set up Joy One World to offer hunting trips and gun experiences to Chinese in cooperation with a U.S.-based tour company. Last year, Ge's company catered to over 200 tourists — including Mao. Ge believes there's a growing market of wealthy seasoned travelers who are thirsty for experiences outside the typical blitz sightseeing trip, which remains the modus operandi of most Chinese tour companies. Ge even had a family, including their 14-year-old child, join one of her hunting tours. "When you've traveled to many places, you feel that — at least when it comes to things to do — there's only so much this world has to offer," she tells Sixth Tone. "But actually, what you're not aware of is that the world out there is really, really big."
According to Wolfgang Georg Arlt, director of the Hamburg-based research center China Outbound Tourism Research Institute, the Chinese hunting trend is particularly prominent among nouveau riche eager to imitate the culture of Western elites. "Besides drinking Bordeaux wine and playing golf, hunting has been taken up by some high-net-worth individuals as a way to show off their wealth and power," Arlt tells Sixth Tone. Hunter Williams, a partner at management consulting firm Oliver Wyman, says the growing popularity of hunting fits into a bigger picture of wealthy Chinese prioritizing experiences over activities like shopping when they travel. "Some have done all the shopping one can do, but you can always have another memorable experience," Williams tells Sixth Tone.
But hunting isn't just for the super-rich — there's also a range of lower-cost options on offer.
Roman Sukhachev runs a tour business in his hometown of Vladivostok in far eastern Russia, less than three hours from Beijing by plane. He offers trips during which Chinese tourists can hunt animals for anywhere between 4,000 and 40,000 yuan ($600 to $6,000) per beast depending on the animal, with bears costing the most. When Sukhachev first started his business two years ago after completing a master's degree in China, hunting was not part of his tours. But prompted by requests from Chinese travelers, the now-28-year-old organized hunting excursions on private land three hours outside of Vladivostok by car. Over three days, customers learn basic gun handling; hunt and eat boar, deer, or bears; and finish with a Russian-style sauna. Sukhachev says Russia offers a cheaper — and closer — hunting option than the classic-but-pricey African safari.
Like Ge's business, Sukhachev's hunting tours tend to attract married businessmen aged 35 to 55 who are already veteran travelers. "They're always thinking, 'What haven't I done yet? What can I do?'" Sukhachev tells Sixth Tone, using a mix of English and Mandarin. In every place they visit, these tourists want to explore the main attractions — in Russia's case, those are beautiful women, military, and nature, Sukhachev quips. Some tourists try to tick off all three; if requested, Sukhachev can call on local prostitutes to accompany the group on fishing trips and nights out.
In addition to seeking new adventures, Sukhachev's customers are drawn to hunting due to China's strict gun control, says the tour operator. Regardless of whether they land a kill, customers appreciate the "realness" of hunting — from trudging with guns for kilometers through bitterly cold snowfields, to the gruesome task of cleaning animal carcasses. Such experiences offer a welcome escape from their sanitized lifestyle in China's urban centers, says Sukhachev. Other Russian hunting tours even truck Chinese tourists through Siberian tundra in armored troop carriers.
With 30 years' hunting experience, Wang Wei is an old hand in China's young hunting tourism scene. In 2002, Wang founded Beijing-based Zheng'an Safari Club, which offers trips to countries including Serbia, South Africa, and Spain. Wang says there's a surprising benefit to hunting tourism: poverty alleviation. When Wang took groups of foreign hunters to remote, undeveloped western Chinese provinces such as Gansu, he was stunned at the potential profit that hunting could bring to impoverished locals. Foreign hunting trips to China were halted in 2006, but before then, foreigners were prepared to pay up to $20,000 to hunt an aged horned mountain sheep, Wang claims, far more than the ram could fetch if it was domestically raised and killed for meat.
Wang's group also offers tours to Canada, where visitors can pay around $50,000 to kill polar bears, which are classified as a vulnerable species. Wang explains how the Inuit of Northern Canada — whom he describes as "a tragic people" barely scraping by — can sustain themselves by selling their legal right to hunt polar bears to Chinese trophy hunters. To him, the practice is justifiable: It helps the local people and isn't hurting overall polar bear population numbers, he says.
But such practices have been slammed by critics, who maintain that the sport is cruel, unnecessary, and — in the case of polar bears — driving species closer to extinction. Chinese hunting tourists have made headlines for the wrong reasons in the past, copping criticism for hunting polar bears and rare sea creatures. Sukhachev says some Chinese go hunting in Russia outside of the authorized season, which is designated to protect animals from overhunting. He says he's turned down Chinese tourists who ask him to take them hunting in the offseason, though he knows they'll just find another tour operator who'll agree to it.
There's also been backlash at home: When Ge first posted pictures of a bear killed on a hunt to Chinese social media platform WeChat, she received a flurry of comments from contacts calling her cruel and saying she had shasheng, literally "killed a life" — a term referring to Buddhist teachings that killing is wrong and will be punished with bad karma. When a friend of Ge's posted his own hunting pictures to the platform, a business partner took offense, and an agreed-upon 200 million-yuan project dissolved in the aftermath.
Ge says some of the domestic criticism stems from a lack of understanding of hunting culture. Han Chinese — who make up 92 percent of China's population — have traditionally sustained themselves through farming and agriculture, not hunting. Chinese people today are likely to think they aren't allowed to hunt large mammals such as bears, says Ge, and the idea that animal populations may need to be legally and appropriately controlled through hunting is an unfamiliar concept. She claims that in the case of bears, hunting adult males — who often kill younger bears — can actually benefit the population.
In fact, an interest in wildlife is one reason Liu Jiaqi, a 28-year-old project manager for an electronics manufacturer, got into hunting. After Liu's family moved to Vancouver in 2011 from their hometown in the eastern Chinese city of Qingdao, Liu got his gun license, mostly driven by curiosity. "Few people I know have touched a gun; few people have even seen a gun," he says. Through his gun instructor and a Canada-based Chinese family friend, he was introduced to the world of hunting. But he also hoped the hobby would be a way to experience unspoiled wilderness — something he says the average Chinese urbanite rarely sees. On his first hunting trip, Liu and his family drove and slept in a pickup truck, and ended up killing a bear. They drained its blood, skinned it, and cleaned it. Curious to try bear meat, Liu brought one of the bear's front legs home — but despite his mother's best attempts at cooking it, the meat still didn't taste very good.
Liu has given substantial thought to the absence of hunting in traditional Han Chinese culture, which often valued men for their literary rather than martial prowess. "Historically speaking, Chinese people advocated literature and the arts more; they leaned toward culture, not toward military strength, courage, and these kinds of things. So people who wrote beautifully were more likely to be praised by society," says Liu.
When Liu tells peers that he has hunted, the majority are surprised and think it's cool, but lose interest when they realize it involves long stretches spent walking or waiting, sleeping in rough conditions, getting bitten by bugs, and gutting animals post-kill — for many, this final step in particular is too much to stomach.
For some Chinese, it's the guns themselves that turn them off hunting. Zhu — who hails from the eastern city of Hangzhou and declined to give his full name for fear of professional repercussions — tried Ge's Texas tour in October last year on the invitation of a friend. Despite his Buddhist faith, the killing aspect of hunting didn't bother him — he reasons that he released the boars from their miserable existence so they could be reincarnated as something better.
Instead, it was the weapons Zhu handled that left their mark. The vintage firearms he tried as part of the "gun experience" portion of the trip were a highlight, he says, but the timing couldn't have been worse: Just before he left for Texas, a mass shooting in Las Vegas left 58 people dead and 851 injured. Zhu spent his trip in awe and fear of the guns he held in his hands. Soon after returning home, 26 people were killed and 20 injured in a shooting at a Baptist church in the very state he had visited. Zhu is now persuaded that America's firearm laws are far too lax, and that China is right to enforce stringent gun control. "I've seen what these weapons can do to a boar," he says. "I can't bear to imagine what they'd do to a human being."
Editor: Julia Hollingsworth.
(Header image: Wang Wei, founder of Zheng'an Safari Club, poses for a photo in subzero temperatures dressed only in boots and underwear, Canada, April 1, 2016. Courtesy of Zheng'an Safari Club)