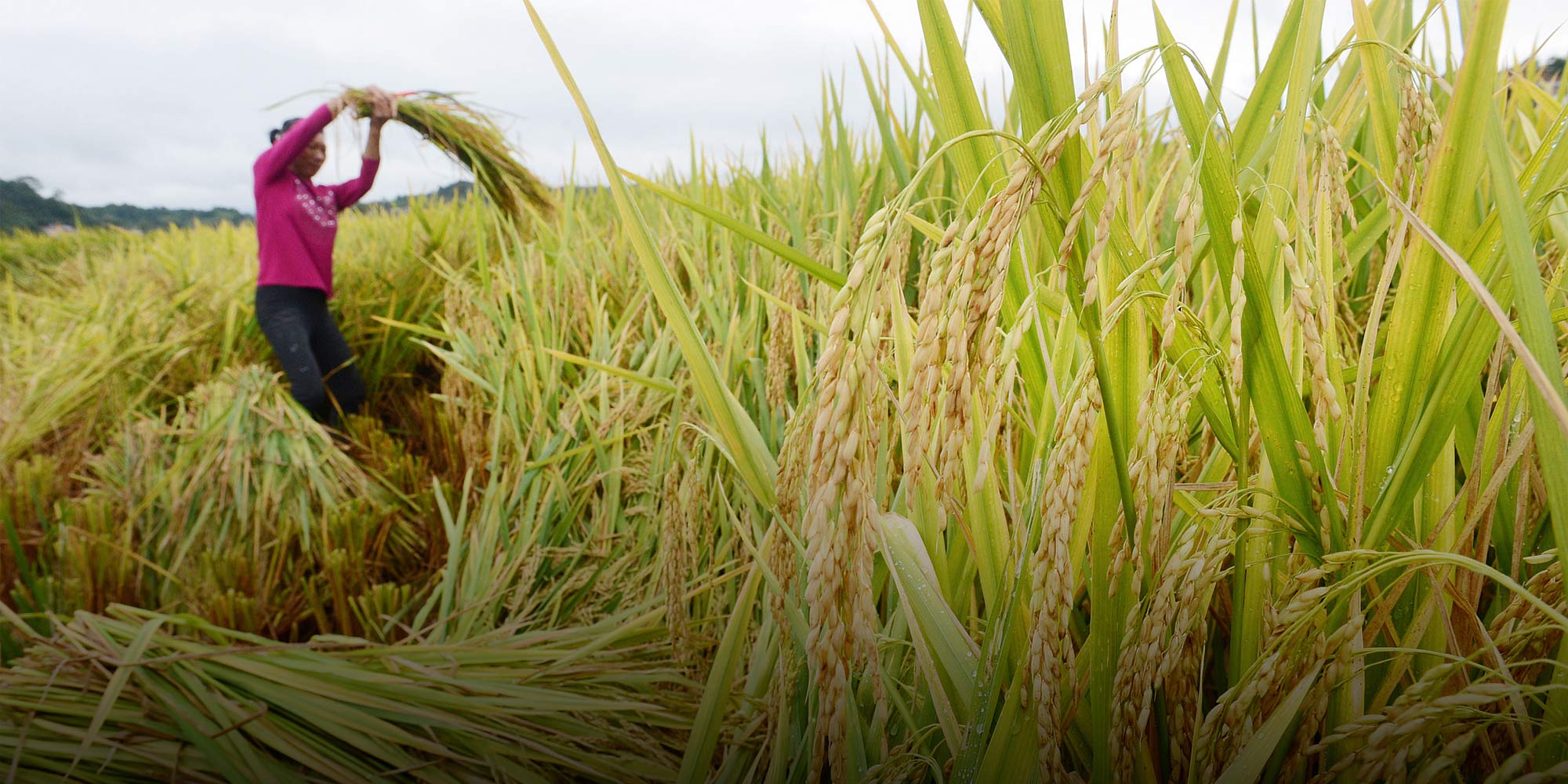 VOICES & OPINION
How Eco-Farming Is Lifting a Chinese Village Out of Poverty
A community-based project in rural Hunan is enriching locals and attracting consumers with pesticide-free rice.
Last year, more than 30 million rural Chinese still lived in poverty, defined as living on an annual income of less than 2,952 yuan ($470). The central government ambitiously aims to decrease that number by at least 10 million this year and eradicate poverty altogether by 2020.
Young people from my NGO, Serve for China, are helping to rid the countryside of want. A standout case is Wu Lijuan, who is working to wipe out poverty in the village of Nantai, in central China's Hunan province. Nantai is home to many people from the Miao ethnicity who farm rice for a living. As in other underdeveloped areas of China, many of Nantai's young people leave the village as soon as they graduate from middle school in order to find work in cities. The only people who stay behind are the very young and very old, many of whom are incapable of looking after large plots of land.
Serve for China encourages a variety of development models in the Chinese countryside. In Nantai, Wu has embraced community-supported agriculture (CSA), a concept well-established in the Western world but still in its infancy here. By allowing consumers to browse and purchase food from the harvests of Nantai's farmers, the project connects rice growers with the people who eat their produce. Allied to this is a burgeoning ecotourism model that allows villagers to diversify their sources of income.
Wu's CSA initiative is flourishing in Nantai thanks to a canny mix of e-commerce and so-called ecological farming — crop planting without the use of chemical fertilizers or pesticides. She arrived in Nantai in the fall of 2016, right at the start of harvest season. The villagers' had traditionally derived their revenue from selling their rice at the township market. That year, their rice sold for between 4 and 6 yuan per kilogram, and each family harvested around 750 kilograms.
Once she had settled in, Wu formed a workers' rice collective with 16 village families. She had a designer sketch out their packaging and incorporated the story of this impoverished mountain village into their brand. At the same time, she used a popular crowdfunding site, Qschou.com, to finance the villagers' move into the national market, in the process increasing the selling price by roughly threefold to nearly 14 yuan per kilo.
However, the limited quality of the rice meant that the project's initial reliance on emotion-driven sales was unsustainable in the long term. So Wu focused on transforming traditional rice farming into ecological farming, which would elevate both the quality and selling price of the rice.
Eco-farming is the cultivation of crops that are farmed without using fertilizer, pesticides, or herbicides. Although the technical standards are lower than for fully organic agriculture, eco-farmed products are increasingly popular among China's urban middle class, many of whom harbor concerns about food safety. To Wu and the villagers, eco-farming meant higher quality rice and higher selling prices for the cooperative.
Looking at sales numbers from the previous year, Wu thought that a lot of villagers would want to join her program, but she managed to recruit only 10 people with a combined 11 mu (7,300 square meters) of land, despite hosting several meetings to explain eco-farming and its economic and environmental benefits.
Until a few decades ago, people in Nantai hadn't used artificial fertilizers or pesticides on their rice. But nowadays, many rely on large doses of fertilizer to increase yields and, in turn, put more money into their pockets and food into their mouths. At first, few villagers believed that chemical-free rice would turn out well. What if yields were too low? What would they eat the following year?
Consequently, at first only a few comparatively well-off farmers were willing to try eco-farming, as they could afford to give up a couple of mu to test this new method. But crucially, during the planting process, our organization trusted and respected the villagers' farming knowledge — they knew their fields better than we did, after all. Over time, our trust in them made them more receptive to the new techniques our experts were trying to teach.
Nantai is not the only place in China to marry eco-farming and poverty relief. For example, the local government in Jinsha County, in southern China's impoverished Guizhou province, partnered with an association that encourages intellectual property studies between Taiwan and the Chinese mainland, and also secured investment from a number of Taiwanese companies to build an agritourism eco-park. The resulting revenue has lifted nearly 100,000 people out of poverty, according to state news agency Xinhua.
In Nantai, the villagers' greatest problem has been market access. Agriculture in the area is practiced on a small scale by individual farming families and has always been highly sensitive to competition. You can't buy Nantai's rice in supermarkets yet. But in the space of a year, local farming and tourism initiatives have allowed the villagers to offset the project's startup costs.
Experience from other parts of the country teaches us that eco-farming yields tend to drop in the first year following the abolition of pesticides, but grows in successive years as the local land recovers its fertility. Those 11 mu produced less than 200 kilograms in their first year, barely half the usual output. But because the value of local rice has skyrocketed, villagers actually ended up with higher profits.
Nantai is also breaking the mold via a partnership brokered by Serve for China with ETU School, a private school with branches in Beijing and Guangzhou that enrols students from across the country. ETU arranges for pupils to come to Nantai for two-week camps that teach the importance of eco-farming. The local government has earmarked an additional 500,000 yuan to set up new facilities, including a restaurant and cooking workshop.
This year, Wu plans to expand the area of land given over to eco-farming by a factor of almost five. The benefits of eco-farming in the Chinese countryside stretch far beyond revenue alone. The effect on poverty is truly transformative: It brings farming techniques in line with sustainable, profitable, and holistic business models whose ability to enrich our lives transcends money alone.
Translator: Katherine Tse; editors: Lu Hua and Matthew Walsh.
(Header image: A farmer harvests rice in Shaoyang, Hunan province, Sept. 18, 2014. Xu Xing/VCG)