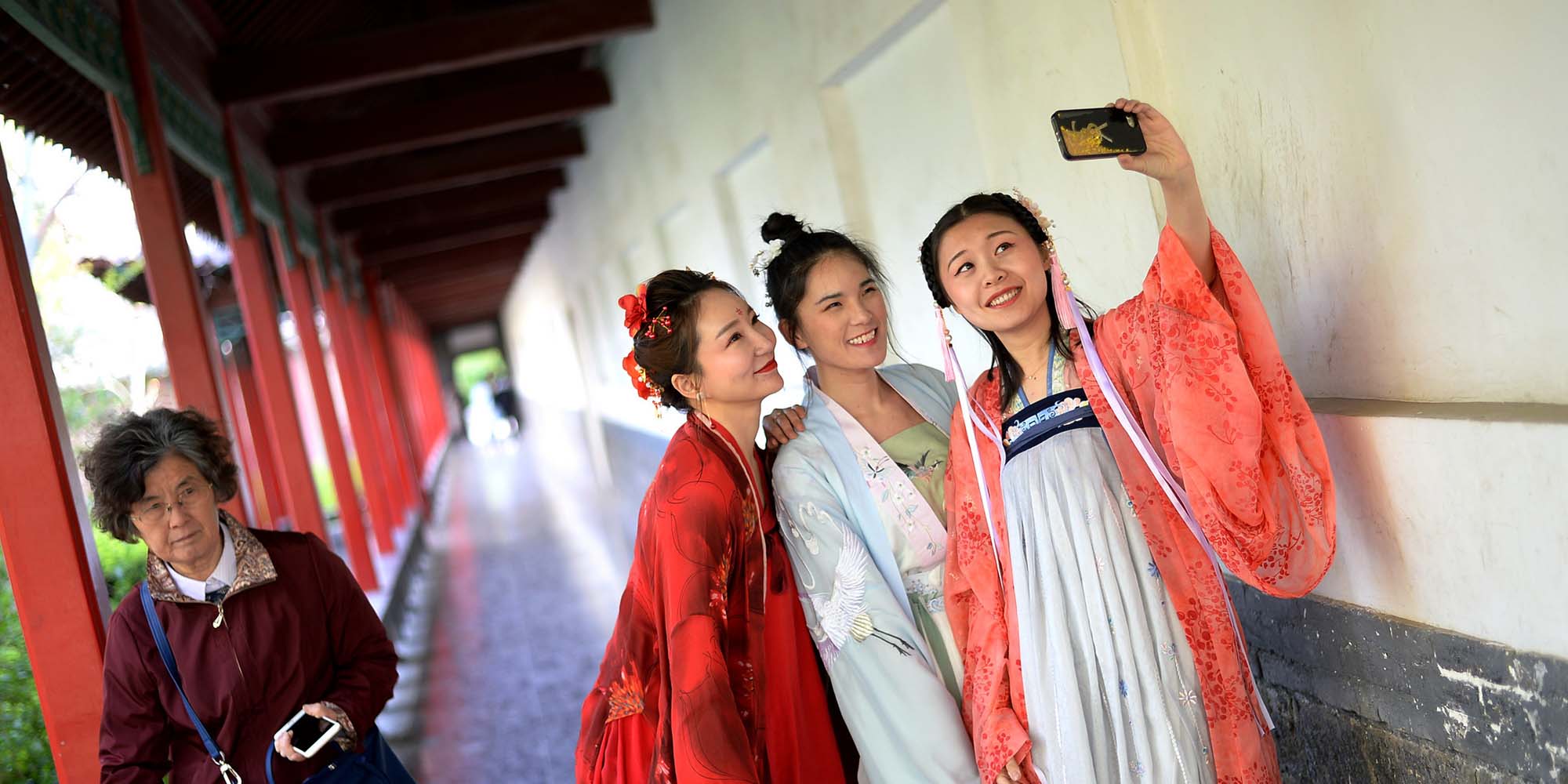 NEWS
Party Youth Partner With Bilibili to Celebrate Ancient Fashion
Cosplay enthusiasts, online celebrities, and even the Communist Youth League's media arm join forces to promote traditional clothing with China Huafu Day.
It's time to party like it's 2600 B.C.
On Sunday, the official Weibo microblog of the Communist Youth League, a Party-run youth organization, announced the establishment of a new national day celebrating huafu, or Chinese clothing.
The inaugural China Huafu Day is organized by Bilibili, a popular video site favored by cosplay enthusiasts, in cooperation with the media arm of the Communist Youth League and Dongjia, an e-commerce platform for artisanal products. Activities include a huafu photo contest, discounts on over 30 huafu clothing brands, and the launch of a photo-editing app that allows users to huafu-ify ordinary photos of themselves and share them on social media.
April 18 was selected because it falls on the lunar calendar birthday of the legendary Yellow Emperor, who is said to have reigned 5,000 years ago when huafu was supposedly born.
Yet some scholars dispute that such a style ever existed, at least in the forms celebrated today, while others argue that it promotes ethno-nationalism. China Huafu Day likely chose the term "huafu" over the more common term "hanfu" to be more inclusive of the country's 55 ethnic minority groups, in addition to the Han majority.
Internationally, the garment most often associated with China is the qipao — a form-fitting women's dress, often made from silk or brocade, with an asymmetrical collar and intricate frog buttons. But as a Western-influenced adaptation of Manchu dress that dates only from the 1920s, many feel the qipao is neither particularly traditional nor typically Chinese.
"Hanfu is the most obvious way for the Chinese nation to differentiate itself from other peoples of the world," Wang Jiawen, publicity director at one of the brands involved in China Huafu Day, told Sixth Tone.
In the early 2000s, some sought to revive what they claimed was the ancient dress of the Han, which they called hanfu, partly in response to the fact that Manchu clothing was often used to represent China on the world stage. Although some scholars question the historical accuracy of hanfu, the style has grown wildly popular, especially among young people.
These days, there are hundreds of hanfu clothing brands, and university students often wear hanfu to graduation ceremonies or other special events. On Bilibili, videos of people dancing or playing traditional instruments in hanfu get thousands of follows. The trend is part of a wider revival of interest in traditional Chinese culture, from Confucian schooling to poetry and calligraphy.
Wang, whose company Chonghui Hantang opened its first store in 2006, attributes the growing interest in hanfu to its beauty, young people's openness to new things, and a national strategy of "cultural confidence."
Yet despite its growing popularity, people who dress in historical garb in their everyday lives are still regarded as eccentric: Last year, a university student made headlines for wearing hanfu on a daily basis.
Promotion on the Communist Youth League's social media may make creative anachronism even more mainstream. The first image advertising China Huafu Day proclaims "New Era, New Huafu, New Youth" in bold red characters — a nod to President Xi Jinping's political slogan. Another poster includes a full poem on ancient Chinese history by former leader Mao Zedong.
Wang believes that with the hanfu craze spreading so rapidly, the day may help create consensus within the movement and present a more professional public image by showcasing top brands.
Events surrounding the day include talks and symposia bringing together an array of cultural experts and online influencers. On the day itself, a huafu catwalk show and traditional music concert will be held in Xi'an, an ancient city in northwestern China selected for its cultural and historical significance, and livestream to a slew of platforms, including Bilibili, Weibo, Douyin, and Kuaishou.
Yet though Wang is pleased to take part, when it comes to terminology, he is determined to stick to "hanfu."
"The use of 'huafu' by this activity won't influence our support of the concept of hanfu," Wang said. "We firmly believe that hanfu will be acknowledged and accepted by more and more people."
Contributions: Qian Jinghua; editor: Qian Jinghua.
(Header image: Young women wearing traditional Chinese clothing take a selfie at a park in Jinan, Shandong province, April 7, 2018. Yu Lin/IC)