Ride-hailing, bike-sharing, and food delivery companies have already had their own turf wars. Now they're forming cross-industry alliances in a bid to dominate China's roads — and cash in on booming trends.
On Wednesday, takeout delivery app Meituan announced it was buying out major bike-sharing company Mobike. In a press release, Meituan said that acquiring Mobike was another significant step toward building an environment that offers consumers convenience in all aspects of leisure.
It's only the latest move in an increasingly intense battle for control over China's transport and food delivery that stems from two of the country's tech giants, Alibaba and Tencent, investing heavily in the industries.
The first shots were fired at the start of this year when Meituan, which boasts 600 million users, waded into the ride-hailing business — a territory ruled by market king Didi Chuxing, which acquired Uber's China operations in 2016.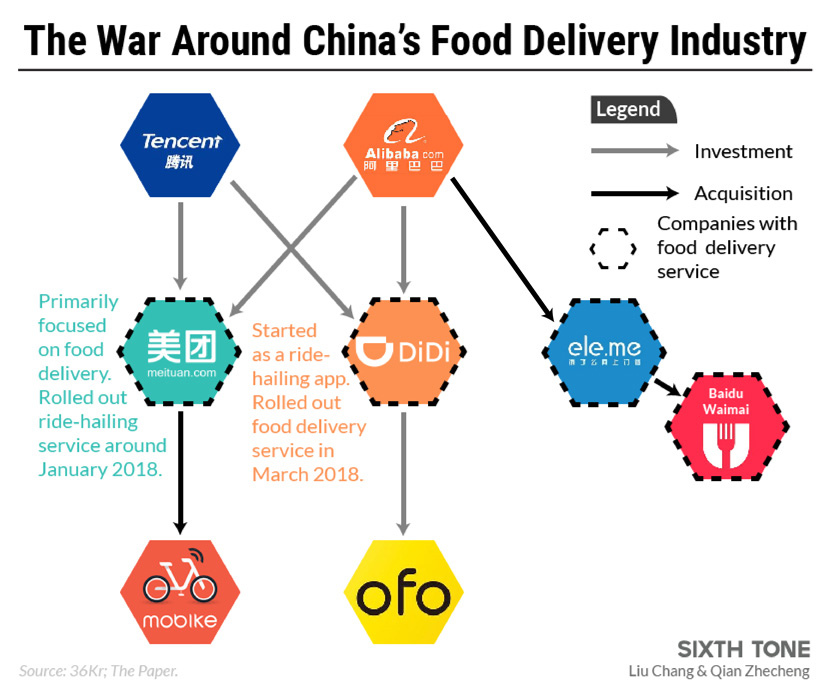 Meituan started in 2003 as a Yelp-like website where users could rate and review restaurants. Later, the company became famous for its affiliated takeout delivery service and film review and booking website.
In March, Didi hit back by making moves to launch its own food delivery service: Last month it posted job recruitment ads for delivery drivers on its website. According to an email Didi sent to Sixth Tone on Wednesday, the company said its food delivery business had captured one-third of the market share just three days after a trial version was launched in Wuxi, an eastern city near Shanghai.
There's another twist to the battle: Mobike is one of two titans of China's cutthroat shared-bike industry, locked in tight competition with Ofo, a rival company financially backed by Didi.
Analysts says that customers will likely benefit from the competition in the short term, with sweeteners like coupons and discounts. In the long term, though, the price of hailing a cab or buying a takeaway meal isn't likely to change significantly.
Yu Mu, a ride-hailing analyst from online consultancy Analysys, told Sixth Tone that Didi's leading role in the ride-hailing market was untouchable — at least in the short term. Data shows that almost 95 percent of people who use ride-hailing services use Didi — a significantly higher percentage than for similar apps, he said.
"China's ride-hailing market is enormous," Yu said, "and it still hasn't solved some big customer problems — namely, that it's difficult and expensive to hail a cab."
The unresolved issues are exactly what Meituan, online travel agency Ctrip, and navigation service AutoNavi are aiming to address when they enter the industry, Yu said. Although Meituan already has about 150 million more customers than Didi, Yu believes it will cost Meituan time and money to make them loyal to the company's own ride-hailing app.
Yang Xu, a fellow Analysys analyst specializing in everyday consumer spending, told Sixth Tone that she foresees the food delivery market remaining a highly competitive field, spilt between major players Meituan, Alibaba-affiliated Ele.me, and new entrant Didi. She said Meituan shouldn't feel too worried about losing its leading position in the food delivery market, as the company has wealthy backers and high market value.
"Tapping into the food delivery business is actually quite easy for Didi," Yang continued, adding that both ride-hailing and food delivery were built on location-based services. "Didi already has a large enough customer base and the right technology, so it might be easier for Didi to get into food delivery than Meituan to get into ride-hailing."
Correction: An earlier version of the infographic in this story had shown an Alibaba investment in Ele.me rather than an acquisition; Alibaba announced on April 2 that it was buying out Ele.me.
Editor: Julia Hollingsworth.
(Header image: A commuter rides past a row of Mobikes during rush hour in Beijing, April 11, 2017. Kevin Frayer/Getty Images/VCG)