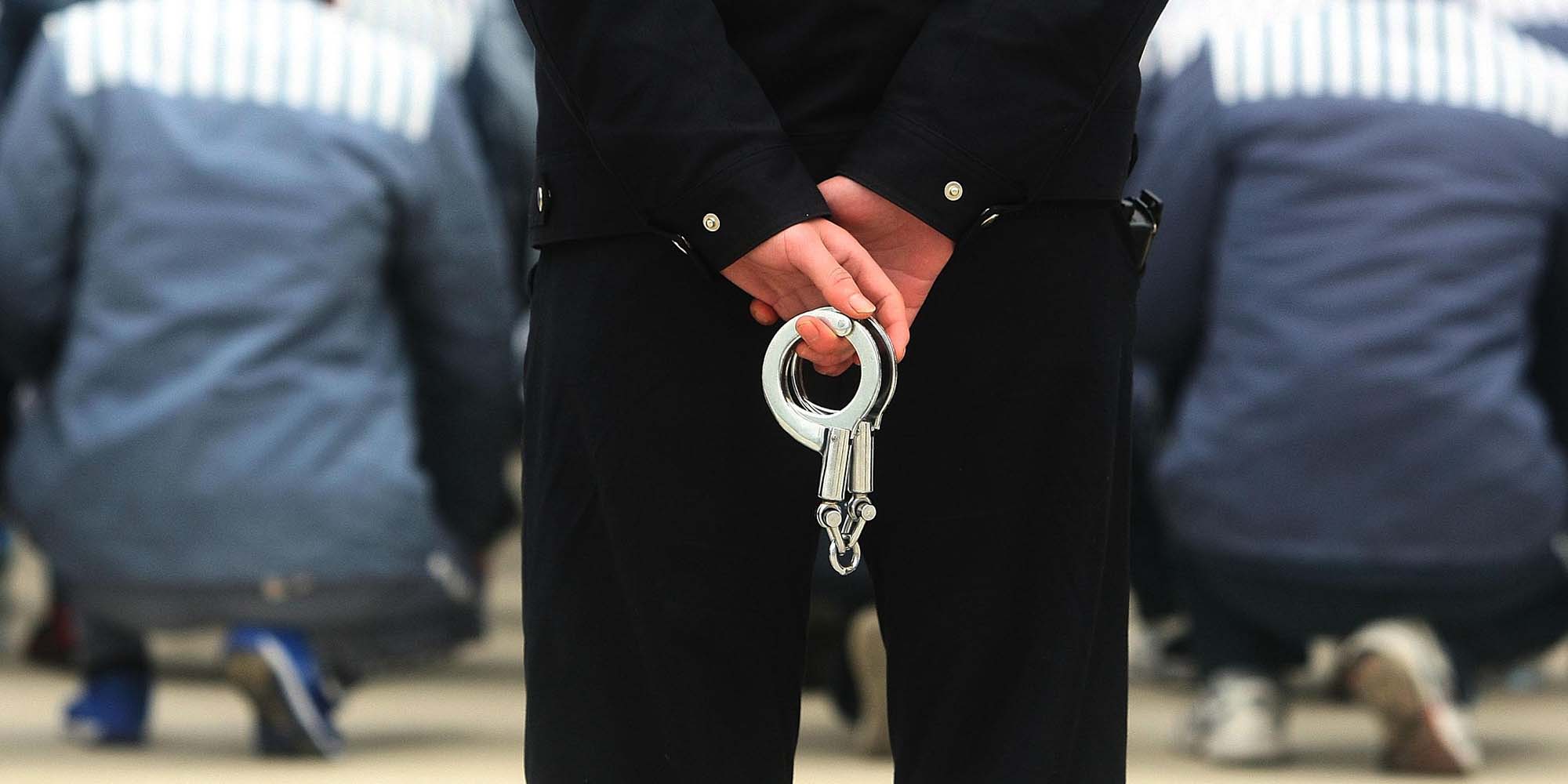 NEWS
Guards Helped Prison Honey Steal His Sweetheart's Money
Decadelong catfishing case involved corrupt prison officials, underground lottery tickets, and a badly broken heart.
When a woman in northeastern China's Heilongjiang province struck up an online conversation with a convicted felon nine years ago, she was looking for love. Instead, she lost all her money — twice — in a black-market lottery ticket scam.
Fourteen law enforcement officers associated with Mudanjiang Prison have been disciplined as a result of the case, the provincial department of justice said in an official statement Tuesday.
Back in May 2009, soon after divorcing her ex-husband, the then-49-year-old woman — who asked to go by the pseudonym Wang in an interview with Sixth Tone's sister publication, The Paper — began chatting with Zhang Junbo on Fetion, a Chinese messaging app. The two of them hit it off and before long were in a committed relationship.
There was just one problem: Zhang was behind bars. To Wang, he said that he had four years left on a 2002 conviction for intentional injury. In fact, he had been imprisoned since 2003 for kidnapping, a crime that earned him a 20-year sentence in 2006. Zhang was transferred to Mudanjiang Prison in 2008; Wang never met him in person before they became romantically involved.
Wang says she initially looked past Zhang's conviction and accepted her new boyfriend's explanation that he was able to use a mobile phone because he had made friends with his prison guards. Little did she know that Zhang was colluding with the guards in an underground gambling racket.
Over the following months, Zhang repeatedly asked Wang to lend him money, falsely claiming that he knew someone who could reduce his sentence. He needed 200,000 yuan ($32,000), he said, so he and Wang could be together earlier than planned.
"I thought to myself that it worked out to about 50,000 yuan per year for the last four years [of his sentence]," Wang told The Paper. "So I helped him get started with it."
Zhang had Wang send the money to an account registered with the Agricultural Bank of China under the surname Ji. It was one of 19 different accounts to which she would eventually transfer nearly 4 million yuan. Ji, a guard at Mudanjiang Prison, was one of at least five members of the prison staff who let Zhang use their bank accounts.
Between May 2009 and January 2010, Wang sent Zhang 71 payments totaling 3.4 million yuan while the prisoner spun various stories for why he needed the funds.
All the while, Zhang was using Wang's money to purchase large numbers of heicai, illegal underground lottery tickets printed by private dealers and circulated among the gambling community. Purveyors of heicai dole out prize money to buyers whose tickets bear the same numbers as winners of the state-sanctioned national lottery, but they generally offer larger jackpots and higher chances of winning.
When Zhang's numbers came up, he would commonly pay kickbacks of up to several thousand yuan to Ji and other prison staff whose bank accounts Zhang used, Ji confirmed to The Paper. Ji denied knowing that the money transferred into his account had been swindled from Wang.
In January 2010, Wang finally traveled to Mudanjiang Prison and confronted Zhang. It was the first time the couple had met in person. "Apart from getting my money back, I also wanted to confirm whether he really was a prisoner," Wang told The Paper. "I always felt that a criminal behind bars wouldn't be able to use a mobile phone so frequently."
At their meeting, Zhang admitted to spending the abovementioned "deposits" on heicai.
Wang took her case to court, where Zhang's sentence was extended for an unspecified length of time and he was placed in solitary confinement. In December 2011, the people's court of Hailin, the county-level city with jurisdiction over Mudanjiang, judged Ji guilty of accepting bribes. He escaped a formal prison sentence but during a concurrent internal investigation at Mudanjiang Prison was told to return 106,000 yuan to Wang.
In November 2013, Wang signed a formal agreement with Mudanjiang Prison, promising to stop pursuing further legal redress in exchange for a one-off payment of 500,000 yuan.
Wang says that following the conviction, she tried to put the case behind her. But then one day in April 2015, her phone rang. She recognized Zhang's voice immediately.
Despite the compensation and returned sums, Wang told The Paper that she was still heavily in debt at the time: Bailiffs were knocking at her door, and her financial status all but killed off her hopes of remarriage.
The silver-tongued Zhang was saying that he could recoup all the money she'd lost. But again, he was playing Wang for a fool. "The second time I was tricked, his methods were cut from exactly the same cloth," she said.
For nearly a year after the call, Wang again transferred hundreds of thousands of yuan to Zhang, while Zhang again spent the funds on underground lottery tickets.
On Monday, a verdict posted on the legal database China Judgements Online found the now-40-year-old Zhang guilty of seven separate counts of extortion between November 2013 and January 2016. His victims include several unnamed inmates at Mudanjiang Prison, whom Zhang apparently sweet-talked with promises of reduced sentences in return for cash. Zhang will serve 25 years behind bars and has been fined 400,000 yuan.
The verdict estimated that Wang had transferred 3.9 million yuan to Zhang over the past nine years. Although Zhang and certain prison staff returned more than half of the money she lent them, Wang still incurred losses totaling nearly 1.5 million yuan.
On Feb. 1 of this year, a Mudanjiang court sentenced Ji to a fixed-term imprisonment of two years, suspended for two years, for the crime of dereliction of duty. He had already been relieved of his official responsibilities at the prison.
In Tuesday's statement, the Heilongjiang provincial department of justice said that seven police officers had been disciplined by either the Party or the government in relation to the case, while seven others were found to bear criminal responsibility. It also claimed that Mudanjiang Prison had rectified the systemic issues that enabled Zhang's crimes, without going into detail.
Editor: Qian Jinghua.
(Header image: A prison guard watches over inmates in Deyang, Sichuan province, Dec. 28, 2011. VCG)