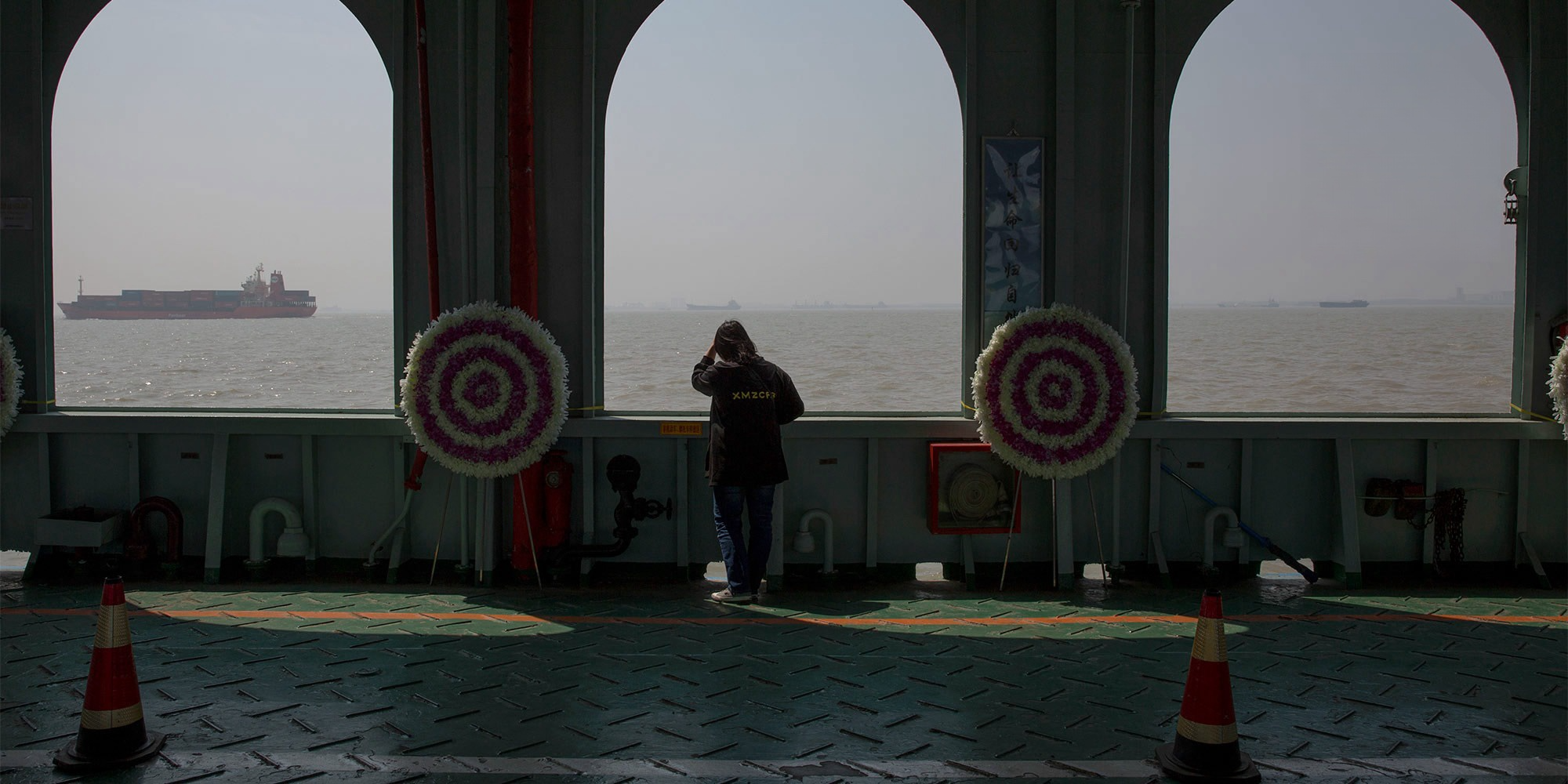 FEATURES
Resting in the Deep
China's funeral rites are undergoing a sea change.
This article is part of a series on how Chinese people deal with death.
SHANGHAI — It's a breezy April morning when the Hu Hang No. 17 sets out into the Yangtze River estuary, chugging through calm waves and faint sunshine. On board are nearly 200 people carrying the ashes of their loved ones.
Teng Fei, 31, cries in her seat as she hugs a bag containing the remains of her 2-year-old son, Gu Tengyang. Pasted on the bag is a photo of a little boy, smiling and holding a popsicle. Teng tells Sixth Tone that he died in February after he was hit by a truck in front of his sister's primary school.
In an effort to conserve land, since 2014 the Chinese government has promoted space-saving, "ecological" burials in which the deceased's ashes are scattered at sea or buried at the foot of a tree. But Teng has other considerations: According to traditions in her hometown, deceased children cannot be buried with the rest of the family. Teng and her relatives didn't know what to do with Tengyang's ashes until they heard of sea burials; they quickly applied to take part in the service. (The same local beliefs also dictate that grandparents cannot attend the funerals of young children, which is why only Teng and her husband have come to give the boy his final send-off.)
The ferry's destination is a stretch of water near Changxing Island that the State Oceanic Administration has officially designated for sea burials. There, the river flows into the East China Sea, ensuring that ashes scatter rather than drop to the seafloor. Because there are only a handful of officially sanctioned sites in the country, the municipal government allows people from nearby cities to conduct sea burials in the waters around Shanghai. Today, 83 people from Changzhou, in neighboring Jiangsu province, will have their ashes buried beneath the waves.
Earlier that morning, their relatives were bused in and welcomed at the dock by an honor guard and live music. The ferry is decked out in floral displays and slogans such as "the ocean's call" and "let life return to nature." The passengers carry identical brown bags, each containing an urn and labeled with the deceased's name. Some people hold flowers, whose petals they will pluck to scatter with the ashes.
After about an hour of speeches by Shanghai and Changzhou officials, the boat arrives at the burial site. Passengers make their way down to the deck, where eight metal chutes through which to pour the ashes hang off the ferry's sides. Standing amid large wreaths of plastic flowers, every family takes a minute or two to empty their urns as the boat gently bobs in the waves. Solemn music plays through the cavernous lower deck. Harbor cranes and container ships dot the horizon.
Teng bows three times to her bag before slowly scattering her son's remains into the water below. She then walks to the stern to watch the flower petals drift into the distance. "Although I hate to part with him, I don't want a land grave that will constrain him. I don't want him to worry about us or this lifetime," Teng says, sobbing. "A sea burial will set his soul free so he can be reborn quickly as another family's child."
Sea burials are a relatively new phenomenon in China, brought to the public's attention by top political figures Zhou Enlai and Deng Xiaoping, who chose to have their ashes scattered at sea when they died in 1976 and 1997, respectively. In 1991, Shanghai became the first Chinese city to authorize sea burials. By the end of last year, the remains of about 40,000 people had been laid to rest in the East China Sea. Numbers are increasing every year, and currently about 2 percent of funerals are sea burials. The practice helps ensure that all city residents have a final resting place, Zhang Songjie, researcher at the Shanghai Civil Affairs Bureau's funeral and burial management division, tells Sixth Tone. "With Shanghai's lack of land and its large, rapidly aging population, the scarcity of land for burials is worsening every day," he says.
According to the state-run Shanghai Funeral and Interment Service Center (FIS), people who choose sea burials typically fall into one of two categories. They either come from better socio-economic backgrounds and want to have their ashes scattered at sea for spiritual reasons, or they make the decision based on financial factors. Though Shanghai provides low-cost, unmarked graves for interring ashes, a personal plot with a lease of up to 70 years typically costs between 80,000 and 160,000 yuan ($12,700 to $25,400) — high-end options can cost as much as 500,000 yuan, or four times the price of housing per square meter in the city center. Meanwhile, sea burials are free for Shanghai residents, and the city provides families an additional 4,600 yuan per burial; Changzhou offers 2,000 yuan per burial.
Along with his wife, Shanghai resident Li Xinjie, 74, gave his mother-in-law a sea burial in 1991 — one of the first in the city. The family didn't have a lot of money, Li tells Sixth Tone. But Li's mother-in-law also had personal reasons for choosing the practice: Having migrated to Shanghai by boat in the 1950s from a village along China's eastern coast in Zhejiang province, she thought that having her ashes scattered at sea would allow her to visit her hometown in death as well as see her brother, a fisherman who lives on an island south of Shanghai. The woman's husband had been buried in their old village. But when a development project meant his grave had to be cleared, she decided there was no value in an impermanent land burial.
Back in 2004, Li wrote a blog post about his family's sea burial experience on Oldkid, a Shanghai-based online forum aimed at elderly people. The post received a lot of attention, and people curious about being buried at sea have continued to seek out Li for information. Based on their stories, Li says people usually make the choice because they don't have a lot of money, don't want to have a complicated traditional funeral, or have an affinity for the sea. It's also a solution for people without children or whose children live abroad and cannot regularly tend their graves.
Still, sea burials have limited appeal to some. They can only be carried out during good weather in three months of the year, meaning that there could be half a year between cremation and funeral. Also, only a maximum of six people per family can board the boat for a burial. And, according to Liu Weibin, head of the sea burial department at the FIS, acceptance is only slowly increasing. "The elderly still mostly decide on how relatives are buried in a family, and they are not as open to the idea as younger generations," he says. Though recently, the FIS have received many inquiries from elderly people wishing to scatter the ashes of their long-dead parents at sea.
About two decades after her sea burial, Li's mother-in-law had her name inscribed on a monument in Binhai Ancient Garden, a cemetery that faces the water in Fengxian District, a rural part of Shanghai. On a recent Saturday morning, Li and his wife woke up at 6 a.m. to make the 65-kilometer journey from the city center for an annual memorial ceremony at the cemetery. The memorial is held yearly around Tomb-Sweeping Day, a festival during which people visit their ancestors' graves.
An important aspect of a Chinese funeral is that a dead person's final resting place must be peaceful. To some, a sea burial doesn't fulfill this requirement — the water is choppy and cold, and there's no place for younger generations to pay their respects. The annual memorial at Binhai Ancient Garden is a compromise. City officials make speeches to start the ceremony, after which someone rings a bell representing peace and hits a drum representing good fortune. Instead of sprinkling liquor on the graves, as is the usual tradition, seawater is poured into a cauldron. The officials place floral arrangements on a stage, and everyone bows.
People then burn paper money and lay out fruit and beverages as ceremonial sacrifices for the deceased. Li supports the updating of old customs for the modern era. "Over thousands of years, the traditions of our ancestors have become our customs," he says. "But modern society should keep up with the times and bring forth new ideas." Li says he had a friend whose three sons-in-law were of relatively high social standing, and all three refused the old man a sea burial, fearing that others would judge them for being stingy. Li and his wife have no such qualms and have decided they want sea burials, too.
Cai, a 31-year-old Shanghai native who did not wish to use his given name, and nine of his relatives attended the ceremony at Binhai Ancient Garden to bring offerings for Cai's mother, whose ashes he scattered at sea last year after she died of cancer. Decades ago, when the woman's father considered a sea burial following news of Deng Xiaoping's funeral, she had objected, saying the seawater was too cold. But when her own death approached, she was open to burial at sea. She had undergone expensive medical treatment and didn't want to force her family to spend more on a burial plot. Cai brought flowers for her, but with no space left in front of the monument, he placed them under a tree, pointing toward the marker bearing his mother's name.
Some 120,000 to 130,000 people die every year in Shanghai, according to the funeral and burial management division. About 88 percent of people now opt for so-called ecological burials, says Zhang, the researcher. Most are still interred on land, albeit in very small plots. This year, the city plans to promote "life crystals," which involve turning a person's ashes into roughly 150 tiny stones — particularly convenient when the deceased's children live far apart and each want their own memento.
Another green funeral option the Chinese government promotes is tree burials. However, the Shanghai government isn't a fan — Zhang says burying ashes beneath a tree doesn't save much space compared to regular burials, and protecting the trees can be an issue. He remembers one case of a tree catching fire when people burned fake money during ancestor worship.
But further inland, tree burials are slowly catching on. In Suzhou, Jiangsu province, the families of more than 80 people have signed up for tree burials so far this year. At the city's funeral service registration desk, one Suzhou resident, a 69-year-old woman surnamed Zhang, has come to ask for more information. Before her husband's recent death from kidney cancer, he told her he would like to be buried at sea. But, Zhang says, his siblings have opposed the idea: "They are very traditional, and they feel he suffered great hardship and needs a good final resting place." She'll see if her in-laws agree to a tree burial instead, which she feels still conforms to her husband's wish for a simple funeral.
Suzhou resident Zhao Kang, 40, lost his 7-year-old son to cerebral palsy. Zhao signed up to have the boy's ashes buried beneath a tree last month. Like Teng's family, Zhao's mother believes that burying young children with adult relatives will bring bad fortune. Zhao doesn't like the idea of a sea burial, but he tells Sixth Tone that a tree burial is an acceptable compromise that still gives his son a peaceful resting place for his parents to visit.
Tengyang, the 2-year-old boy whose ashes now float in the current of the East China Sea, will have his name engraved on a monument in Changzhou. Teng, his mother, says she will visit on his birthday and burn paper cake and candy for him to enjoy in the afterlife. "He was still little," Teng says. "If we burned paper money for him, he wouldn't know how to use it."
After all 83 Changzhou families have scattered their relatives' ashes, the boat returns to the dock in Shanghai, where buses wait to take them back to their home city. For Teng, it's her last opportunity to say goodbye to her son. She stands on the dock for a while, watching the waves. During the trip, she posted a message to her son on social media: "It's not lonely when 83 people are together. I hope you can be free, Little Yang."
Editor: Kevin Schoenmakers.

(Header image: Teng Fei stares into the distance after scattering her 2-year-old son's ashes at sea in Shanghai, April 1, 2018. Shi Yangkun/Sixth Tone)