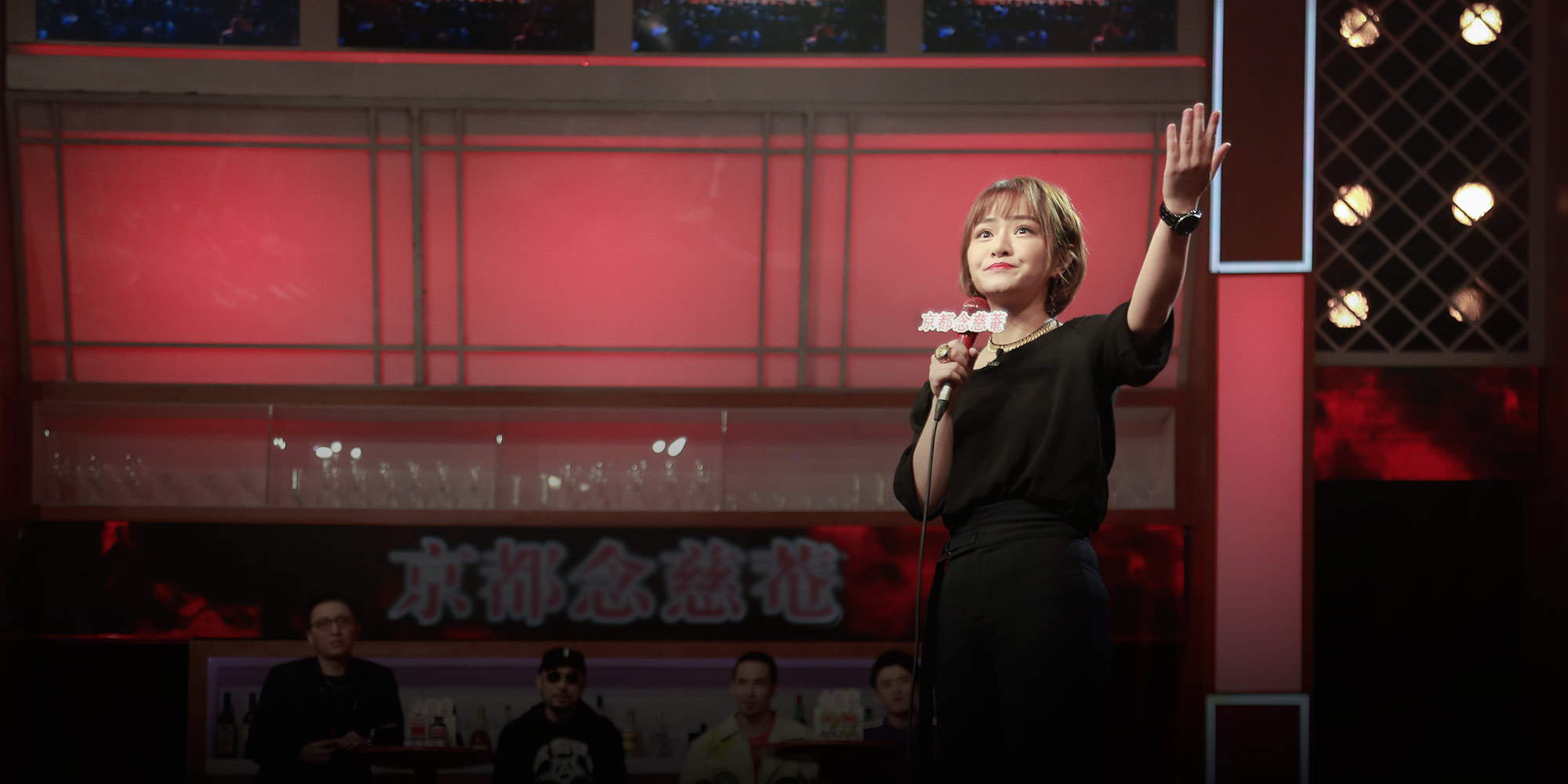 FEATURES
Everything's a Joke for China's Goddess of Gags
Using sexism and discrimination as fodder, the country's top female stand-up comic is getting the last laugh.
SHANGHAI — At a white-walled photo studio, China's queen of stand-up comedy is struggling to keep a straight face. With eyelids coated in glitter and hair styled into waves, Wang Siwen looks every bit like she belongs on the glossy pages of fashion magazine Harper's Bazaar China.
If only she could stop giggling.
Perhaps it's no surprise that 31-year-old Wang is still uncomfortable posing for magazines — after all, she's only been China's most famous female stand-up comic for a year.
There's not a lot of competition for the crown: Wang is the only known female full-time stand-up comedian in China. While women aren't an uncommon sight in Chinese sketch shows, they're still fairly rare in the country's small stand-up comedy scene. The art form entered mainstream consciousness in 2016 with the immensely popular "Roast Convention," a Chinese version of American series "Comedy Central Roast," in which comedians trash celebrities and each other. The Chinese show attracted billions of clicks, bringing Western-style stand-up comedy to the public's attention and helping to promote promising stand-up stars, including one woman: Wang.
In recent months, Wang has gained an additional accolade: She's been hailed as China's answer to fictional American comedian Mrs. Maisel, the central character in Golden Globe-winning American comedy-drama "The Marvelous Mrs. Maisel." From her fans' perspective, Wang — who hails from northwestern China's Shaanxi province — has a lot in common with Mrs. Maisel, a fictional Jewish housewife-turned-comedian living in 1950s New York City. Both shine in the mostly male-dominated stand-up comedy scene, and both married men with equally big dreams in the comedy business. There's even a slight physical likeness: Like Mrs. Maisel, Wang wears her hair in a bob.
But Wang never made it through the whole season of "The Marvelous Mrs. Maisel." She felt that most of the jokes fell flat, and she couldn't relate to the stylish, flawlessly made-up Mrs. Maisel, who lives in a fancy, high-end condo. Despite her glamorous look following the five-hour Harper's Bazaar fashion shoot, Wang rarely wears makeup — four years studying of being one of only a few women at a science and engineering university has made her a "rough guy," she jokes. While she'll sometimes don heels to raise her short stature, she also mocks stilettos, calling them torture devices.
In the male-dominated comedy scene, Wang thinks her gender is an advantage, as she can offer a different perspective. But not everyone sees it that way. There's a common sentiment that women aren't as funny as men, something Wang dismisses. Instead, she puts the lack of women in comedy down to social barriers, such as the expectation that they should sit quietly and look beautiful.
Instead of buying into traditional gender roles, Wang uses them as comedy fodder. In a skit televised in 2016, she pretended to be a dating mentor, pointing to the fact she hadn't been single since setting foot on campus as her love guru qualification. "If you're in a class of over 30 students with only two girls and you're still single, what does that mean?" she asked, pausing to let the audience ponder for a moment.
"It means you're a man," Wang announced, giving a sly grin.
Humor has always been part of Wang's life. In elementary school, she pored over joke books late at night and recited the jokes to her friends during class. Her everyday conversation style is peppered with uncanny, and sometimes brutal, impersonations. Her love for stand-up and her romance with her now-husband both date back to one fateful 2012 night in Shenzhen, the tech hub in southern Guangdong province. Wang, who was working at a state-owned telecommunications company at the time, went to a stand-up comedy event with her friends. "I didn't know what stand-up comedy was at all," says Wang, adding that she thought it might be like the Chinese equivalent of "The Oprah Winfrey Show."
As Wang sat in the audience, the only word that sprang to mind was "terrible." So terrible, in fact, that she leapt onstage to share her disappointment. "I needed to show them what good jokes were," she recalls. Wang ruthlessly impersonated the nervous rookie comics, imitating their awkward, halting performances, unnatural pauses, and strange accents. Wang claims she had the best performance of anyone that night, although she admits one other person did a good job: her future husband, Cheng Lu. The feeling was mutual. "She was the funniest one that night," Cheng tells Sixth Tone.
Wang's impromptu debut stunned both the audience and members of the local comedy group. Afterward, Wang was bombarded with messages from Cheng and other club members asking her to join their comedy collective. She hesitated, wondering what she could gain from a group of people who — in her words — "sucked." On second thought, she realized: "My greatness will really stand out next to these lame people." Finally, she gave in, on the condition that she could pay discounted membership fees.
But even after joining, Wang seldom took the stage at the club's open-mic nights. She couldn't understand why her fellow amateur comedians tried so hard to make people laugh for no monetary reward. "I am a Taurus, and he is an Aquarius," says Wang, meaning she's a pragmatist while Cheng is a romantic. "Our horoscopes are a bad match."
As the child of divorced parents who was raised by her grandmother, Wang was used to making her own decisions. When her father met her groom for the first time at the couple's wedding, he cried, not understanding what his daughter saw in Cheng. Cheng wasn't from a wealthy family, earned a meagre income, and was not a looker. After their marriage, he quit his regular translation job to focus on comedy meaning both were dependent on Wang's salary to pay their mortgage and support themselves.
While Wang worked, Cheng gradually established himself in the comedy community. In 2015, Shanghai-based stand-up comedy promoters reached out to recruit Cheng. To sweeten the deal, they offered to sign Wang and represent her as well. So the pair packed up and moved to Shanghai, turning their hobby into a job.
But when Wang went into the office for meetings, her co-workers often asked, "Where is Cheng Lu?" Wang was upset that she was seen only as Cheng's wife, and it strengthened her resolve to become a comedian in her own right. For the first few months, she got little reaction from the crowd. "It's not only about telling jokes," says Wang, explaining that stage presence, joke delivery, and audience interaction, which she jokingly calls her "key performance indicators," are evaluated each show by the viewers. Her career looked gloomy, but a successful gig at the end of 2015 saved her from despair. From there, she began taking writing jobs and in 2016 had her television debut as a cast member of comedy skit series "Tonight 80's Talk Show." She rose to fame on "Roast Convention" before moving on to her biggest challenge: "Rock & Roast," a web-only stand-up comedy contest that kicked off in August, and for which her husband writes.
Throughout her career, Wang's recipe for comedy has been simple: Extract tidbits from her mundane life, spice them up with an exaggerated stage performance, and serve the ensuing feast with a side of mild self-deprecation. She deployed this method to great effect in one memorable "Rock & Roast" skit.
"Can a woman and a man ever be just friends?" Wang began, bringing up an oft-debated question.
"The answer is yes," she continued. "Just look at my husband and me." She described how the pair switched their double bed for a bunk bed after years of marriage, making her husband like a "good bro" who slept on the upper bunk. The whole room broke out in a riot of laughter.
At its core, her joke contains a bitter truth: that couples can fall into a rut, where passion and romance are worn thin by daily chores. Wang's marriage to Cheng is rich in raw material — the couple's life is centered around jokes. When Wang found herself in the hospital with kidney stones, Cheng joked about it on social media. Although she ridicules her husband for being short with a disproportionately large head, and complains about how inconsiderate he is, she rates her marriage between 9 and 9.5 out of 10 (Cheng agrees). Their relationship counselor believes they're unusually happy for a couple who have been together five years. Wang jokes that if they got divorced, they would fight over the jokes they came up with together instead of material property.
In another sketch on "Rock & Roast," Wang took on deep-seated gender stereotypes. "If a pretty woman tells you she's broke, you'll think she's cute," Wang said. "If an ugly woman tells you she's rich, you'll think she's lonely and trying to buy a sperm donor." In another episode, she continued the theme: "After a woman gets married, no one cares if you're high-flying or if flying makes you exhausted. Everyone asks you, 'Why are you flying if you don't lay eggs?'"
She ended the joke with a Cantonese-language punchline, saying something to the effect of: "I have no clucking idea." In fact, Wang's own parents are so relieved she's still with her husband that they never nag her about having kids.
In the end, Wang took third place on "Rock & Roast." Cheng believes the intensity of the show has made his wife a confident and professional stand-up comedian. He sees her as the undeniable rising star and queen of Chinese stand-up, and views her impersonation skills, ability to overcome gender barriers, and taste in jokes as her greatest assets. "She was born with a great gift," Cheng says. "She hasn't yet realized her full potential on the stage."
Cheng also featured in Wang's "Rock & Roast" award acceptance speech. "You all know my husband is the head screenwriter for this show," she said. "But I only came in third, which means the show is fair — there are no shady deals." As with many of her jokes, this one contained a barb of truth — there had been speculation that Wang only went so far in the competition thanks to her gender. "Each episode of the competition is a real battle," Wang tells Sixth Tone. "They're not going to let you through just because you're a woman."
Wang's acceptance speech also called on other women to follow her lead. "I hope more women can join me in the stand-up comedy scene," she said. "When you are in the business, you will realize how easy it is to be the queen of something."
Editor: Julia Hollingsworth.
(Header image: Wang Siwen gives a stand-up comedy performance at a studio in Shanghai, Oct. 15, 2017. Courtesy of Fun Factory)