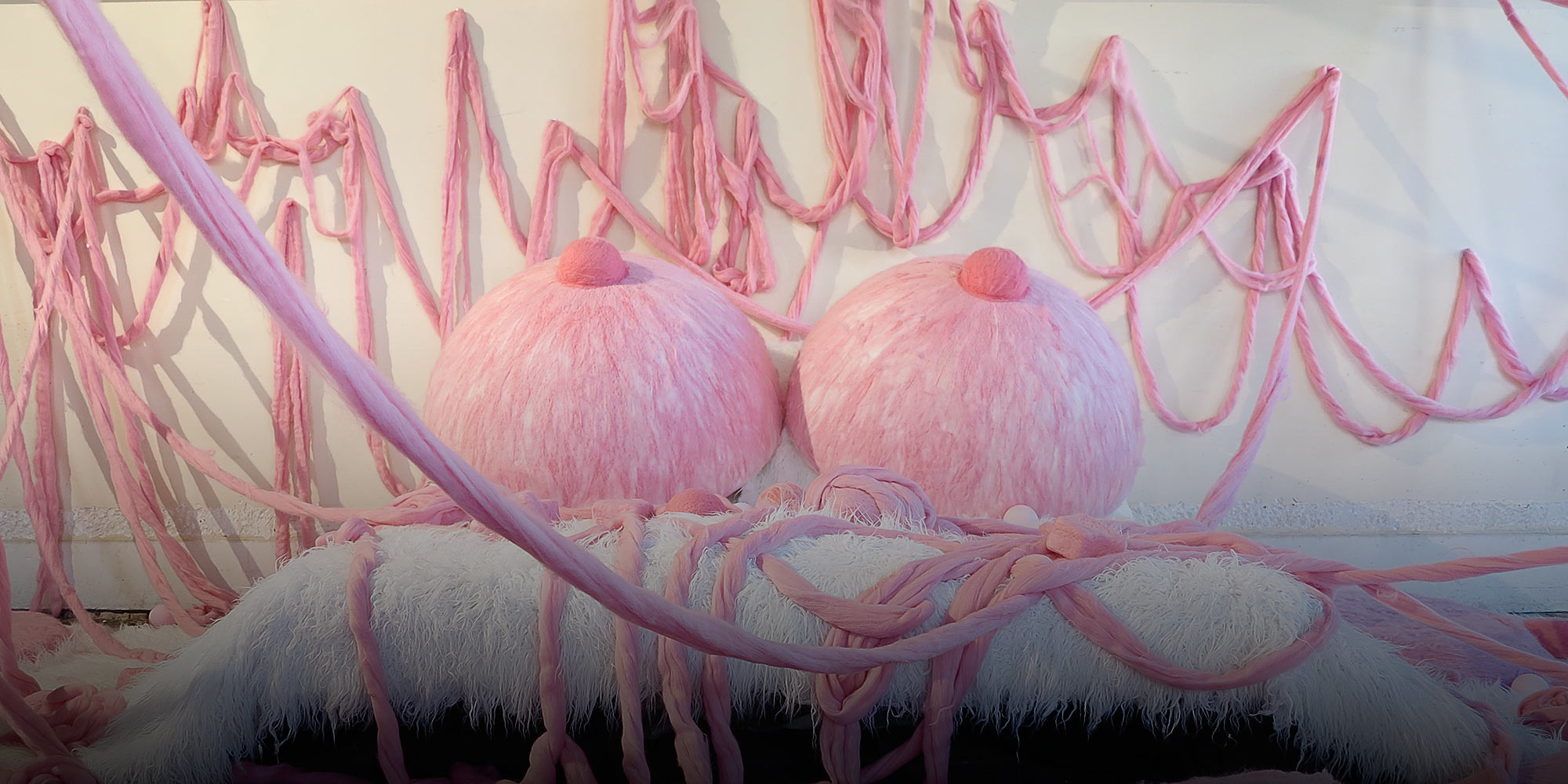 FEATURES
Pink Bits: Feminist Pop Artist Peels Back Skin, Shame, Stigma
Wang Weijue's felted wool breasts and other works evoke longstanding beauty standards and current events.
JIANGSU, East China — Wang Weijue doesn't want to be known as "the boob artist."
Since she returned to her hometown of Nanjing last June after six years as an art student in the U.S., she has created works dealing with consumption, death, and the kindergarten abuse scandal that rocked the nation in November 2017.
Yet the 25-year-old artist is still best known for her exhibition of felted wool breasts at a San Francisco art fair last May.
"My works look very fluffy and pink, but they are born from repeated jabbing," Wang tells Sixth Tone in her studio loft, where a hundred fuzzy body parts sit and hang in various stages of completion. "Needlework has traditionally been considered a woman's profession, [a stereotype] with which I disagree. When women make things like this, they commit violence just like men."
It was a form of self-inflicted violence that inspired the project in the first place. Wang had considered plastic surgery since her high school days, when China saw the early influence of cosmetic procedures and the growing popularity of picture-perfect K-pop icons. Her insecurities were exacerbated by constant judgments about her body from her then-boyfriend, who once commented that her breasts were as flat as her back.
After years of using tape to give herself double eyelids — considered a mark of beauty alongside traits like porcelain skin and a tapered chin — Wang was even more unsatisfied with her appearance and opted to undergo double eyelid surgery while in college. She remembers feeling like a doll being stitched together and was immediately inspired to create art involving needles.
As for her decision to focus on the chest: "During that surgery, the doctor said to me, 'Your breasts are quite flat; would you like to consider breast surgery?' So I chose breasts as the subject [of my art]," Wang recalls.
Hoping to escape an environment she describes as "depressing," Wang decided to study abroad after high school, going on to earn a bachelor's degree from the College of Saint Benedict and Saint John's University and a master's in fine arts from San Francisco Art Institute.
Wang intends her works to query rather than overtly criticize. "I am more posing a question, dissecting an issue into pieces that I can understand, and then seeing whether others have the same feelings," she says.
The felted breasts, for instance, allude to the violence behind mass-produced beauty in a modern Chinese society that narrowly defines attractiveness and pressures women to achieve these ideals at any cost. Wang has continued to make pink wool breasts since she returned to China, as a distraction from the relentless societal change. "[It] cheers me up, just like meditation," she says. A gallery exhibition featuring the breasts is in the works.
Meanwhile, her recent piece inspired by child abuse allegations at a Beijing kindergarten owned by education franchise RYB uses a ceramic doll that Wang broke purely by accident. The jagged edges of red, yellow, and blue glass peek out from inside the smashed half-head to create a haunting sense of fragmentation. "Children's bodies and minds are as fragile as ceramic," Wang says of the piece's message.
Sixth Tone interviewed Wang in her Nanjing studio about her works and the ideas behind them. The interview has been edited for brevity and clarity.
Sixth Tone: When you created "Boobroom" — filling an exhibition space with felted breasts of all sizes — at stARTup Art Fair in San Francisco last spring, how did visitors respond?
Wang Weijue: Many people came by with no idea what I was doing. But others burst into tears when they entered the room. Especially mothers who were breast-feeding — they could feel the pain, the sense of repression.
The original intention of the work was to depict violence toward women through cosmetic surgery. But after the exhibition, I realized many women had different views of my art: Some thought it was about breast-feeding. Others thought it was about sexual violence or breast cancer. I think these are all related, and this expanded my perspective.
Sixth Tone: How does this work relate to consumerism and plastic surgery?
Wang Weijue: Wool products easily make you think of the mass-produced things in this country. In terms of beauty ideals, a long time ago, people were satisfied with [tightly cinched] wasp waists; now, after achieving a wasp waist, you'll want big boobs, and then a firm butt. Once you have all of these, you'll consider double eyelids crucial, as well as a more prominent nose, fuller lips, and a sharper chin — so we are constantly improving our own aesthetic standards.
Therefore, people can only come close to their beauty ideals through a variety of surgeries. But you can never reach the ideal — even celebrities have to use Photoshop. So it's a constant cycle of consumption. As you get closer to a beauty ideal, societal standards shift it out of reach.
Sixth Tone: How do you plan to display the felted wool breasts at your next exhibition?
Wang Weijue: I hope to have felted mats sparsely arranged, with a small speaker underneath each one playing the sound of needle felting that I recorded to give the audience a sense of hidden violence and discomfort in an implicit way. Each audio clip will last for 20 seconds as a viewer walks by, and then another will take over, so visitors can tell where the sound is coming from but never know what it really is.
When I played the felting sound for American audiences, they thought it sounded like a man masturbating or making love. Something that looks cute, fluffy, and pink can also be tied to violence, sex, and the inferior status of women.
Sixth Tone: What else are you working on?
Wang Weijue: When I was a kid, I always said very disrespectful things when burning paper money for the dead, calling it a feudal superstition and refusing to kneel down and burn the pieces of paper.
But when my paternal grandfather passed away a few years ago, I genuinely wished he would receive that money. While watching the flames consume the paper money, I suddenly realized that fire is a magical thing in Chinese culture. It can deliver an object to the next world, and the ashes that remain are like a receipt, informing the living that the other side has received the money. So I collected these ashes and used them to make old-style receipts, writing the words I said to my grandfather in ash on the statements.
I proposed filling a space with a few hundred of these transparent receipts hanging from the ceiling, creating a spiritual atmosphere. I planned to hold such an exhibition at shopping malls, but they considered it inauspicious.
I also find it interesting that when people die, you hope they will have money instead of happiness. When someone arrives in the next world, we still use money to measure whether they are happy or not. This relates, again, to the culture of consumption.
Sixth Tone: How do you feel about returning to China, and how has being here influenced your work?
Wang Weijue: I was quite unhappy at first, because all of a sudden, I had left friends and artists with whom I could exchange ideas. I drew two self-portraits right after I came back. I just drew whatever I wanted to instead of having to complete a class assignment. The portraits show my insecurity, a feeling of wanting to hide myself.
I think the particularly good thing about coming back to China is that society is changing every day. New things happen every second that can trigger different kinds of thinking.
I make things very randomly. I express my personal opinions by creating something in response to anything that happens. For instance, last year's RYB incident was thought-provoking in every way. You can even discuss it with, say, the cleaners at the gate. Their opinions are crucial and inspiring, too.
Contributions: Qian Jinghua; editor: Jessica Levine.
(Header image: A close-up of Wang Weijue's exhibition in San Francisco, May 18, 2017. Courtesy of Wang Weijue)