An iridescent butterfly languidly flapping its wings may hold the key to drug testing and flashy wearable technology.
Researchers at Nanjing's Southeast University have affixed a material called hydrogel to a layer of heart cells from mice, according to a paper published Thursday in Science Robotics. When the cells expand and contract, the gel changes colors. This so-called heart-on-a-chip — from which the scientists created a butterfly shape to show its striking visuals — has potential applications in drug screening and other medical research, and it could one day be a viable alternative to animal testing.
Previous technologies had required extra stimuli — such as a temperature or pH change — to produce color morphing. Zhao Yuanjin, a biology professor at Southeast University in eastern China's Jiangsu province and the corresponding author for the study, explained that the new hydrogel has a thickness of just 150 microns — less than one-fifth of a millimeter — and is full of nanocrystals that reflect different colors according to how they move. When the cells expand or contract, the gel does the same.
"Our innovation is combining mice heart cells with modified hydrogels," Zhao told Sixth Tone. "Both are common materials, but together they work to wondrous effect."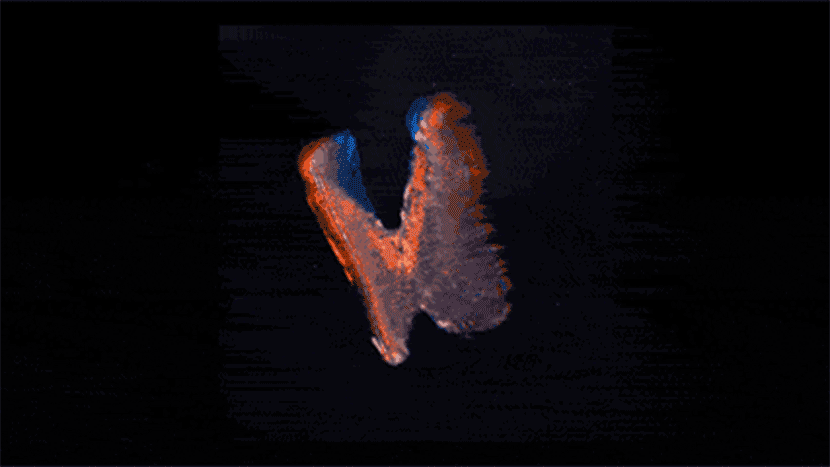 A butterfly-shaped 'heart-on-a-chip' prototype demonstrates how the hydrogel changes color in response to expanding and contracting cells. Courtesy of Zhang Yuanjin
Based on this technology, the research team built a heart-on-a-chip prototype that makes the effects of drugs on hearts visible to the naked eye, without additional machine assistance. If a particular drug elevates the pulse, for example, the colors change more rapidly.
"The surface turns from red to blue when the cells contract," Zhao explained. "The less time this [color change] takes, the faster the contraction is."
Zhao and his team tested the device with various concentrations of isoproterenol — a drug that's structurally similar to adrenaline and can prevent heart blockages by elevating heartbeat — and observed that the rate of the color shifts corresponded with the dosage.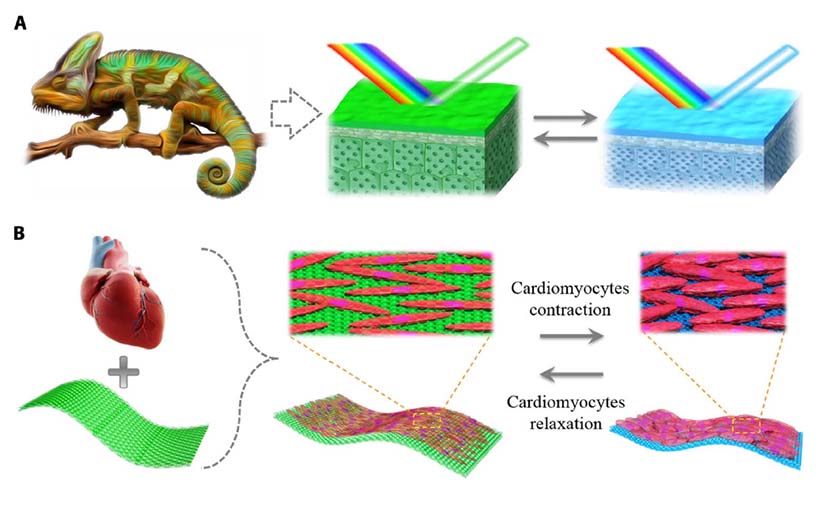 The chameleon's natural ability to change color inspired the Southeast University researchers to try to recreate the same process in a lab. Courtesy of Zhao Yuanjin
Zhao said the study was inspired by a 2015 paper on how chameleons change color, authored by a group of Swiss scientists and published in Nature Communications. The Nanjing scientists conducted their study over two years, trying to create the same mechanism in vitro — in the lab rather than in a living test subject.
In October 2016, scientists at Harvard University developed the first entirely 3-D-printed heart-on-a-chip with integrated sensing technology that was also relatively easy to mass-produce. Now with the latest breakthrough from the Southeast University researchers, experiments that use the devices will also be more straightforward and more cost-effective.
Apart from medical uses, the simplicity of the heart-on-a-chip could be applied to wearable technology, such as fabric that changes color as it reads the wearer's heartbeat through contact with skin cells, or other soft robotic devices.
"This should inspire the further development of more powerful soft robots," said Zhao.
Correction: A previous version of this article said the paper was published in Nature Robotics. It was published in Science Robotics.
Editors: David Paulk.
(Header image: David Protzel/Caters News/IC)