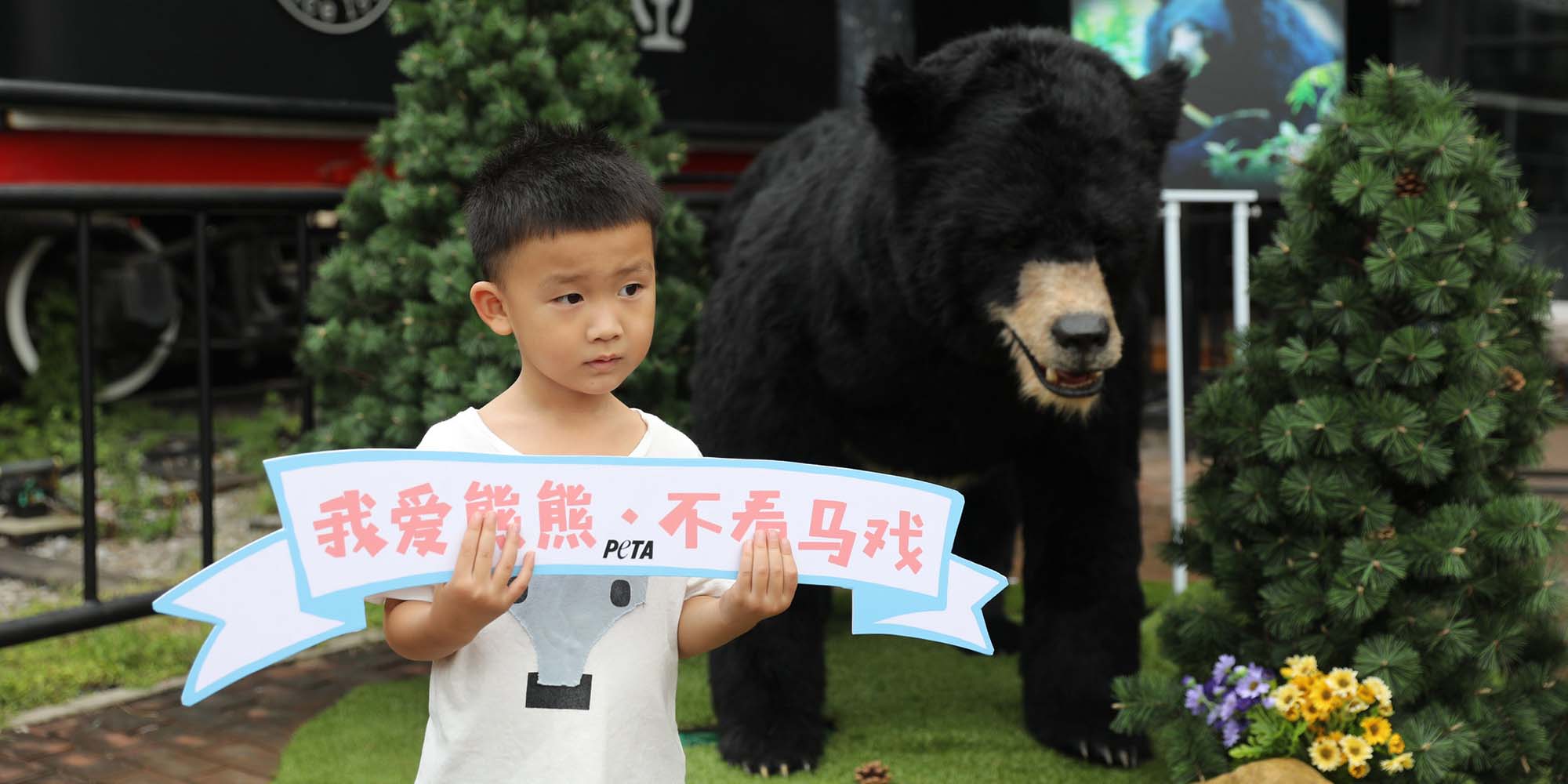 NEWS
Talking Bear Tells Tales of Circus Abuse at Shanghai Mall
Animal welfare group PETA hopes awareness campaign will lead to better treatment for China's circus animals.
SHANGHAI — The international animal welfare group People for the Ethical Treatment of Animals (PETA) wants to make sure China knows about the abuse and mistreatment of animals at its small-time circuses.
This week, a life-size animatronic bear made an appearance at Westgate Mall on Shanghai's ritzy West Nanjing Road where it will remain until next month. Bobo, as the bear is called, can be switched on to tell shoppers all about the unfortunate experiences of the black bears commonly found at China's animal circuses.
The campaign has been organized by PETA. "We hope to inform the public about the abuse at animal circuses, and encourage them to say no to such performances," PETA volunteer Li Meng told Sixth Tone while handing out fliers.
Black bears are among the most oft-abused circus animals, according to PETA. "In bringing Bobo here, we want to let people see her up close so that maybe they'll care about her living conditions and how she's treated," Li said.
Li said she hopes that Westgate Mall — which also houses a U.S. consular office — will draw lots of attention and raise awareness at shopping centers, specifically, where it's not uncommon to see temporary promotions involving animals. A mall in the southern city of Guangzhou, for example, was once described as a "prison" for its bears, belugas, and wolves by a Hong Kong animal welfare group.
Circuses have long been criticized by activists for beating animals during training sessions, forcing them to perform acts better suited for humans, and keeping them in poor living environments.
As a result, the country's zoos have gradually begun doing away with live-animal performances — though this year's Spring Festival Gala on state broadcaster CCTV still featured a dog performance.
But increasing public interest has also led to conflict. In March, 300 circus troupes from across the country published an open letter condemning animal welfare group Freedom for Animal Actors for disturbing their business and defaming animal performances, which some Chinese people regard as part of their cultural heritage.
Li, for her part, is less concerned with backlash from the circuses and more concerned with winning support from common people — and Bobo seems to be doing just the trick.
Shen Xiaoyong, a 58-year-old who visited Westgate Mall with his young grandson, told Sixth Tone it was the first time he'd ever heard about circuses mistreating their animals. "Wild animals should be protected," he said. "I won't be taking [my grandson] to see any more animal performances."
Other passersby, however, patted Bobo's fur and eagerly posed for photos with her but showed little interest in PETA's message. One 30-year-old woman surnamed Wu said that while she doesn't enjoy animal performances herself, she doesn't see the harm in others attending them.
Wu's 6-year-old daughter, meanwhile, stared at Bobo intently before cautiously approaching to touch her fur, almost as if she were a real animal. "Come on," urged her mother. "We should go."
Editor: David Paulk.
(Header image: A boy holds a poster reading 'I love bears, don't watch the circus' while standing beside Bobo, a talking animatronic bear, at a PETA event in Beijing, Aug.31, 2017. Wu Hong/EPA/IC)