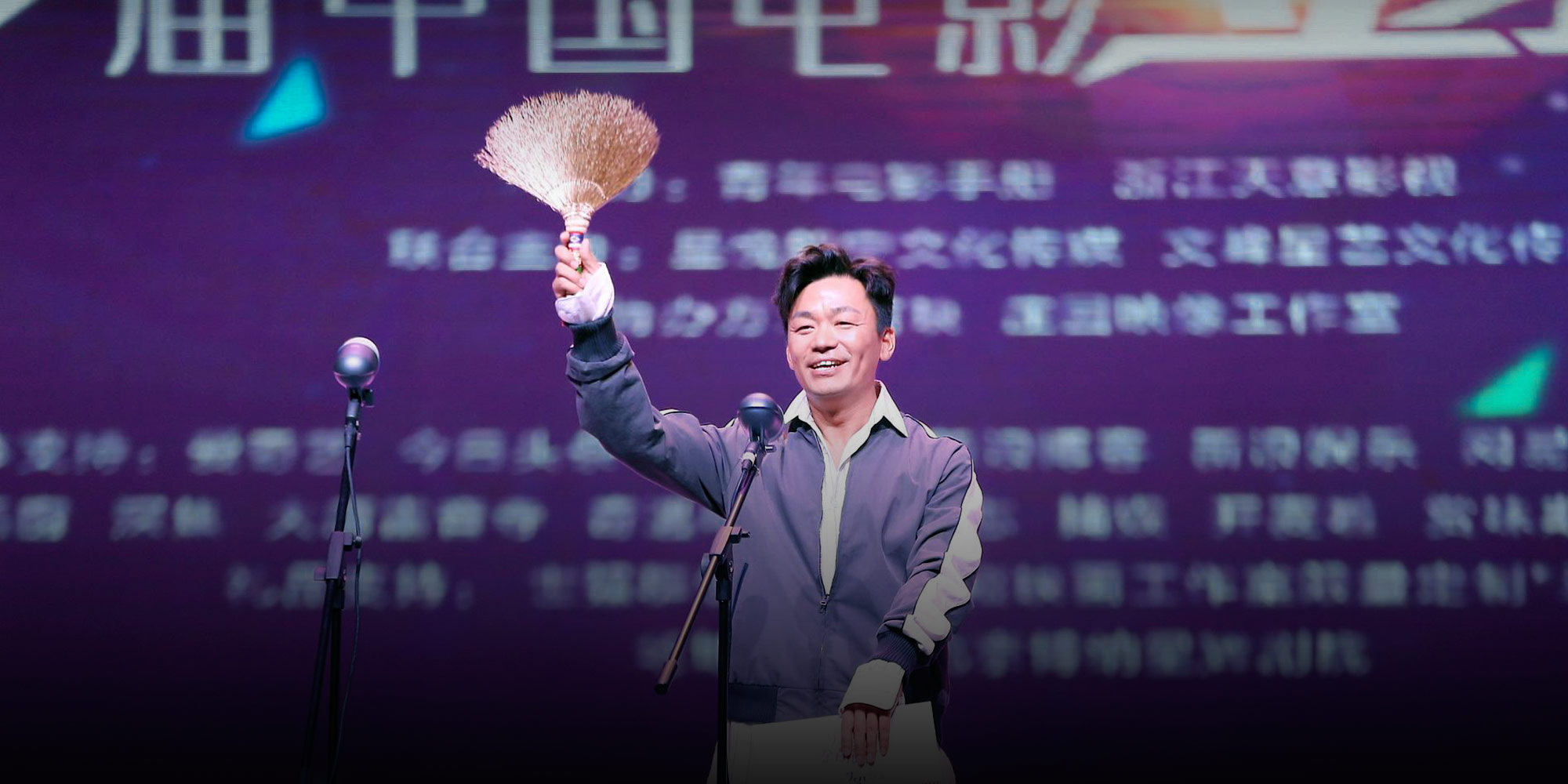 FEATURES
The Chinese Film Awards No One Wants to Win
Annual prizes for most disappointing movies aim to improve the country's film industry, not create a hall of shame, says founder.
At the Golden Broom Awards on Monday, only one winner showed up to collect their trophy.
Such a low turnout would be a serious blow to the Oscars or Golden Globes, but it was a boon for the Golden Broom Awards, which honor China's least impressive films of the year. Director and actor Wang Baoqiang was only the third winner and first A-lister to attend the ceremony in its nine-year history.
As a smiling Wang claimed his pint-sized, broom-shaped Most Disappointing Director trophy for his directorial debut, "Buddies in India," he told the audience that while it was hardly the most glorious distinction, it would encourage him to improve.
The Golden Broom Awards are China's answer to Hollywood's Golden Raspberry Awards, or Razzies — mock awards that point out the year's most disappointing cinematic contributions. But 49-year-old Golden Broom founder Cheng Qingsong insists he wasn't trying to create a film hall of shame in China, which now boasts more movie screens than any other country. Instead, the playwright and chief editor of movie magazine Youth Film Handbook says he launched the award in 2009 as a way to improve China's booming film industry and shine a light on movies that only care about scoring big at the box office.
"Our criticism is positive and healthy," Cheng tells Sixth Tone. "It's like pills and injections when people get sick."
Cheng traces his love of film back to his childhood in a small town within the jurisdiction of southwestern megacity Chongqing. Back then, going to the movies was a hugely popular pastime, and tickets would often sell out. Cheng's father knew people at the cinema and snuck him into the projection room, where the young Cheng would watch the film reels spin. After high school, he worked as a projectionist for nine years before enrolling at Beijing Film Academy, the largest film institute in Asia.
After graduating, Cheng got involved in two major government-backed movie awards, the Golden Roosters and Hundred Flowers, which combined in 1992. The event is now one of China's longest-running and most-prestigious film festivals, but it has also copped criticism for being unfair and unprofessional. In 2011, when the Best Actor award went to Sun Chun rather than another star Cheng deemed more deserving, he announced he'd never help organize the film festival again. Cheng could finally focus on his real passion: the Golden Broom Awards.
Since then, a number of high-profile stars have had the dubious honor of winning a Golden Broom. On Monday, experienced screen star Liu Yifei was named Most Disappointing Actress for two films she appeared in last year: the opening movie of the Shanghai International Film Festival and a widely criticized fantasy film. Liu, who has been cast in Disney's upcoming live-action remake of "Mulan," is often ridiculed for her unexpressive poker face. Last year, popular heartthrob Kris Wu — formerly of K-pop boy band EXO — was crowned Most Disappointing Actor for his exaggerated and awkward performances in three movies. "No matter the castmates or genre, Kris Wu is always able to maintain his unique campus bully style," the jury wrote in their scathing comments, referring to how Wu often shouts his lines and angrily flares his nostrils.
But being an alternative voice in the industry isn't easy. Although the Golden Broom Awards have garnered plenty of media coverage and public interest, Cheng's event is still plagued by a lack of funding. Because sponsors can't have a vested interest in the outcome of the awards, the money mostly comes from Cheng's friends — or even out of his own pocket. Still, Cheng plans to press ahead with the awards, even if one day the ceremony itself has to be canned.
The Golden Broom Awards have faced other troubles that have been harder to sweep away. After commercially successful director Feng Xiaogang won Most Disappointing Director for his 2010 comedy "If You Are the One 2," he took to the internet, slamming the awards organizers as "opportunists" who tried to gain fame by criticizing big-name stars. In another case, a movie critic posted on microblogging site Weibo claiming that Cheng had asked an actress for a "protection fee" so she could avoid nomination. Cheng denies this, adding that there's no evidence to support the allegation.
Cheng spoke with Sixth Tone about China's movie industry and his contentious parody awards show. The interview has been edited for brevity and clarity.
Sixth Tone: How did the Golden Broom Awards come about?
Cheng Qingsong: In 2009, I saw so many poor-quality movie productions, including a movie directed by Zhang Yimou called "A Woman, a Gun and a Noodle Shop." One of my friends joked that he'd reached an unusual agreement with his father about how trashy the movie was, even though they disagreed about everything else.
The quantity [of movies] was going up, but the quality was going down. That's when I decided there needed to be a critical voice. So many companies were buying full-page newspaper ads boasting about how astonishing their movies were. If you love movies, you can't deal with this situation. I started the Golden Brooms hoping it could be an impartial voice.
There were a few potential names, like the Golden Toilet and the Golden Shoe Insole. The broom was the winner. It can make the floor clean and tidy — like what I hope these awards can do to Chinese movies. A scholar told me that in Western storytelling, brooms are magical because they can fly. In that sense, the winners are encouraged to ride the Golden Broom miles beyond their crappy works. I don't like the awards being called negative.
Sixth Tone: What challenges have you faced in your nine years of organizing the awards?
Cheng Qingsong: Just before the fourth Golden Broom Awards, I thought about quitting. I decided that if no one came to the ceremony like in previous years, I would give up. Surprisingly, that year a Hong Kong director sent his assistant to receive his Most Disappointing Director award. And the executive producer of [low-budget black comedy] "Crazy Foolish Thieves" even apologized to the audience [at the awards ceremony] and read out a self-criticism letter.
America's Golden Raspberry Awards had to wait 15 years before its first winner attended a ceremony. I felt like there were people [in China] willing to listen to a different voice.
The biggest pressure is financial. Although it's not especially expensive, it's hard to find investors given the judgmental nature of the awards.
Sixth Tone: How do you pick the winners every year?
Cheng Qingsong: Around November, the editors [of Youth Film Handbook] review the year's movies and make a long list based on how they're rated online. Next, we hold a popular vote on social media platforms to compile our short list, which then goes to a professional jury of movie critics and scholars.
The jury members must be brave. In one case, the judges were afraid to jeopardize their personal relationships with directors, actors, and producers. We won't invite people like that again. The first criterion for jury members is that they must dare to speak the truth. The second is professional competence.
Sixth Tone: How do winners respond to the results?
Cheng Qingsong: We try to contact every winner. About 90 percent of them are friendly and politely refuse our invitation [to the ceremony], claiming they're shooting or already have plans that day. I hope at least one winner can come to each ceremony. As the old saying goes, "Good medicine tastes bitter, and faithful words grate upon the ear."
Sixth Tone: The Golden Brooms point out others' faults, but the awards ceremony itself has also been controversial. Some people think you target specific actors, and others claim the voting results have been distorted by China's so-called water army. How do you deal with this kind of criticism?
Cheng Qingsong: Popular or not, the actors and directors are all the same to us; we only judge them by their movie performances. It would be unprofessional if we intentionally targeted them. It's just that these popular stars happen to have the worst acting skills.
The problem of vote brigading occurs every year. We can't do much about it — it's an issue with voting platforms. It doesn't only happen to this contest, but to many other voting events.
Maybe one day we will resort to only having a professional jury to avoid a skewed result, but we still want to hear the public's opinion. I believe most people who vote are those who truly love movies.
Sixth Tone: What does the future of the awards look like?
Cheng Qingsong: I can't say we'll be able to change China's whole movie industry. After all, an individual [event] isn't that powerful. We can't cure the disease that plagues Chinese movies, but we can encourage people to treat movie production seriously.
I haven't considered the issue of sustainability. If there's not enough money, I can operate the awards cheaply. Even Hollywood's Golden Raspberry Awards only focus on American movies and aren't trying to expand globally.
Maybe one day there won't be enough trashy movies to hold the Golden Broom Awards because Chinese film companies will be aiming for quality, not just box office earnings. If that happens, there'll be more amazing films, and audiences will no longer complain. That's the ultimate goal of the Golden Broom Awards.
Editor: Julia Hollingsworth.
(Header image: Actor Wang Baoqiang holds up his broom-shaped trophy during the ninth Golden Broom Awards in Beijing, March 26, 2018. VCG)