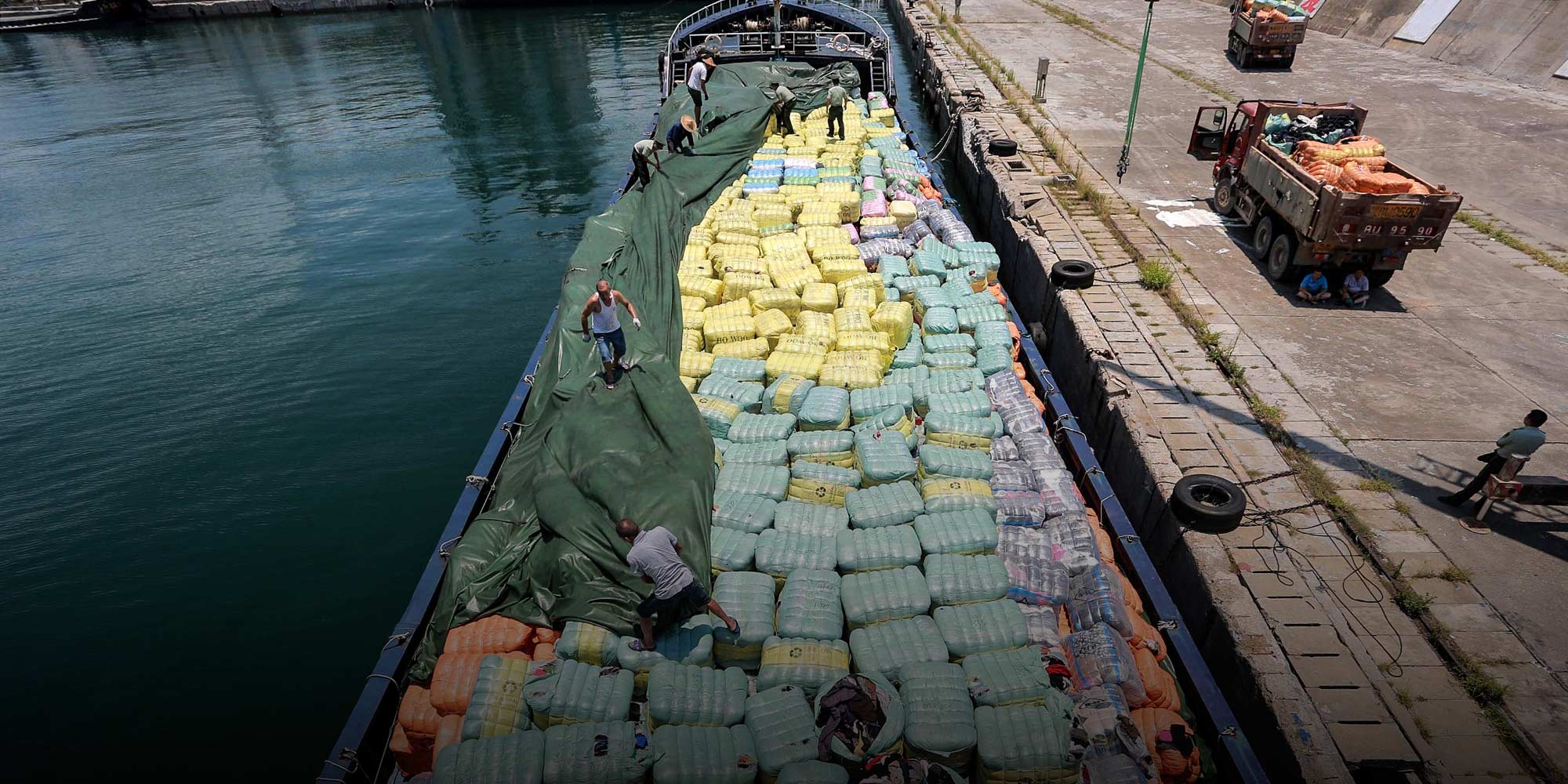 VOICES & OPINION
Ban on Foreign Trash Won't Cure China's Addiction to Plastics
Outlawing imports of overseas waste is a good start, but does little to change plastic-loving consumer mindsets.
China's ban on so-called imported trash came into effect on Dec. 31 last year and restricts imports of 24 kinds of solid waste, including plastics, electronics, textiles, and some metals. Since February this year, customs agents in several major cities have busted a number of smuggling rings illegally bringing in trash from abroad.
China's is the world's largest manufacturer and has an immense appetite for industrial materials. These include both traditional raw materials and their recycled counterparts, which Chinese companies frequently repurpose in the manufacture of new products.
In 2013, for example, China consumed 58.8 million tons of plastics, both domestic and imported. Around 23 percent of domestic plastics — about 13.6 million tons — were recycled, according to the National Development and Reform Commission, the government agency charged with national economic planning. The same year, the country consumed 21.5 million tons of recycled plastics, of which just over one third were imported from countries including Japan and the United States.
Developed countries like the United States also consume vast amounts of solid waste to meet industrial and commercial demand. For instance, the U.S. produced 33.3 million tons of plastic waste in 2014, but recycled less than 10 percent of it.
One of the reasons why the U.S. recycles so little of its waste is because it is so expensive to do so domestically. In New York City, recycling one ton of solid waste — including glass, metals, and plastics — can cost up to $240, roughly twice the price of just dumping it in a landfill. As a result, many products made from recycled materials are more expensive to produce than new ones. Similar stories have played out across the developed world, where economic factors have limited the growth of local recycling industries even though countries possess the technology to do so.
Up to now, the problem has largely been resolved by the global solid waste market, which has allowed developed countries to sell waste in large quantities to developing countries. Thanks to China's relatively low labor costs, inconsistent enforcement of environmental laws, and massive demand for raw materials, the country has become a major importer of other countries' trash. In 2016 alone, China imported 1.3 million tons of plastic waste from Japan and 1.1 million tons from the U.S., accounting for about 87 and 69 percent of the two countries' total plastic waste exports, respectively.
Recycling companies in developed countries sell solid waste on the international market in order to compensate for the high cost of recycling and to make a profit. Globally, plastic waste can fetch anywhere between $300 and $500 per ton, while factory-recycled and reclaimed products such as recycled polyethylene pellets sell for as much as $1,000 a ton. These relatively high prices do much to explain the health of the international solid waste market.
In China, importing overseas trash helps to meet domestic manufacturers' demands for raw materials while also allowing developed countries to solve the social and health problems associated with mounting solid waste. However, it is not worthwhile for China to continue processing the world's garbage, as an ever larger proportion of Chinese society is unwilling to endure its environmental and health costs.
In many cases, the economic gains made by China's waste recycling industry have decimated local ecosystems and affected the health of nearby residents. Guiyu, a town in southern China's Guangdong province and a leader in recycling the world's electronics, can process up to 1.5 million tons of recycled metals, components, and plastics per year. Indeed, Guiyu recovers so much gold in the recycling process — around 15 tons per year — that it single-handedly influences the domestic prices for rare metals.
But at the same time, Guiyu's recycling industry has devastated the local environment. Factories produce toxic runoff when recycling electronics, much of which has seeped into the water supply and struck down local residents with lead poisoning.
Understandably, China's ban on foreign waste has sent shockwaves through the global marketplace. The price of plastic waste has dropped significantly since early 2017 and a number of overseas companies that sell waste to China are struggling to survive. This has happened in spite of the fact that the current ban only targets unrefined waste; recycled resources remain eligible for export to China.
In the short term, the Chinese market for solid waste will be difficult to replace. The majority of developing nations lack China's industrial capacity and vast demand for recycled materials.
But at the same time, China's ban may actually have a positive impact on the global marketplace for recyclables. The country's willingness to import waste plastics stems in part from the historically poor quality of domestically manufactured plastics. Consequently, importing and recycling high-quality waste plastics from abroad helped China make up for its inadequate domestic supply. The ban will therefore motivate the Chinese plastics industry to improve the domestic supply while still importing refined and recycled materials, and convince foreign manufacturers to refine more of their waste before sending it abroad.
But the ban fails to tackle a number of other issues that Chinese society faces over waste. For example, it does nothing to tackle the country's low-efficiency production techniques, its extravagantly wasteful use of resources, and the continued suspicion that companies see the environment as something to be exploited, not protected. Recycled materials themselves fail to resolve these problems, because the recycling process uses vast amounts of water, energy, and human labor.
To truly solve these problems, we must change consumer mindsets. At both the national and local levels, we must promote the sorting and recycling of waste on a vast scale. Governments must compel businesses to use production techniques that make better use of our limited resources, and put pressure on excessively wasteful industries, like the delivery business. We must go into schools and teach children from a young age about society's dangerous overuse of plastic and other nonbiodegradable materials.
Production and consumption both create waste. As large swaths of China begin to deindustrialize, society must decide how best to manage the relationship between people and waste, drastically reduce how much trash we produce, increase production efficiency, cut down on unnecessary packaging, and turn existing waste into things we can use many times over.
Translator: Kilian O'Donnell; editors: Lu Hua and Matthew Walsh.

(Header image: Packages of smuggled solid waste are seized by police in Shenzhen, Guangdong province, September in 2016. VCG)