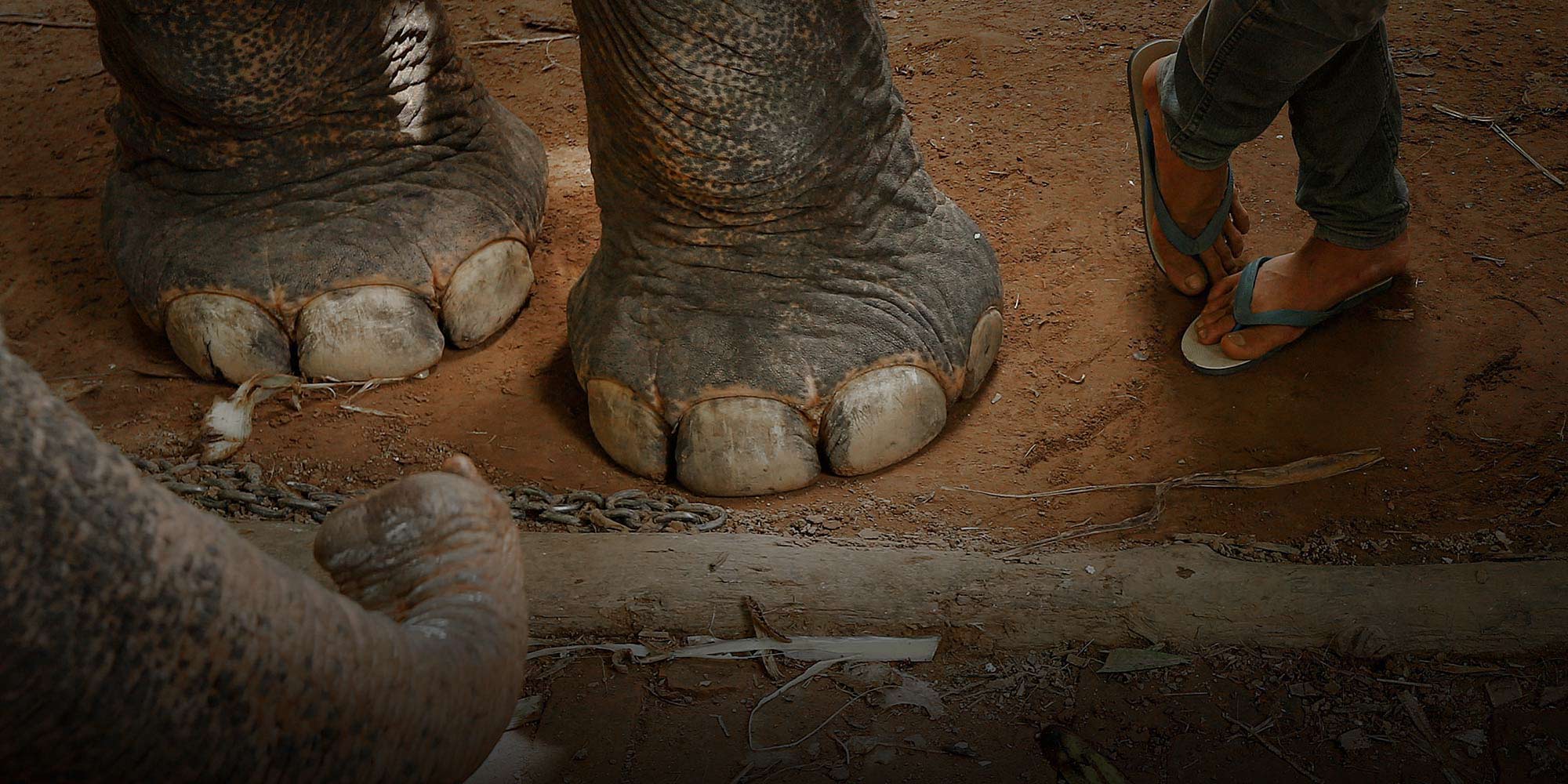 FEATURES
Illicit Ivory Trade Through Laos Thrives Despite China Ban
In a Laotian river town, Chinese tourists come for the historic temples, and leave with illegal treasure.
LUANG PRABANG, Laos — Strolling through streets lined with faded colonial houses and ornate Buddhist temples, Chinese tourists wondering what to bring home from any of the myriad handicraft shops often receive the same answer: ivory.
At the start of this year, China, formerly the world's leading destination for ivory, completely outlawed its domestic market. Trade in the country is down, but ivory is regularly smuggled into China from Laos, where the illicit industry continues unabated.
Sixth Tone visited Luang Prabang, a Laotian UNESCO World Heritage-listed town along the Mekong River that attracts many visitors with its well-preserved architecture, and where many ivory traders have opened outlets. Posing as a prospective customer, Sixth Tone found that, for the mostly Chinese shop owners in Luang Prabang, the ivory ban back home has done wonders for business. (Sellers' names have been changed or omitted because they did not speak on the record.)
At one shop in Luang Prabang's old colonial quarter, the display cases are full of rosewood handicrafts. But when customers walk in, the proprietor — Qian, a middle-aged Chinese woman — is quick to pull out hidden boxes of bracelets, amulets, and other jewelry made from ivory. "In Laos, ivory is a specialty," she says. A young Chinese couple decide on an ivory necklace composed of 108 beads — a number considered sacred in Buddhism and other religions. "It's a good number; your family will like it," Qian tells the couple, who pay her some 2,000 yuan ($300) via WeChat, a popular Chinese social media app that supports mobile payment.
Most of the ivory for sale in Luang Prabang comes from Africa, shopkeepers say, though they are not sure how exactly it ended up in the country — nor do they seem to care. Qian says all she knows is that it usually enters Laos through Vietnam and Thailand. Based on close-up photos Sixth Tone took of the shops' ivory, an appraiser of wildlife products confirmed that the ivory was real and that it had African origins, based on so-called Schreger lines that show patterns in tusks from African elephants.
In Africa, meanwhile, an upsurge in poaching over roughly the last decade contributed to roughly one-fifth decline in elephant populations between 2006 and 2015, according to the International Union for Conservation of Nature, which tracks endangered animals.
In 2004, Laos joined the Convention on International Trade in Endangered Species of Wild Fauna and Flora, a treaty that has banned international trade in ivory for decades. But Laos has frequently been condemned for its extremely weak enforcement, and its ivory black market has continued to grow, investigations by various organizations found. Last year, a survey by Kenya-based environmental group Save the Elephants showed there were no known Chinese-owned shops that sold ivory in Laos in the early 2000s, but that by 2016, there were 22 outlets in Vientiane, the capital, and 15 in Luang Prabang. Ivory outlets have sprung up near other tourist sites, too, Sixth Tone found.
These shops cater mainly to Chinese visitors, who are arriving in ever greater numbers. During Sixth Tone's visit to Luang Prabang in early 2018, right before the lunar new year holiday, traders eagerly anticipate a boost in sales from Chinese tourists. "It's the most profitable time of the year," one Chinese ivory trader says, adding that he and others will work through the holiday instead of returning home to visit family. According to local paper The Laotian Times, despite an overall decline in foreign tourists during the first nine months of last year, the number of Chinese visitors increased.
Mike Brocklehurst, a law enforcement and anti-smuggling specialist for wildlife in Laos' customs department, tells Sixth Tone in an email that the Laotian government recently committed to taking steps to end the illegal trade in wildlife and wildlife products, including strengthening legislation, implementing national ivory trade and crime response plans, and investigating and prosecuting high-profile wildlife criminals. "Although many challenges still remain," he says, "progress is evident."
An investigation by The Paper, Sixth Tone's sister publication, last year found that sellers had no qualms about openly displaying their ivory and other wild animal products, and that traders could traverse the country almost completely unhindered. The Laotian government confiscated ivory at a small number of shops in late 2017, and since then, business has been less overt. But despite the handful of punishments, arrests, and prosecutions so far, Laos remains home to the world's fastest-growing black market for ivory, according to Save the Elephants.
For traders, the risks are still low. Chinese tourists need not look hard to find shops that sell ivory. Though businesses may now store their illicit wares out of sight, many unabashedly put the Chinese characters for ivory on their signs and storefronts — in Luang Prabang, such advertising can be seen every few hundred meters. Even shop owners who are more cautious will still offer the ivory they have in stock to any Chinese customer. "[Police] come and check sometimes," Qian says. "We have to hide [the ivory] now. Only when Chinese people come do we take it out." At other stores, Sixth Tone observed shopkeepers inviting buyers to the second floor or backyard to show them their ivory stock.
Corruption runs rampant in Laos, allowing traders to buy protection. At a shop near Qian's, the owner, Liu, a 50-year-old woman who claims to have both Chinese and Laotian passports, shares how she has managed to stay out of trouble. "[Government officials] invite me to have dinner once a while. You know what that means?" she asks, laughing. "I have to put money in the invitation letter and pay for the meal!"
In early March, ahead of an international wildlife law enforcement meeting to be held in Luang Prabang later in the month, police inspected souvenir shops in the town's tourist area, according to a person familiar with the police action who wasn't authorized to speak on the record. But the authorities ostensibly only conducted superficial checks, because they didn't find much contraband.
Even though importing ivory has been banned in China for years, tourists have no trouble bringing their newly purchased items into the country. At Qian's shop, she instructs her customers to wear their jewelry when passing through airport security rather than packing it in their bags. "No one will check you," she says. If they don't want to push their luck, Qian also offers to have the items shipped to any address in China. This is illegal under both Chinese and Laotian laws, but sellers seem to have no problem getting their wares to their destinations.
It's common for traders to expand their businesses by selling online and using courier companies to deliver the goods. Qian shows WeChat conversation logs of herself bargaining with a customer back in China. "They're an old customer," she tells Sixth Tone. "Once we've gotten to know each other, we can trade online." Liu also shares a few online payment records; one shows that she received over 20,000 yuan from a customer in Hunan province, central China. When contacted after Sixth Tone's visit, Qian requested that the article not be written, saying: "After all, it's clearly stipulated in the regulations that trade [in ivory] is prohibited. Don't do this," and then refused to comment further. Liu did not reply to a request for comment.
A representative from the Anti-Smuggling Bureau under China's General Administration of Customs said at a conference last year that China is aware of the situation. Despite several anti-crime campaigns along China's southern border, wildlife smuggling from Africa to China through its neighboring countries has been on the rise since 2015, he said, according to a transcript seen by Sixth Tone.
At another handicraft shop selling ivory in Luang Prabang, the store owner, a middle-aged Chinese man, says smuggling items across the border is not a problem. "We don't ask how these trucks manage to get into China, but there are no risks — your ivory will be safe," he says. On the second floor of his shop, he stocks thousands of ivory items, as well as rhino horn and other prohibited animal products. "My ivory is originally from Africa; it is cheaper than Asian [ivory]," he says, reclining in a chair.
Qian also promises fast and secure cross-border delivery. She uses companies that often travel between China and Laos, and once the package has been smuggled into China, it is handed over to Chinese courier services. "We've been doing it for several years — there has only been one incident," Qian recalls. During an anti-drug operation in Yunnan, the southwestern Chinese province that borders Laos to the north, a truck carrying ivory was stopped and searched. "But the guy managed to pay a fine to get our goods back," Qian says. "You see, people in this business are trustworthy."
Editor: Kevin Schoenmakers.
(Header image: A 'mahout,' or elephant caretaker, stands next to an elephant awaiting riders near Luang Prabang, Laos, July 31, 2016. Jorge Silva/VCG)