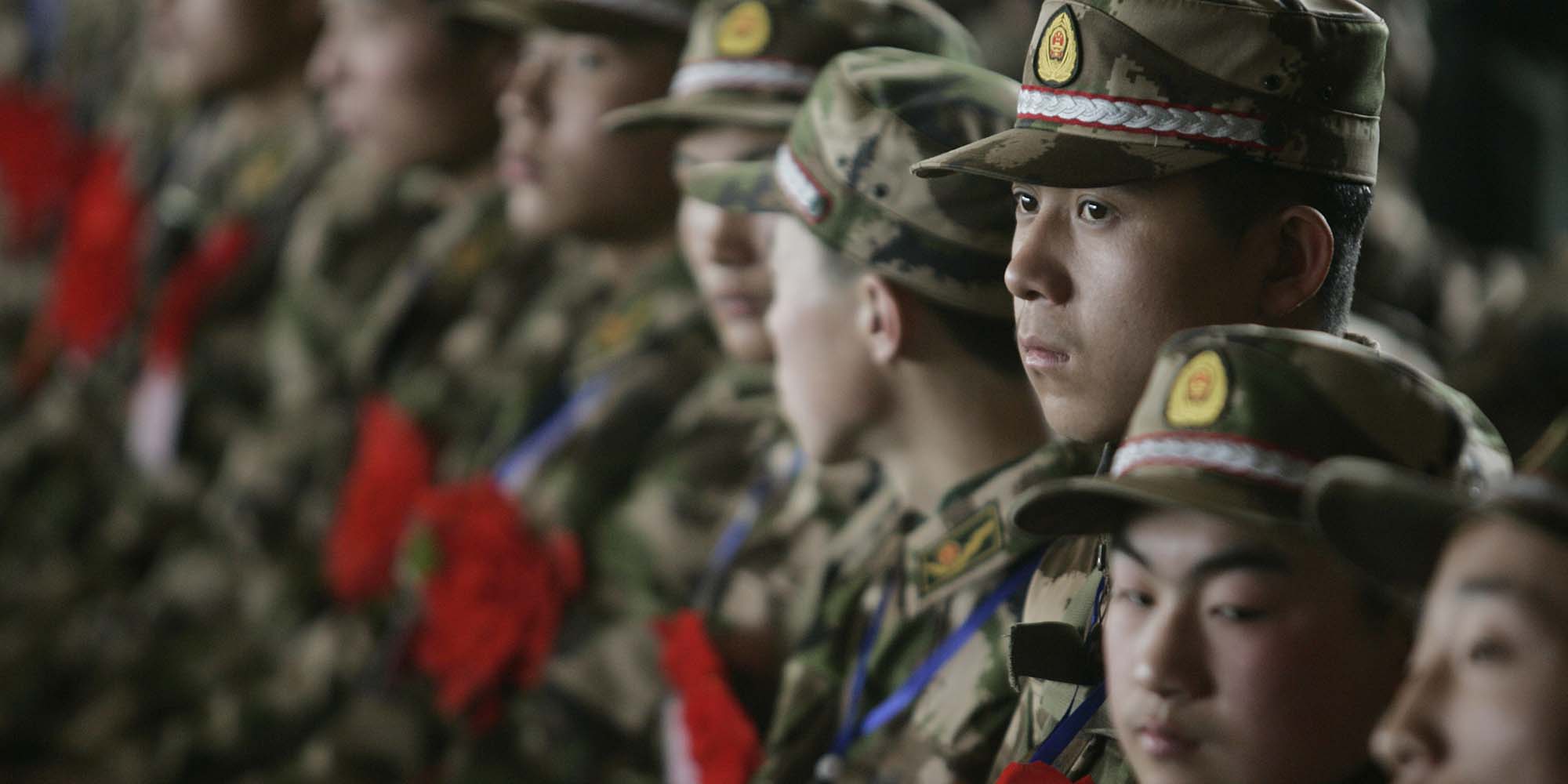 NEWS
Soldiers Put on Social Credit Blacklist for Leaving Service
Seventeen servicemen in Jilin have been barred from planes and trains, among other penalties.
If you're a soldier in China, applying to leave the army is likely to leave a black mark on your social credit score.
In the northeastern province of Jilin, 17 military personnel who decided they were fed up with their daily duties were blacklisted in China's social credit system, restricting them from traveling by air and rail and from seeking civil service employment, The Beijing News reported Monday. They will also be barred from taking out loans and insurance policies, prohibited from enrolling in educational institutions for two years, and fined an unspecified amount of money.
On March 2, Chinese authorities announced a broader regulation for the country's social credit system that outlined punishments for those who commit transgressions like spreading rumors related to terrorism, misbehaving on airplanes, or engaging in fraudulent activities. Such people, the regulation stated, could be prohibited from traveling on trains and planes for up to a year. The rule will go into effect nationwide on May 1, according to a statement on the website of the National Development and Reform Commission.
But for now, Jilin has its own rules. The municipal military recruitment office said the punished officers "lacked the willpower to adapt to military life" and had therefore applied to drop out of the service. The punishments, it continued, were based on a national law regarding the breach of military contracts. In China, refusing to fulfill one's military duties is seen as a serious contractual violation — one that can result in criminal prosecution, according to the country's military service law.
Yet despite the consequences, more and more Chinese are giving up on their defense dreams because of the hardships inherent in the job, an official news outlet of the People's Liberation Army reported last year. As for their reasons for leaving, servicemen cited a lack of personal freedom and the difficulty of securing promotions.
A former soldier surnamed Chen told Sixth Tone that military service can be an attractive profession, especially for people in rural China, as it provides them with job security and spending money. But after the country's economic boom, he said, young people have more educational and economic opportunities, making the rigor and austerity of military life less appealing.
"Many young people born after 1990 or 1995, or even 2000, are also the only child in their family, and they usually find that they are not cut out for military life and wish to return home," Chen said.
In a separate incident, three servicemen who refused to fulfill their military obligations in the eastern province of Anhui were fined 30,000 yuan ($4,700) each and banned from planes and trains for two years, Sixth Tone's sister publication The Paper reported Monday. And earlier this year, two men in the southeastern province of Fujian faced similar punishments while also having their household registration documents permanently marked with a "refused military service" note.
Li Weihai, head of the military law research institute at China University of Political Science and Law, told The Beijing News that while the public announcement of the punishments corresponded with broader military reforms, due process for the individuals involved should still be observed. "These punishments — such as fines and personal credit blacklisting — are not necessarily based on law," Li said.
Editor: Bibek Bhandari.
(Header image: Army recruits prepare to board a train that will take them to a military training camp in Taiyuan, Shanxi province, Dec. 10, 2008. Yan Fei/VCG)