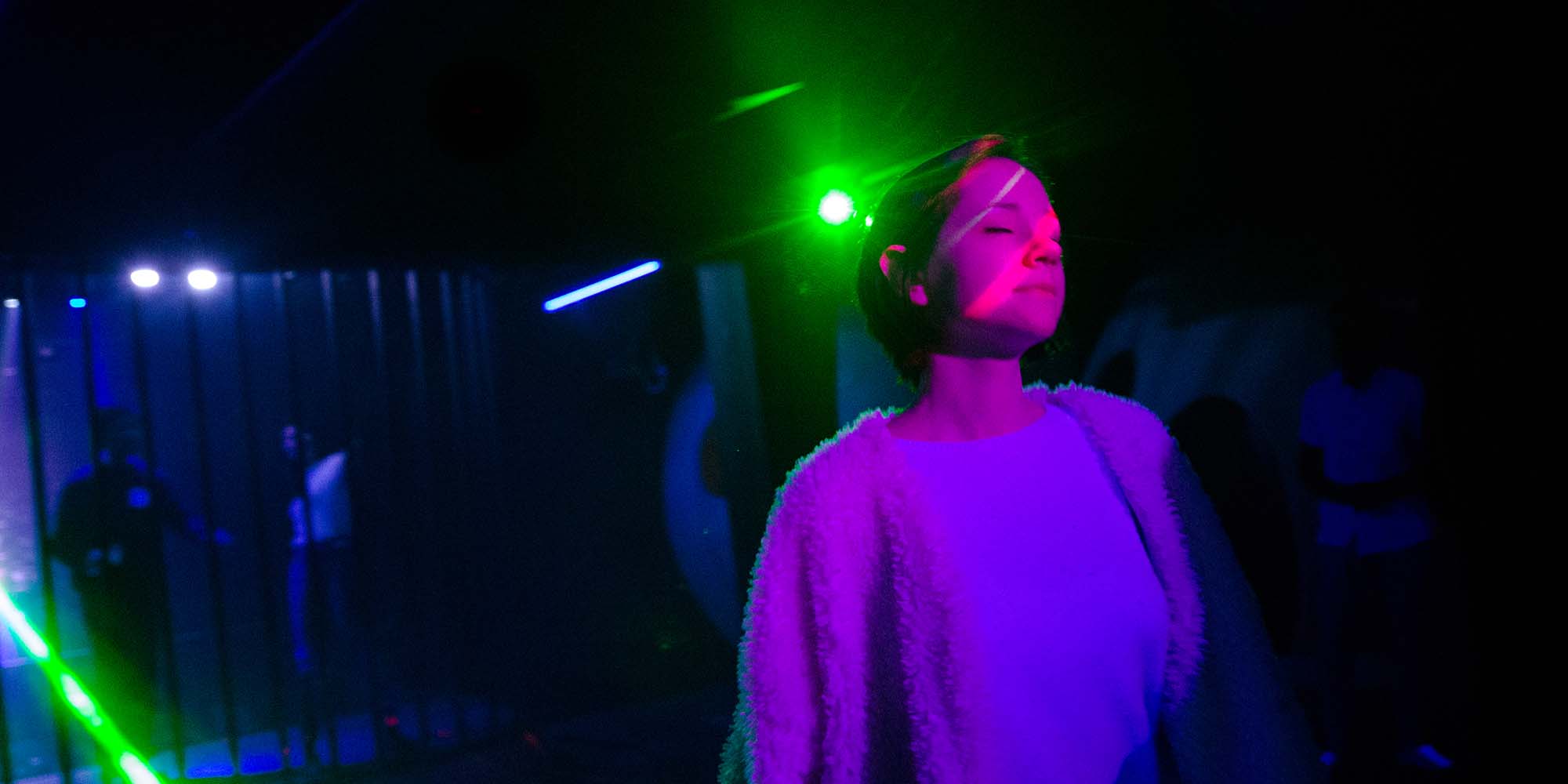 NEWS
The Party Faithful of Shanghai's Mansion
A suburban villa is an unlikely nightclub that doubles as a free hostel and DJ school.
Tao Juncheng moved to Shanghai a year ago with no job and nowhere to live. It was by chance that the young man, then 27 years old, arrived at the Mansion nightclub with friends one night and learned that the party venue doubled as a hostel where tenants could stay for free. Several days later, he moved in.
Located in a quiet residential area near Shanghai's Hongqiao Railway Station, the Mansion looks like any of the other villas around it, with its bright-red doors and green façade. On weekends, the nightclub is one of the hottest spots in the city for partygoers, who come to hear electronic music blasting from wall to wall. On weekdays, the atmosphere changes, and the place reverts into an actual house where people live and eat together like a family. There are bedrooms on the second and third floors where the residents sleep at night and have access to free electricity and internet. "I want to give people an idea that money is not important," says Rainbow Gao, the Mansion's 54-year-old founder.
Gao is something of a trailblazer in China's party scene, as well as a pioneering businesswoman. She opened the first live-music bar in Beijing in 1995 and founded China's first international modeling agency, Baystar Model Management, which specialized in recruiting foreign models. On top of that, she also started the well-known YinYang Music Festival at the Great Wall, which features independent musicians from China and abroad and has been held annually for the past five years. She credits her entrepreneurial spirit to her upbringing: "My father always praised me and said I'm excellent," she says, "so I feel like I can save the world."
After achieving success in her business endeavors in Beijing, Gao moved to Shanghai in 2009. Three years later, she opened the Mansion with an aim to help young people realize their dreams by teaching them life skills and giving them encouragement. Even though the hostel is rent-free, Gao requires all her boarders to help with the upkeep of the place. She also trains them to become bartenders, DJs, and even managers in her team.
Gao claims that 300,000 people have stayed at the hostel so far: 70 percent foreigners, 30 percent Chinese, and the vast majority in their 20s. People who want to live at the Mansion must sign a contract requiring them to stay for a minimum of three months, follow the house rules, be willing to help out, and respect other residents. In addition, they must pay a deposit of 1,000 yuan ($160) upon moving in.
Sookie Sue, a 22-year-old from eastern China's Fujian province who studies music therapy at university, stayed at the Mansion for a year. She still remembers the people and the parties. "I met some of the best friends and partners there," she says. During her time at the hostel, she also learned to bartend and improved her communication and management skills.
But living with people from different cultures also presents challenges. "You can choose who to be friends with at a party, but you can't choose your roommates and co-workers," says Sue. "We should learn how to seek common ground and agree to disagree on our differences." She says meeting people from different countries helped dispel pre-existing stereotypes.
As a businesswoman, Gao values people who take initiative. Despite her name, Passive Guo is one of these people. "I have so many things to learn," says the tenant, who moved in two months ago. "I bought a book to learn English. And then I want to learn DJ skills."
While some are embarking on a new chapter at the Mansion, others are ready to move on. After a yearlong stay, Tao Juncheng found a job as a cocktail mixologist and left the hostel a month ago.
"I have my own love, hate, happiness, and sorrow," he says, "but I have never lost my faith — a faith in Mansion life."
Editor: Doris Wang.
(Header image: Juliette Joly, a resident at the Mansion, dances to electronic music in the club's basement, Shanghai, Jan. 27, 2018. Jacney Chan for Sixth Tone)