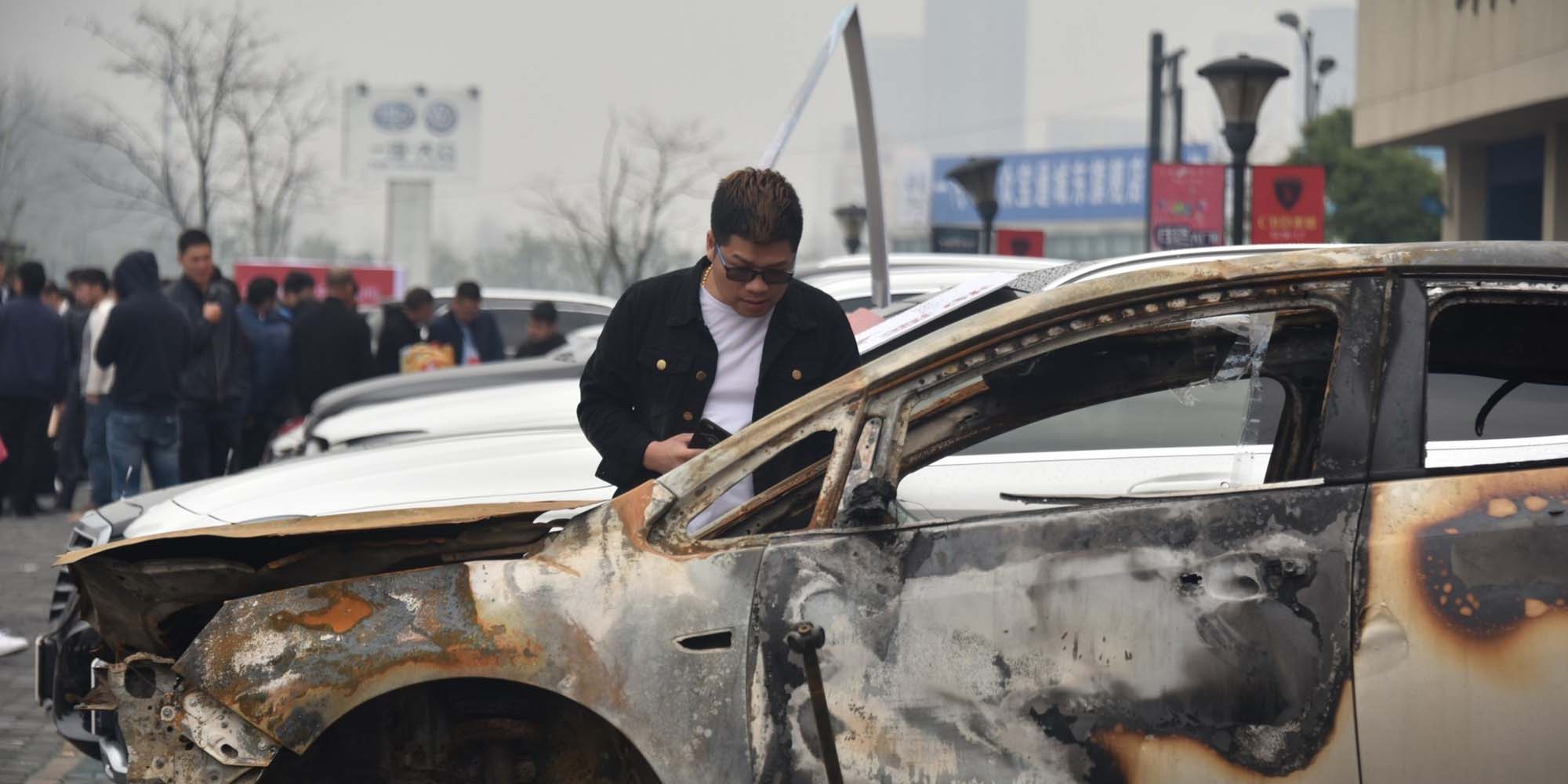 NEWS
Consumer Rights Gala Targets Volkswagen, Walnut Drink, and Wi-Fi
Annual '315' broadcast exposes defective products and crooked conduct, but audiences are losing interest.
Opening to evocative orchestral music, a beaming studio audience, and glamorously dressed hosts, you'd be forgiven for thinking you were watching a rerun of February's Spring Festival Gala.
But "315" — a reference to the broadcast date, March 15, or World Consumer Rights Day — is an annual two-hour show focused on protecting Chinese consumers. The concept may not sound all that exciting, but millions of viewers have tuned in each year since 1991 for the show's undercover reporting, takedowns of big brands, and juicy exposés of questionable corporate conduct.
No brand is safe. In previous years, the gala has called out Nike, Apple, BMW, McDonald's, and local food delivery service Ele.me, to name just a few. In the weeks leading up to the show, Chinese media outlets and armchair pundits like to predict which companies will be put under the spotlight.
Audiences are equally entertained by the called-out companies' scrambling public relations departments, which often respond online within minutes of being bashed — leading to people dubbing the evening "The Night of PR."
Maho Saito, associate director at Shanghai-based communications agency WE Red Bridge, tells Sixth Tone that companies prepare damage-control teams in advance in case they are featured on the show. "That's part of the fear and excitement around the day: If you are targeted, you usually have very little or no warning," said Saito.
This year's show was no different. The quote of the evening came from a manager at a Volkswagen dealership. The gala alleged that in heavy rain, water can leak into the engine of the carmaker's Touareg SUV, but when asked about the issue, the manager replied to an undercover journalist: "Humans, who are created by God, have imperfections — what do you expect from cars?" Another imported SUV, the Land Rover Evoque, was also accused of having engine problems.
Twenty-six minutes after the show ended, Volkswagen apologized on its Weibo microblog and promised to recall the affected vehicles. The topic began trending, with some users cursing the company for taking action only after being exposed. Others, meanwhile, were satisfied to see a swift and detailed response. Some joked that Volkswagen was the champion of the annual gala, having been "featured" three times over the years.
Zhou Lü, a communications manager at ART021 Shanghai Contemporary Art Fair, told Sixth Tone that smart responses from companies are vital, and can even improve their image in the grand scheme of things. He points to premium Japanese brand Muji as an example: After being accused of duping consumers with incorrect labeling during last year's "315" show, Muji posted a detailed rebuttal that was shared and liked over 20,000 times.
The automotive sector was well-represented in Thursday's gala, which also uncovered how car mechanics prescribe unnecessary repairs, and found that more than 200 factories in the eastern province of Shandong were producing their own gasoline blend laced with methylal, a banned substance that harms both vehicle engines and the environment.
Another segment opened people's eyes to the risks of unsecured Wi-Fi networks. Live audience members were told to take selfies and log into the venue's wireless network. The host then demonstrated how his team of masked hackers could identify attendees' phone models and operating systems, as well as access their passwords and selfies — which were projected on a screen before the flabbergasted audience. Another live demonstration showed how to identify fake saffron by its appearance and the color it produces in water.
Yet although the gala is known for its high-profile takedowns — in 2013, Apple boss Tim Cook issued a groveling personal apology to Chinese consumers after a botched company response to being criticized on the "315" show — its impact has lessened over time, even as consumer complaints have increased.
One bit this year zeroed in on Walnut Peanut, a supposedly walnut-flavored drink that was shown to contain no trace of walnut. The manufacturer was even filmed boasting that a single can of concentrate could be used to make 8,000 cartons. But such fakes are common outside of big cities, and on Weibo, users commented that there was no need to single out one product.
"The power of the '315' program to meaningfully impact public opinion appears to be waning, as brands learn lessons from each other's crises and regulations become better enforced," Saito explained. She points to the exposé of Ele.me in 2015, which did little to dent the company's status as market leader.
Saito had already observed less interest online last year. "Those of us watching on Weibo noted that the dialogue happening in real time was decidedly subdued," she said. "Gone were the fire-breathing consumer rights warriors of yesteryear."
Editor: Qian Jinghua.
(Header image: A man at product quality exhibition examines a car that allegedly spontaneously combusted, Hangzhou, Zhejiang province, March 15, 2018. Zhu Yinwei/IC)