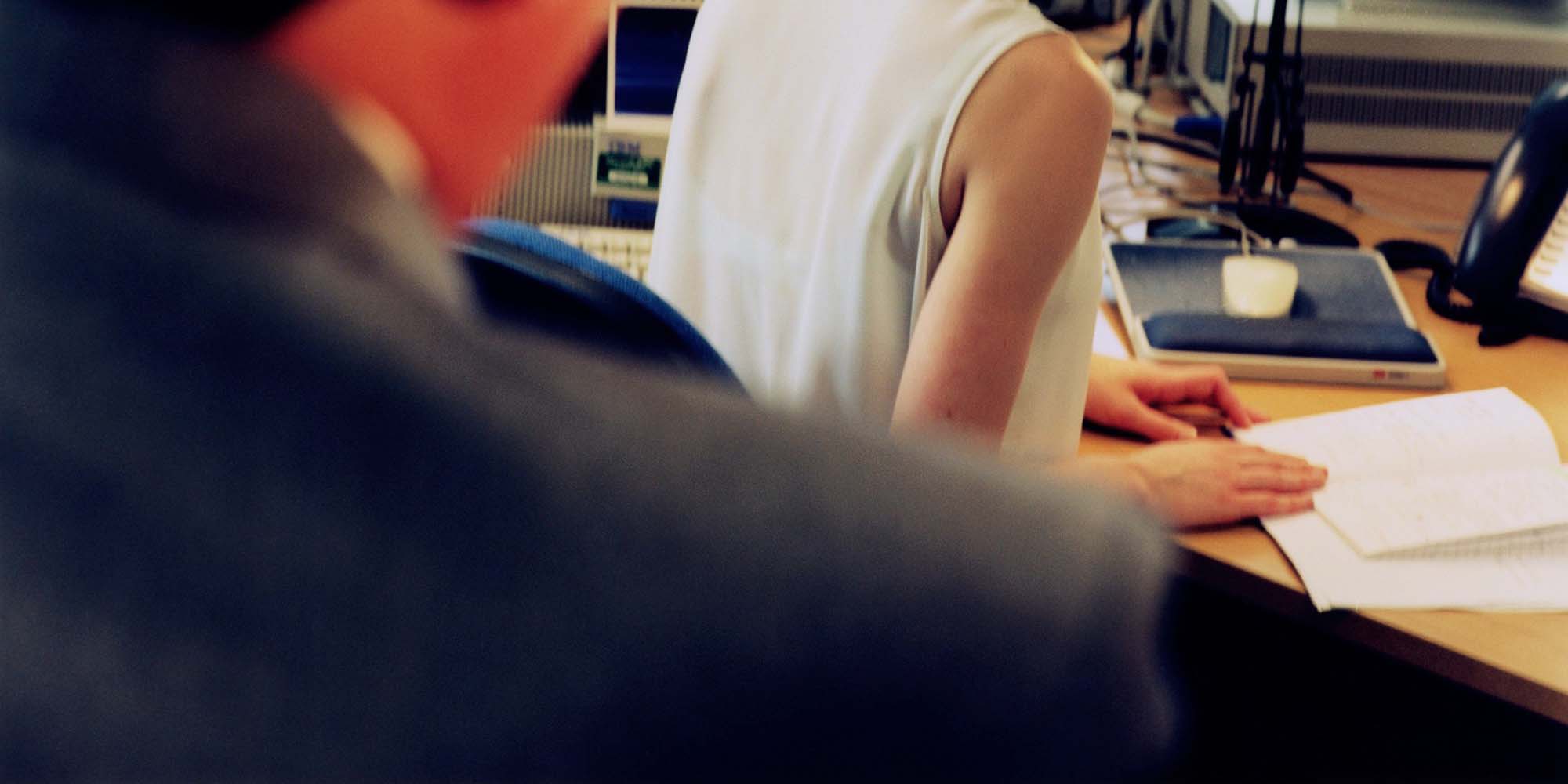 NEWS
Professor Accused of Sexual Abuse to Resign, Says University
One former University of Illinois student said Xu Gang forced her to perform 'horrifying' sex acts; another said several of his female students left the school.
This article was updated with new information on March 21, 2018.
Xu Gang, an associate professor of East Asian studies at the University of Illinois Urbana-Champaign (UIUC) who also goes by the name Gary Xu, will resign from his post in August, a spokeswoman for the university told Sixth Tone on Monday.
Several of Xu's former students have accused him of sexual assault, harassment, or intimidation.
Xu's name recently surfaced in a post on Chinese Q&A forum Zhihu about professors who were suspected or had been accused of sexually abusing female students. The last few months have seen a wave of action from Chinese students and alumni on sexual abuse by academics.
Last week, two women spoke to Sixth Tone about sexual misconduct they say they experienced at the hands of Xu. Out of concern for their privacy, both women declined to use their names.
One woman who attended Xu's class at UIUC told Sixth Tone that over a year after she met the professor, he harassed her for the first time, catching her completely off guard. "I hadn't thought to be vigilant around him," she said.
After the first instance, the woman said, Xu forced her into unwanted sexual behavior that she described as "horrifying," alternately using affectionate words and menacing threats to coerce her into obeying. For fear of being recognized, she did not specify when this occurred.
"My life was ruined during that period," the former student recalled. "My self-esteem was really low — I felt physically dirty." She said she suffered both physical and psychological damage, and added that she was aware of other UIUC students who had had sexual relationships with Xu, including an undergraduate who reported him to the school in 2015.
In an open letter to the media in 2015, the student who reported Xu wrote that Xu had engaged in sexual relationships with several female students. In her case, she said, Xu had been violent, often beating her. "Professors like these are absolute tyrants," she wrote.
On March 10, Wang Ao, an assistant professor at Wesleyan University, authored a lengthy post on social network Douban detailing sexual harassment cases he had encountered through his own research. At the time, he did not mention anyone by name. Wang told Sixth Tone that Douban deleted his post, though copies can still be found on microblog platform Weibo.
Later, however, Wang called out Xu in a post on Q&A platform Zhihu. When he had been a student himself, Wang wrote in the initial post on Douban, a close friend told him about how a professor — identified in the Zhihu post as Xu — had forced himself on her. Since then, Wang had met Xu in person and heard similar reports about him from others.
Wang appealed to Xu's victims to come forward and provide evidence to a team of volunteers in North America who plan to take legal action.
Chinese netizens have overwhelmingly praised Wang and condemned Xu. An artist declared Thursday that he will no longer participate in an art exhibition in Shenzhen for which Xu was the head curator. The same day, the venue organizing the event said that Xu was no longer affiliated with the exhibition. Sixth Tone's calls to the venue went unanswered on Friday.
In an email to Sixth Tone on Monday, Xu called this article "unfair and untrue," and said the situation with the first woman mentioned could not have been "as bad as she described" if she did not report him to the university or the police.
Xu also provided screenshots of messages of support from current and former students in the wake of the allegations. "You can see that I have the unanimous and unequivocal support from my graduate students," he wrote.
In a long message posted to his WeChat Moments social feed, Xu also refuted Wang's allegations, saying he has never used improper language or made improper contact with students, or sent messages that were anything but professional in nature.
Another of Xu's accusers, however, told Sixth Tone that she had heard multiple reports of improper words and actions, from Xu kissing young women on the cheek to remarking on the physical appearance of female applicants for degree programs. When she was his student, she said, Xu would frequently become aggressive when other students contradicted him, even threatening to keep them from graduating.
"Xu takes a different approach with each victim," she said. "It's like he designed a personalized package for each of us." The woman further alleged that several female students had quit school because of Xu.
A current Ph.D. student at UIUC who contacted Sixth Tone after this story was published corroborated this claim. He requested anonymity because he was concerned that being identified might affect his graduation or future job prospects.
The Ph.D. student said that in 2014 and 2015, two women sought help from him in dealing with the same predicament: Xu had asked them to "look after" an undergraduate woman with whom he was having a sexual relationship.
"They were very clear that they were leaving [the university] because of Xu's behavior, and that they would probably stay [otherwise]," the student wrote in an email to Sixth Tone. "Both said they were afraid of him because he sometimes threatened to kick them out of the program for not complying with his requests."
The Ph.D. student said that one of the women applied to other programs and left UIUC without obtaining a reference from Xu, while the other, whom he described as a close friend, left academia altogether. "She related to me that Xu had a volatile temper and was emotionally abusive," the Ph.D. student said, adding that Xu had told the woman he would no longer advise her after she had corresponded with other professors without his permission.
The student said both women left after finishing their master's degrees, though they had originally intended to complete their doctorates at UIUC as well.
In his email to Sixth Tone, Xu said that he has a 100 percent graduation rate. "I have never had a graduate student who quit the University of Illinois," he wrote. "They have all graduated with either a master's or a Ph.D. degree."
There are nearly 6,000 Chinese students at UIUC — the most among any U.S. university. By Friday afternoon, Xu's faculty profile page was no longer accessible, though he remained listed as an "affiliate" in the College of Media until early this week. In the bio on Xu's Weibo account, he describes himself as a "tenured professor at the University of Illinois Urbana Champaign."
While the majority of Chinese netizens' outrage has fallen squarely on Xu, some has also targeted the university for not being more proactive in protecting its students.
"The school should have posted a notice to warn us," said the student who claims Xu sexually abused her. "Otherwise, people like him will sneak into another school or another field and do the same thing. The university mishandled this horrible case, and I see it as an act of betrayal."
The University of Illinois responded to this case on Monday. "The University investigates and takes appropriate action whenever conduct is reported that may jeopardize or impact the safety or security of our students or others," Robin Kaler, the school's associate chancellor for public affairs, told Sixth Tone via email. "We are precluded, however, from discussing or disclosing the specifics of any such investigations. Dr. Xu currently is not teaching any courses but will hold his tenured status until Aug. 16, 2018, when he will resign from the university."
Correction: A previous version of this story said Xu had his tenure revoked in 2015. However, the University of Illinois told Sixth Tone that Xu will hold his tenured status until he resigns. This story has also been updated to clarify that the students who allegedly left the school because of Xu did so after graduating with their master's degrees, and to include comments from Xu, Wang, Kaler, and the current Ph.D. student.
Contributions: David Paulk; editor: David Paulk.
(Header image: The Image Bank/VCG)