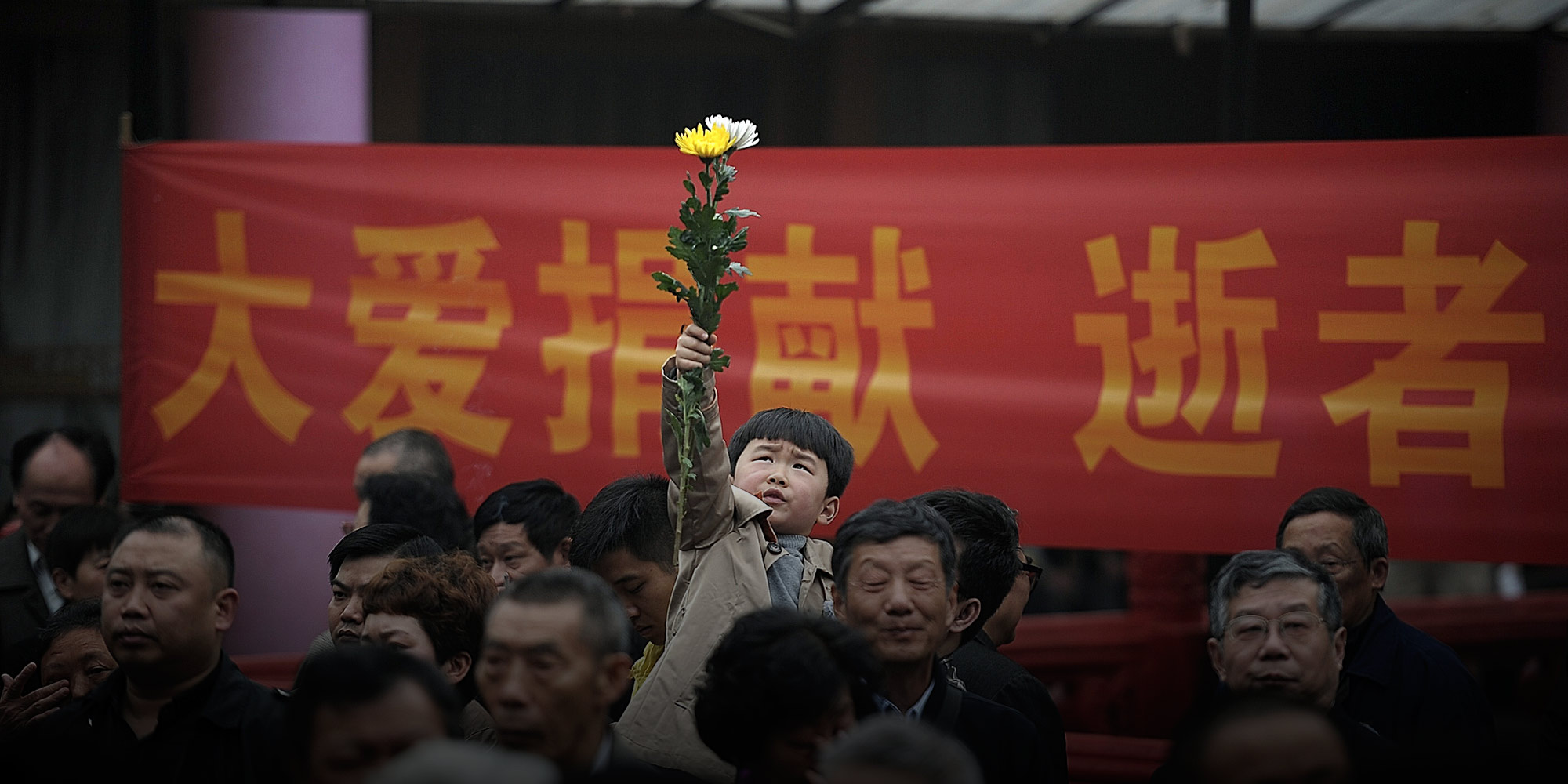 FEATURES
The Long March to Changing Chinese Minds About Organ Donation
Three years after China stopped harvesting organs from executed convicts, the country is slowly overcoming stigmas around voluntary donation.
ZHEJIANG, East China — Almost overnight, the news that a local law enforcement officer had become an organ donor spread across the small city of Quzhou and beyond. In late January, 47-year-old Yang Jianjun was struck with a brain hemorrhage that put him in a coma. After doctors pronounced him brain-dead, he became the first member of the Quzhou special police force to donate organs.
Yang had expressed his desire to become an organ donor when he was healthy — and his family showed their full support after he fell into a coma, acting against traditional beliefs surrounding death and the preservation of dead bodies. Chinese media, Red Cross societies, and city officials have since lauded him as a hero and praised his relatives for keeping an open mind about organ donation.
For decades, donor organs were taken from executed convicts in China — a controversial practice that was banned in 2015.Now, outside of the relatively small number of living volunteers who donate non-vital organs to family members, organ transplants rely on brain-dead patients whose relatives consent to donation.
While hundreds of thousands of Chinese people are waiting for organs, the number of voluntary donors in 2010 — the year the practice was introduced — was a mere 37 across the nation. China lagged far behind its international peers, which prompted government efforts that have led to steady growth in donations. In 2016, the number of voluntary organ donors had climbed to 4,080. But still, the proportion of donors in China remains low compared with that of many developed countries.
Cases like Yang's have helped spread awareness of organ donation and have inspired others — including one woman surnamed Xu, whose family made the decision to donate the organs of her 60-year-old sister after she had been declared brain-dead. "The positive reactions society had to Yang's case assured us that it's the right thing to do," Xu told Sixth Tone outside the intensive care unit of Quzhou's Kecheng People's Hospital — where Yang had become an organ donor less than a week prior.
Though more than 411,000 people have signed up as organ donors with the Red Cross Society of China, this registration is geared toward raising awareness of the practice and carries no legal weight. Regardless of a comatose patient's donor registration status, donation of their organs requires consent from their parents, spouse, and children.
Sixth Tone spoke to Xu half an hour before the surgery to remove her sister's usable organs: kidneys, liver, and corneas. The sole full-time organ donation coordinator in Quzhou — a city of more than 2.25 million — had already briefed Xu, her brother, and her sister's son on the procedure. A hearse was waiting outside.
When the woman was wheeled out of the ICU on her way to surgery, Xu and her nephew came over, touching her face and forehead to say goodbye. "She's still so warm," Xu remarked. "It's such a cruel thing to imagine that her organs will be taken out of her — she's still breathing, and her heart is still beating." After a brief pause, she continued: "But even our 80-year-old mother, who can't read, agreed almost without hesitation."
Although the family has confidence in their decision, they asked Sixth Tone not to identify them by their full names, as they worry that neighbors, friends, and extended family won't understand their choice and will criticize them for it. They are from a tight-knit rural community, they explained, where traditional values prevail and rumors spread like wildfire.
Deeply rooted cultural beliefs have long hindered organ donation in China: Confucianism views the body as a sacred gift from one's parents that should be cherished. Keeping a dead body intact is considered the most basic courtesy one can grant the deceased. Some also find it difficult to swallow the anonymity of organ donation: Following international practice, the identities of donors, their families, and organ recipients are kept confidential. Donor organs are matched with recipients through a national database based on patient need and time spent on the waiting list.
China began transplanting organs in the early 1970s using live liver donors — a practice now only permitted among family members to prevent illicit organ sales. While transplants gradually became more common over the next decade, a severe shortage of organs meant that few people received life-saving donations.
To help meet the demand, the Chinese government issued an interim provision in October 1984 that kicked off three decades of harvesting organs from executed convicts whose families hadn't come forward to claim them before their death, or whose relatives had agreed to donate their organs.
To end these abuses, China banned the donation of organs from prisoners sentenced to death on Jan. 1, 2015. Voluntary donations from brain-dead patients — as well as living relatives — are now the only legitimate channels of organ acquisition in the country, though illicit organ harvesting and trafficking may persist.
The year before the ban took effect, 20 percent of donor organs came from executed prisoners, according to Huang Jiefu, director of China's National Organ Donation and Transplantation Committee and former vice health minister. Official figures suggest that voluntary donations have more than made up for the lack of organs from convicts since the ban.
Voluntary donations began in March 2010 with a pilot program under the Red Cross Society of China and the health ministry. Across 11 provinces, local Red Cross societies launched awareness campaigns, and hospitals put organ donation coordinators in touch with families of potential donors: patients pronounced brain-dead, but whose bodies remained on life support.
In the pilot's first year, 37 people outside the prison system donated their organs across the 11 designated provinces. The program expanded to the rest of the country in February 2013.
In Quzhou — located in Zhejiang, one of the 11 pilot provinces — the program got off to a rocky start in 2012, according to Ye Xiaogen, vice chairman of the Quzhou Municipal Red Cross Society. Traditional beliefs and lack of awareness were the main hurdles. "Many [potential donors' families] believed it would bring misfortune to discuss death while the person was still breathing," Ye said.
One of the first families Ye worked with fled their home village after news of their relative's organ donation spread. "They faced immense pressure from their neighbors — many denounced them as being cruel to their [late] family member, and some even questioned whether they sold the organs for cash," Ye recalled. "But things have gotten much better in recent years."
Despite being less developed than many cities in Zhejiang, Quzhou now boasts one of the highest proportions of organ donors. The city's organ donor rate per 1 million residents reached 9.3 last year, more than three times the national average.
Despite the rise in donations, the demand is far from being met. At any given time, around 300,000 people across China await life-sustaining organ transplants. Yet only some 10,000 receive transplants each year.
China's donor rate doesn't fare well internationally either. In 2016, the proportion of organ donors was just 2.98 per 1 million people. Meanwhile, the EU — which boasts a longer history and greater awareness of organ donation — has an average of 19.6 donors per million residents, and the U.S. reports 26.6 donors per million Americans. In Spain, where progressive laws assume every citizen is willing to donate unless they state otherwise, the rate reached 46.9 donors per million people last year.
In October 2013, Fang Dan decided to leave her job as an ICU nurse at the First Hospital of Zhejiang Province to become an organ donation coordinator — the first and so far only full-time coordinator in Quzhou, her hometown.
It was tough going at first. "There were times when I was verbally abused, or when people acted impulsively and seemed as if they would hit me any minute," the 29-year-old told Sixth Tone.
Yet with each patient, she gained valuable experience. She learned, for instance, that the families of potential donors on life support take about two days to come to terms with their limited options, and that it's best to approach them after they've accepted their relative's prognosis. Even then, some families are quick to decide about organ donation, while others take weeks of work.
Having spent more than four years on the job, Fang has a good relationship with Quzhou's ICUs, which are required to inform her of potential donors. As many as 70 percent of donors have been in car accidents, Fang said.
Although donors and their families can choose which organs they want to give, there are medical restrictions: A heart, for example, must come from a donor under age 45, making it the rarest transplant organ. The second rarest is the lungs, which are often damaged beyond use when a patient is on a ventilator for more than five days, Fang said. She spends each workday racing against the clock.
To combat concerns about criticism from the community, Fang sometimes enlists the help of village officials. "They volunteer to bear witness to [the family's] kind-hearted donation," said Fang, "and promise to dispel any rumors that might emerge in the village."
There is another notable factor in the decision to donate: Unlike many other countries, China allows monetary compensation for organ donation. In 2012, Zhejiang donors' families received 20,000 yuan ($3,000) on top of money for funeral expenses, according to the then-vice chairman of the provincial Red Cross society. A Zhejiang hospital insider told Sixth Tone that compensation — referred to as "humanitarian aid" — currently ranges from 33,000 to 63,000 yuan, funded by the provincial and local Red Cross organizations. Families are also exempted from paying a portion of donors' medical bills.
The system has raised ethical questions, as the money can prove a persuasive incentive for those with limited financial means. As many as 90 percent of voluntary organ donors as of March 2012 came from impoverished families, said the Red Cross of China's then-vice president.
Ye, the Quzhou Red Cross vice chairman, supports humanitarian assistance for families of organ donors in Quzhou, many of whom are living in poverty in rural areas. "Organ donation is about saving lives. But it doesn't make sense if families making such a significant contribution don't receive acknowledgement in any form," he said.
Xu's family received just over 40,000 yuan for her sister's organ donation, according to the hospital source. Yet Xu maintains that the primary reason for the decision was the idea that, in a sense, it would help her sister live on. "Now that she cannot be saved anyway, we should do what we can to help others live," said Xu. "That's also a way to sustain my sister's life."
Editors: Denise Hruby and Jessica Levine.
(Header image: A boy holds up flowers to honor organ donors at a memorial park in Chongqing, April 4, 2014. Ran Wen/VCG)