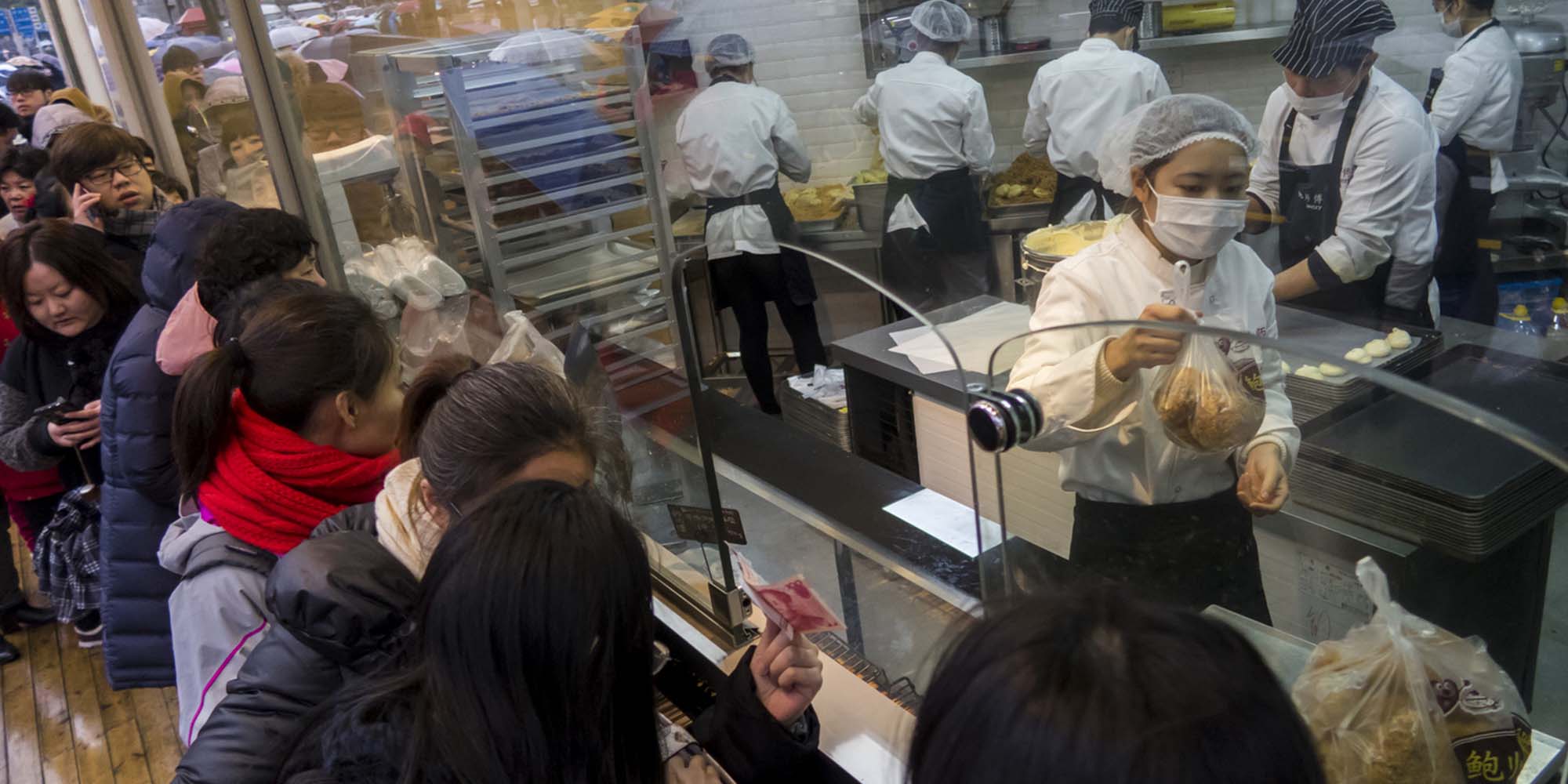 NEWS
Bun Boss Sues Copycat Patisseries
As a hundred floury knockoffs bloom, Master Bao has filed trademark lawsuits in three cities.
A viral bakery has sued its bigger doppelgänger, local newspaper Beijing Business Today reported Sunday.
Bao Caisheng founded his pastry chain Master Bao — "Bao Shifu" in Chinese — in 2004, when he opened his first shop in Beijing. Over the years, he has expanded his floury kingdom one step at a time, gaining viral fame in 2017 for his signature product, a mayonnaise and meat floss bun. But the brand's popularity quickly attracted dozens of copycats selling similar products — some of which have overtaken the original.
"I've seen hundreds of stores that blatantly use the same name as mine," Bao told Sixth Tone.
Now, Bao has had enough. He has filed lawsuits against a Beijing-based company, Beijing Yishang Food Management Co. Ltd., which also trades under the name Master Bao, and some of its chain stores in eastern China's Nanjing and Hangzhou, for trademark infringement and unfair competition.
When Sixth Tone called the defendant on Monday, an employee in the marketing department said the company would not disclose details of the case but would resolve the dispute through legal means. The phone line's hold message proclaimed "Our company is the one and only authentic and legitimate Master Bao."
Courts in all three cities have accepted the cases. The first Nanjing hearing is scheduled for March 14, said the plaintiff, while Hangzhou will open the case on April 13.
The plaintiff has 26 stores across the country, according to his official account on social platform WeChat, but the defendant's website says it has more than 100 stores across 45 cities.
According to data provided by the Trademark Office of the State Administration for Industry and Commerce, the plaintiff's company registered the trademark "Master Bao" under the "bread and cakes" category in 2013. The defendant, meanwhile, filed an application to trademark "Master Bao Bakery" under the same category in 2017, but that application is still awaiting approval. The defendant had previously also held the trademark "Master Bao" under the category of "restaurants, beverages, and day care centers," but as of Monday, all trademarks held by the defendant were under investigation for revocation or invalidation.
"They don't even bake the products themselves, they're just a company that develops chain stores," Bao alleged of the defendant. "I demanded that they stop using my name," he continued, adding that he wished the authorities offered better protection for stores like his, which are vulnerable to copycat competitors.
You Yunting, an intellectual property lawyer from DeBund Law Offices in Shanghai, told Sixth Tone that while he believes the plaintiff is likely to win, such cases typically take more than a year to reach a verdict. He suggested that entrepreneurs should register their trademarks in all categories related to their core business in order to leave no room for copycats.
Editor: Qian Jinghua.
(Header image: Customers line up to buy pastries from a Master Bao kitchen in Shanghai, Feb. 8, 2017. Wang Gang/IC)