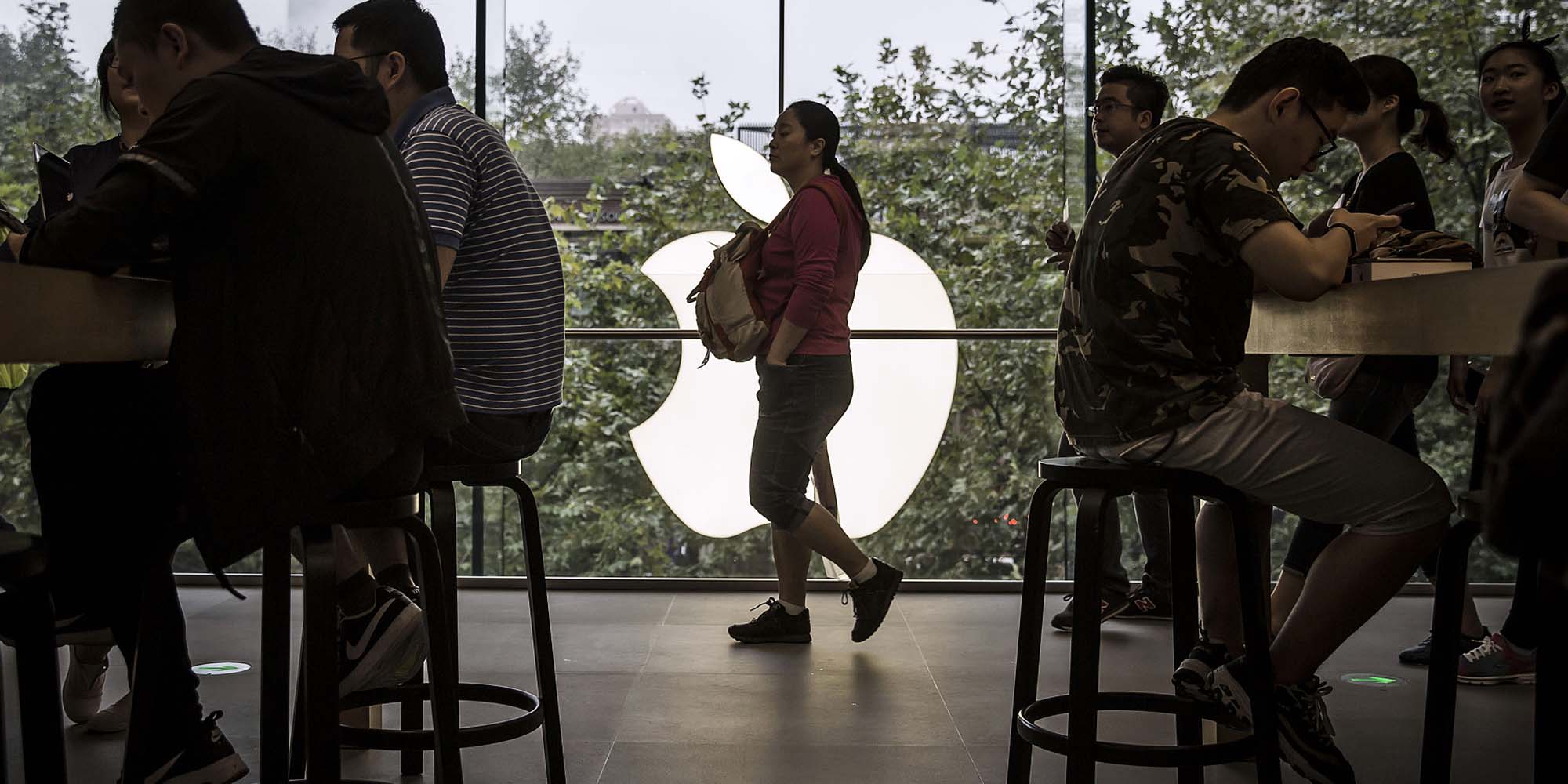 NEWS
Apple Employee Threatens to Leak User's iCloud Data
Customer says company confirmed that the unnamed technical advisor has been fired but didn't address his privacy concerns.
"Your personal data belongs to you, not others," reads a bold declaration on Apple's webpage for user privacy. But for one Chinese customer, this proved not to be the case after an Apple tech support employee threatened to leak his photos, contacts, emails, and memos online.
An article describing how the Apple employee allegedly hacked into the customer's iCloud account after the two got into an argument on the phone went viral on Chinese social media this week.
According to Weibo microblog user "Once Upon a Time in America 1999," the ordeal began on Feb. 28 — the day Apple had announced it would transfer the cloud storage accounts of its users in China to servers managed by a local business in the southwestern province of Guizhou.
The man, surnamed Qin, told Sixth Tone that when he called Apple customer support to inquire about closing his iCloud account, he was infuriated by the employee's "arrogant and neglectful attitude," and the two exchanged verbal barbs. Wishing to protect his privacy, Qin refused to disclose any information about himself.
Qin eventually hung up, but the dispute didn't end there. The employee — who claimed to be a "senior technical advisor," according to Qin — called back later that night from his own phone. Qin wrote in the article that he was told to check his three email accounts, all of which were linked to iCloud. In the email he found waiting for him, the employee said that if Qin failed to add him on messaging app QQ within one hour, he would leak the personal information Qin had stored in the cloud.
"I used my position to copy your information," the employee said, according to a phone conversation Qin recorded and posted online. "I can't say you'll wish you were dead, but I can at least cause some hassles for you," said the technical advisor in a polite but menacing tone.
Qin added the employee on QQ, but his friend request was never accepted. When he then tried to call his antagonist, he wrote, the phone was turned off.
Qin said he reported the case to local police. His article, posted Monday on Weibo, had been viewed nearly 3 million times by Thursday evening.
In a statement sent Thursday night to The Paper, Sixth Tone's sister publication, Apple said it is working with Qin to investigate the case and emphasized that tech support staff do not have access to customers' personal information. It remains unclear how the employee obtained Qin's email addresses.
For the tech giant, the timing of this incident is inconvenient. In order to comply with China's cybersecurity law, Apple transferred the cloud data of its Chinese customers from servers in the United States to ones on the Chinese mainland managed by Guizhou-Cloud Big Data Industry Development Co. Ltd. — a state-owned enterprise. Critics have voiced concerns that the move will put user privacy in jeopardy.
"I'm really curious why you don't want to use Guizhou-Cloud Big Data's service," the technical advisor asked Qin during their recorded conversation. But Qin told Sixth Tone he responded by saying he hadn't used iCloud in some time and was merely wondering how he could opt out.
In a follow-up post on Tuesday, Qin said Apple notified him that the employee had been fired — though the company had not answered his questions about how much of his personal information had been copied, whether any had been leaked, and how it planned to deal with the data breach.
"I've started getting calls from strangers," Qin told Sixth Tone. "I don't know how much of my information has been leaked. This unsettling feeling is terrible."
The Apple employee's threatening remarks — that he would sacrifice his job if it meant teaching Qin a lesson, and that he had the power to prevent Qin from using Apple devices in the future — has net users feeling frightened and upset.
"Although privacy has become a luxury good in this age," commented one netizen, "stealing a customer's information, using it as blackmail, and then politely chatting with them on the phone makes the hair on the back of my neck stand up."
This story has been updated to include Apple's statement to The Paper.
Editor: David Paulk.
(Header image: Shoppers visit an Apple Store at the IAPM shopping mall in Shanghai, Sept. 16, 2016. Shen Qilai/Bloomberg via Getty Images/VCG)