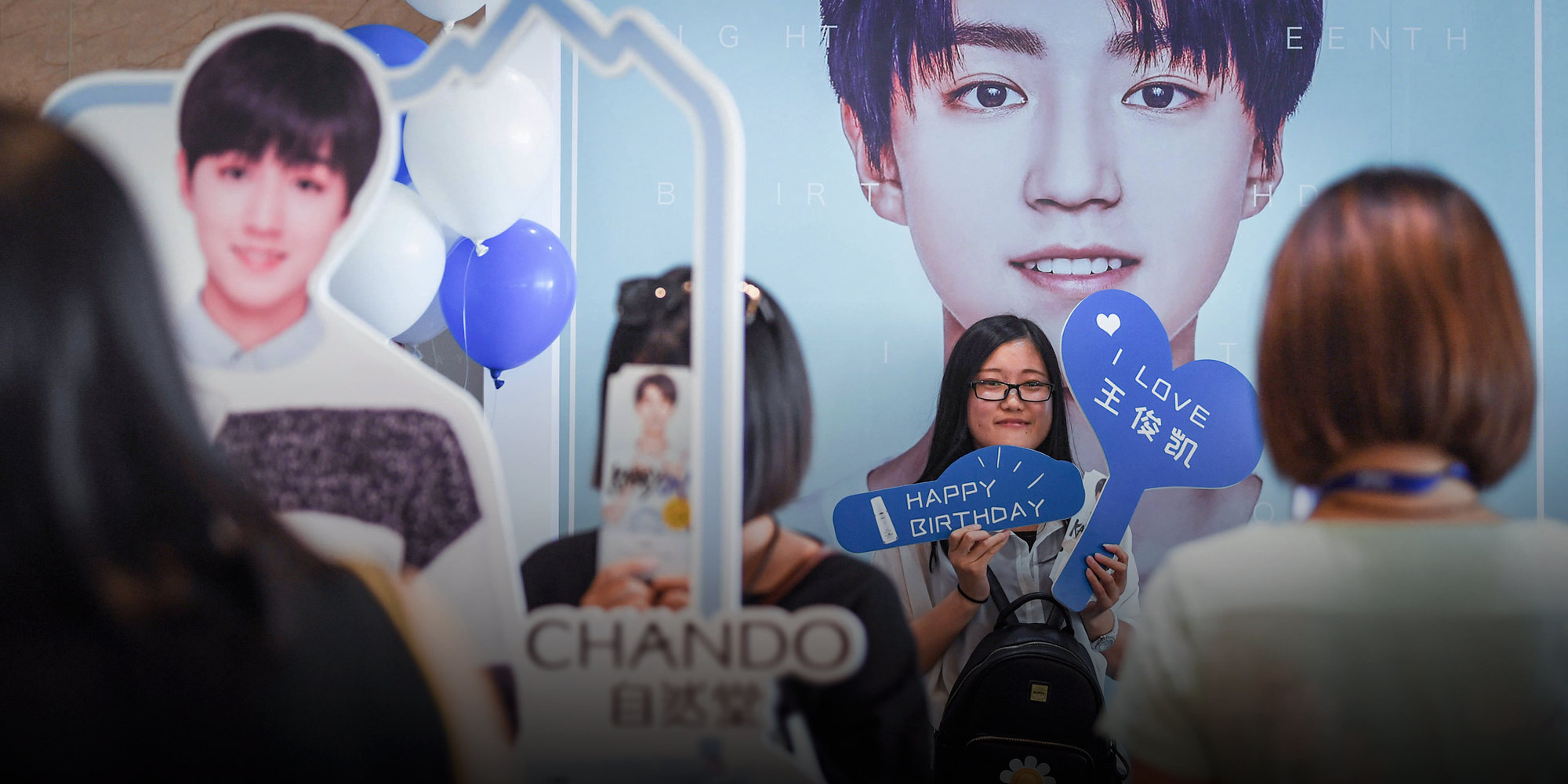 FEATURES
China's Idol Groups: How to Organize Fans and Adulate People
Why young women are pouring cash and time into worshipping movie and music stars.
SHANGHAI — At a bustling cinema, a crowd of excited young women — and one passionate man — is buzzing about a pale boy with a bowl cut.
He's 18-year-old Wang Junkai, the lead singer from China's squeaky-clean, three-person boy band TFBoys. Wang's nowhere to be seen, but the women in their teens and 20s make do by posing next to a cardboard cutout and scrawling messages of their devotion on a banner. "From the beginning to the future, just for Wang Junkai," they scream into a camera, repeating a widely used fan catchphrase.
The crowds are Wang's super fans, some of a growing number of young people who've joined clubs to support their favorite stars. China is home to hundreds of such fan clubs, which put on events, buy products, or even donate to charity in the name of their idols. In China, the fan industry is now worth billions of yuan — and is expected to reach 100 billion yuan ($15.8 billion) by 2020.
Wang alone has over 39 million followers on Chinese microblogging site Weibo, where a post he made thanking his fans on his 15th birthday gained so much traction that he holds the Guinness World Record for most reposts of a Weibo message. His fans are known as "little crabs" — the pronunciation of the crustacean in Wang's native southwestern Chongqing dialect sounds like the latter half of his first name, "kai." Across China, they've formed highly organized groups, devoting hours of their lives and plenty of cash to worshiping him and helping to boost his star power. Shanghai-based Carrie Hu, 20, and 25-year-old Zheng Tangtang head one such club, and at an event in December, they're so busy packing gift bags and handing out pre-ordered tickets that they've had to forego dinner.
As Hu and some fellow fans erect a giant promotional banner of Wang at the theatre in downtown Shanghai, curious passers-by stop to ask what's happening. Some think they're holding a lucky draw; others ask if the teenaged star will appear later in the flesh. Hu's unbothered by the interest — after years as a loyal "little crab," she's used to seeing confused looks.
While others were looking forward to celebrating New Year's Eve, the fresh-faced recent graduate from vocational school was spending entire weekends planning for the December 29 movie premiere of "Namiya," in which Wang had his first leading role. Instead of buying just one ticket to the film for herself, Hu booked an entire 200-seat theater. In total, she put on four screening events across Shanghai.
There are at least 100 fan clubs dedicated to Wang alone, a Weibo search by Sixth Tone found. The clubs range in size and focus, from making news and information about Wang go viral and voting him to the top of music charts, to sharing original fan art — or a mix of everything. Hu's club is not officially connected to Wang's agency, but a former leader surnamed Zhou, who did not want to give her full name for privacy reasons, tells Sixth Tone that Wang personally helped the fan club get verified by Weibo.
Events in Wang's honor are becoming increasingly elaborate — during his milestone 18th birthday last September, fans skipped the neon billboards in New York's Times Square that have become the norm for Chinese stars' birthdays. Instead, they splashed out on renting planes to sky-type above the iconic Hollywood sign in Los Angeles, and "bought" stars in the sky in a pattern forming his initials. Overall, 1,422 fan screenings of "Namiya" — funded by donations from members — were held across 140 cities in China and overseas, according to Wang's fan groups. It's not just about showing unconditional love — when fans buy products or organize movie showings, they're encouraging brands to work with their idol in the future, and cinema chains to add more screenings. "The first few days of screening are key to a movie's [market] performance," explains 25-year-old Zheng, a member of the management team who goes by her nickname Tangtang to keep her fan leadership role separate from her personal life.
Hu's love for Wang dates back to 2013, before the band even launched, when she saw a video online of Wang singing. At first, she was drawn to his handsome looks and great voice. As she learned more about the then 13-year-old boy, she became attracted to his personality as well. "He works really hard," Hu tells Sixth Tone. "I can't imagine how he can think so deeply as a child and how he could be mature beyond his years."
Nowadays, Hu's admiration has given way to full-blown devotion. She's spent 5,000 yuan of her own money in the past year on albums, tickets, and fan activities, and has a large collection of Wang memorabilia safely stored in a wardrobe at her parents' home. But she expects she'll spend more this year, as Wang scores more contracts. Some of the money has also gone to the club — the core members of clubs usually cover the expense of events — although Hu wasn't willing to reveal exactly how much her group spends. "I need to work hard to make money," she says.
After moving from central Henan province to Shanghai last year, Hu joined the local division of a fan club that has around 30 district branches across the country, each with around a dozen core members, and additional members who come and go. Hu began shouldering some of the leadership responsibility; before the December screening event, she was responsible for scouting event locations, promotion, and ordering gift packages in her spare time and on weekends on top of her modestly paid full-time teaching job at a local kindergarten. It was a steep learning curve. When she gave the cinema manager a cold call ahead of December's event, she was so nervous she had to write down questions on a notepad. "It feels like a workplace," says Hu, who despite her lofty position in the club often stumbles over her words. "I treat it like a job."
Though the mission is tough for a rookie like herself, Hu enjoys working with her kindred spirits in the fan club, who all wholeheartedly love Wang. But her responsibilities also mean a lot of pressure. "I am afraid I will screw things up. It is OK for me to look bad but it matters if fans get disappointed," she says. "When you are an individual fan, you can choose whatever you want to do. After you join an organization, you can't quit many things you don't want to do."
Fellow fan Zheng became interested in Wang in 2014 and thinks of herself as an "elder sister fan" who selflessly takes care of her idol. She uses a GPS app on her phone, which gives her directions in Wang's voice, and uses a transportation cardholder printed with Wang's image. "It is more like a belief," says Zheng, a Shanghai native. "The idol has some qualities that you always yearn for and worship."
But while she's devoted to Wang, she'll soon have to give up her time-consuming leadership role as she prepares to start her career. Zheng's role became a source of conflict with her parents — it wasn't easy for them to accept that their daughter was spending her time wooing a teenage idol, rather than job-hunting. Fresh graduate Zheng still lives with her parents, who were less than impressed when about 400 sets of water bottles, playing cards, and banners for fan gift packs were delivered to her house. Zheng managed to persuade her mother to help her put together the gift bags late into the night and drive the bags to the cinema, where they were given out for free to fans. "I felt mentally exhausted during the whole process," says Zheng, admitting that she understands her mother's concern.
Wang is hardly the only star in China to inspire this level of devotion — similar groups have popped up, dedicated to a vast range of idols. Experts expect the fan economy will continue to grow — it's already become so popular that it has spawned a number of targeted start-ups and businesses. One example is More Fans, an app launched in 2015 that provides tailored services to help with fan events. The app has 200,000 daily active users who use the app to help them set up plans for events and organize ticketing, according to CEO and founder Zhou Feng.
Zhou Feng says the fan club members seem smart, capable, and skilled at event planning and producing videos. "Many outsiders may suspect these fans have other goals, such as making money," he says. "But in fact, they pour in large sums of money to do all sorts of things for their idols without asking for anything in return."
While some people may think fan groups are "crazy and hard to understand," they are often driven by a spiritual need to support their favorite actor or singer, says Gao Wentao, senior consultant and general manager from entertainment research company Ent Group. "This goes beyond just consumer products — many see an idol's success as a realization of their own dream," he tells Sixth Tone. "People don't necessarily spend money [only] on basic needs but also spiritual pursuits."
But there's a darker side to fan clubs: An ongoing rivalry between the fans of different TFBoys members, who all want the best for their idol, and believe the band's agency is allocating resources unfairly. Over the past two years, European transport became a fan battleground; When fans of one of lead singers, Yi Yangqianxi, saw images of the other two members in Milan's airport and on London's double-decker buses, they opted to plaster their idol's face in Copenhagen's subway station. At a December gala where Wang was performing alongside Yi, Hu's fan club donned glowing blue devil's horn headbands and tried to sneak in blue neon signs in a bid to form a sea of Wang's favorite color. But their plans were foiled — Wang's fans were split all over the stadium so the blue had a less dominant effect than they'd hoped.
The battle can sometimes go too far. On the boy band's three-year anniversary in 2016, fans of two of the band members got into a physical fight outside the concert stadium.
But Hu, who plans to continue working with the group as long as she has time, has other things on her mind besides fan warfare. In the coming spring, Hu had hoped to carry out a charitable activity. But the fan club members turned the initial proposal down — it might have involved fundraising from sanfen, fans who aren't associated with an organized group. "Money is quite a sensitive issue," says Zheng. "Once you take money from sanfen, every expense should be accounted for."
Even though Zheng realizes she can no longer participate fully in fan events, she says she'll never walk away from the organization — or Wang — entirely. "We are all together, striving for the same goal," says Zheng. "All our efforts are worth it when I see them enjoyed by other fans and remembered by Wang Junkai."
Editor: Julia Hollingsworth.
(Header image: Fans take photos with a poster of Wang Junkai during his birthday party in Beijing, Sept. 24, 2017. Wang Yixuan/IC)