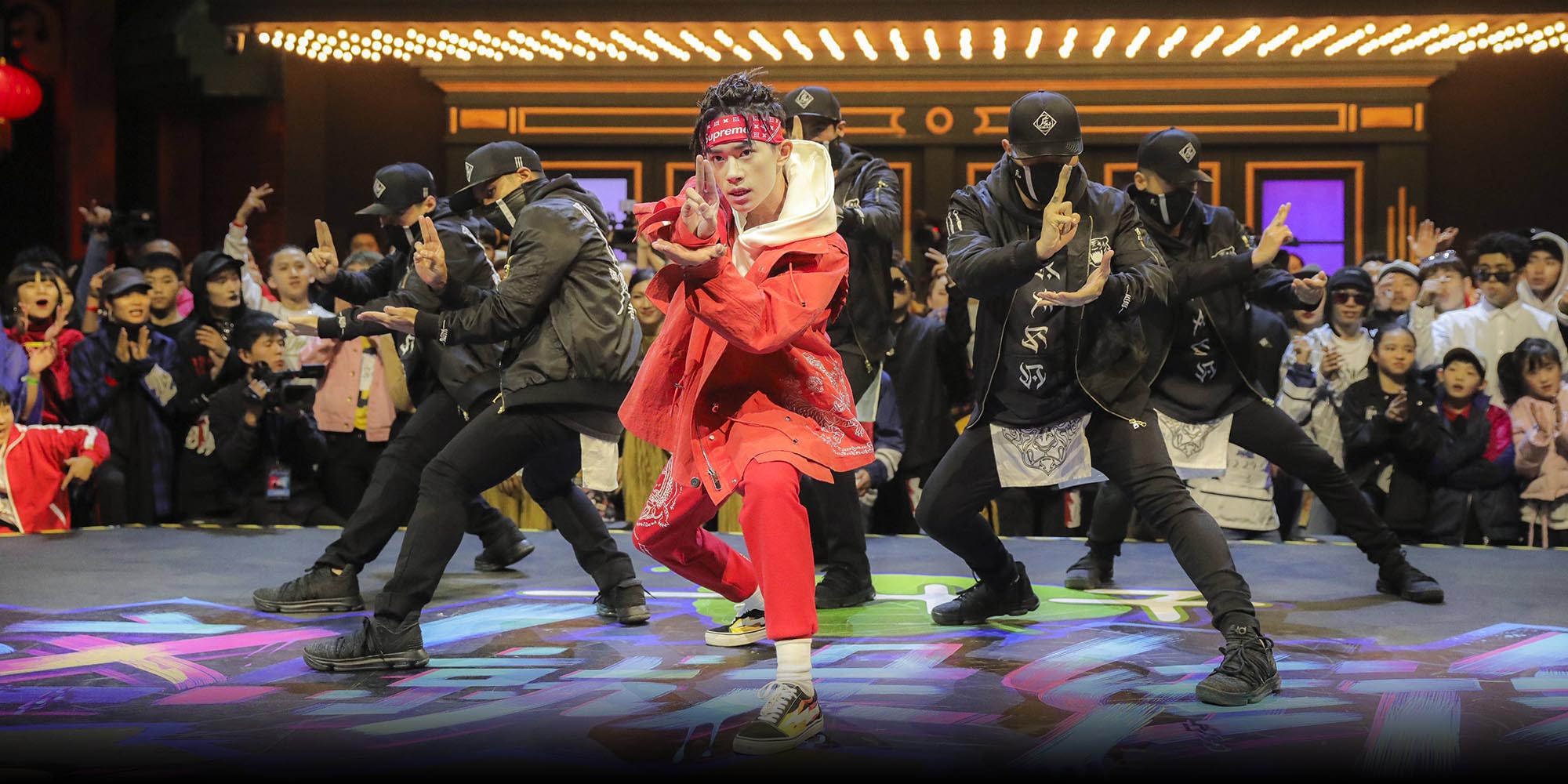 NEWS
Pop, Lock, Break, Repeat: 'Street Dance of China' Wows Audiences
Youku finds winning combination in fresh-faced celebrities and move-busting contestants.
Last summer, video streaming site iQIYI's "The Rap of China" took the country by storm. Now, Youku is hoping to duplicate its rival's success with a show based around another urban art form: street dance.
In "Street Dance of China," four celebrity "team leaders" — industry A-listers Yi Yangqianxi of TFBoys, Taiwanese heartthrob Sho Luo, actor and former Super Junior member Han Geng, and ex-EXO singer Huang Zitao — select and train their own competing dance troupes from a pool of 390 contestants. The show, which is sponsored by meme machine Douyin, a short video app, premiered on Feb. 24 and is now in its second week.
The show's first two episodes, shot on a set fashioned to look like an alley opening up onto a street corner, see contestants busting moves before the celebrity judges — sometimes even all up in their grills. If the judge is impressed, he can pick the dancer for his team by handing them one of a limited number of scarves. If the team leader is undecided, however, he can invite other contestants to challenge their peer to a dance-off.
The contestants attempt to impress in a variety of styles, including break dancing, "popping," and "locking" (the latter two being surprisingly similar to what you might expect from their names). One contestant from a Wa ethnic minority community in Yunnan, southern China, blended modern, urban dance with the traditional dance style of his people.
Apart from the celebrity judges, viewers seem to have been impressed, too, with the show earning a rating of 9.5 out of 10 on Youku and garnering over 100 million views within the first couple of days, making it the platform's most successful production in a year and a half.
In one widely discussed moment on the show, Huang was left dumbfounded after a contestant refused to accept rejection — so Huang called on other dancers to challenge the stubborn contestant to an impromptu "locking" battle.
The show's director has said in interviews that the celebrity judges are free to make whatever decisions they like, with no intervention from the production crew. Unfortunately, this has resulted in a number of awkward dilemmas. In the first episode, Yi of TFBoys repeatedly caved to the contestants' pleas. With no scarves left by the end of the show, he had to turn down some of the show's most skilled — and most disappointed — dancers.
Many "Street Dance of China" contestants are break dancers, an art that has direct associations with hip-hop culture. But in January, media regulators banned hip-hop culture from being portrayed on TV. In the second episode of "Street Dance of China," for example, a break dancer's tattooed arms were conspicuously blurred throughout his performance, even as he spun around on the floor.
Street dance, however, has advantages over rap and hip-hop: It has no lyrics that might be construed as offensive, and it can be performed to a variety of styles of music, according to Xu Hua, the leader of Beijing-based dance troupe RMB. Only particular body movements, such as pelvic thrusts and mimed throat-slitting, might be considered inappropriate, the 32-year-old dancer — who also goes by the name "Eleven" — told Sixth Tone.
Han Yu, a dance teacher in Shanghai and one of the final 21 contestants on the show, acknowledged that contestants must cover their tattoos and dyed hair because of the ban — which he actually views in a favorable light. Compared with rap, Han believes urban dance is full of "positive energy." He told Sixth Tone he has encountered parents who prioritize their kids' urban dance classes over other extracurricular activities because they believe dancing instills confidence — a change Han said he has witnessed firsthand.
Fans of "Street Dance of China" can expect more colorful programming from Youku, which has several more themed productions in the pipeline. This year, for example, viewers can look forward to the premier of "This Is Fighting Robots."
But iQIYI doesn't seem to be taking its competitor's success lying down. On March 17, the rival video-streaming site will debut its own street dance show, "Hot-Blood Dance Crew" — created by the producer of "The Rap of China" and helmed by Beijing-born pop megastar Lu Han.
Correction: A previous version of this story said that Huang Zitao of EXO called on contestants to challenge a defiant dancer to an impromptu "popping" battle. He in fact proposed a "locking" battle. The story has also been updated to clarify that Huang and Han Geng are no longer active in their respective boy bands.

Editor: David Paulk.

(Header image: A promotional photo for Youku's reality show 'Street Dance of China.')