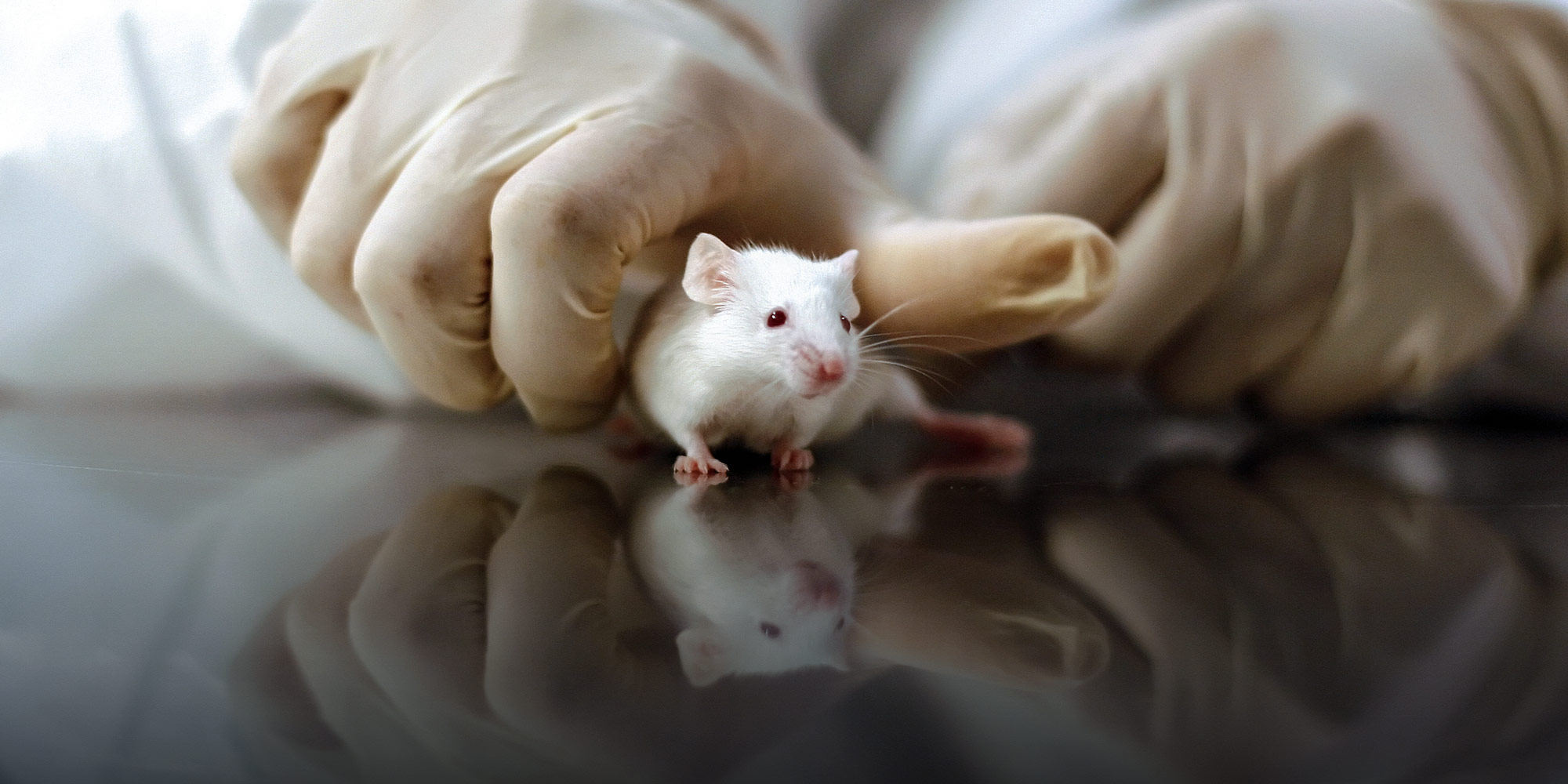 FEATURES
The Beastly Reality Behind China's Beauty Industry
Why thousands of animals a year are still being used to test makeup in China despite a world-wide push to stop the practice.
SHANGHAI — Before marketing consultant Tang Jie meets with clients, she always applies makeup. The 25-year-old is no beauty addict; but in her line of work, image is important.
When Tang buys her products, there's more on her mind than just looking good — the Shanghai-based young professional only chooses cosmetics that haven't been tested on animals.
In Chinese mainland, Tang's stance puts her in the minority — and leaves her with limited options. For the past 30 years, cosmetics brands have had to undergo mandatory animal testing if they want to be exported to China, meaning cruelty-free cosmetics — including The Body Shop, Lush, Smashbox, and singer Rihanna's newly launched Fenty Beauty — can't be found on shelves in Chinese stores. As of 2014, domestic brands no longer have to undergo compulsory animal testing for all products, but there are few on the market that claim to be cruelty-free.
Tang doesn't approve of animal testing, which can range from applying products to an animal's skin to see if it is an irritant, to using a tube to force feed them products, which can cause bleeding from the mouth, paralysis, or death. She buys cruelty-free cosmetics online or during her trips to nearby South Korea, but wishes her favorite products could be purchased more conveniently. "The best solution would be having cruelty-free products in the domestic market," she says, wistfully.
Tang's interest in cruelty-free products dates back to her college years, when she received an email from international animal rights advocacy group People for the Ethical Treatment of Animals (PETA), explaining how cosmetics were tested on mice. The information had a huge impact on Tang. "It's cruel and unnecessary," Tang tells Sixth Tone, "I still feel sad when I see this stuff."
While few share Tang's views in China, people in Western countries have railed for decades against what they see as the cruel practice of testing cosmetics on animals. In 1998, the United Kingdom banned animal testing for cosmetics products, and similar rules have been adopted by a number of countries, including the members of the European Union, Brazil, and India.
But in China, the world's second-largest cosmetics market, change has been slow. In 2014, the country loosened its rules on animal testing — seen as a first step towards improving animal welfare. Now, domestic brands can choose not to test ordinary cosmetics like perfume and nail polish on animals if the products have passed other government-recognized tests like in-vitro phototoxicity, which evaluates a product's potential to cause harm by examining its reaction under light.
Last year, China's Zhejiang Institute for Food and Drug Control opened a non-animal testing lab in collaboration with experts from IIVS laboratory in the U.S., who came to China to train local scientists in non-animal testing. But all foreign cosmetics brands and domestically-produced "special-use" products – suntan oil, freckle removal cream, skin whiteners, and hair dye – must prove that they've undergone animal testing. And even after they are put into markets, all products could be tested on animals by national or provincial authorities. Because of such regulations, China is among top countries that uses the most animals to test cosmetics than any other country — over 300,000 rabbits, mice, and other animals are used each year in China for testing cosmetic products, according to PETA, a significant chunk of the estimated 500,000 animals used in cosmetics testing worldwide each year.
The tests are often cruel and painful for the animals involved, says Guo Longpeng, spokesman for PETA's China division. "To test the safety of the ingredients of cosmetic products, these poor animals are forced to swallow a huge amount of materials with unknown toxicity, or have [some irritant ingredients dripped] on sensitive skin parts — even in their eyes," Guo tells Sixth Tone. "Animal testing should be gradually phased out."
But there's still limited impetus for change in China, where there's a lack of awareness among consumers about animal cruelty, and a belief that animal testing is still safer than other methods, says Peter Li, a China policy specialist at global animal protection organization Humane Society International. "The Chinese authorities do not feel as much pressure from Chinese consumers as European and other governments have over the years," he tells Sixth Tone. "A consumption culture that attaches importance to the ethical implications of a product is yet to arise in Chinese mainland." He also links the reliance on animal testing in China to a general public anxiety over product safety, including food stuffs. "The safety of products in China is a huge problem," Li says. "The authorities fear that the safety of cosmetic products would be undermined if the animal testing requirement were lifted."
The story of French cosmetics brand NARS, known for its cruelty-free products, is a case in point. When it announced in June that it would cave to China's animal testing laws so it could sell products in the country, overseas fans were outraged and threatened to boycott it. Meanwhile, makeup users in China were largely unconcerned — they were more interested in what NARS' product names would be in Mandarin. Some netizens on China's microblog platform Weibo even worried that eliminating animal testing would lead to safety problems for makeup consumers — or even testing on humans. "Without animal testing, the cosmetic product is like unauthenticated merchandise," wrote one commenter. "I dare not use it."
It's not just consumers lacking awareness of the issue — businesses have been slow to adopt alternative methods for testing the toxicity of cosmetic products. Overseas, companies use artificial skin or human cells in tests, methods which are seen as equal to or even better than animal testing because the tests can be more precise. Thanks to the 2014 rule change, Chinese companies can use one recently accepted form of non-animal testing, but the technique is still not mainstream. Many scholars or businesses "blindly attach importance to animal testing," says PETA's Guo.
Companies are also hamstrung by a lack of legislation to support alternative techniques and a lack of scientists with the appropriate knowledge, says Cheng Shujun, a toxicologist at Guangdong Inspection and Quarantine Technology Center. Cheng points out that national legislation and policy initiatives supporting non-animal testing in the cosmetics industry would help implement change in businesses. However, Cheng says, the government doesn't see eliminating animal testing as a priority.

One of the few domestic cosmetics companies seeking alternative methods is Shanghai Jahwa United Co. Ltd, a Chinese manufacturer of cosmetics and personal care products. Chen Tian, a manager at Jahwa's research and development department, says it started looking into alternative testing methods in the 1990s to conduct preliminary tests on ingredients, in a bid to save time on the relatively extensive animal testing process. The technology is now paying off — the company can easily export its products to Europe, says Chen. In China, however, cosmetic products still have to go through animal testing.
But even if the government made changes that would encourage local brands to stop animal testing, that wouldn't necessarily change things for foreign, cruelty-free brands. For them, the current situation remains a toss-up: they have to decide between conducting animal tests and taking advantage of a large Chinese consumer base, as NARS did, or standing their ground and missing out on the market, as The Body Shop did. The Body Shop did not respond to a request for comment.
Some experts believe China's rules could also be about keeping the country's flourishing beauty market to itself. China's cosmetic products market reached over 300 billion yuan in sales by 2016, and most of the best sellers are foreign brands, according to business intelligence company Euromonitor. Daniel C.K. Chow, a business law professor at Ohio State University, says compulsory animal testing has acted as an effective trade ban on cruelty-free products. "It could be a trade barrier as it imposes a burden on foreign imports. Those foreign companies that oppose animal testing will avoid China altogether," he says. "It is discriminatory because domestic cosmetics are not subject to the same requirement."
Still, there are hints of change. China's stance on animal testing has already seen it lose out when exporting products overseas — Shanghai cosmetics export companies experienced $2.6 million in loss following the European Union's ban on cosmetics animal testing, according to a 2017 research paper from Shanghai Entry-Exit Inspection and Quarantine Bureau. China's administrative bodies, which set the rules, have been researching — and even accepted — some non-animal methods for cosmetics safety tests as part of an attempt to help its domestically made products meet international cruelty-free requirements. Qu Xiaoting, a policy and technology consultant at Guangzhou Chn-Alternative Biotechnology Co. Ltd, a company developing non-animal testing methods in China, is urging China to adopt more internationally recognized alternative testing methods to ease international trade barriers and boost the economy.
Unfortunately for animal rights activists, the current policies mean the number of consumers aware of cruelty-free products — and pushing for change — will stay a minority, says Humane Society International's Li.
Some, like 20-year-old Chinese student Peng Weimo, only become aware of animal cruelty in the cosmetics industry when they go overseas. Peng, who learned about cruelty-free testing during her internship at a British green beauty e-commerce shop, still attends college in the UK, but wants to see China change its animal testing rules. "Many consumers might not understand that animal testing is not just putting makeup on animals, but also forcing them to eat the materials," she tells Sixth Tone. "I think it's not just about changing a policy — it's about creating a national image of humanity."
Editor: Julia Hollingsworth.
(Header image: Vetta/VCG)