Today marks the arrival of the Lantern Festival, one of China's most evocative holidays. Celebrated on the 15th day of the lunar new year, people across the country will gather to hang up glowing red lanterns, puzzle over the riddles painted on them, and eat bowls of soup laden with glutinous rice balls.
These days, Lantern Festival is not a public holiday and is observed somewhat casually. But data shows that more deep-seated Chinese New Year customs are changing, too. In the past few years, more and more Chinese have gone from rigidly observing holiday customs and the practicing the traditional value of abstinence, to embracing more commercialized holiday experiences as a family.
Travel is the most obvious example of this phenomenon. China's National Tourism Administration estimates that 386 million individual tourist visits were made during the weeklong Spring Festival holiday this year, equivalent to roughly a third of the country's population visiting a tourist site at some point — a 12 percent increase on last year's holiday season. The tourism industry made 475 billion yuan ($75 billion) in revenue during Spring Festival 2018, up more than 12 percent from last year.
The figures won't surprise anyone who follows Chinese social media, which has been overloaded with photographs of smiling vacationers crowding the country's shopping areas, temples, museums, and movie theaters — not to mention the sushi restaurants of Japan or the sandy beaches of Southeast Asia.
A further report, released by Chinese e-commerce giant Alibaba last month, shows how consumerism is shaping Spring Festival activities. Statistically, people from the major coastal and near-coastal cities of Beijing, Shanghai, Guangzhou, Shenzhen, and Hangzhou are most likely to pack their bags and head abroad for the holidays. More and more Chinese families are eating the traditional New Year's Eve dinner at restaurants instead of at home, or heading to the cinema instead of lazing in front of the TV.
On Feb. 16, the first day of the Year of the Dog, 90 percent more people bought movie tickets in groups of three or more than on Chinese New Year's Day 2017. According to preliminary data from SAPPRFT, China's media regulator, the domestic box office earned 5.7 billion yuan during the seven-day holiday, a record for the country's Spring Festival movie industry and a 67 percent increase on last year. The most popular films were action movie "Operation Red Sea," crime flick "Detective Chinatown," and fantasy adventure "Monster Hunt 2."
While some mourn Spring Festival's ever tighter embrace of consumerism, it is important to bear in mind that prevailing economic structures have influenced traditional customs for centuries. Chinese New Year's millennia-old traditions evolved in an agrarian society, in which frequent food shortages gave rise to a culture of abstinence. One custom held that it was bad luck to use knives before the Lantern Festival, and so for the first 15 days of the year many rural Chinese only ate food prepared in advance of the holiday or which did not require chopping.
More recently, the establishment of a centrally planned economy during the Mao era and its associated rejection of capitalist principles left many Chinese waiting eagerly for the extra rations of meat, cooking oil, and dried produce that heralded the beginning of the holidays. It is therefore unsurprising that China's current economic model compels consumers to spend the holiday in a variety of new ways. In addition, the twin forces of urbanization and technological development have made it easier both to travel long distances for work and to stay in touch with friends and family back home, thereby diminishing the ceremonial importance of visiting the extended family.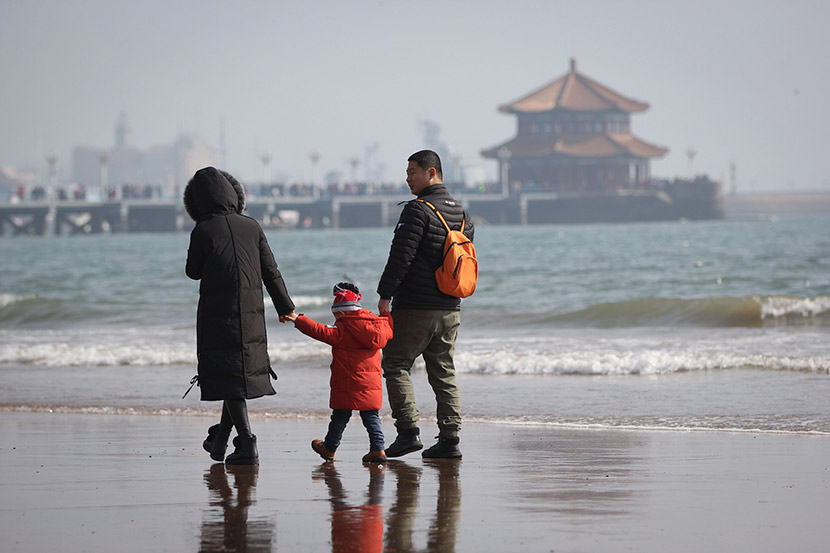 A family of three people visit a tourist spot in Qingdao, Shandong province, Feb. 23, 2018. Huang Xianjie/VCG
A growing number of people from China's middle class — and those who aspire to be middle-class — are spending the Spring Festival not only eating, drinking, and visiting family, but also on leisure activities and other immaterial forms of consumption.
In addition, when Chinese consumers do indulge in a little retail therapy, they tend to purchase increasingly high-end nianhuo — traditional gifts and treats associated with the Spring Festival. On Tmall, Alibaba's e-commerce spinoff with a focus on luxury items, consumers spent three times more money on imported fresh produce during this year's Spring Festival than the previous year. King crabs from Chile and New England lobster were two of the country's favorites.
While rising incomes are the obvious cause for this trend, it is partially due to the ubiquity of mobile internet technology, which has brought unprecedented levels of convenience to consumer purchases. The plethora of e-commerce mobile apps is dethroning long-held Spring Festival favorites like regional delicacies, health supplements, and new clothing. In their place, people are treating themselves and others to consumer drones, smart speakers, and robot vacuum cleaners, according to Alibaba's report.
The rapid development and deployment of mobile technology also partly explains the spike in Spring Festival travel. Apps like WeChat, Fliggy, and Ctrip, now allow customers to buy train and plane tickets, and book hotel rooms, with a couple of taps on a smartphone. You can make mobile payments through Alipay, call a car with Didi Chuxing, search for directions on Amap, and find restaurants with Meituan — then post it all to your WeChat Moments' social media feed. The convenience of these technologies is transforming consumer "dead zones" like Spring Festival into moneymaking opportunities for the leisure industry.
In order to capitalize on this, China's service industry operates at nearly full speed during the Spring Festival break. Many employers dangle lucrative overtime incentives before their workers' eyes in an attempt to persuade them to work over the holiday. Around tourist spots, guides, drivers, and hoteliers give up their days off to earn hefty commission from the incoming hordes of visitors.
Young, urban Chinese in their 20s and 30s, the vast majority of whom have spent their entire adult lives within a consumer-driven economy, stand at the vanguard of changing Spring Festival customs. Individualistic, techno-literate, and irreverent toward long-held traditions, they are not moved by social narratives that preach abstinence and thrift over hedonism and excess. Yet though they and their families are spending the New Year in different ways, the values to which they cleave are, by and large, the same as their forbears: family, togetherness, and hope for the future.
Translator: Owen Churchill; editors: Zhang Bo and Matthew Walsh.
(Header image: People take photos at a lantern show in Fuzhou, Fujian province, Feb. 23, 2018. Zheng Shuai/VCG)