To find the happiest people in China, head to Wuhan — or so concluded a recent survey from the country's state broadcaster.
The capital of central China's Hubei province ranked at the top of the China Economic Life Survey (2017-2018), an annual report from China Central Television. The complete findings, broadcast Wednesday evening, listed provinces and cities that distinguished themselves in categories ranging from health and education to household income and general happiness.
CCTV's "happiness index" took into account factors such as governance, economic strength, urban infrastructure, and recreational activities. Lhasa, capital of the Tibet Autonomous Region, topped the 2016 rankings. This year's survey covered more than 100,000 households and 800 million internet users across China.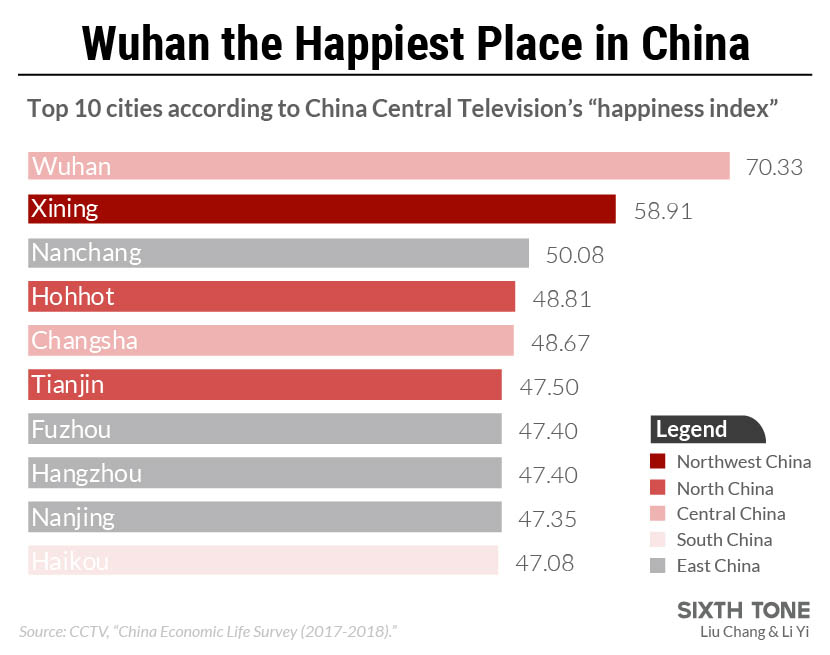 But Qiao Pengfei, a 22-year-old entrepreneur from Wuhan, didn't put much stock in the CCTV rankings. He believes the happiest place in China is Chengdu, capital of southwestern Sichuan province, and that CCTV's results reflect that many Wuhan locals are likely to remain in the city because of increasing economic growth and better job opportunities.
"The income gaps and infrastructure deficits between first-, second-, and third-tier cities are narrowing," Qiao said. "So people are less likely to leave their cities, which could make them happier." Qiao added that for him, the most crucial factor in determining happiness was family.
In terms of investment in education and training, Wuhan outperformed all of its peers, including megacities Beijing and Shanghai — neither of which earned a spot in the top 10 for overall happiness.
With more than 90 higher education institutions, including Huazhong University of Science and Technology, one of the country's most prestigious schools, Wuhan is considered a hub for education and entrepreneurship, and has attracted considerable foreign investment. The city has also hosted the Wuhan Open, an international tennis tournament for women, for the past four years, and was named a National Civilized City by the central government in 2015. And in January of this year, British Prime Minister Theresa May raised the city's global profile by kicking off her state visit to China in Wuhan.
Cao Heping, a professor of development economics at Peking University in Beijing, also told Sixth Tone that the CCTV survey uses subjective variables for determining happiness — and so the fast-paced lifestyles and myriad economic and psychological pressures of first-tier cities like Beijing and Shanghai should be expected to have a direct impact on their residents' perceived quality of life. "As such," Cao concluded, "the probability is greater for second- and third-tier cities, such as Wuhan, to be happier."
Wuhan is followed in the happiness index by Xining, the capital of Qinghai province in China's mountainous northwest. Qinghai was also among the top 10 provinces, municipalities, and autonomous regions for residents' confidence in rising income levels, according to the survey. Experts like Wei Xiang, a professor at the Chinese Academy of Social Sciences, say this indicates a narrowing of income inequality between China's eastern and western regions, as the economies of the former grow more robust.
"The economic differences between the eastern and midwestern areas of China are still unfolding," Wei told Sixth Tone. "But we can see that people in the midwest are more optimistic about their local economies."
Among the other findings of this year's survey: Millennials are the highest-spending tourists, northeastern residents spend the most on health care, men over 60 are happier than women of the same age, and the post-1995 generation is the country's happiest demographic.
As for how China stacks up against its peers in terms of global happiness, the country was ranked 79th out of 115 countries and regions surveyed in last year's United Nations-commissioned World Happiness Report.
Additional reporting: Li Yi; editor: David Paulk.
(Header image: A child kisses a stuffed rabbit doll at a park in Wuhan, Hubei province, Feb. 3, 2011. Peng Nian/VCG)