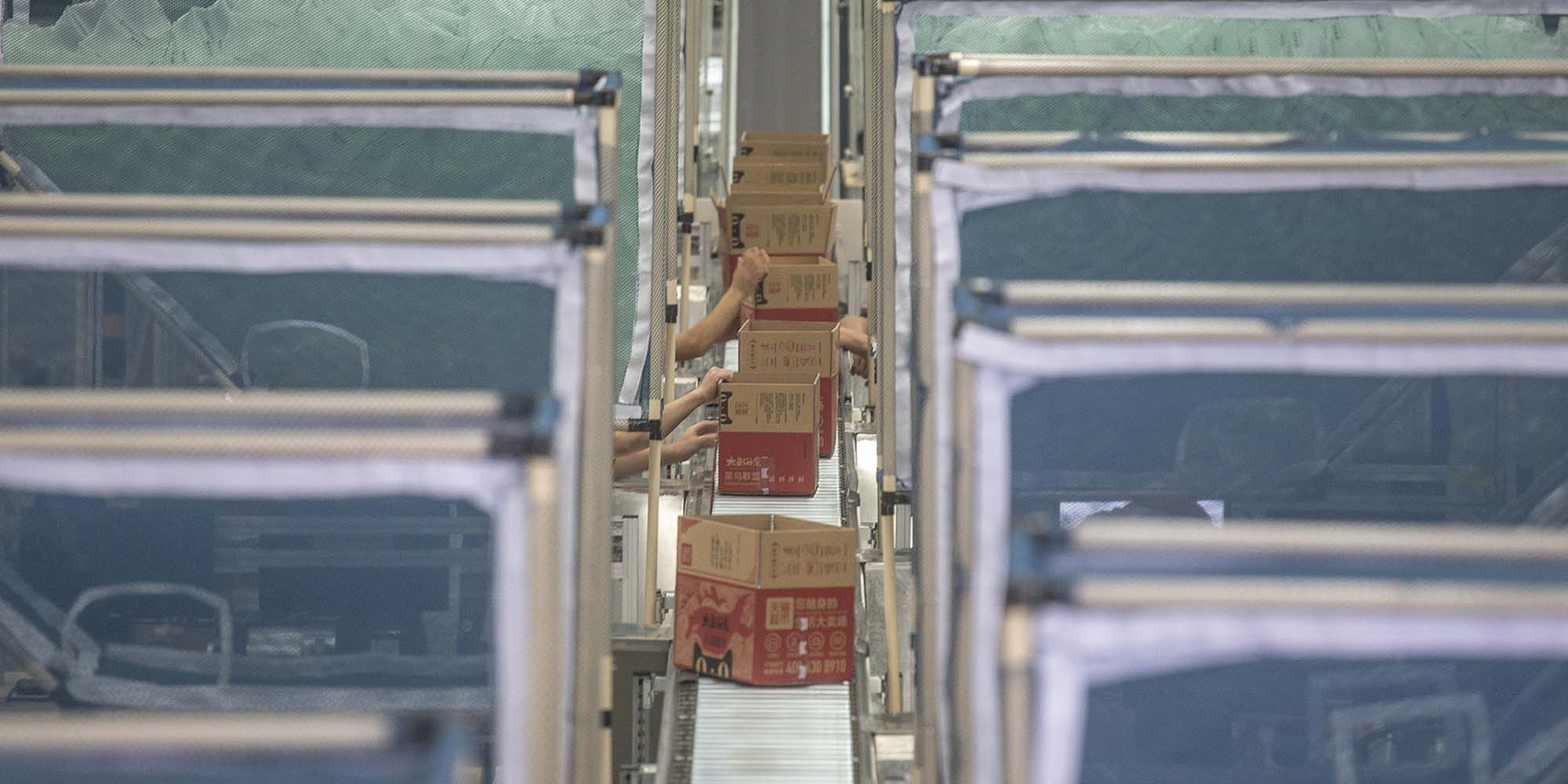 NEWS
Tmall and Cainiao Form Blockchain Alliance
Technology's data transparency could eliminate fraud in China's booming e-commerce industry.
One of China's largest e-commerce companies has applied blockchain technology to track the imported goods sold on its platform.
Tmall, an online marketplace similar to Amazon, announced that it had partnered with Cainiao, the logistics arm of internet giant Alibaba, to record detailed information on imported products, according to a press release sent to Sixth Tone on Wednesday. Alibaba owns both Tmall and Taobao, another major e-commerce platform.
Chen Liangjun, a spokesman for Cainiao, told Sixth Tone that Cainiao and Tmall have been collaborating on a trial basis since the Singles' Day online shopping extravaganza in November. Consumers will now have a wealth of logistical information at their fingertips, Chen explained, including counties of origin, ports of arrival and departure, modes of transport, and customs declaration numbers — all of which Cainiao records using blockchain.
Blockchain platforms are analogous to independent online ledgers. Through so-called smart contracts, transaction details are logged digitally and automatically, with no human involvement — and once they've been entered, they can't be changed. Because blockchain is electronic and decentralized, it is widely regarded as a secure, speedy, and transparent system.
"Cainiao has created this global logistics network, so there's more information available to consumers," Chen said. "And with blockchain technology, the data can't be tampered with."
Currently, blockchain is being used to track 80 percent of third-party retailers on Tmall, covering 30,000 types of products from over 50 countries, Tong Hanghang, another Cainiao spokesperson, told Sixth Tone.
Customers can keep close tabs on their purchases directly from e-commerce websites. "Some commodities have QR codes containing traceability information that customers can scan [with their phones]," Chen explained, "and our coverage rate for traceability codes is constantly growing."
In July 2017, JD.com, one of Tmall's top competitors, established a blockchain cross-border traceability alliance with several international brands, industry regulators, and delivery companies. And in January of this year, JD.com's own logistics arm joined the Blockchain in Transport Alliance, an initiative from some of the world's leading tech and transportation executives.
Given the prevalence of counterfeits in China — especially where expensive imports and their higher profit margins are concerned — blockchain tracking is heralded by some as a solution to the country's consumer trust crisis.
"Blockchain's defining quality is that the data can't be modified," Tang Ren, Cainiao's senior technical expert for international logistics, said in the press release. "With logistics data being uploaded from all parties, such as retailers and customs officials, buyers can cross-reference every detail of their purchases."
"Any attempts to conduct data fraud or add in counterfeit products," he said, "will be as difficult as landing on Mars."
Editor: David Paulk.
(Header image: Cardboard boxes move along a conveyor belt at a Tmall warehouse in Guangzhou, Guangdong province, Aug. 15, 2016. Tan Qingju/VCG)