SHAANXI, Northwest China — In 1996, when Zhang Koukou was just 13 years old, his mother was fatally beaten before his very eyes.
According to documents from the court of Nanzheng, a predominantly rural district outside Hanzhong City, Zhang's mother died after a fight with her neighbor Wang Zhengjun and several others. After Zhang's mother hit Wang with a piece of iron, Wang struck her head with a large stick. She passed away within hours. The court found then-17-year-old Wang guilty of intentional injury resulting in death and sentenced him to seven years in prison, a relatively light punishment because he was still a minor.
For years, Zhang bided his time.
On Feb. 15, 2018, the last day of the lunar year, Zhang — now 35 — put on a hat and face mask, picked up the knife he had procured in advance, and waited for an opportunity to attack, according to a report by Nanzheng authorities. Wang had since moved to the city and bought a house there. But to celebrate the Spring Festival, he and his brother had returned to Wangping Village, their hometown in Nanzheng. On lunar new year's eve, they went up the nearby mountain to offer sacrifices to ancestors and sweep their tombs — a tradition practiced across the country.
After observing the Wang family for a while, the report says, Zhang ran over as they were making their way back down the mountain. Zhang thrust his knife several times into Wang Zhengjun and then his brother Wang Xiaojun before rushing off, knife in hand, toward the home of the two brothers' father, Wang Zixin. The 71-year-old was sitting by the door. Zhang stabbed him multiple times. He then smashed the windows of Wang Xiaojun's car, poured gasoline all over the back seats and rear end of the vehicle, and set it on fire before fleeing the scene.
At 9 a.m. the same day, Zhang Koukou's father, Zhang Furu, also made the trek from Wangping Village into the mountains to pay homage to his ancestors, along with his brothers and a nephew. "When I left, my son [Zhang Koukou] was washing a cotton-padded jacket," recalls Zhang Furu. According to him, he and his son didn't exchange a single word at the time.
Then, before they had even finished paying their respects, Zhang Furu's nephew received a phone call. "My nephew told me I had to hurry back," Zhang Furu tells The Paper, Sixth Tone's sister publication. "The faster the better." When he later heard that his son had killed someone, he says, his "entire body went limp."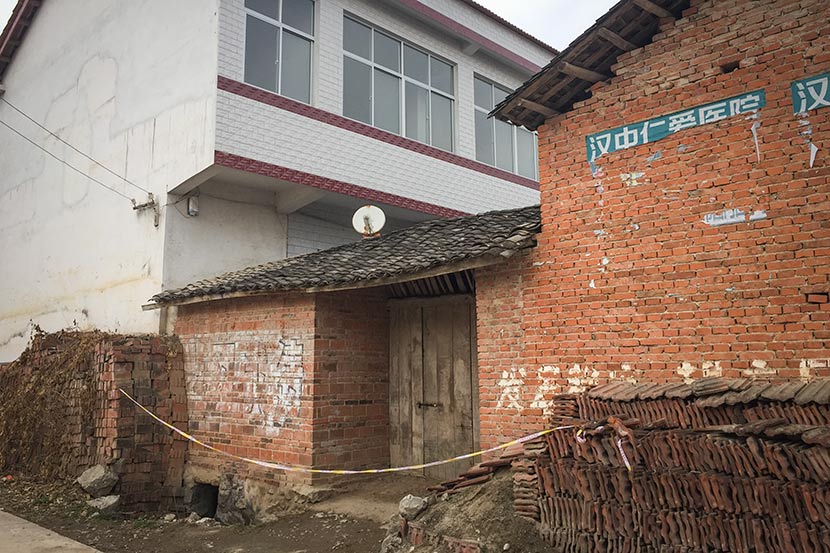 After the lunar new year's eve incident, the Zhang family home is cordoned off by police in Wangping Village, Shaanxi province, Feb. 19, 2018. Wang Jian for Sixth Tone
According to several villagers, Zhang Koukou was seen holding a large knife around noon on lunar new year's eve. One neighbor recalls that he was also carrying a handgun, though the authorities' report doesn't mention this detail. "At the time, I urged him not to cause trouble," says the neighbor, who lives on the same road as Wang Zixin. "He told me that he'd killed three people, that this time he was done for."
Next door to Zhang Koukou's family lives his uncle Zhang Hongru. During the incident, Zhang Hongru was at home slaughtering a chicken. Suddenly, a family member ran in and said something serious had happened. Zhang Hongru rushed onto the street and was told that his nephew had just killed someone. "I hurried over and grabbed him," says Zhang Hongru. "I asked him, 'How could you do something like this?'" Zhang Koukou shook his uncle off. "He said," Zhang Hongru recalls, "that he had taken care of a 22-year-old grudge." As Zhang Koukou fled the village, a terrified Zhang Hongru followed only with his eyes.
On the morning of Feb. 17, the second day of the lunar new year, Zhang Koukou turned himself in. The case is currently under investigation, according to an officer at the Nanzheng District police station.
The trigger for the feud between the two families more than two decades ago, says Zhang Furu, was a minor slight: The Zhang family once skipped the Wangs when gifting watermelon to neighbors. Zhang Koukou's mother, Wang Xiuping — who is not related to the Wang family — got into a quarrel. Many people, including members of the Zhang family, tell The Paper that Wang Xiuping was notoriously strong-minded: "Her tongue took no prisoners," and "she'd had arguments with many people in the village before."
The court verdict provided by Zhang Furu states that the fatal fight began at 7 p.m. on Aug. 27, 1996, when Wang Xiuping spat in the face of Wang Fujun — the brother of the defendant, Wang Zhengjun — while walking past their house. As soon as he learned what had happened, Wang Zhengjun came over and began arguing and exchanging blows with Wang Xiuping. Wang Xiuping then picked up a piece of iron and struck the left side of Wang Zhengjun's face. Following that, Wang Zhengjun grabbed a wooden stick and lashed out at Wang Xiuping's head. Wang Xiuping fell to the ground and, by 10 p.m., had died from her injury.
The court issued Wang Zhengjun a relatively lenient punishment on the basis of several factors: The defendant was not yet 18 years old at the time of the crime and had admitted his guilt; his father had already paid the large sum of 8,139.30 yuan (then about $1,000) to cover the deceased's funeral costs; and the victim, Wang Xiuping, bore a certain degree of responsibility for escalating the situation.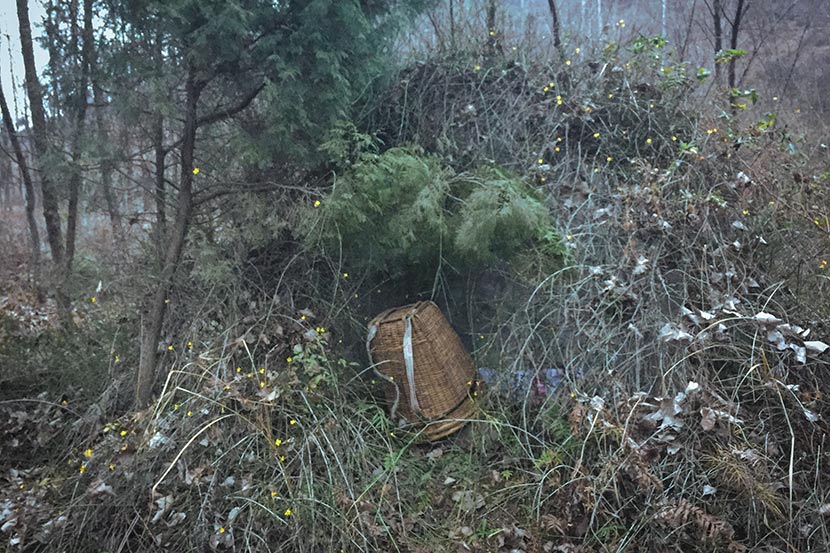 The grave of Wang Xiuping, Zhang Koukou's mother, is overgrown with weeds in Wangping Village, Shaanxi province, Feb. 19, 2018. Wang Jian for Sixth Tone
Several years after the verdict was issued, Zhang Furu sent a formal complaint to the Hanzhong Intermediate People's Court. In the letter, dated July 13, 2001, he requested that the "killer" receive the death penalty, citing the adage "An eye for an eye, and a tooth for a tooth." He also demanded that the man's father, Wang Zixin, who "directed the killing," be sentenced to prison.
In the document, Zhang Furu clearly expressed his belief that the then-17-year-old Wang Zhengjun was "a killer who took a human life." Yet after the lunar new year's eve incident, Zhang Furu and his daughter now claim that the person who killed their wife and mother was in fact Wang Zhengjun's brother Wang Fujun, and that Wang Zhengjun took the blame only because he was a minor and thus could not be given the death penalty. On Feb. 15, Wang Fujun was out of town.
When asked about the contradictions between this accusation and the contents of his official complaint, Zhang Furu says he cannot remember why he wrote what he did. "I have no education," he says. "I didn't even graduate from elementary school. I paid someone 50 yuan to write the complaint for me. The person who wrote it has already died."
One cadre from Wangping Village says that after Wang Xiuping was beaten, Wang Zixin, the father, initially claimed that he had caused the injury. "It's possible that Wang Zixin wanted to take the blame for his son's sake," the cadre says. "But in the end, the judiciary worked out who did it."
Zhang Koukou's sister Zhang Libo believes that their mother's unexpected death had a huge impact on her brother. "Before, he was always so full of life," she says. "After the incident, he became introverted." After graduating from middle school, Zhang Koukou gave up studying and followed a cousin to northwestern China's Xinjiang Uyghur Autonomous Region to work in construction. In December 2001, Zhang Koukou was recruited into the army, where he became a member of the paramilitary police force.
A Wangping villager surnamed Wang, who enlisted the same year as Zhang Koukou and served in the same regiment, says that during training exercises for new recruits, Zhang Koukou told people he'd joined because he wanted to train up his body to take revenge. "What he said was reported up the chain of command," says Wang. "Later on, a troop leader even put Zhang Koukou through criticism and education, to reverse this line of thinking he had."
Zhang Furu says that after Zhang Koukou left the army at the end of 2003, he worked all over the country. He would send money home every month but rarely visited, until he returned from a stint working abroad in August 2017; he moved back in with his father, where he would remain until the lunar new year's eve incident.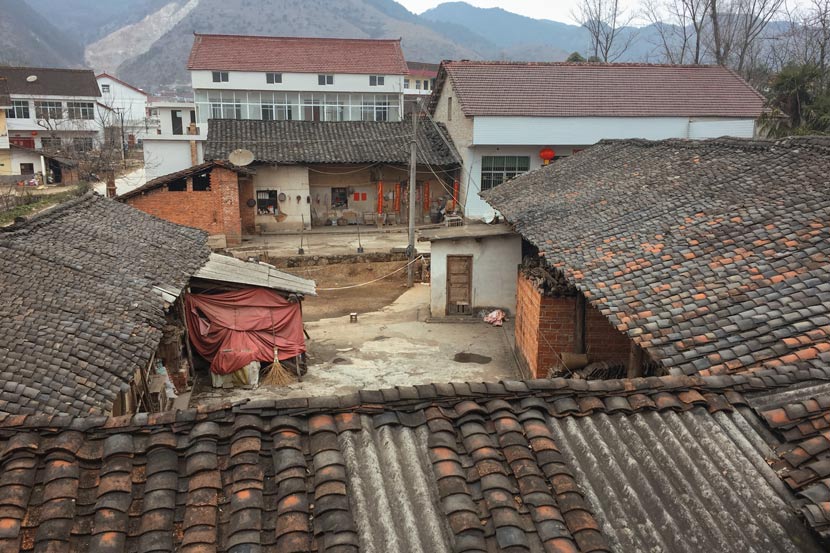 A view of the Wang family's courtyard (with the red cloth) from the second floor of the Zhang family home in Wangping Village, Shaanxi province, Feb. 20, 2018. Wang Jian for Sixth Tone
Zhang Furu says that over the few months they lived together before the incident, Zhang Koukou spent his days at home washing clothes, cooking, and cleaning, while Zhang Furu did agricultural or construction work nearby, leaving early and returning late. "He has a lot of self-respect and believed that agricultural labor was menial and humiliating. But he would help me when I harvested rice," Zhang Furu recalls, adding that he and his son barely shared their feelings — their exchanges were few and far between: "I had no idea what he was thinking."
Several villagers say that Zhang Koukou generally kept to himself and didn't smoke, drink, or play cards like other young men. He didn't attend a single one of the army reunions over the past few years. "He buried everything inside himself and would not talk about it," says Zhang Koukou's uncle Zhang Hongru, who also theorizes that Zhang Koukou never marrying was a factor in the killings. "With a wife and kids, he would have thought things through more and wouldn't have done something stupid like what he did."
Two years ago, in early 2016, Zhang Koukou shared on his WeChat Moments — the popular social media app's news feed — an article about the case of convicted murderer Hu Wenhai, who went on a vengeful killing spree in 2001. Accompanying the link, he'd commented: "A hero. I salute you." A number of online articles about Zhang Koukou, too, have called him a "hero" for avenging his mother's death. To some, this characterization is appalling. "How can killing make you a hero?" one Wangping villager says. "That's absolute nonsense."
A Chinese version of this article first appeared in Sixth Tone's sister publication, The Paper.
Translator: Owen Churchill; editors: Wang Lianzhang and Kevin Schoenmakers.
(Header image: Tape used to cordon off the crime scene lies on the ground in Wangping Village, Shaanxi province, Feb. 19, 2018. Wang Jian for Sixth Tone)