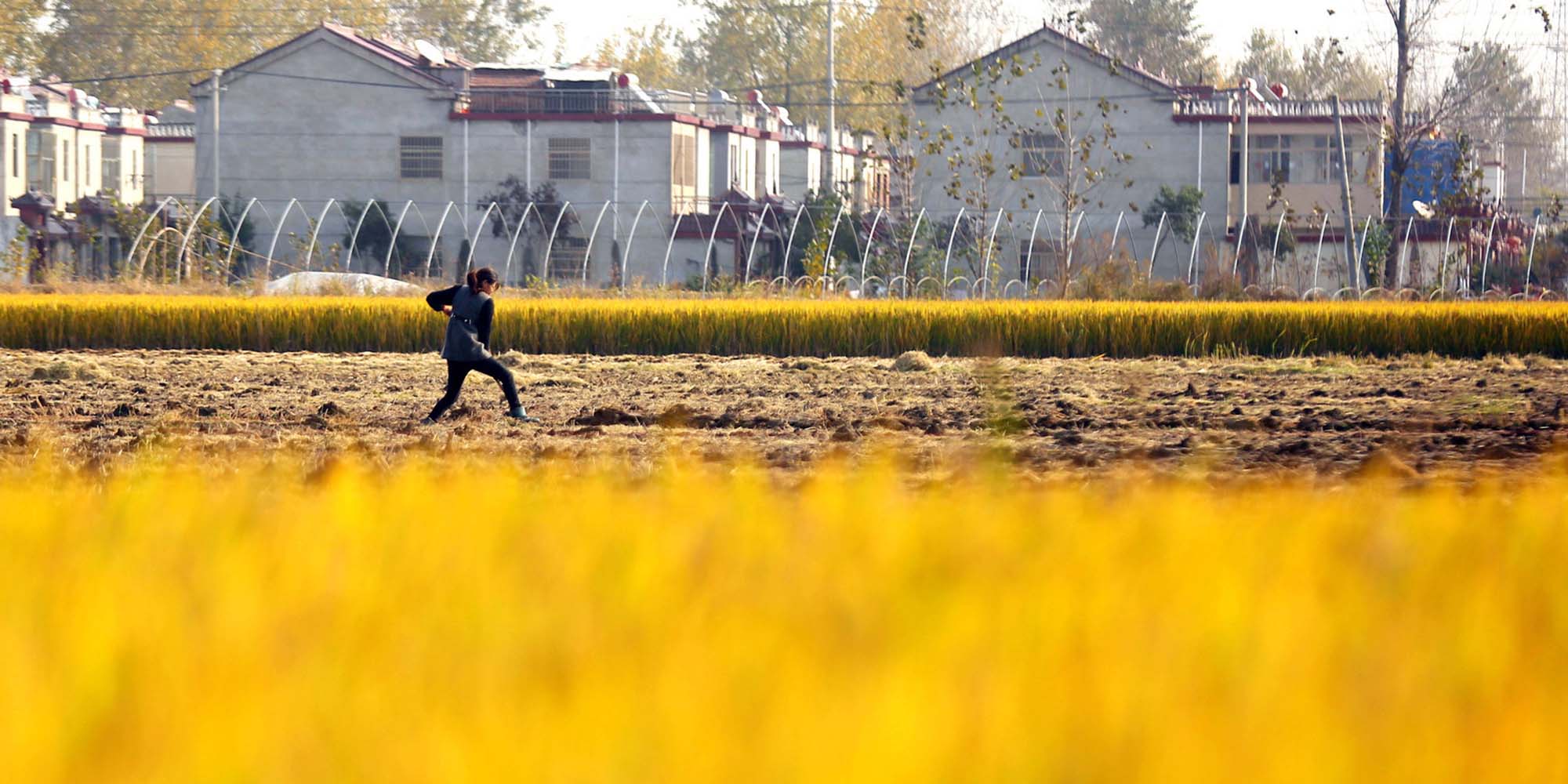 NEWS
Seeking Healthier Soil, China Expands Crop Rotation Plan
Farmers forced to leave their fields fallow may not be fully compensated for foregone income.
China plans to expand its crop rotation and fallowing pilot plan this year to mitigate environmental problems and ensure that domestic produce meets health and safety standards.
The Ministry of Agriculture announced in a press conference Friday that the plan's area of coverage is expected to reach 16,000 square kilometers nationwide — four times greater than when the first iteration of the plan went into effect in June 2016. By 2020, the plan will cover over 33,000 square kilometers, according to Zeng Yande, director of the ministry's farming management department.
Crop rotation — growing different crops on the same land to preserve soil nutrition — will be implemented in Jiangsu and Jiangxi provinces, where rice and wheat yields are poor, joining four provinces in the north of China. Meanwhile, fallowing — leaving farmland idle during the growing season so it can recover its nutrients — will expand to the Tarim Basin in Xinjiang, where groundwater is overexploited, and to fields irrigated by well water in the frigid province of Heilongjiang. Five other provinces have already implemented similar measures.
"The crop rotation and fallowing system can improve soil health and benefit the overall environment," said Pan Genxing, director of the Institute of Resources, Ecosystem, and Environment of Agriculture at Nanjing Agricultural University. Pan told Sixth Tone he hopes such measures will mitigate agriculture's passive impact on the environment. Irrigation runoff from fields, for example, can contaminate lakes and streams if it contains pesticides, herbicides, or fertilizer.
Along with intensive farming, the overuse of these agricultural staples has severely degraded soil quality, too, said Pan who added that farmland "is rich in nutrition but poor in terms of biodiversity."
"In areas suitable for both growing crops and raising animals," Pan said, "the soil is becoming more degraded, and water resources more stretched, as herdsmen hang up their crooks to become farmers."
In addition to contaminated soil and overexploited water resources, some land once suitable for farming has been damaged or rendered unsafe because of mining activity, even years after work sites are abandoned.
"At present, the problem is that even though we're increasing yields, our agricultural products still aren't competitive," said Pan, suggesting that a shift toward a "produce less, produce better" mentality may be warranted.
Pan believes that government subsidies given to farmers who are forced to rotate their crops or leave their land fallow could be another problem. "In some areas, farmers need to produce in order to profit," he explained. "So whether the government can make up their [economic] losses under crop rotation and fallowing plans is a big question."
According to a survey conducted in northern Hebei province by researchers from Tsinghua University and China Agricultural University, less than half of farmers polled are satisfied with the current fallowing policy. When the researchers published their findings in January, they recommended that subsidies be increased to guarantee that farmers won't lose money if their lands must lie fallow.
This year, the Ministry of Finance has said that it plans to allocate 5 billion yuan ($790 million) to go toward subsidizing farmers.
Editor: David Paulk.
(Header image: A woman works in a field in Huai'an, Jiangsu province, Oct. 29, 2017. Zhou Changguo/IC)